Boondocking in North Dakota
Top Campgrounds
Last updated on June 23rd, 2022. Originally published on April 30th, 2021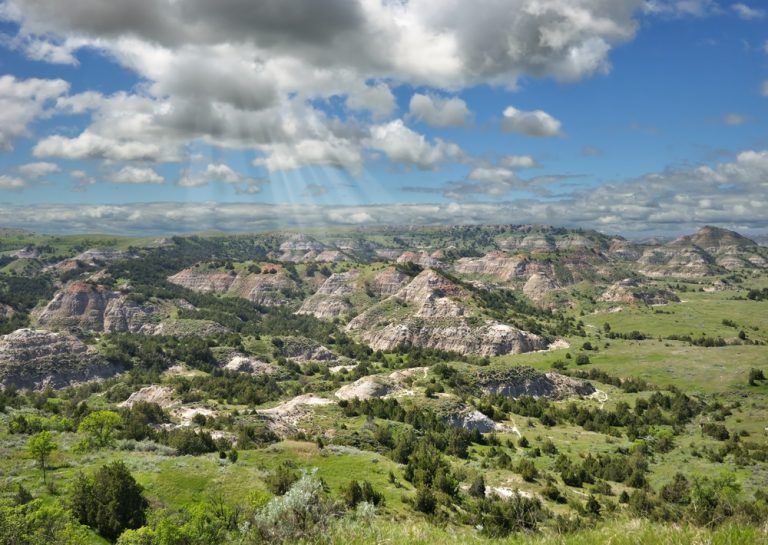 North Dakota is one of the undiscovered gems of adventure camping in the United States. Many travelers simply pass right through on the way to the grand mountains of Montana and Wyoming. When you venture away from I-94, a variety of gorgeous landscapes await. Wake up to a view of the endless plains, and spend the next night tucked into rolling hills dotted with grazing buffalo. Near the western edge of the state, camp among the wild rock formations of the badlands or perched on the banks of the mighty Missouri River. In comparison to the surrounding states, finding free camping in North Dakota can be a challenge; just 5% of the state consists of publicly owned land. If you know where to look, however, you can find great spots to park your RV.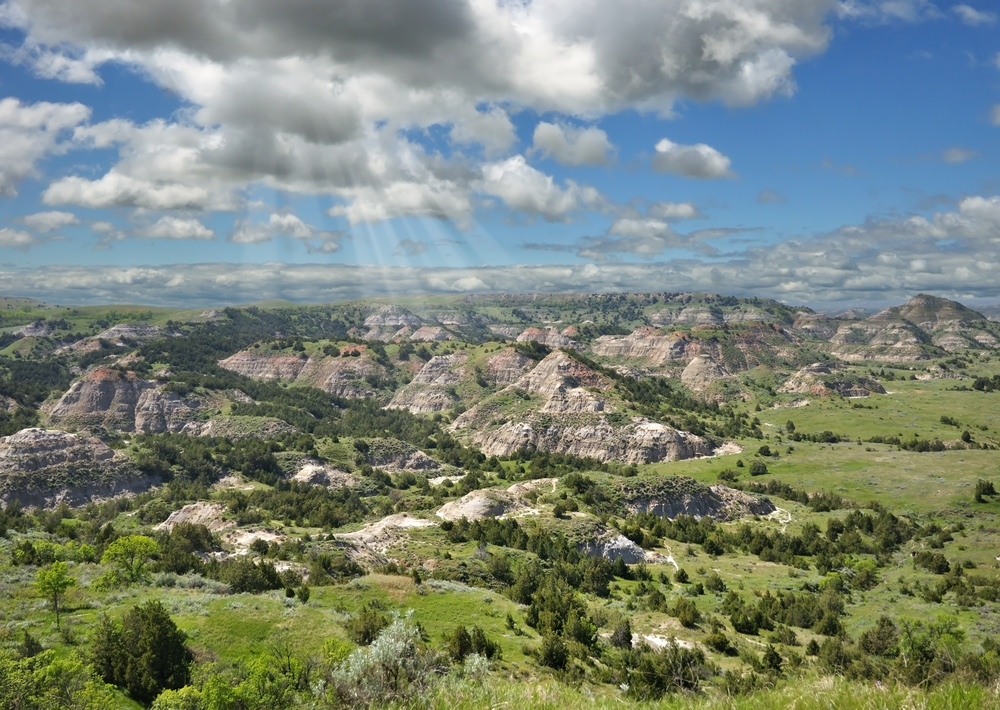 Boondocking Sites in North Dakota
Sweet Briar Lake
Camp 28 miles west of Bismarck at Sweet Briar Lake. Set just three miles north of I-94, this is one of the easiest-to-reach spots for boondocking North Dakota. Dispersed campsites are scattered around the lake; many have picnic tables and fire rings, and there are vault toilets nearby. If you're coming in from Friday to Sunday, try to arrive early because sites fill up fast with anglers looking to fish in the lake.
Sheyenne National Grassland
Explore the southeastern corner of North Dakota from your free campsite in the Sheyenne National Grassland. The Forest Service allows dispersed camping anywhere in the area that's not a trailhead. In some places, you can drive up to 300 feet away from the road. Check with the office for recommended spots based on the time of year. The closest major city is Fargo, but there are plenty of smaller communities within 30 miles for gas and basic supplies.
Denbigh Experimental Forest
Head to north-central North Dakota to camp for free in the Denbigh Experimental Forest. All 640 acres of the forest are open for dispersed camping, with the exception of designated trailheads. Nearby, you can hike or bike the Denbigh Trail and go cross-country skiing when it snows.
Cedar River National Grassland
The Cedar River National Grassland sits a stone's throw from the South Dakota border, about eight miles from the small community of Morristown, South Dakota. If you're looking to relax and get off the grid, this is the place to go — it's exceptionally remote and surrounded by acres of farmland and rolling hills. Check out the motor-vehicle use map and camp near one of the developed roads in the grassland.
Scoria Pit Dispersed Camping
Scoria Pit Dispersed Camping is an ultra-simple place to camp near Theodore Roosevelt National Park. It's located five miles from Medora and the South Unit Visitor Center. The name is accurate; the campground is essentially a dirt lot set just off of a dirt road. There's plenty of space for RVs of all sizes, and you can park near the edges of the lot and enjoy lovely views of the hills and valleys. This area sees quite a bit of traffic, especially when semi-truck drivers use it to take a break from long drives along I-94. When it comes to free camping near Medora, it's the best option.
Michigan City Park
If you're traveling along US-2 in northern North Dakota, the small town of Michigan offers free camping in its City Park. There are four sites, each with electric hookups and available on a first-come, first-served basis. The park itself is green and beautiful, with plenty of trees and a small playground for kids.
Where to Boondock in North Dakota
Despite the state's wealth of open space, finding where to boondock in North Dakota requires a bit of legwork. The easiest options are the state's grasslands; they're managed by the Forest Service, and many of them are open for dispersed camping. If you need a recommendation, call the Dakota Prairie Grasslands Supervisor's Office for assistance. It manages many of the individual grassland units in North Dakota. When you're looking for a free campsite for a night or two, the most convenient options are located near I-94.
Free Camping in North Dakota
When preparing for your boondocking trip, it's helpful to know what to expect when boondocking in North Dakota. Many free campsites are heavily used by locals who come to hunt, fish, and enjoy the state's expansive wilderness. You'll have the most peaceful experience on weekdays. On weekends, make sure to arrive early and bring earplugs, especially in popular spots such as Sweet Briar Lake or Scoria Pit.
As you drive through North Dakota in search of dispersed camping, expect to spend long hours behind the wheel. The terrain is gentle, though, so the roads are relatively easy to navigate in an RV. If you're up for the drive, the expansive views and rolling hills create the perfect setting for getting off the grid. With a full tank of gas and plenty of water and supplies, you can enjoy the state's most remote campsites for a week or two in complete peace. Before you head out on your trip, check out our blog for all you need to know about boondocking.
If you're willing to get off the beaten path, North Dakota offers a variety of options for boondocking. Whether you want to wake up to views of the badlands or the endless plains, this large, sparsely populated state has you covered. Don't have your own RV? Get a taste of the boondocking lifestyle by renting a motorhome from RVshare. Choose a model with all of the features you need for dry camping, and head out to explore the wilderness.
Need a break from dry camping? Check out luxury camping in North Dakota!