Boondocking in Vermont
Top Campgrounds
Last updated on June 23rd, 2022. Originally published on June 11th, 2021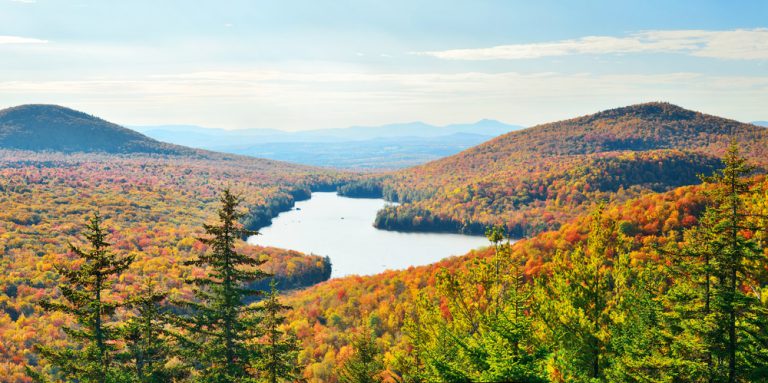 New England has much to offer all who come to marvel at the natural beauty and charm of these states. Vermont is especially nice to visit because of its scenic byways, the many quaint small towns, and the several national and state forests and parks. The Green Mountains, part of the Appalachian Mountains, run north and south through the state. Lake Champlain is located in northern Vermont, northeastern New York and Quebec, Canada, and is beautifully showcased by the Adirondack Mountains to the west and the Green Mountains to the east. Vermont is also home to more than 100 19th-century wooden covered bridges. Camping in Vermont will allow you to experience many of these sites intimately, and if you choose to boondock in your RV and avail yourself of free camping in Vermont at a primitive campsite, you will find no shortage of places to stay.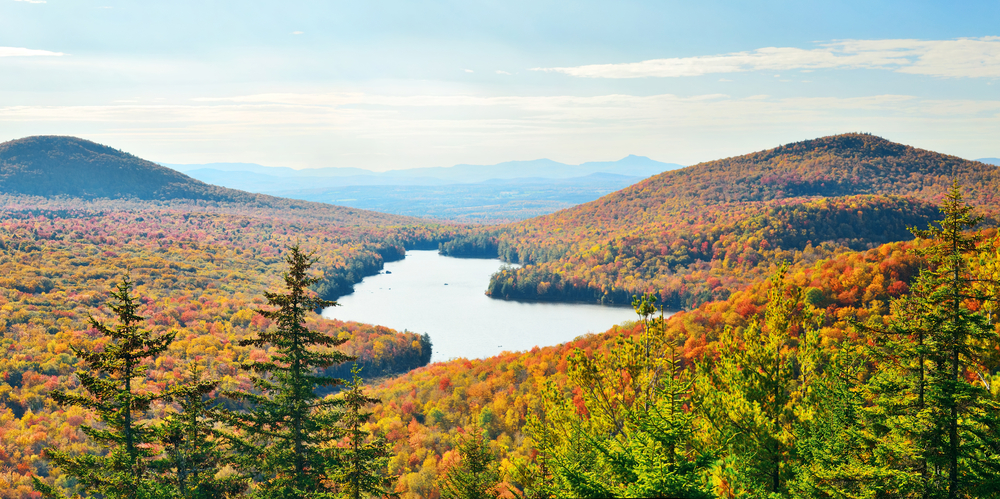 Boondocking Sites in Vermont
Bear's End
There are plenty of boondocking opportunities in the Green Mountain National Forest. Bear's End in Shaftsbury is near Somerset Reservoir, and there are several primitive campsites along this route. Bourne Pond is a small body of water nearby, and many campers like to kayak on the water while camping. There are also several hiking trails in the vicinity. You will need to bring your own supplies, including drinkable water. Note that not all RVs will be able to navigate the roads.
Kelley Stand Road/Stratton-Arlington Road
Kelley Stand is the local name for the Stratton-Arlington Road out of Stratton and connects Stratton to West Wardsboro. There are primitive campsites on this road, and there are more campsites on various forest roads that branch off Kelly Stand Road. Forest Road 71 leads from the old Somerset airfield to Kelly Stand and has campsites.
Somerset Airfield Campground
Somerset Airfield Campground near Shaftsbury is a small campground with primitive campsites and is located on Forest Road 71. There is a vault toilet and campfire pits. 
Bingo Campground
Bingo Campground in the Coolidge State Forest is a primitive camping area that is on Forest Road 42 in Rochester, Vermont. The forest road runs along a mountain stream. There are 10 campsites that are available on a first-come, first-served basis, and you can only camp at these sites. The sites have a limit of 10 people at each, and you can check the bulletin board for site locations. 
Curtis Hollow Block
The Curtis Hollow Block in the Coolidge State Forest is located on Curtis Hollow Road, which turns off Route 4 in Bridgewater. Follow Curtis Hollow Road about 2 miles to an intersection with a forest road that is marked with a forest road sign. There is a gate and a parking area. You can either park here or 2 miles further up at a smaller parking lot. From the second parking lot, it is a 2-mile hike to the camping area. 
Northwest Plymouth Block
The Northwest Plymouth Block is located on Ranger Road off Route 100A and is just north of the Coolidge State Park entrance. Take Ranger Road, and continue for 2 miles to the intersection of Ranger Road and Messer Hill Road. Turn north on Messer Hill to the parking lot. You can hike to the camping area, and there is a lean-to located in this area. There are streams located near the campsites.
Where to Boondock in Vermont
Vermont has a number of opportunities for dispersed camping throughout the state. There are several national and state forests, and most of these allow for boondocking for free at primitive campsites. Green Mountain is a popular destination for dispersed camping, and you can camp up to 14 days during a 30-day period. You do not need a permit to camp in the national forests, and there are numerous primitive sites that are either on or accessed from the designated forest roads in the parks. The U.S. Forest Service recommends that you use already developed campsites. These primitive campsites have no amenities except for a fire ring and a pull-off from the road, but sometimes, a site will have a gravel surface.
Free Camping in Vermont
Taking a boondocking trip in Vermont is very easy as it is home to many national and state preserves that allow free camping. There are also many other areas in the state where you can park your vehicle overnight, such as parking lots and other designated sites. You are allowed to "car camp" in the national forests, but you will have to park your vehicle and walk to the primitive sites in the state parks. 
When using a primitive campsite, be aware that you will need to pack in all your necessities, such as potable water or water treatments, food, camping equipment, and navigation devices. Burn only dead or fallen trees, and do not bring wood into the forests. When you leave, be sure to pack out any refuse, and do not leave anything behind. Before you head out on your trip, be sure to check out our blog for all you need to know about boondocking. 
Vermont is a beautiful state with a wide variety of outdoor and indoor activities. While Vermont was not one of the original 13 colonies, it shared many of the same events and happenings as the colonies. Vermont became the 14th state in the U.S. and has a rich history spanning many centuries. You can learn about Native Americans who populated the region before European contact and about the Europeans who later settled in Vermont. Lovers of the outdoors will enjoy the mountains, forests, and watersheds. Using an RV for a road trip will allow you to experience all that Vermont can show you. It is an easy process to rent an RV on RVshare so you can just concentrate on having fun.