How Tos & Tips
March 17th, 2021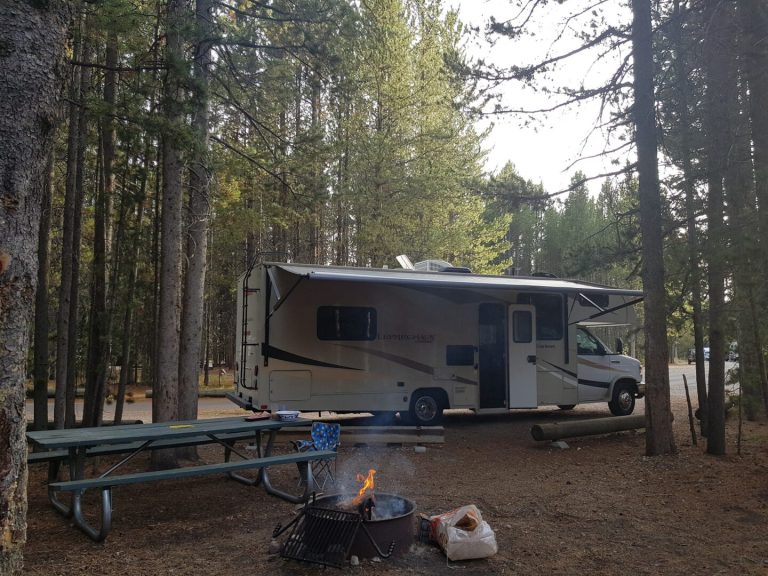 RV travel is an amazing way to see the country. It gives you the opportunity to wander off the beaten path, stay in the moment, and stay comfortable as you do so. It's also a relatively inexpensive way to travel.
All that said, RV operation can also be very stressful. This is especially true if you're an RV beginner. Driving a motorhome or towing a travel trailer can feel absolutely terrifying when doing it for the first time, and setting up camp is overwhelming if you have no idea what you're doing. 
Fortunately, we're here for you. Below is a compilation of the most important RV basics for beginners. As long as you know these basic tips for RV operation, you'll be able to hit the road with confidence. So, let's dive into RV basics 101. 
The Tools You Need
Before you even begin RV operation, you will need to pack the rig. Obviously, you'll need things like socks and underwear, and toiletries are a given. That said, many people have no idea what kinds of tools they might need in order to navigate safely in an RV and then set up camp once they arrive at their destination. 
For these individuals, we've compiled the lists below. Gather these things and you'll be well equipped for your first time RV operation adventure.
For Traveling with the RV
These are must-have items for the travel day portion of RV operation. They will ensure you're safe along the way and that you always know where you're going, no matter where you may wander:
RV GPS
RV-rated jacks
Spare tire
Jumper cables
For Camping in the RV
Once you arrive at camp, these are the items you'll want to have on hand in order to get set up and ready to enjoy your stay:
How to Avoid Mistakes and Accidents
One of the biggest fears people have when operating an RV for the first time is that they'll make a huge mistake and mess up the rig. This is understandable. After all, RVs aren't cheap. That said, as long as you know some basic tips and tricks like we've listed below, you shouldn't have any huge problems.
Use an RV-Specific GPS
We highly recommend using an RV-specific GPS. Using a GPS made specifically for RVers will help you avoid routes that big rigs can't handle. Many of these units allow you to download routes in order to ensure you have accurate directions even if no cell connection is available, and some even provide extra features such as a campground search.
We especially love the Garmin dezlCam 785.
Have a Navigator
In addition to using an RV-specific GPS, we also recommend having an adult passenger close by to help with navigation. This person can help decipher the GPS instructions if they happen to be unclear. They can also navigate you using the aforementioned trucker's road atlas should the GPS be out of service for any reason.
Avoid Steep Grades
The RV GPS should help you with this one. That said, you might want to double-check every route against the trucker's atlas just to be sure you can handle any steep grades you might come across. Generally speaking, we like to stick to roads with a 6% grade or less, especially if the incline lasts for miles (and especially if we're in a large RV).
Take It Slow
If you're driving an RV, chances are you're on vacation. This means there's no real reason to rush and every reason to take things slow. Slowing yourself down, leaving plenty of space between yourself and other vehicles, and hanging out in the right-hand lane whenever possible will make your travel a lot less stressful and a lot safer.
Brake Early
Even if your travel is almost entirely on the highway, you will have to brake eventually. When this time comes, keep in mind that your rig is much heavier than a typical car, and has a LOT more momentum pushing it forward, so it's going to take longer to stop. That extra space we mentioned before comes in handy for this reason, but you'll also want to start applying brakes sooner than you might otherwise.
Make Wide Turns
Another thing to understand when driving a big rig is that you'll make very wide turns. Give yourself room to do that, and make sure to think ahead when pulling into gas stations, ensuring you have room to get out again.
Avoid Big Cities
Driving in a big, busy city is stressful at the best of times. Doing it when driving a big rig for the first time is not a good idea. Instead, make a point of navigating around cities. Yes, this is worth adding some time to your trip, at least at first.
Know Your Fuel Type
Of course, you will need to refuel from time to time throughout your journey. Before doing this, make absolutely sure you know what kind of fuel your RV or tow vehicle uses, and only use that kind of fuel. Using the wrong fuel is a surefire way to mess up your trip. 
Be Aware of Your RV's Measurements
We mentioned before that some routes are more challenging or even impossible for RVs to use. Most of the time the reason RVs can't take these routes is because of size. For this reason, you will want to know the size and weight of your RV before you begin RV operation, so you know whether a route will work for you.
Low Clearances
Low-clearance bridges and tunnels exist all over the country. Your RV GPS should navigate you around these. That said, it doesn't hurt to know how tall your RV is. That way, if you come across a bridge with a lower height, you know whether or not you'll fit.
Bridge Weight Limits
Many small bridges have weight limits. Before driving over a bridge with a posted limit, think about the weight of your RV (plus everything you've loaded into it) to be sure it's safe to cross. You might be surprised just how heavy an RV can be.
Narrow Roads
Generally speaking, interstates are plenty wide enough for any RV. That said, there are some smaller roads that do get quite narrow. Most of these will have a posted width limit. Therefore, knowing the width of your RV before you start driving is always a good idea.
Small Campsites
Finally, there is campsite size to consider. Knowing the length and width of your RV (with slides out!) will help you determine what size site you need when you reach the campground.
Know Your Hookups and Tanks
Now that you have an idea of how to get from point A to point B, let's talk about the net step of RV operation: setting up camp. Obviously, you will need to unhitch if you're pulling a trailer or a tow car, and you should level the rig using leveling blocks under the tires. Some RVs will also require that you put down stabilizer jacks.
The next step? Hookups and tanks.
Start with Electric
First, it's important that you know what amperage your RV requires. Most smaller RVs require a 30-amp hookup. Meanwhile, big rigs will need 50-amp. Knowing this when choosing your site will ensure you have the type of hookup you need.
If you end up on a campsite with only one amperage but you need the other, you can always invest in an adapter. Just know that when plugging a 50-amp RV into a 30-amp outlet, you will need to carefully watch how much electricity you use at any given time.
To plug into the electric box, simply ensure the breaker to the outlet you wish to use is flipped to 'Off', then plug your RV's power cord into a surge protector, which in turn plugs into the socket. Flip the breaker back on and you should have power.
When it comes time to unplug, flip the breaker back off, pull the surge protector from the socket, and put the surge protector and power cord away.
Hook Up Water
Once you have your electric hookup sorted, it's time to turn your attention to the water. Most campsites have a water spigot. Connect your water pressure regulator to the end of a freshwater (white) hose and connect the pressure regulator to the spigot. Connect the other end of the white hose to the city water connection port on your trailer or motorhome. Turn the water on slowly and adjust as needed.
If your site doesn't have a spigot, you will need to fill the freshwater tank before you park. To do this, locate the freshwater fill label on the outside of your RV (sometimes labeled as "city water" or similar). Remove the cap, connect a freshwater hose to a potable water spigot, place the other end of the hose inside the freshwater fill (or connect it if necessary), turn the water on, and fill it until the control panel indicates that the tank is full.
This water will be accessible from your sink(s), shower, and/or toilet once you've turned on your RV's built-in water pump.
Learn How to Dump Your Tanks
Lastly, you will need to know how to dump your tanks. First, be sure to don some disposable gloves.
Connect your sewer hose to the dump pipe on the outside of your RV by twisting it on. Using an adapter piece, connect the other end of the sewer hose to the sewer drain pipe on your site or at a dump station, making sure it is twisted in securely.
When your tanks are full enough to dump, open your black water tank valve first, allowing everything to drain from the tank. This may take a while, depending on how full it is. When it stops trickling, close the black tank valve and open the gray tank valve, ensuring it empties completely by listening for water to stop draining. Close the gray tank.
After emptying your tanks, it's a good idea to put a few gallons of water down the toilet and one of the sinks, along with some tank cleaner to keep things fresh. 
How to Plan Your Trip
You now know the basics of how to start RVing. The next step is to plan your trip. In our opinion, this is one of the most fun parts, so be sure to enjoy this process.
Find an RV
First, you will need to get access to an RV. This is easy enough if you own a trailer or motorhome of your own, but if this isn't the case, you will want to look into renting one. Fortunately, there are plenty of options when it comes to rental RVs, so finding the perfect rig shouldn't be an issue at all.
Plan Short Drives
When planning your adventure, keep in mind that you'll be driving slower than usual. On top of that, fuel stops can take much longer in a large vehicle such as an RV. For this reason, a trip that should take 5 or 6 hours according to the GPS can easily take all day. Take this into account when planning your travel days, and stick to shorter drives whenever possible.
Map Out Fuel Stops
Speaking of fuel stops, it's a good idea to map those out in advance. This ensures you never run too low on fuel, and if you do enough research, you can even make sure the stations you choose are big enough to easily pull into and back out of.
Book Campgrounds in Advance
Driving all day only to discover that the campground you'd planned to sleep in is full is a real bummer. For this reason, we highly recommend booking all of your campgrounds in advance, especially on your first few trips.
Choose Campsites Carefully
When booking those campsites in advance, make sure you know what kinds of hookups you're looking for, as not all campsites include all hookups. Additionally, you may want to request pull-through sites at first until you get some practice with backing your RV up.
Use RV Trip Wizard
Our last planning tip is to use an RV trip planning program. We really love RV Trip Wizard, as we find it covers all bases. It even has an app that goes along with it, making it easy to take your trip planning with you wherever you go.
Keep a Checklist
This is a lot to remember about RV operation, and you're sure to come across other little things you'd like to keep in mind for next time. For this reason, we highly recommend keeping a running checklist of all the things you need to pack, as well as the steps you need to take when setting up camp and when breaking it back down.
This will help ensure everything gets done correctly and goes smoothly so you can fully enjoy your RV vacation.
May contain affiliate links.