Stove/Oven
September 4th, 2019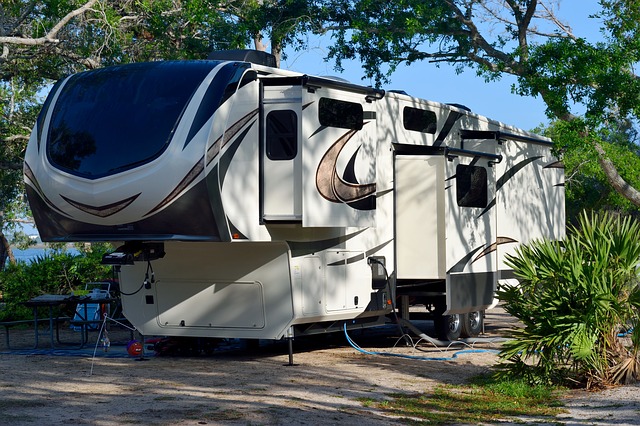 One of the best parts of traveling by RV is that you can cook on the road. 
No building campfires or starting tiny outdoor propane stoves and praying they don't go out like you do when you're tent camping. No constant eating out like you do when you're staying in a hotel. You can cook what you want, when you want it, and eat as well on the road as you would at home.
But, of course, for this to work…you need a stove. A good stove. A reliable stove. A stove that cooks your food well without burning it or leaving it raw in the middle (unless that's intentional…). If your RV comes with a good stove, there's a chance that someday you'll need to replace it. If it comes with a questionable stove, you'll want to do that sooner rather than later. Here are a few things to consider when you're looking for a new stove.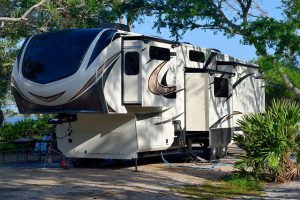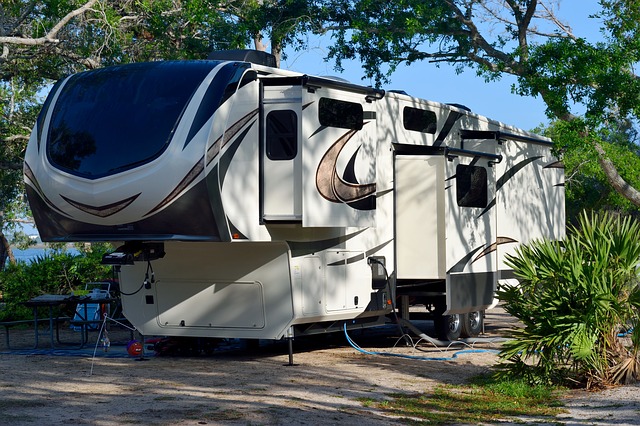 What to know about cooktops
The first thing to think about when you're looking for a stove, is whether you need a cooktop or a range. A range is what most people would consider a stove – a full-sized, freestanding fixture that fits in your kitchen between cabinets and usually includes an oven beneath the stove burners. It usually has burners that are all the same BTU. A cooktop is not freestanding – it's a surface on top of or between other cabinets and takes up much less space. They generally have burners with variable BTUs, so some of them work better for low heat like simmering, and some are better for more powerful cooking.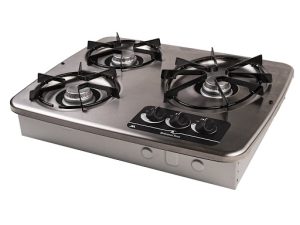 Cooktops are much cheaper than ranges, but they may require extra custom work in the RV kitchen to fit in the allotted space, while a range can be installed upright anywhere it will fit. There are Atwood RV cooktops available that work great in smaller spaces like this, if you don't want a whole Atwood RV stove. There are two main kinds of cooktops – the drop-in cooktop, which is a horizontal surface completely surrounded by counter, or a slide-in, which is considerably more expensive and can be inserted in an empty space between countertops with a front-facing vertical surface where the controls are. 
Cooktops are definitely less expensive than a full-sized Atwood RV range – especially if you opt for a drop-in cooktop. Atwood drop-in cooktops all feature two sizes of burners with two separate power settings – 5200 BTU for smaller burners and 7200 BTU for larger ones. You may also want to consider the appearance and color of your cooktop to make sure it goes well with the interior of your RV.
What to know about ranges
Atwood and Wedgewood RV stove ranges are rather more money, but could be worth it to you due to the added versatility and the included oven. Wedgewood and Atwood RV oven range models include the 52808 Atwood model and the Wedgewood Vision ranges. The 52808 is one model in a series of high output Atwood RV oven ranges that have similar specs but different prices, colors, and materials. Their main burner has 9,000 BTU and the two rear burners both have 6,500 BTU each. 
Maintaining your oven
The great part about spending a little extra to buy appliances like Atwood and Wedgewood is that you're likely to find someone trustworthy who can repair and maintain your appliance. You should be able to find Atwood RV stove parts and Wedgewood RV stove parts through local RV dealers and retailers, or online at places like eBay or even Amazon. An Atwood or Wedgewood RV stove may cost a little more at the outset, but knowing you can get it repaired well and that you shouldn't need it repaired or replaced as often, to begin with, is a great feeling. 
So go ahead – fricassee up a storm! With a little research ahead of time, you can rest assured the stove you're cooking on is a high-quality stove that will cook your food well.
This post may contain affiliate links.