Top RVs Nearby
Motorhomes in the USA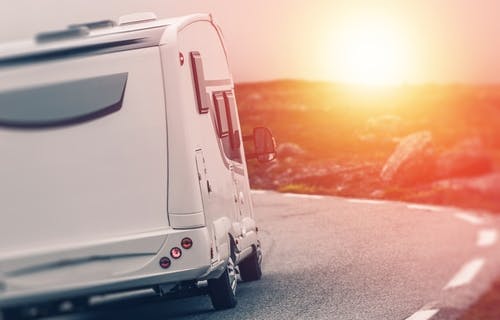 The excitement of tasting the open road is a treat that many Americans are opting in for. Nothing beats spending quality time with loved ones, dropping life's worries, even for just a weekend, and getting closer to nature.
Many are realizing that RVing is the best way to experience this. RVing provides an efficient way to explore as much as you'd like, quickly, and as inexpensive as possible. It's no wonder more families than ever own their own motorhome.
If you're excited about road trips, nature, and fun times, but aren't quite in the market for your own Recreational Vehicle, this post is for you. We're going to learn about why RVing is a much better alternative to hotels, where and how you can find a great motorhome USA rental for a fantastic price, and we'll even learn about a few different types if you're not quite sure what's out there.
Motorhomes Vacations USA
Before covering how to find the best campervan in the USA for rental, let's take a quick moment to explain why RVing beats other forms of travel.
First of all, RVing can save you loads of money. At the very least, for a typical trip, you must pay for transportation, accommodations, and restaurants (if you're eating out every day you're on vacation. Which you probably would be since you'd have nowhere to cook). An RV rental saves you money on all three of these things.
RVs are transportation and accommodations all in one rig. Nightly rates and fuel are basically your only real costs. That alone is an advantage that may very well save you 50% on travel expenses. As for food, opting in for an RV with a kitchen allows you to cook your meals just as you would at home, saving you a bundle. Spend that money on excursions instead.
Besides the savings, RVing is convenient and just plain fun. Having all the comforts of home anytime, anywhere gives you true flexibility. You're in control of where you go and how long you stay, without ever needing to worry about the drive back to the hotel. Roasting marshmallows in a fire, listening to the sounds of nature, and staring up at the beautiful night sky are thrills a hotel just cannot give you.
Motorhomes are becoming the new standard for travelers in the USA. If you love the idea but don't know what's for you, keep reading as we cover RV rentals.
Luxury Motorhomes USA Rental
There are many different types of RV classes, brands, and styles, so how do you know which is best for your family? Well, part of it depends on your budget. If you're thinking of traveling in style, a luxury RV rental may be great for you!
Mercedes offers incredible motorhomes here in the USA that'll meet your criteria. Their sprinter motorhomes are high-quality and roomy enough for upwards of 12 passengers. At RVshare, we've got sprinter options all throughout the USA.
If you're a fan of the space, but need more amenities, we recommend renting a class A RV, such as the kinds that Fleetwood motorhomes offer in the USA. These are massive, luxurious, and come equipped with everything you'll need for a successful trip, such as a kitchen, bathroom, master bedroom, shower, and plenty of storage space.
Budget Motorhomes USA
Some families like to travel efficiently, so perhaps a gold standard RV brand like Winnebago makes for the best option. Winnebago offers some small and relatively cheap motorhomes. The good news is that we've also got these RVs as rental options all over the USA as well.
The advantage of renting something like a Winnebago is that they're better on fuel than other larger RVs, since they're smaller they're safer to drive, and they don't require any special storage space when you're not using it. Best of all, finding one for less than $100 per night is a strong possibility!
Best Motorhomes USA
Now that we're better acquainted with the advantages of RVing and which ones may be good for your family, you must be thinking, "How can I find a good motorhome rental near me?" The answer is by using our state of the art platform.
RVshare is the world's largest peer-to-peer RV rental marketplace meaning we've got an RV rental for your family whether you're only traveling one way, or you're doing an all-out cross-country trip around the USA.
At RVshare you rent directly from owners and RV enthusiasts for a better experience and lower pricing! Think Apollo Motorhomes, but with the advantage of more flexibility. There are many reasons why renting through us is advantageous for your family, but some of the biggest ones are the hundreds of options and the pricing.
No matter where you're located, we've got thousands of high-quality rigs ready for rent exactly when you need them. Finding out is simple.
Enter your dates and the location where you're looking to pick up your rig in the USA
View literally dozens of different RVs. From luxury to budget. From Mercedes and Fleetwood to Winnebago and anything else you can think of
When you see one you're interested in, click on it, read all about the details, check out what your total pricing is going to be, and message the owner
Meet the owner, get a tutorial, and have a blast
The only thing better than how simple the platform is to use are the amazing deals. Our rates are the lowest in the industry starting at only $10 per night. On average, you'll be paying around $100-200 for a rental.
Most of the RVs to hire on our site come with unlimited miles and generator usage. Other than that, you're in charge of nightly rates, taxes, any refundable security deposits, and replacing whatever gas you used for your trip.
Save more by avoiding holidays or peak seasons and renting for longer periods of time. Above all, don't be afraid to negotiate prices with owners who want you to have as much fun in their rigs as they have!
Motorhomes USA Rentals
RVing is clearly one of the best ways to travel because of the money you can save renting one, the fun your family is sure to have while doing it, and the all around convenience they offer with their home like amenities.
Search through RVshare today and find yourself the best motorhome rental money can buy!