Warning: Ugly RV Sofa Need Not Apply
RV Decor & Unusual RVs
May 8th, 2015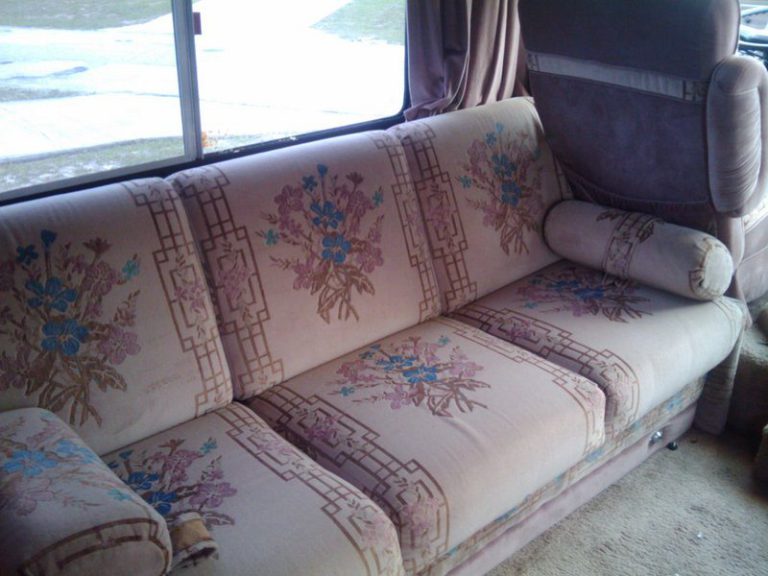 We've all seen them.  The hideous couch whose time has come. RV interiors may vary, but most recreational vehicles have some sort of sofa. An RV sofa is the most common piece of furniture in an RV, and yet, the choices are nearly endless.  If your couch is ugly, listen up.  This quick guide will help you choose a new sofa or sofa sleeper with ease.
What is an RV sofa?
RV furniture is similar to residential furniture in both quality and workmanship. Couches vary in their ability to fit inside the narrow doors of a recreational vehicle. An RV sofa may also only have a partial back. This allows the sofa or sofa sleeper to connect to the walls and floor of your rig. Without these important features, your sofa would either fail to fit, or would slide around.
How To Choose An RV Sofa
Tip #1 Start With Size
RV sofas usually come in 2-cushion or 3-cushion models. These couches vary in size. It is important to take the time to measure the height, depth, and length to determine exactly what you will need. If your sofa is on a slide, you will need to make adjustments. Ask your RV sofa sales person to help you with this process, and make sure to follow their advice.
Tip #2 Do You Need An RV Sofa Sleeper?
RV sofas often provide extra beds for visiting campers. Do you want your sofa to serve as a bed? If so, you need to order an RV sofa sleeper. RV sofa sleepers come in several styles, including: RV jack knife sofa, RV sleeper sofa, air mattress, and traditional RV folding couch, which is also called a hide-a-bed.
Each model of bed has pros and cons. So make sure to do all your research before choosing one.
Tip #3 Choose A Fabric
When it comes to fabric, your choices include solid fabric, like a suede or vinyl, Faux leather, real leather, and patterned fabric. Most RV sofas come in neutral colors, such as cream, black, white, brown, or tan. Older RV sofas often feature complex patterns. Today, solid fabrics are much more popular, allowing the RV owner to update the interior with throw pillows that match their favorite accent color.
Tip #4 Choose A Price Range
If you are on a tight budget, look for sofas and sofa sleepers on websites, such as Craigslist and Ebay. Expect to pay $300 or more for a used couch. If you plan to order a new sofa, the price will vary depending on the size, quality, and fabric. An average RV sofa will cost about $1,000. An RV sofa sleeper will cost $1,000 or more. You can save money by looking for closeout or clearance models from RV dealerships or the Camping World website. Upper end couches, with fine leather and hand-crafted quality, will range from $4,000 to $5,000.
Tip #5 Allow Time
An RV sofa is a great item to customize. That is, if you have the time to wait. Orders can take 4-10 weeks, depending on the manufacturer and the fabric. If you need something in a hurry, look for "in-stock" options, and forget about customization. Camping World and Bradd and Hall carry in-stock, as well as custom, RV sofas and RV sofa sleepers.
That's it! You are ready to buy your new RV sofa. Congrats!
If you learned something here, share your thoughts in the comment area below.
Think I missed something? Tell me about it. You help to build a better RV website! Like this article? Share it, tweet it, pin it…and thanks for reading!