Seating
September 16th, 2019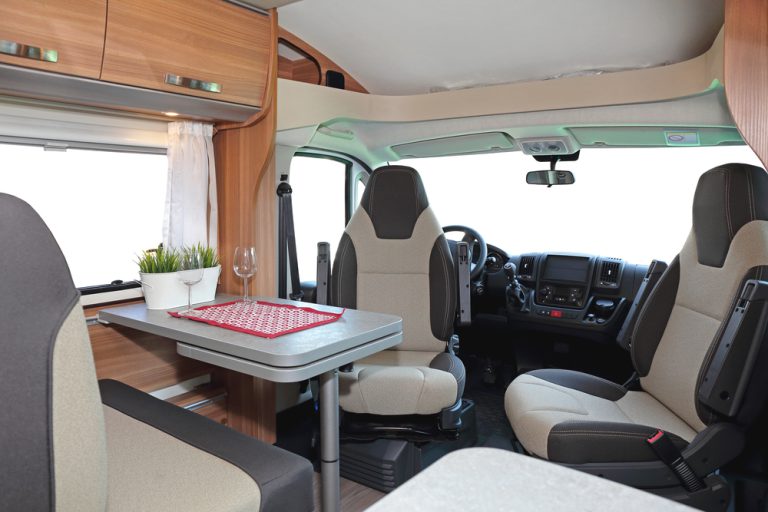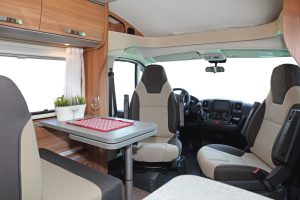 All motorhomes have special RV seats that can be used for comfort as well as travel. For safety reasons, it's important that you know everything you can about these seats and how to use them properly before hitting the road. This is especially true if you plan to change out your RV bucket seats or RV loveseat, or if you want to install a car seat in your RV.
Below, we've compiled all the info you need.
Reasons to Buy Replacement RV Seating
Because you may spend long days traveling in them, your RV captain seats are quite possibly the most important seats in your rig. If you'll be bringing more than two people on your adventures, other motorhome seats that must be comfortable enough for extended travel include the dinette and the sofa, both of which likely have seat belts built in.
Sometimes the seats that come in an RV simply don't work well for the people driving and riding in the RV. Perhaps they don't have the right features, or maybe they don't offer proper support. In these cases, replacement seats are necessary.
Other reasons for replacing RV seats could include worn or saggy camper seat cushions or an upholstery color that doesn't compliment the owner's decor. Of course, simple covers could do the trick in these cases, but some people prefer to go all out with replacements.
Replacing a Camper Seat Safely
A replacement motorhome seat must meet industry safety standards, so be sure to check that the seat you have chosen does so. Additionally, the replacement seat needs to be approved for your specific vehicle. Failing to ensure your new camper seats meet these criteria can void your RV warranty, and more importantly, put you and your family in danger.
Where to Find RV Seats for Sale
Not sure where to shop for seats for an RV? Camper van seats can usually be replaced with regular van seats, making them relatively easy to find. For those with class A and class C RVs, we recommend seeking out one of the many dealers out there who sell Flexsteel RV seats. This company is well known for quality and safety, meaning you can rest easy when buying from them.
Want to save a bit of money? You can always look for used RV seats on Craigslist or at an RV salvage shop.
Riding in RV Seats Safely
Whether or not you plan to replace your RV seats, you will want to ensure you're riding safely. Here are some tips for doing just that:
Moving Seats
First, you will want to make sure all chairs and sofas are locked into travel position. Most RV bucket seats are able to turn, and many couches fold down into beds. Failing to lock everything into place could cause serious problems should an accident occur, and in some cases could even be the cause of an accident.
Seat Belts
Contrary to popular belief, it is important to use your RV seat belts while the coach is in motion. Sure, it may be tempting to get up and make a snack or lie down and take a nap, but this is very unsafe and should be avoided. Need a snack, nap, or bathroom break? Pull over to do those things.
Child Car Seats
Finally, there is the issue of RVs and car seats. If you'll be traveling with an infant or a very young child, you will need to decide where and how to install a car seat in your RV. Since not all RV seats face forward, and because RV seat belts aren't always anchored to the frame of the vehicle, there's no great way to install a car seat in an RV.
That said, if you must travel with small children in a motorhome, the best way is to put them in the front passenger bucket seat with the airbag turned off. Can't do that? Find a back seat belt in a forward facing seat and ensure the car seat is installed properly with the provided lap belt. Five-point harness car seats are safest for kids in the height and weight limit, and there are options for taller and heavier children out there.
These tips should help ensure you are as comfortable and safe as possible in your RV seats, meaning you can enjoy your camping trips free of body aches and with peace of mind. That sounds great to us, and we know it does to you as well!
This post may contain affiliate links.