Urban Camping
September 23rd, 2021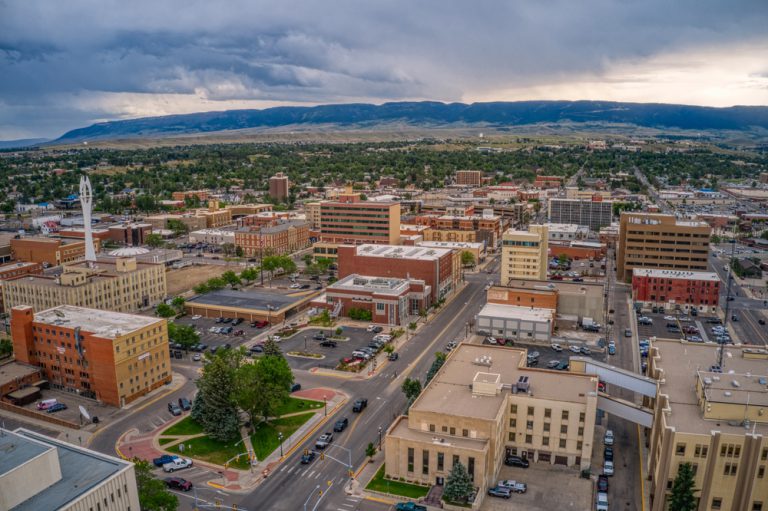 From the beginning of the massive cross-continental migration, Wyoming was a place to pass through on the way to the West Coast. Even today, the 98,000 square miles that make up the state are populated by only 578,000 people or a little less than six people per square mile. However, it is those vast open lands that bring RV travelers to the state to visit the Devil's Tower in northeastern Wyoming and Yellowstone National Park and Grand Teton National Park in the northwest region of the state. Eventually, even the most intrepid RV traveler seeks out where to urban camp in Wyoming. Most urban RV parks in Wyoming are in the four largest cities: Cheyenne, Casper, Laramie, and Gillette.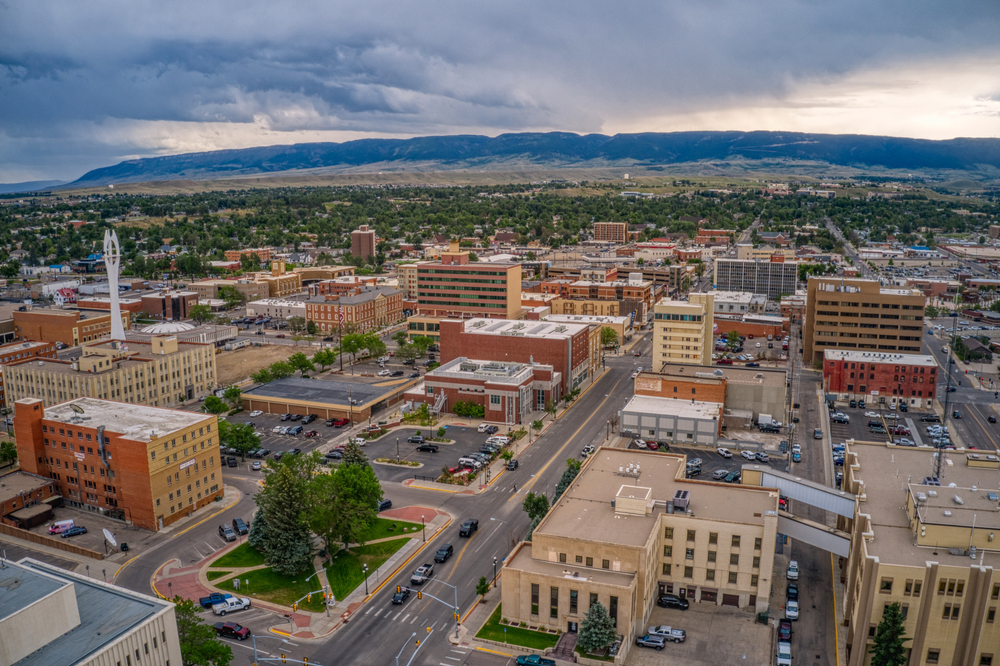 Urban RV Parks in Wyoming
Restway Travel Park
Within two miles of Cheyenne's city center, Restway Travel Park provides a place for a weary traveler to rest and recuperate while enjoying the amenities of Wyoming's largest city. The park offers 40 RV sites, 26 with gravel pads and 16 that are grass sites. All but one of the campsites provides full hookups with a choice of 30-amp or 50-amp service. An enclosed dog run helps your pet get the kinks out after a long ride, and a heated swimming pool and mini-golf course do the same for humans.
AB Camping RV Park
Located in the south side of Cheyenne, AB Camping RV Park is the nearest campground to downtown Cheyenne. The park offers 115 RV sites with gravel pads, 89 of which provide full side-by-side hookups. Featuring an on-site barbecue restaurant, this park is one of the favorites amongst Wyoming travelers. Located within four blocks of the business center of Cheyenne, guests at this park enjoy the vast array of venues the town offers, including concerts, organized events, and seasonal festivals.
Terry Bison Ranch RV Park
One of the most interesting urban RV parks in Wyoming is the Terry Bison Ranch RV Park. Located just outside Cheyenne, this park is set on a 27,500-acre ranch. A unique feature of this park is the train that takes guests amongst a herd of buffalo. ATVs and horses are available for guests interested in riding through the countryside. The park provides 30-amp or 50-amp service to its 92 gravel pad RV spaces and also has Wi-Fi. 
River's Edge RV Resort
Located across the North Platte River from Casper in Evansville, River's Edge RV Resort is a four-minute drive from all the activities Casper offers. The resort reserves 70 RV all-weather sites for temporary visitors. Anglers love this park and its access to the North Platte River via a boat ramp for watercraft of all types. A camp store carries RV supplies, groceries, firewood, and ice.
Casper East RV Park and Campground
The Casper East RV Park and Campground sits in the eastern part of Casper, where it welcomes visitors with 40 full hookup pull-through RV sites. Located off Interstate 25, this park is a two-minute drive from downtown Casper where fun and excitement await families who love the feel of small-town Wyoming with the advantages of big-city restaurants, shops, and events. Inside the park, guests find an enclosed dog run and playground. 
Curt Gowdy State Park
Located a short 24-minute drive from legendary downtown Laramie and the University of Wyoming, Curt Gowdy State Park provides 145 grass sites with water and 30-amp or 50-amp electrical service. This picturesque park is home to three reservoirs with ADA-accessible fishing piers. It is a 3,395-acre park nestled in the foothills of the Laramie Mountains with over 35 miles of trails. Restrooms, showers, and a dump station are available for visitors.
Green Tree's Crazy Woman Campground
Located inside Gillette, the Green Tree's Crazy Woman Campground lies within walking distance of the downtown area with its quaint shops, engaging "cowboy" points of interest, and incredible western barbecue restaurants. An escort leads visitors to their site, assists with hookup to the water, electrical, and sewer systems, and ensures access to the campground's Wi-Fi. After a long day enjoying the amenities and events in Gillette, kids are welcome to wind down in the playground while adults enjoy the exercise room and sauna. 
Where to Urban Camp in Wyoming
Wyoming is considered by many to be a vast playground where they enjoy endless horizons suddenly interrupted by mountain ranges like Grand Tetons that seemingly leaps from the ground in northwestern Wyoming or the Devil's Tower that erupts skyward in the northeastern part of the state. While the most prominent cities have populations well under 100,000, their amenities and friendliness are legendary. Even smaller towns like Jackson Hole in northwest Wyoming, the gateway to Yellowstone National Park, provide incredible urban RV camping in Wyoming experiences with rodeos, music festivals, and other events held throughout the year.
Urban RV Camping in Wyoming
When using urban campgrounds in Wyoming, remember to take the supplies you need for long-distance travel. Take stock of your rig, and ensure that you have all the spare parts and tools that you may need to make repairs along the way. Pack extra canned goods, changes in clothing, medications, and insect repellant. Before you head out on your trip, check out our blog for more RV travel tips and ideas.
With an RV rental, your urban vacation will be a little more comfortable! After you've spent a long day exploring the city, you can relax around the fire at your campsite. Then, retire inside to enjoy all the comforts of home onboard your RV. Plan your perfect urban getaway with an RV rental from RVshare.