Renting an RV
Last updated on August 23rd, 2023. Originally published on September 14th, 2020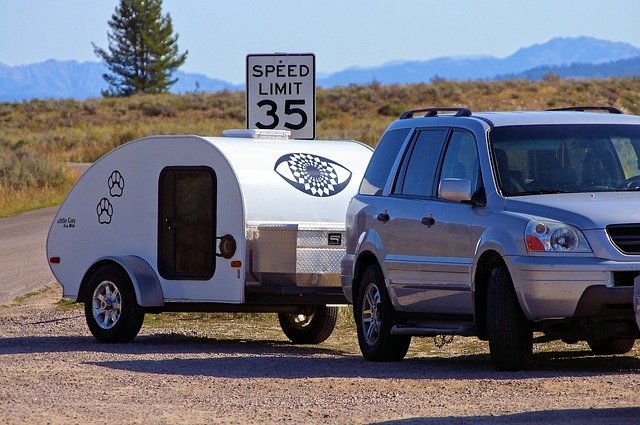 If you like to travel with minimal fuss but still want the comfort of sleeping in a bed and staying warm, a teardrop camper could be the perfect solution for you.
Teardrop campers were wildly popular from the 1930s to the 1960s, but they fell by the wayside as travelers replaced them with huge RVs and fifth wheels that included all the luxuries of home while they traveled. However, with the trend of minimalism and tiny homes, and the rise of all things vintage over the past few years, teardrop campers have risen to the forefront of trailer travel once again.
Teardrop Campers: What are they?
Teardrops are lightweight, towable travel trailers that pack a big punch of adventure into a tiny package. The name, of course, comes from the unique teardrop-shaped design. These unique trailers are rather small, with most of them averaging between four to six feet in width, and eight to ten feet in length. That leaves just enough sleeping space for two or three people. However, you may have to stick to sitting and lying down inside the trailer, as most teardrops are only four to five feet in height. Or just stick to hanging out in the trailer when it's time for meals or bed. While you might think it's a turn-off at first glance, the size can help you spend less time in your trailer and enjoy more time spent in the great outdoors!
In the rear of the trailer, there is usually a hatch that opens into a cooking space. Most teardrops have lighting and electricity run by storage batteries and sometimes come equipped with solar panels for off-grid camping. There's not typically a ton of space for storage, but there's enough room for all the necessities you need to be a happy, comfortable camper. 
What are the pros of teardrop campers?
The advantages of teardrop trailers are clear. You can camp but sleep comfortably in a bed. You're out of the elements, and warmer than you would be in a tent. The average teardrop trailer sits at under 1000 pounds. Because the trailers are small and lightweight, they're easy to tow pretty much anywhere your heart desires and don't require a large tow vehicle (which also means you'll save on fuel!). In fact, some tiny teardrop campers can even be pulled with a motorcycle. They're easy to set up and make camp. Their size also means they're easier to store when you're not using them.
And – last but not least – they're just so cute! The unique design is a huge draw for many people. If you want to keep up with the current trends, a teardrop camper can give you that retro look that's gaining popularity.
What are the cons of teardrop campers?
While the size does have its benefits, it also has a few disadvantages that some people simply aren't able to overlook. One of the biggest drawbacks of many teardrop campers is the lack of a bathroom. It might take a little more planning if you want to make sure you're camping near a restroom with plumbing.
If you have a large family or want to invite some friends to travel with you, you might be out of luck with a teardrop trailer. There's really only space for a few people to sleep.
What affects the price of a teardrop camper?
Teardrop campers can range from $5,000 to more than $20,000, depending on their size, age, and amenities. Generally speaking, small teardrop campers are $5,000-$10,000, midsized campers are between $10,000 to $15,000, and larger trailers start at $15,000 and go up from there. You can choose from bare-bones models that are basically just a bed, to models with kitchens and wet baths (a bathroom with a shower that gets the entire bathroom wet). Campers also vary in their design and decor. Another factor you may want to consider, and that can affect the price of your camper, is its weight. There are teardrop campers available that are as light as 216 pounds!
Relatively low prices are another benefit of teardrop trailers; if you can deal without all the extra living space, a teardrop trailer could be a much more affordable way to get on the road as quickly as possible. 
How much does it cost to build a custom teardrop camper?
If you're feeling handy, you can also build your own custom camper! There are YouTube tutorials on building an entire camper from scratch, which is the most inexpensive option. You can build your own camper for as little as $500, but $2,500-$3,000 is probably a more realistic price point. This blog talks you through every step of building your own camper.
You can also purchase a DIY teardrop camper kit, which includes the supplies and instructions you need to build your own camper. The price of these kits will vary, depending on whether you add on any extras, but you can find a base model for under $3,000. Some of the best-regarded teardrop camper kits are made by Big Woody Teardrop Campers, Chesapeake Light Craft, and The Teardroppers. You can purchase complete kits with everything you need, or often you can opt to purchase some of the parts and supply the rest yourself.
Is a popup camper better than a teardrop camper?
As with many decisions on camping equipment, whether you prefer a pop-up or a teardrop camper depends on you! Pop-up trailers are compact and inexpensive, but the pop-up roof can provide more room for you. The canvas can also make it feel more like you're having an authentic camping experience. However, that same canvas can be a drawback – pop-ups can get stuffy in summer and cold in winter. If it rains, you'll need to dry your trailer completely before storing it for long. Pop-up campers also require some work on your part to set them up and take them down.
Teardrop campers, by contrast, are easy to set up and take down because you don't have anything to assemble. Your trailer is already set up! The hard sides of a teardrop camper mean you won't be as vulnerable to cold or heat…or rain. You can also lock your camper securely. On the flip side, teardrop campers can be more expensive than popups. They're also more tight – since nothing pops up or opens out, what you see is what you get in terms of space. This means they also have less storage space.
Ultimately you'll have to decide what priorities are most important to you and choose a popup camper or a teardrop trailer based on your own personal needs.
Do teardrop campers hold their value?
Teardrop campers tend to hold their value well – much better, comparatively, than popup campers or expensive RVs and motorhomes. In fact, the increasing popularity of teardrop campers is a good thing and could help your teardrop camper hold its value even better.
Are Teardrop campers worth it?
Teardrop campers can definitely be a worthwhile decision for several reasons.
Low cost
As we mentioned above, the campers are very inexpensive compared to Class B or C campers, and definitely cheaper than large RVs and motorhomes. Since they're lightweight, they will likely not require you to purchase a special vehicle just to tow one – you can probably use what you already have. Thanks to their signature teardrop shape, they're also aerodynamic which means they won't impact your gas mileage or the wear and tear on your vehicle as much as heavier trailers as well, saving you money once again.
Appealing and functional
Because you can build your own, or customize a teardrop camper you purchase, you can add features and decor that suit your personality and preferences. If you're a vintage-lover you can make sure your camper is finished in a retro style. If you love the wood finish on some campers, you can have that on your own.
You can also customize your storage and amenities in your camper. If you're a glamper who wants a bathroom and kitchen, you can choose a higher-end teardrop camper. If you're a minimalist who just wants a place to rest your head, you can opt for a simple bed inside.
Easy maintenance
Because teardrop campers are simply constructed, there's not a lot to maintain on them unless you have appliances to tend to. You don't need to winterize them or do much at all. Because the campers are small enough to store in your garage, you don't have to worry about covering and storing your camper for the winter.
Lightweight
Teardrop trailers are ultra-lightweight, meaning they can be pulled behind regular-sized vehicles rather than the large trucks required by traditionally sized travel trailers. And because they're so small, they are navigable even to backwoods campsites that require driving down narrow dirt roads and ensure you'll have a cozy place to lay your head after the day's adventures.
Ideal for solo adventurers and couples
If you're a solo camper who's not spending any more than the bare minimum of time at camp in your trailer, and would rather spend the majority of your trip time adventuring, a teardrop camper can be a great option. Teardrop trailers are also an ideal solution for couples looking to enjoy a quick weekend getaway, during which they'll mostly be focused on exploring the place they've traveled to. While it won't be the most luxurious excursion, it will be comfortable, convenient, and cozy… and for many of us, that goes a long way.
What are the best teardrop camper brands?
Once you start looking at the different teardrop trailers available on either the rental or for-purchase market, you'll notice that there is a wide variety of them available. Although there aren't as many teardrop trailer manufacturers as there are, say, makers of Class A or Class C motorhomes, there are a growing number of makers who specialize in these popular little trailers. Little Guy, Timberleaf, Oregon Trail'R, and Polydrop all make some great teardrop campers. Here are a few of our top choices:
This trailer is just over 3,000 pounds and 6'7″ inches of headroom for tall people. The trailer has a good amount of storage, plenty of charging outlets, a wet bath, and LED lighting inside. It sleeps three and includes a dinette area and kitchen with a fridge, microwave, and 2-burner stove. Additional features like exterior entertainment, large pass-through storage, premium tires, and porch lighting are what make the Little Guy Max small but mighty!
Price: From $39,000
If you love a teardrop camper but desire a little extra space, the TAB 400 should be top on your list. This trailer features a galley kitchen with a 2 burner propane stove and fridge, a dinette with a hidden bunk bed, a spacious wet bath (plus an outdoor shower!), and a dedicated sleeping area with a queen-sized bed. The TAB 400 also comes equipped with roof-mounted solar panels. Upgrade to the boondock package for even more off-grid features like off-road tires, a heavy-duty entry doorstep, and an aluminum utility platform.
Price: From $51,000
This teardrop trailer is fully insulated, with plenty of storage and a kitchen you access from outside the back of the trailer. The Timberleaf Classic is available in a variety of colors, and it weighs in at 1,500 pounds dry.
Price: From $24,150
The Oregon FronTear is a great minimalist option, with a modern-looking design, overhead storage, and a queen size bed. There is also a rear kitchen that features an impressive amount of storage and counter space. With tons of ways to customize the FronTear including color options, lighting options, chassis options, galley options, and so much more, this versatile camper is a win-win when it comes to amenities and affordability.
Price: From $18,000
The Polydrop weighs only 640 pounds but is well-insulated and has an outdoor kitchenette. The space-age design is sleek and there is storage tucked into several places. The Polydrop is meant to be taken off the grid. The trailer has a roof fan, LED lights, 12V and USB outlets, and an optional solar power add-on. The Roof-Rack awning rolls out from the side of the trailer to provide shade, and the independent suspension system allows you to stay safe and secure on the roughest of roads.
Price: From $9,950
The Earth Traveler is a 100% carbon fiber trailer that weighs 216 lbs. It has pop-out sidewalls with tents, and pop-up roofs with tents in front and back. There are also UV awnings that you can set up to keep the sun off. This lightweight trailer is a great combination of a pop-up trailer and a teardrop.
Price: From $38,500
The Meaner Bean trailer is the first trailer to be made from a one-piece fiberglass shell, so it's a very reliable, durable trailer. It has a queen foam mattress, upper cubbies for storage, and a laminated interior cabinet with a galley pass-through. There is recessed lighting and plenty of clever storage.
Price: From $29,290
This adorable mini teardrop still manages to pack in an actual sink, mini-fridge, and stovetop in the rear galley. You can choose from a variety of paint colors, and even some prints of outdoor scenery. There's a skylight over the bed so you can see the stars as you drift off to sleep.
Price: From $11,435
This Danish-inspired camper has a retro feel. It features a rear galley, clever storage, and a memory foam mattress that sleeps two. The exterior is aluminum, and the interior is hardwood to keep you snug and dry.
Price: From $21,000
Teardrop trailer lovers, this one's for you! Introducing the Vistabule — a one-of-a-kind teardrop trailer with a twist.
Why spend your time feeling claustrophobic in a tiny tin can when you could be looking out a giant window at the vista beyond? This special teardrop features large windows so you can enjoy camping.
You want to know the best part? The bedroom converts into a living space so you can enjoy the views day or night! At night, lay back and relax in your comfy queen-size bed, and during the day flip the bed up, pop the table down, and you have a perfect spot to relax and enjoy the scenery.
The rear of the trailer features a galley kitchen under the hatchback and side doors that open wide allowing you to use the table space inside or outside. Close the door and the tables, flip up to cover the windows for instant black-out blinds. (Super clever!) In addition, it features a shiny aluminum skin just like an Airstream that comes in eight colors.
Price: From $23,995
Wrap up
From their non-fussy setup and minimal maintenance to their just plain adorableness, it's clear to see why teardrop campers are having a resurgence at the moment! Of course, if you're thinking seriously about purchasing a teardrop camper of your own, it's important to ensure you know what the experience of camping in one is actually like. RVshare has teardrop trailers available to rent, along with a variety of other models. It's a great way to see if you think you might want to own one for yourself!
With RVshare's simple and easy-to-use search tool, you'll be able to find the teardrop camper of your dreams in no time at all. Simply enter the date and location you're available to pick up and drop off your camper, select towable RV, and enter your price range. Click filter and enter "teardrop" into the keyword search box to narrow down your search. Then you'll be able to browse through hundreds of RV listings.
After you've found a teardrop camper you like, you can send the owner a request to book. Once your reservation is confirmed, simply pick up your keys and get a quick tutorial, then hit the road and enjoy your trip. It's that simple!
Ready to find the perfect teardrop rental? Head over to rvshare.com today to get started.
Happy camping!