How Tos & Tips
Last updated on July 6th, 2022. Originally published on March 10th, 2020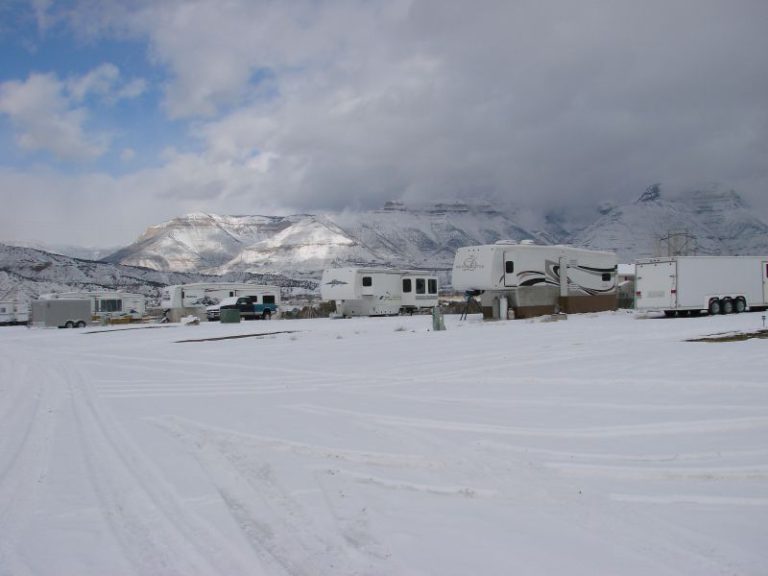 Most people put their RVs away once the cold weather starts to roll in. This is because RVs aren't really made to withstand super cold temperatures, and being comfortable while staying in an RV during the cold months can be quite difficult.
Difficult, but not impossible—and since winter RVing can be just as fun as camping in the summertime, finding ways to ride out the cold in your travel trailer or motorhome might just be worthwhile.
One thing many people do when planning to RV in winter is to put up RV skirting. In this article we will discuss this option in depth, helping you understand whether RV skirting is a good option for you, and if so, how to go about installing it. See our guide to RVing in the winter for more cold weather tips.
What is RV Skirting?
RV skirting, as you might've guessed, is a kind of skirt that attaches to the bottom of your RV walls and wraps around the base of the vehicle, removing the gap between the ground and your rig. It can be made using a variety of different materials and is meant to help keep your RV safe and comfortable during super cold weather.
How Does RV Skirting work?
Wondering how RV skirting works? Essentially, it functions as a barrier, preventing cold air from getting under your trailer or motorhome. In addition to keeping cold air out, it also traps warm air in, ensuring your tanks and any exposed pipes or water lines don't freeze. Some people will even use a small electric heater to add to the warmth under their rig.
As an added bonus, this extra insulation and heat helps keep you and your feet warm by preventing those ultra cold floors that so many RVs tend to get in winter weather.
Is RV Skirting Worthwhile?
Of course, installing the skirting does require an investment of both time and money. Therefore, you must ask yourself if it's a worthwhile investment. It depends a lot on your situation, really. We recommend considering the following questions before deciding whether or not to install RV skirting in the winter:
Will I be in a cold area?
If you'll be wintering in Florida, southern California, or somewhere equally warm, skirting is definitely not necessary.
How cold will it get?
Even if you won't be in one of those super warm areas, you may not be in a place that sees a whole lot of below-freezing temps. Texas, for example, stays relatively mild, and those staying there for the winter may not really need to put up RV skirting.
Do I have an enclosed underbelly?
If your RV has an enclosed underbelly and you won't be staying somewhere up north where the cold is relentless, skirting might just be overkill.
Will I be traveling often?
RV skirting is much easier to deal with if you'll be stationary during the winter months. If you'll be traveling often, we highly recommend going with an easy-to-remove canvas skirt, or skipping the skirting altogether and heading to a warmer climate if at all possible.
As you can see, there are some situations in which RV skirting doesn't really make sense. That said, it's always better to be safe than sorry. If you're unsure which way to go, go ahead and make the investment just in case.
Types of RV Skirting
If you do decide to put some up, there are a few different RV skirting options you could choose to use.
A lot of people prefer to invest in custom vinyl skirting that is made specifically for their RV. In some cases, the companies that make these custom setups will come to you. In other cases, you will be required to do the traveling. Either way, this is the most expensive option by far, but it is also the simplest for the user.
There is also the option of ready-made RV skirting. Canvas skirts are popular and super easy, but may not provide the best insulation. EZ Snap RV Skirting is also well loved in the camping community and comes in RV skirting kits that include everything you need to get the job done. This makes installation as quick and painless as possible, something those with less time on their hands appreciate.
All that said, there are plenty of more creative RV skirting solutions out there, and there is nothing at all wrong with going the DIY RV skirting route. If a trailer or motorhome will be in one place for several months or more, you could build a plywood structure around the bottom of it.
Other RV skirting ideas include tarps or canvas, plastic sheeting, and even stacked hay bales. One of our favorite DIY options is foam insulation board RV skirting.
RV Skirting Install
Installation of custom RV skirting—or one of the aforementioned ready-made options—will be included with your purchase. However, those who choose the DIY route are not provided handy instructions.
How should these individuals go about installing their RV skirting? The answer to this depends a lot on the type of material you plan to use.
Fabric Skirting
If you'll be using tarps, canvas, vinyl, or another fabric, you can use adhesive hooks such as these. Use tarp grommets to make holes along the top of the fabric, attach the hooks at regular intervals along the bottom of the trailer walls, and hang the tarp from the hooks. Just make sure you measure carefully so the tarp fits nice and snug and blocks the wind.
You'll also want to allow for the pieces of your skirting to overlap by quite a bit in order to avoid gaps between the pieces. Alternatively, you could use snaps to hold the pieces together and create a nice seam.
Use more tarp grommets to make holes along the bottom and hold the skirting down using tent stakes. If you can't do this, sandbags placed on the bottom of your skirting will hold it in place.
Check out this website for photos and more instructions.
Wood Skirting
To make wood skirting, first remove the wheel well covers if at all possible. You will then need to carefully measure the area you need the skirting to cover, keeping in mind the fact that the wood will need to sit just under the trailer body. Cut your plywood or particle board to the right size and shape.
Using 2x4s to create overlap where any seams will be, screw your cut pieces to one another around the RV. Pack the earth around the pieces and screw your wheel well covers back into place.
Check out this website for photos and more instructions.
Foam Board Skirting
Planning to use foam insulation board RV skirting? Installation is similar to the wood skirting installation. However, instead of creating overlap between pieces to screw them together, you only need to use aluminum duct tape to hold them in place on the trailer or motorhome.
This website has photos and more instructions.
RV Skirting Cost
Wondering about RV skirting costs? To be honest, what you pay could range from a couple hundred dollars to a thousand dollars or more.
As mentioned before, custom-made skirting will be the most expensive option, with ready-made kits coming in second. Depending on how creative you are willing to get, you should be able to create your own skirting without spending a ridiculous amount of money.
Want to know more important information about RVing? Our winter tips and tricks post and RV accessories post should both be helpful.
Of course, if you prefer to skip the winter prep entirely, you could always choose to rent an RV and let someone else take on the work of owning.
This post contains affiliate links. RVshare may receive compensation if you make a purchase after clicking on a product link.