RV Owners
March 29th, 2021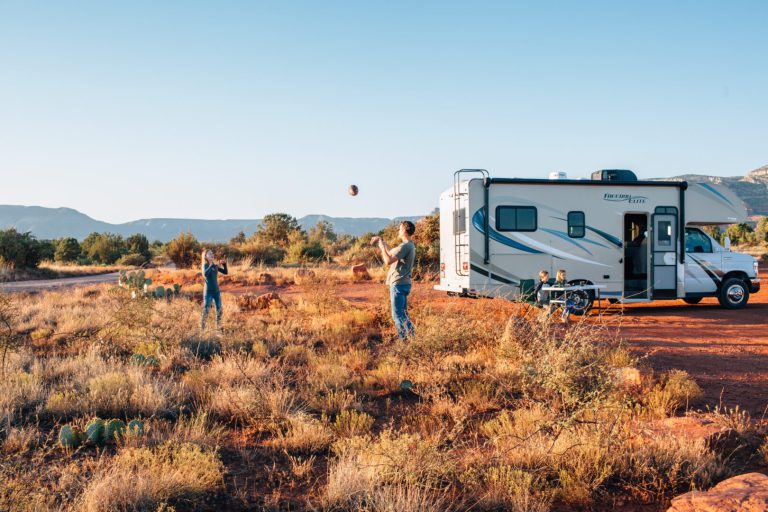 Most people have their own idea of what RVing is. For some, it means camping in the middle of nowhere, surrounded by nothing but nature. Other people associate RVing with road trips and sightseeing. Still others see RVs as a place to call home as they travel the country or even as they stay in one place.
And these are just a few of the different ways to RV!
No matter which of the different RV camping options you default to, there's a good chance you've never really looked at the other types of RV camping. Of course, there is also the chance that you've never given RVing much thought at all, and therefore don't really know which of the different RV experiences might suit you. Either way, we highly recommend looking a little outside of your box at the many types of RV camping.
Why do we recommend this? To broaden your horizons and open your eyes to the possibilities. You might just find a new style of RVing that fits your personality and preferences perfectly.
Let's dive into our list of the best RV camping options below so you can decide which of the types of RV camping is ideal for your family.
Types of RVing
There are countless styles of RVers out there, but we've made an effort to sort them into 4 main types of RVing. However, there is often still overlap between these styles, and there is no real reason to confine yourself to only one RVing experience.
Local RVing
This is the most common type of RVing. It involves heading to a relatively close campground for a few days at a time (or for an entire season) to unplug and get away from it all. Those who choose local RVing might choose to head to any one of the different types of campgrounds listed below, but they tend to stay close to home and might even leave their rig in one specific park the majority of the time.
Road Trip RVing
Road trip RVing is for the more adventurous RVers out there. This type of RVing involves hitting the road with your trailer or motorhome and exploring further from home. This might mean being away for a few days, a few weeks, or even an entire season, but road trip RVers are not the same as full-time RVers because they always have a sticks-and-bricks house to return to.
Traveling Full-Time RVing
So far we've discussed a couple of part-time RVing styles. However, there are some people who choose to live in their RVs full-time. Enter the traveling full-time RVer. These people might hop from campground to campground in one location/area, or they might travel the entire country. Either way, they live in their RV year-round, and choose to travel and explore while doing so. 
Stationary Full-Time RVing
Another form of full-time RVing involves staying stationary in an RV park for a long period of time. This means paying a monthly rate at an RV park, and often involves paying for utilities separately. Usually people choose stationary full-time RVing to save money, but there are other reasons to choose this lifestyle, such as the close-knit communities offered by many long-term RV parks. 
Places to RV
Whether you choose one of these RVing styles or a combination of a couple, you will need a place to stay. Often, where you stay has some influence on the type of RVer you are.
Below are some of the most popular options.
Camping in National Parks
National Parks camping is very popular with road trip RVers and traveling full-time RVers. It allows you to camp right in the middle of the beauty offered by our nation's national parks, and makes it easy to go sightseeing during the day. 
It's important to note that national parks campgrounds often fill up very quickly, meaning it's important to make reservations whenever possible. Additionally, many national parks have limits on RV size, so be sure to check on that before booking anything.
Camping in State Parks
Camping in state parks is perfect for those who enjoy camping in the tranquility offered by Mother Nature. State parks usually offer some amenities, but they don't allow these amenities to disturb the beauty of the flora and fauna that call the park home. Rates at state parks tend to be lower, making them a great option for those on a budget. 
Camping in Private Campgrounds and RV Resorts
If you prefer a glamping experience, a nice private campground or even an RV resort might be the best bet for you. The rates at these kinds of campgrounds tend to run higher than the rates at national parks or state parks. However, the amenities also tend to be much nicer and include things like swimming pools, hot tubs, sports courts, and more.
It should be noted that most private campgrounds and RV resorts are very developed, meaning they aren't ideal for those hoping to escape into nature. 
Camping in Membership Campgrounds
Those who camp often—especially full-time RVers—might find value in membership camping. These parks are privately owned but offer deeply discounted (sometimes even free) camping for members. This means you could camp for $0 to $15 a night every single trip, if you planned things right. 
These programs are best for travelers who will use their memberships often. Through RVshare, you can get discounts on some memberships, such as Harvest Hosts by using the code RVSHARE for 15% off.
Boondocking
Another option is to find dry camping (aka boondocking) locations. Boondocking usually means camping without any hookups, meaning that in order to do this, you will need a self-contained RV. This type of camping is usually free or very cheap and often, the best boondocking spots are in the most beautiful and remote locations. 
Here are the types of boondocking:
Traditional Boondocking
Traditional boondocking is the best of the four types of boondocking. This option involves finding land that is open to campers (usually BLM land or land owned by the Forest Service) and setting up camp away from everyone and everything. These are the places where the very best views are found.
Wallydocking
In sharp contrast to traditional boondocking, "wallydocking" is the least appealing type of RV camping. This involves parking in a Walmart (or other) parking lot to spend the night. This is great for one-night stops along your route, but parking lots shouldn't be used for more than a single night. Also, it's important to ask permission before staying anywhere over night.
Moochdocking
If you have a friend or family member near a place you'd like to stop, you might consider "moochdocking" for a few nights. This type of camping involves parking on your friend's land or in their driveway and sleeping there at night. Sometimes the friend might offer some sort of hookup. Obviously, you will want to be respectful.
Membership Boondocking
Finally, there is the option of membership boondocking. There are two memberships that offer this: Harvest Hosts (remember to use code RVSHARE for 15% off!) and Boondockers Welcome. Both memberships cost a small amount of money each year and offer RV dry camping spots on an individual's private land. 
As you can see, there are lots of types of RV camping and all of them are absolutely fantastic. If you think one of these RVing styles sounds awesome and you want to give it a try, browse our RV rental units to see which ones might work for your RVing adventure.