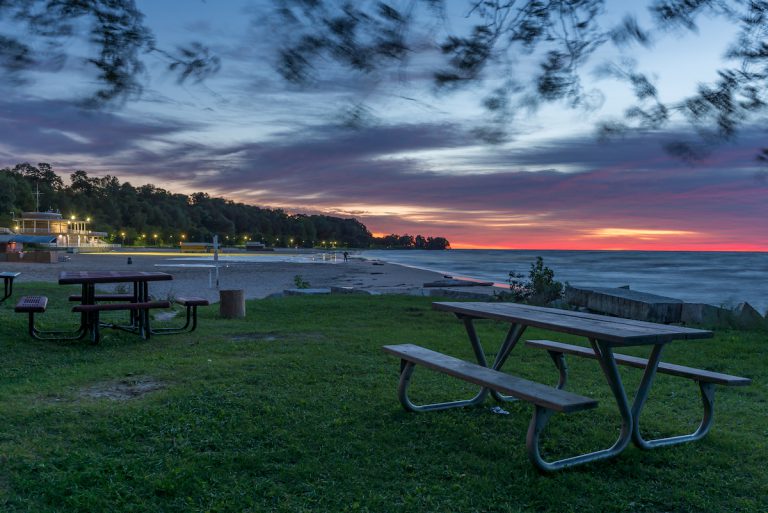 What are the most popular beaches in Wisconsin?
While it may not be next to the ocean, Wisconsin is bordered by two of the Great Lakes, and has multiple large inland lakes. Not only does this provide plenty of fantastic beaches for people to enjoy, but it's all freshwater swimming! Whether you're looking for a quiet place to fish or sandy beach to swim or play some volleyball, Wisconsin has a beach for you.
Top beaches in Wisconsin
1 Bradford Beach
2. Schoolhouse Beach
3. North Beach
4. Big Bay Town Park
5. Nicolet Bay Beach
6. Elkhart Lake
7. Lake Geneva
8. B.B. Clarke Beach
9. Anclam Park
10. Devil's Lake State Park
Wisconsin Beaches
Wisconsin lakes are popular destinations for fishing, boating, and swimming, and we've rounded up 10 of the best beaches to visit.
1. Bradford Beach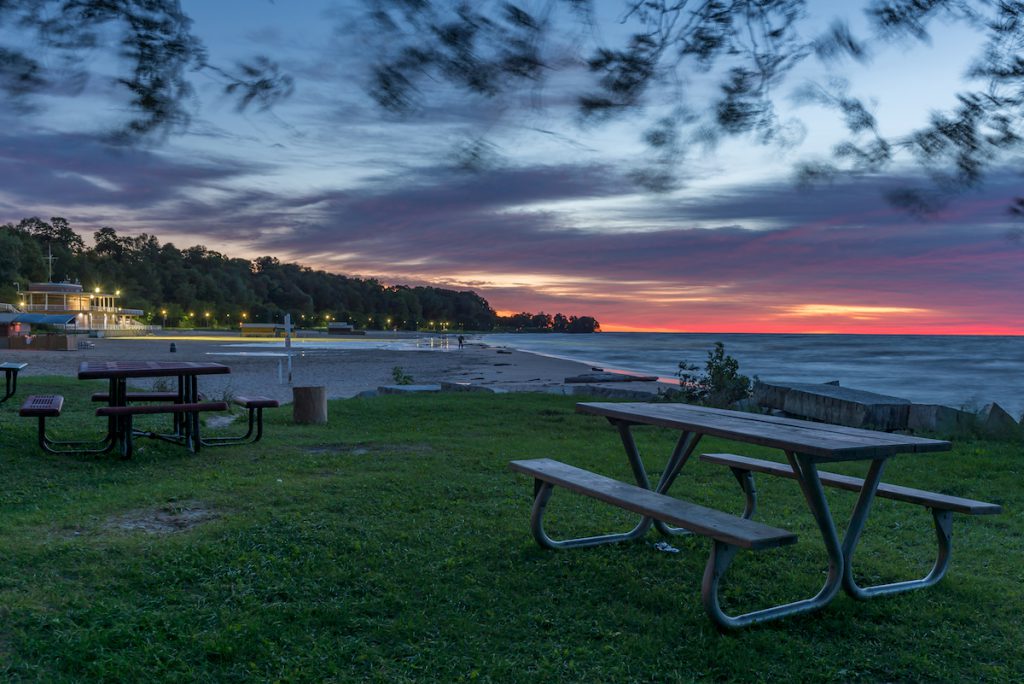 Milwaukee is a lakefront city, and that means there are plenty of urban beaches along the shores of Lake Michigan. Bradford Beach is one of the most popular public beaches and a favorite place for locals to get together with their friends and family. Besides swimming, there's also beach volleyball, restrooms, a bathhouse, concession stands, and picnic areas. You're also right near downtown for a great selection of restaurants, shops, and activities once you've had enough sun and sand for the day.
Things to do near Bradford Beach: You're right in the center of Milwaukee, so there's plenty to see and explore. Our local's guide to Milwaukee has all sorts of things to do and see, and we've got you covered with RV rentals in the area.
2. Schoolhouse Beach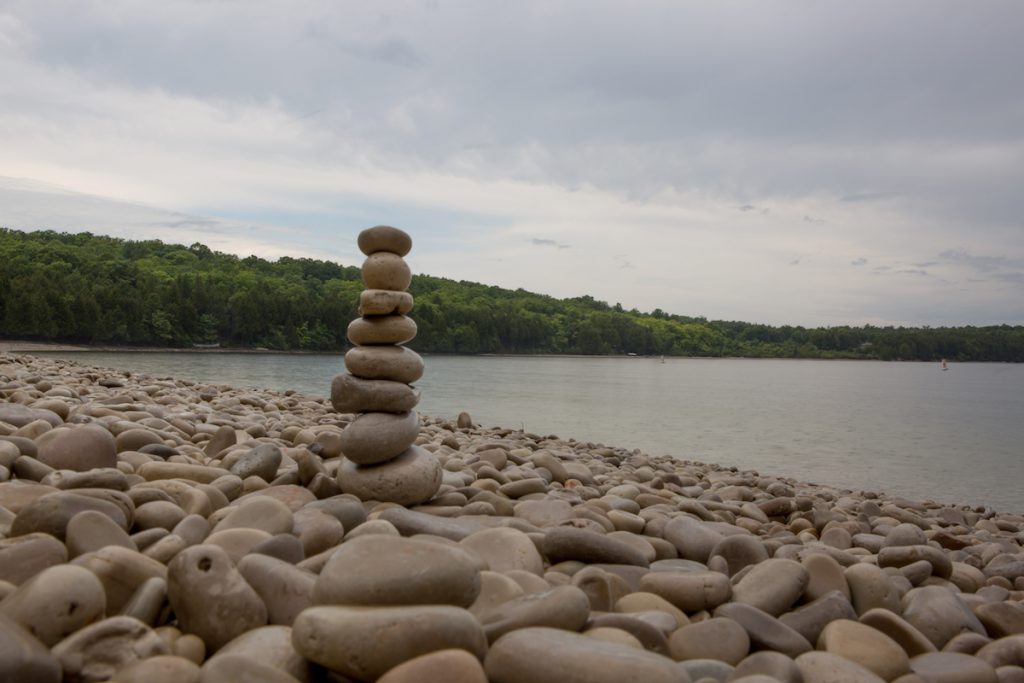 One of Wisconsin's most unique beaches is Schoolhouse Beach on Washington Island. This small island in Lake Michigan is off the shores of Door County (the little thumb part of WI) and is a favorite spot for divers, as there were multiple shipwrecks in the area during the 1800s. What makes Schoolhouse Beach so interesting? Instead of sand, the beach is made up of smooth limestone pebbles. It's a fantastic beach for swimming, kayaking, snorkeling, and diving, and the surrounding forest is great for birdwatching.
Things to do near Schoolhouse Beach: Door County is sometimes called the Hamptons of the Midwest, so be sure to explore the quaint towns on this peninsula. And you can stop by the gorgeous Peninsula State Park for another fun beach option.
3. North Beach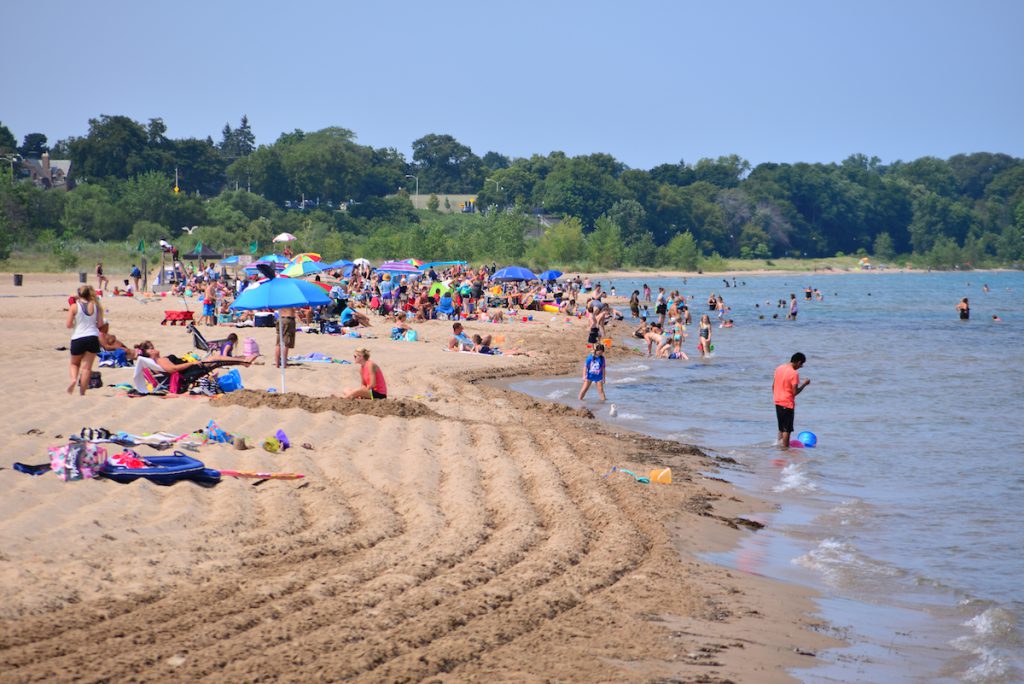 Another fantastic Lake Michigan beach, North Beach in Racine is open to the public and offers 2,500 feet of sandy shore for swimming, picnics, and beach volleyball. There's also a concession stand, the Kid's Cove Playground, and live music performances in summer. There are lifeguards on duty from 10 am to 6 pm every day during the summer months. North Beach is also the first Wisconsin beach to be certified as a Blue Wave Beach by the National Clean Beaches Coalition.
Things to do near North Beach: Racine is in the southeastern part of WI between Milwaukee and Chicago. We've got local guides on both cities to help you find the best things to do.
4. Big Bay Town Park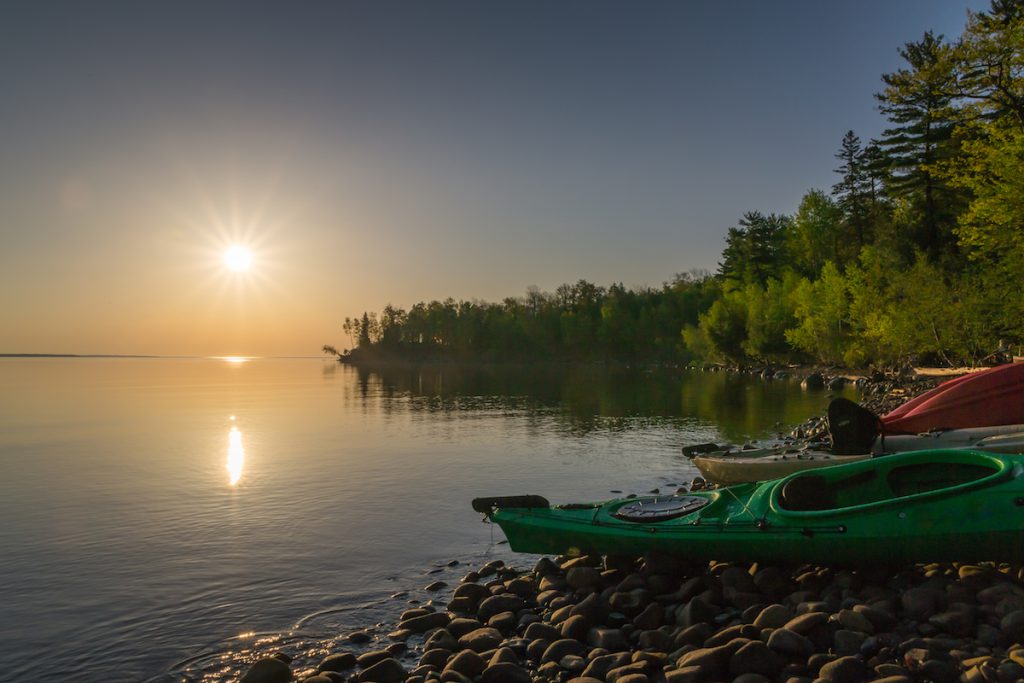 Lake Michigan isn't the only lake in Wisconsin that has great beaches. Lake Superior, which borders WI to the north, has some of the prettiest beaches in the state. Take the ferry to Madeline Island, one of the 22 Apostle Islands, and head to Big Bay Town Park. Not only is this park great for swimming, fishing, stand up paddleboarding, kayaking, and canoeing, but there's also a campground with 61 campsites, including 22 with electric hook ups.
Things to do near Big Bay Town Park: Explore the Apostle Islands and Lake Superior. The nearest city is Duluth, MN.
5. Nicolet Bay Beach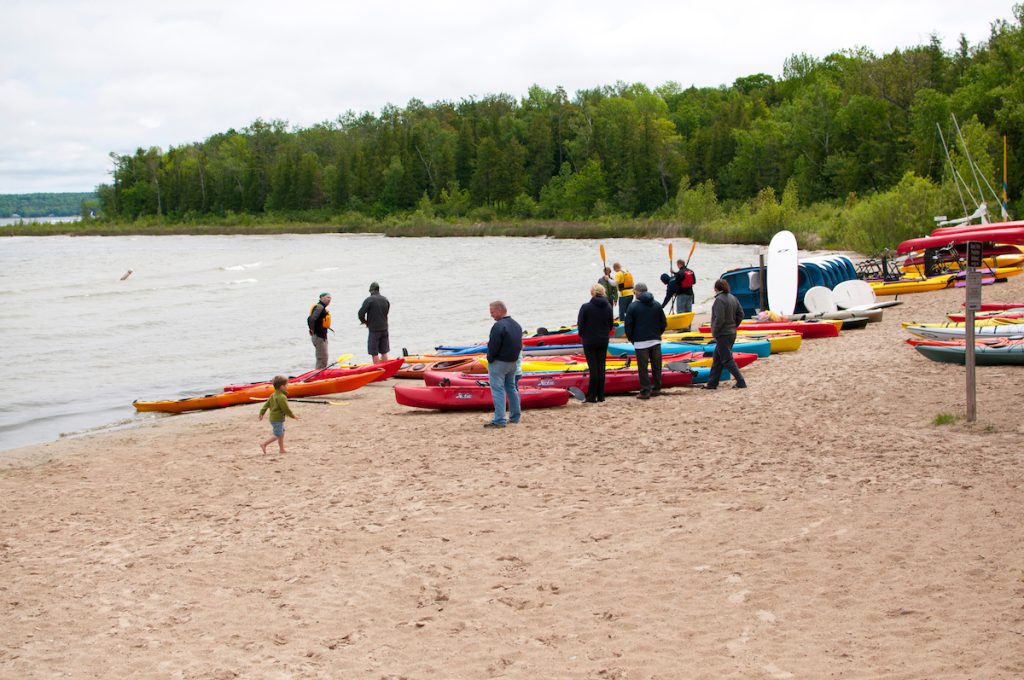 Located in Wisconsin's beautiful Peninsula State Park, Nicolet Bay Beach is a popular destination for locals and tourists alike. Tucked away on an inlet off of Green Bay (the body of water, not the city), Nicolet Bay Beach is the only sand swimming beach in the state park. It's a family friendly beach with areas for swimming, sand volleyball, and picnics, as well as kayak and bike rentals. There are also fantastic trails throughout the state park, both through the woods and along the shore, and camping sites are available if you want to stay overnight.
Things to do near Nicolet Bay Beach: Explore the rest of Door County and Peninsula State Park. You can also head south to Green Bay and Point Beach State Forest. Here are some great RV rentals in the area.
6. Elkhart Lake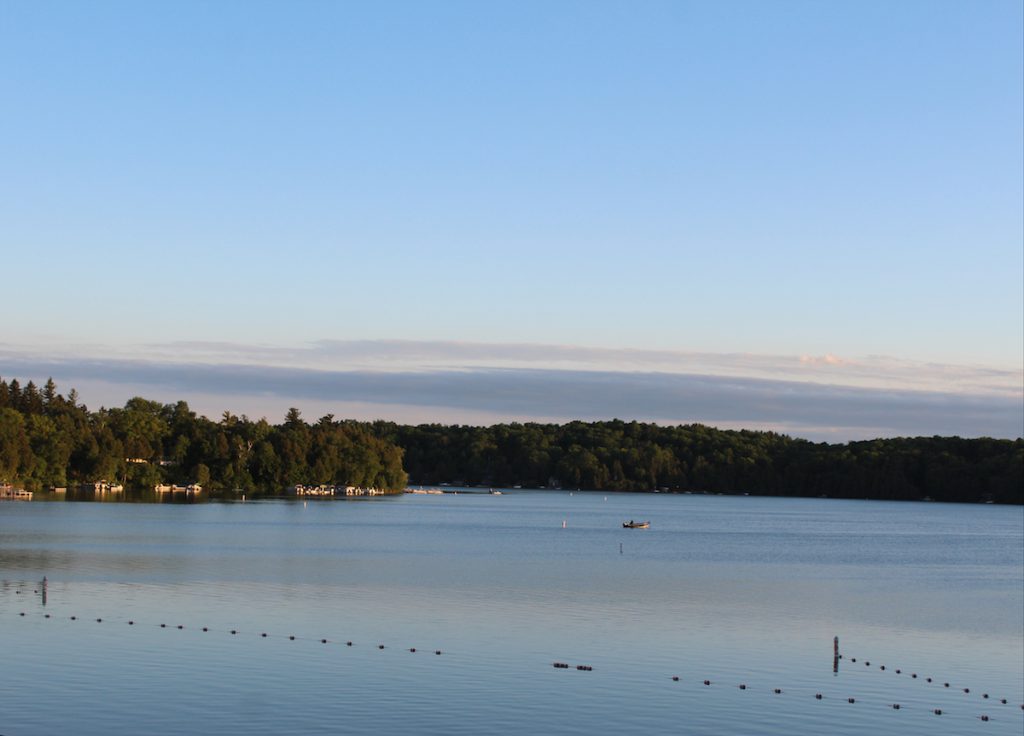 Looking for a smaller lake to enjoy? Elkhart Lake is a spring-fed, providing crystal clear water for visitors to enjoy. Fireman's Park and Beach has a sand swimming beach with areas for picnics, grilling, sand volleyball courts, and restrooms. If you're looking for more lake activities you can also rent kayaks, hydro-bikes, paddleboats, or go on any of the cruises offered by local companies.
Things to do near Elkhart Lake: Located between Milwaukee and Green Bay, the lake is the perfect distance from busy cities. Elkhart Lake is also not too far away from Lake Michigan, if you'd like to see the Great Lakes.
7. Lake Geneva
This resort destination includes both the town of Lake Geneva and the actual lake, with opportunities for swimming, boating, picnic areas, water cruises, and four beaches. Big Foot Beach State Park is one option that includes 900 feet of sandy shore on Lake Geneva, as well as camping and hiking. Riviera Beach is another sandy beach option within walking distance to downtown Lake Geneva.
Things to do near Lake Geneva: Lake Geneva itself is a fun resort town to explore, so be sure to take some time for dining, shopping, and adventuring. We've got some great local RV rentals for you to check out.
8. B.B. Clarke Beach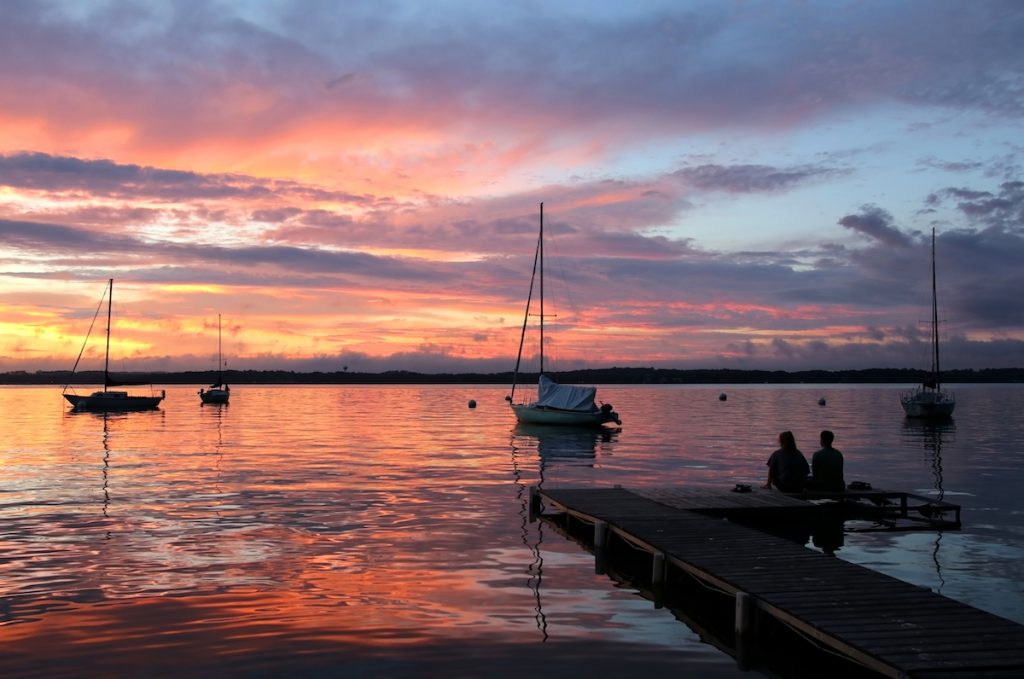 Madison, Wisconsin sits between 2 bodies of water – Lake Mendota and Lake Monona, giving locals and visitors plenty of beaches to enjoy. In fact, there are 12 different beaches in the Madison area. B.B. Clarke Beach is on the shores of Lake Monona and offers guests a grassy park, a sandy beach, lifeguards, and restrooms. And it's close to everything, so once you're done enjoying the water you can explore the rest of downtown Madision.
Things to do near B.B. Clarke Beach: There are all sorts of adventures to be had in Madison, starting with the 200 miles of biking and hiking trails around the city. There's also museums, botanical gardens, restaurants, shopping, and 5 lakes nearby to enjoy. If you need an RV, here are some great rentals to check out.
9. Anclam Park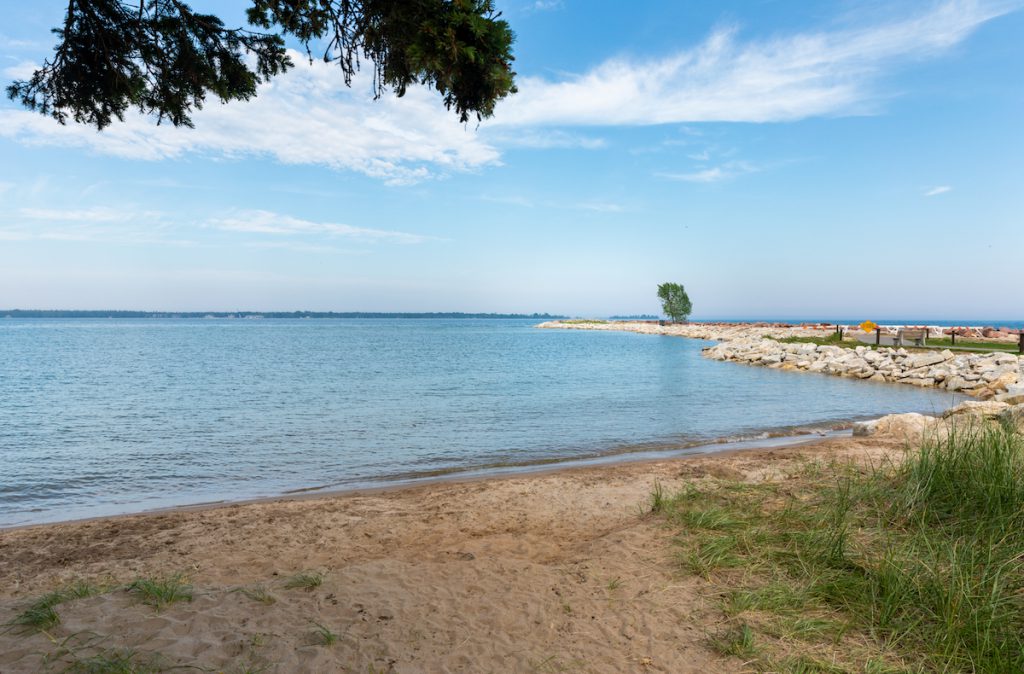 For those who want a quieter beach, Anclam Park in Baileys Harbor is the perfect place to relax in the sand. This small beach has picnic areas with barbecue grills, a playground, and a jetty that you can stroll down and overlook the waves.
Things to do near Anclam Park: The beach is in the quaint town of Baileys Harbor in Door County which has waterfront restaurants, shops, and art fairs to visitors to explore. It's also about an hour away from Packer's country in Green Bay.
10. Devil's Lake State Park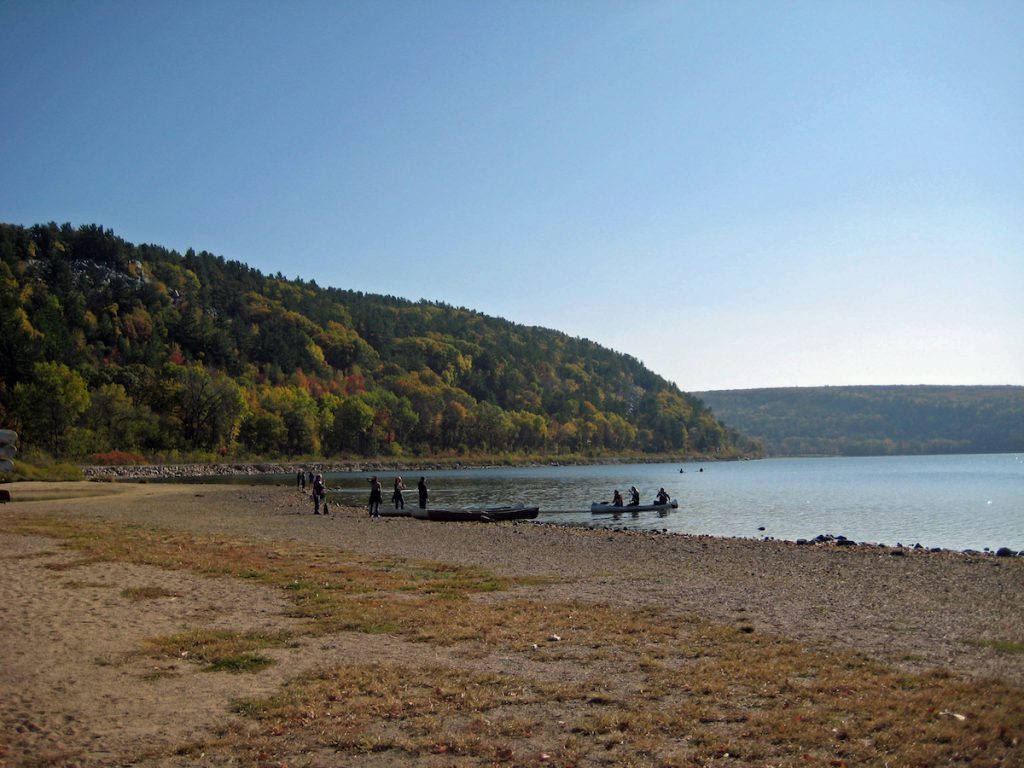 Devil's Lake State Park in Baraboo, Wisconsin features two beach areas along the north and south shores of the lake. Both beaches have bathhouses, boat rentals, and picnic areas, and there are playgrounds located throughout the park. The north beach is sandy and sees more sun, though it does get crowded on weekends and holidays. The southern beach is quieter but also rockier, so water shoes are a good idea for that particular beach.
Things to do near Devil's Lake State Park: There's plenty to explore locally in Baraboo, and Madison is a short drive away if you're looking to visit the state's capital.
Planning an RV trip to Wisconsin
An RV trip is an excellent way to tour the variety of beaches in Wisconsin, and we've got all the resources you need to plan a perfect vacation. As you explore, be sure to check out our resources on traveling in the state.
Here are guides to some of the best state parks in Wisconsin, as well as all the national parks in the country. RVshare is also the perfect one-stop-shop to help you find an RV rental and get all the information you need for your trip.