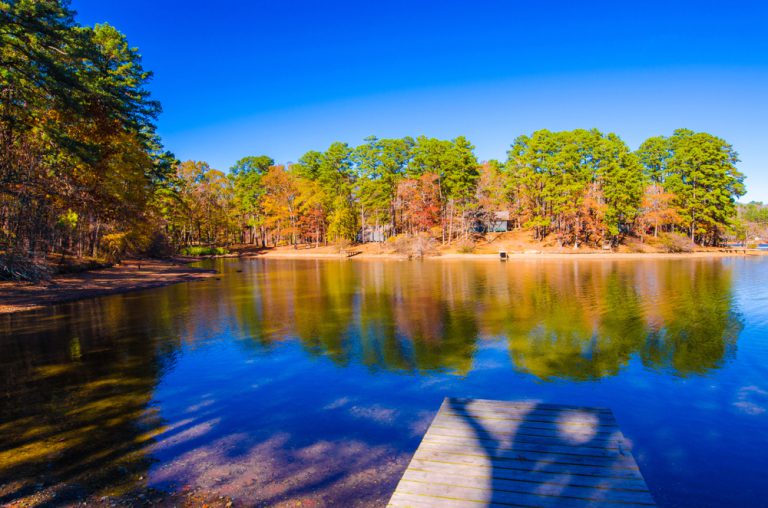 What are the Most Popular Beaches in Arkansas?
It may not lie along an ocean, but Arkansas has earned its nickname of the Nature State — and thanks to the rivers and lakes that punctuate its beautiful, green landscape, there are some epic beaches to enjoy no matter what part of Arkansas you're exploring. From small, serene pondsides to cascading waterfalls to sandy shores that'll make you feel like you're at the sea, here are some of the tip-top beaches in Arkansas.
Top Beaches in Arkansas
1. Lake Ponder
2. Lake Charles
3. Jacksonport on the White River
4. Lake Austell
5. Lake Bennett
6. Lake Dardanelle
7. Long Pool
8. Lake Sequoyah
9. Lake Catherine
10. DeGray Lake Resort
Arkansas Beaches
Ready for a beach day? Here's where to head if you're in Arkansas!
1. Lake Ponder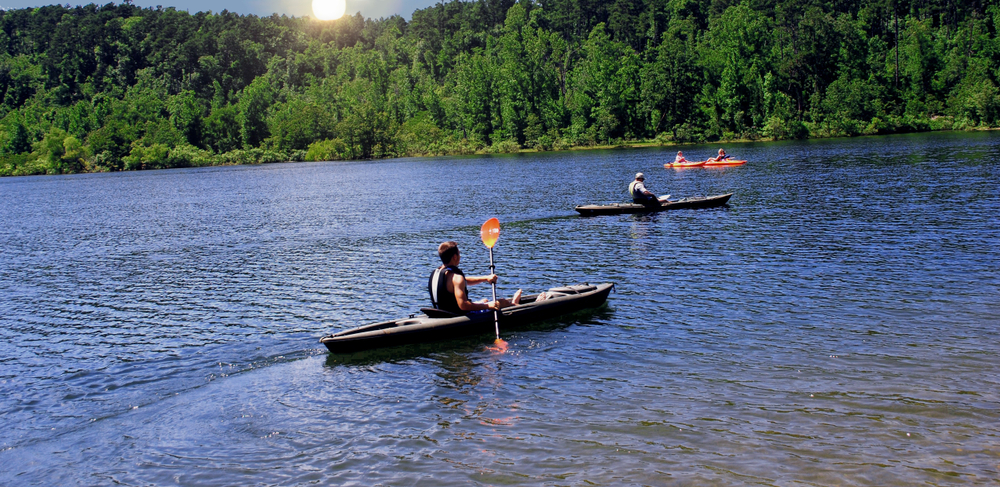 Situated in the northeastern corner of Arkansas, tucked inside Crowley's Ridge State Park, Lake Ponder offers one of the most scenic and versatile waterfronts in the state, including a 3.5-acre swimming area as well as the opportunity to rent a paddleboat or grill up a delicious lakeside lunch. Easy walking trails make for a great way to share some exercise with the family, and gentle, scenic waterfalls complete the picture at this quaint state park, which also includes structures built by the CCC back in the 1930s, not to mention log and stone structures dating back to the time when Native Americans called this place home.
Things to do near Lake Ponder: Located close to the Missouri border only 20 minutes or so outside of Jonesboro, Lake Ponder (and the larger Crowley's Ridge State Park) is also close to the St. Francis Sunken Lands WMA, which is known for its duck-hunting and fishing opportunities. Here are some local RVshare rentals to consider for the adventure!
2. Lake Charles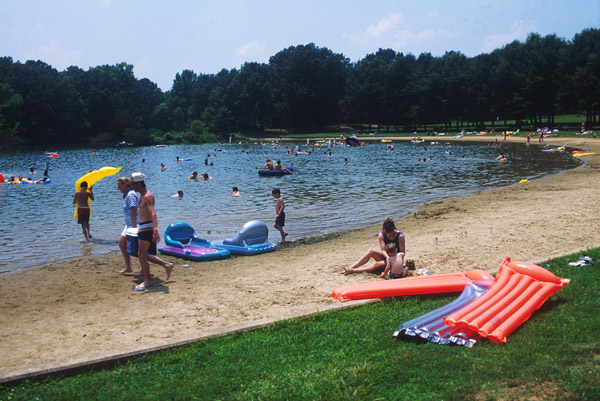 A bit further west of Lake Ponder, you'll encounter Lake Charles State Park, named for the 645-acre lake that's known for being one of the best places in the state to catch big bass (we're talking 20 inches and up). A swim beach lets you get cool and comfortable even under the blaring heat of the Arkansas summer sun, and the lake is also popular among kayakers, canoers, and others who take to the water from the surface. Landside, enjoy a well-appointed campground and plenty of walking trails, as well as a children's playground, interpretive center, and more.
Things to do near Lake Charles State Park: Another northeastern Arkansas destination only a short drive from Jonesboro, Lake Charles State Park is conveniently located to both urban and rural attractions, including the Shirey Bay Rainey Brake WMA. Click here for some local RVshare rentals!
3. Jacksonport on the White River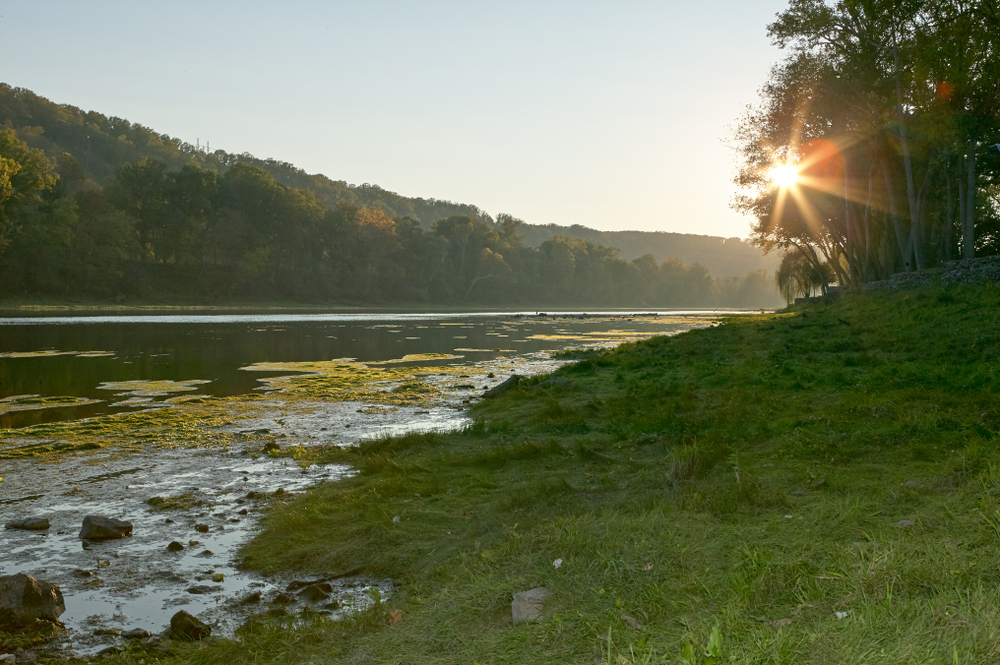 Continuing southward — and a bit further west — Jacksonport State Park offers a beautiful riverfront beach, whose gentle rolling sands will make you feel like you've found a much more tropical destination (though still surrounded by Arkansas's typical, lush Southern beauty). What's more, the park itself is a rich cultural and historical destination, with the original mid-1800s courthouse restored and made into a museum as well as interpretive exhibits and ranger-led educational programs to help bring this area's unique history to life. If you visit at the right time of year, you'll even get the opportunity to jam at the annual PortFest festival!
Things to do near Jacksonport on White River: The closest town to Jacksonport State Park is Newport, but again, this is another park that's within an easy day's drive of Jonesboro — which also offers plenty of excellent RVshare rentals for making a one-of-a-kind Arkansas RV road trip.
4. Lake Austell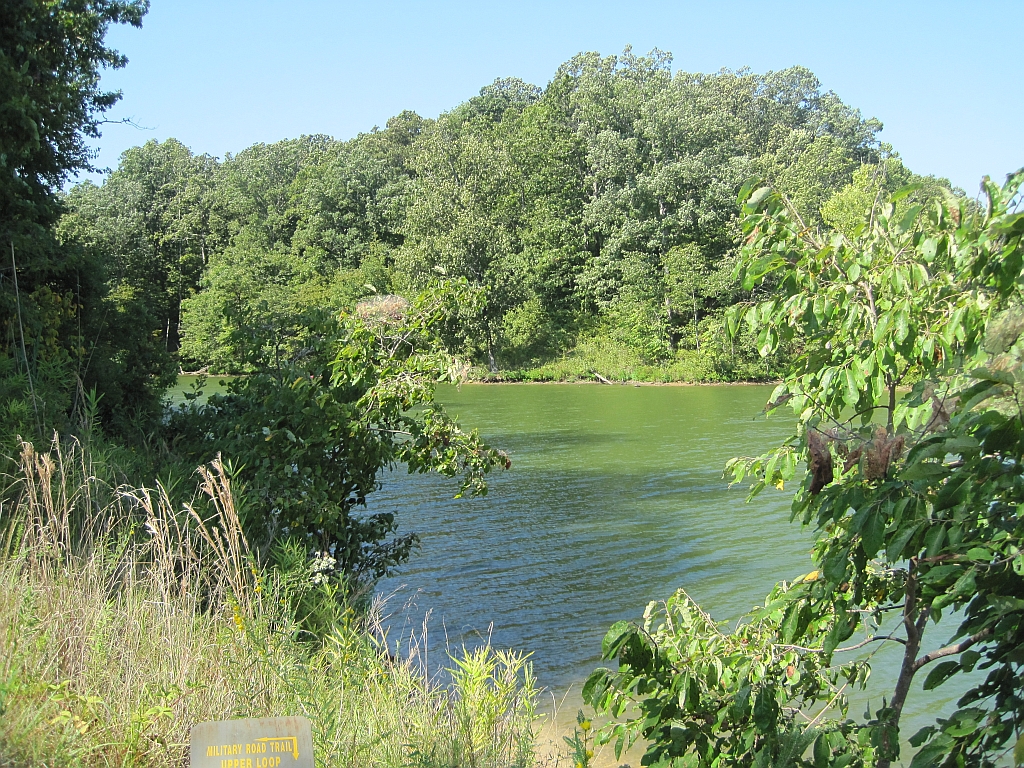 Village Creek State Park bears the distinction of being the second-largest state park in Arkansas — and it's also home to this hidden gem beach along this 85-acre lake, which is well-known as a fishing destination despite its relatively small size. The park surrounding Lake Austell is a full 7,000 acres of beautiful natural landscape, struck through with hiking trails, playgrounds, a recreational field, and cabins, as well as an RV-friendly campground for those of you who want to turn your beach day into a full-on vacation. And, of course, the sandy beach itself is quite a draw… and usually not as crowded as some of the others you might encounter in other state parks and wildernesses.
Things to do near Lake Austell: Just about due west of Memphis, Lake Austell (and the larger Village Creek State Park property) is close to a variety of other wildernesses, such as the St. Francis Sunken Lands WMA and St. Francis National Forest, not to mention the Mississippi River itself. Here are some local RVshare rentals to consider for your adventure.
5. Lake Bennett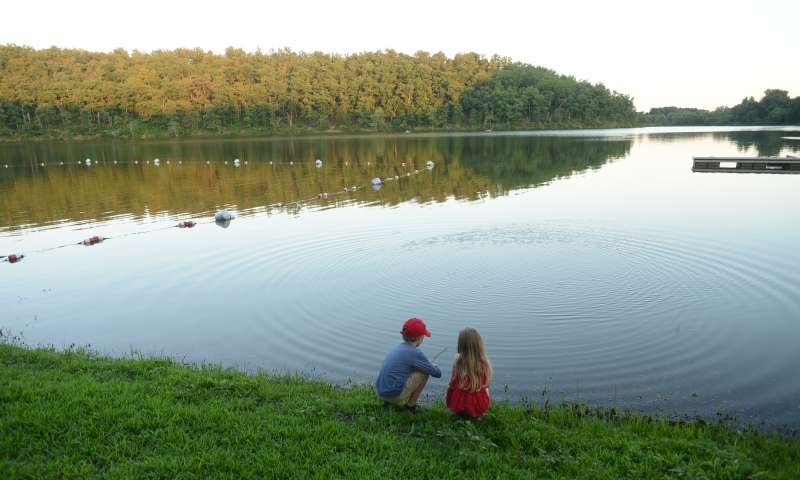 At 375 acres, Woolly Hollow State Park is certainly not the largest in the state — but those who make time to visit this small-but-mighty wilderness will be treated to a beautiful swimming beach along 40-acre Lake Bennett, which is widely considered one of the best beaches for families in all of Arkansas. Along with the proximity of hiking trails, pedal boat rentals, a snack bar, and more, the park also offers a generously-appointed campground, so you can easily turn your bech adventure into a full-on beach vacation. You'll thank yourself for buying the extra time!
Things to do near Lake Bennett: Located only about 30 minutes from the city of Conway — which is itself only about 30 minutes from the capital city of Little Rock — Lake Bennett enjoys the unique position of being within easy reach of some of the biggest-city adventures in Arkansas while also feeling fully out there and away from it all, all at the same time. What's more, there are some incredible RV campgrounds in this area… good thing there are so many RVshare rentals worth taking to them, too!
6. Lake Dardanelle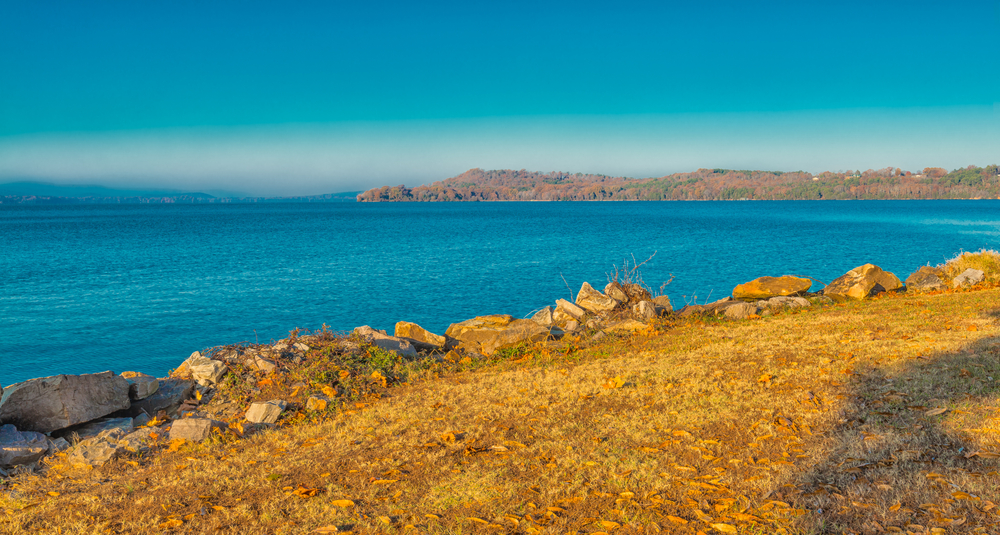 Named for the incredible, 34,000+ acre reservoir it sits on along the Arkansas River, Lake Dardanelle State Park offers a small but scenic freshwater beach, complete with sand, sun, and the occasional water skier. The park also boasts a visitor center that hosts aquariums, giving you the chance to get an up-close-and-personal view of the wildlife you'll be swimming and sunning yourself alongside at the beachfront. Be sure to check out the fishing pier, walking trail, and Lakeview Room meeting facility, along with the ranger-led educational programs that can give you more insight into this landscape's important history — this is as National Park Service-certified site on the Trail of Tears water route.
Things to do near Lake Dardanelle: Just an hour or so northwest of Little Rock, there are plenty of things to see and do near Lake Dardanelle — along with the massive park itself to explore, of course. Visitors to this area might also be interested in swinging by Lake Fort Smith State Park or Mount Magazine State Park, among many others; here are some local campgrounds and RVshare rentals to consider.
7. Long Pool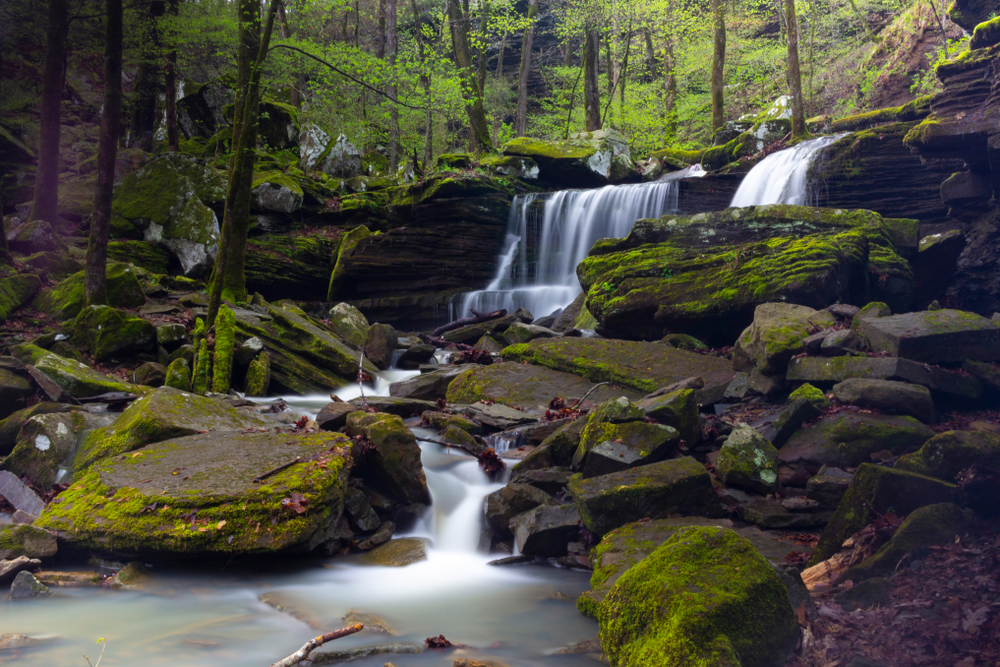 A shimmering oasis lying along Big Piney Creek in the heart of Ozark National Forest, Long Pool Recreation Area is less a beach and more an azure swimming hole — but either way it's a total must-visit. Enjoy the gently tumbling cascades along scenic rock faces as well as lush forested trails landside. Swimming, canoeing, and fishing are all popular recreational opportunities here, but it'll truly be worth your while if you do so much as stop by for a photograph and a slice of sunshine.
Things to do near Long Pool: There's an endless list of outdoor adventures to check off your list in this neck of the woods, but the nearby scenic spot known for its mysterious flashing lights — known as the Dover Lights — is so close you really don't want to miss it. Meanwhile, here are some local RVshare rentals to consider for the trip.
8. Lake Sequoyah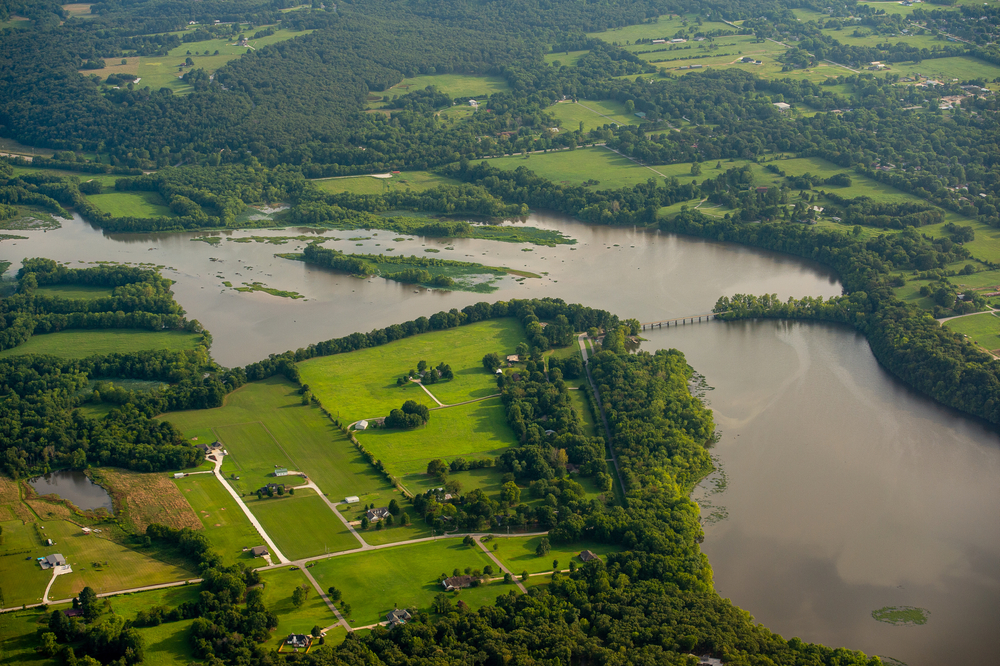 Contained in a regional park rather than a state park, Lake Sequoyah is no less of a destination: originally built to be a water supply reservoir, this lake is an impressive 389 acres, and the protected lands surrounding it number some 1,400 acres on their own. Fishing and boating are popular and permitted activities (so long as you acquire a permit at the nearby marina), and although wading and swimming in the lake is prohibited, it sure does have a lovely shoreline — and plenty of sunshine to soak up while you're wandering along that shore.
Things to do near Lake Sequoyah: Located within the municipal boundaries of Fayetteville, Lake Sequoyah is another wilderness on this list which offers that get-away-from-it-all feeling even when you don't have the time or energy to get that far away. There are plenty of great RVshare rentals in the Fayetteville area, and other wildernesses like Withrow Springs State Park, Devils Den State Park and the Hobbs State Park-Conservation Area are nearby, too!
9. Lake Catherine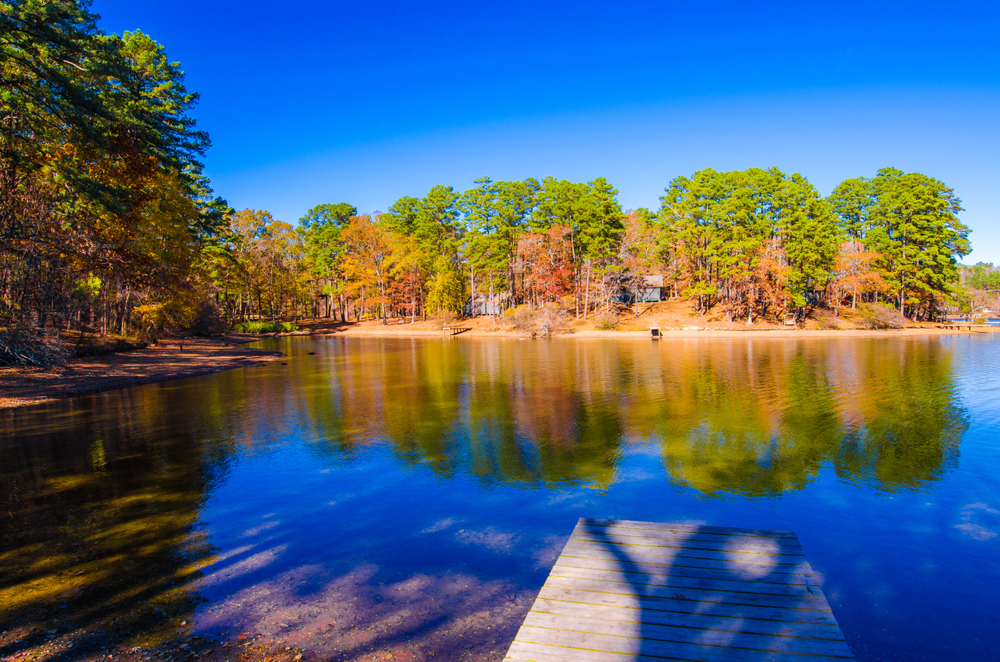 On the southeast side of the Ouachita National Forest, just outside of the popular destination town of Hot Springs, Lake Catherine State Park offers another epic swimming hole that's less tropical beach and more forest oasis. Case in point: the crystal-clear waters of Lake Catherine offer the idyllic backdrop of a small, gentle waterfall and are enclosed on all sides by Arkansan greenery. Plus, the park offers opportunities for kayaking, hiking, picnicking, and more, and offers a full slate of amenities from playgrounds to boat launch ramps. There's even a regular full-moon kayak tour along this impressive and multifaceted lake.
Things to do near Lake Catherine: Only 20 minutes from the heart of Hot Springs, Lake Catherine is surrounded on all sides by must-sees, not the least of which are the — you guessed it — natural hot springs that characterize this area. Not sure where to start? Visit with the fine folks at Hot Springs National Park for some directions, and get ready to soak your blues away. Here are some local RVshare rentals to make your relaxing journey complete.
10. DeGray Lake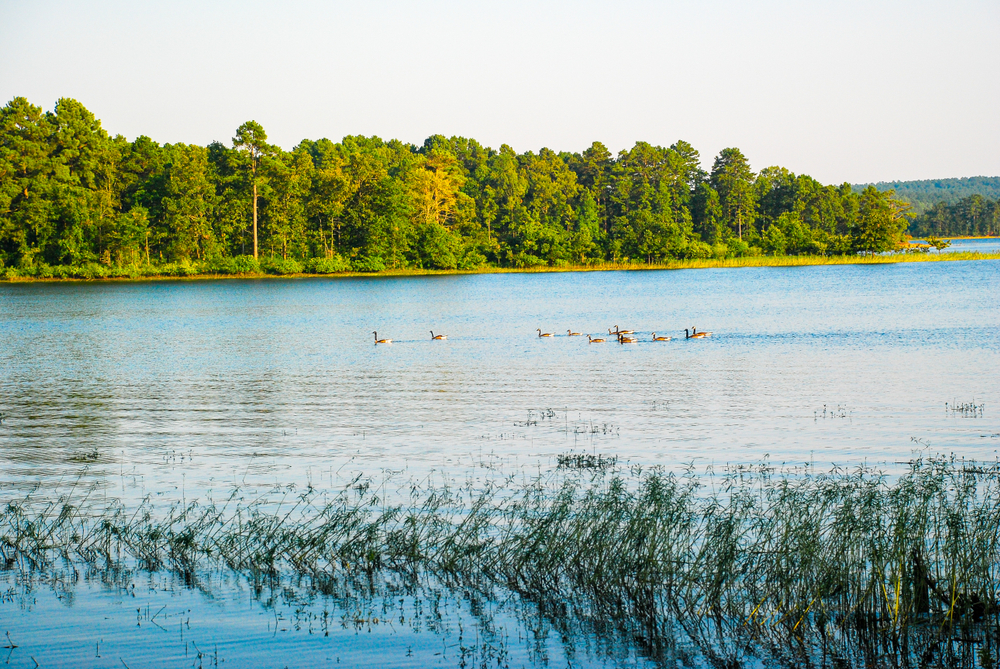 Tucked within the boundaries of DeGray Lake State Park — which is known, among other things, for its relaxed-yet-elegant resort accommodations — DeGray Lake encompasses more than 21 square miles of Arkansas countryside and 13,420 acres of water surface, and is known not only for fishing and boating but also for its beautiful shorelines. During the summer, you'll always find tourists and locals alike sunning themselves along this beautiful body of water, which is also a great place to launch your kayak and settle in for some wonderful watertop adventures. Although the park itself, at just under 1,000 acres, is dwarfed by the lake, it has plenty to offer as far as amenities are concerned, including a standard 18-hole golf course.
Things to do near DeGray Lake: Situated close to both Little Rock and Hot Springs, DeGray Lake makes for the perfect getaway for city dwellers — especially if they don't want to give up the creature comforts of urban life. If the resort is booked up, however, you can always grab a cozy RVshare rental to call your home away from home. Don't forget to save some time for Hot Springs National Park!
Planning an RV Trip to Arkansas
Beaches are just the start as far as amazing things to see in Arkansas — and an RV trip is the perfect way to see as much as you want in comfort. We've got all the resources you need to make it a trip you won't soon forget!
For starters, here are the best peer-to-peer RV rentals in the state, as well as the best Arkansas state parks and campgrounds to stay in and explore. We've also penned guides to Little Rock, Hot Springs, and, of course, Hot Springs National Park, which shouldn't be missed by any visitor.
Enjoy!