RV Decor & Unusual RVs
September 16th, 2015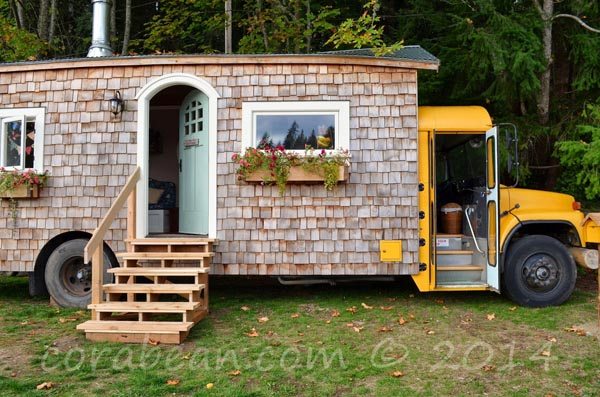 We've all seen school bus conversions, but this one is sure to make you smile! Mira and Jeremy Thompson worked for four years to turn their 1989 International School Bus into a cottage on wheels — and I do mean cottage!
With only the cab exposed, it's hard to tell this was ever a 37-foot long school bus. Today, the exterior of the bus is covered with shake and looks just like a Cotswold cottage. This idea is certainly inspiring!
All Photos: Corabean.com
The couple started by using a large amount of reclaimed wood from cedar shingles to siding from an old house. This tiny house has a cozy feel that few achieve. Mira believes that is due to their use of paint, wood and windows!
Like any couple building a home, Mira and Jeremy were on the look out for great deals. They canvassed garage sales and flea markets for unique decorative items that would add charm and character. I think they definitely succeeded.
From the wood burning stove, to the use of the wheel wells as built in chairs, every inch of this home is well thought out. Of course, the best part of the entire tiny house is the hobbit style bedroom with built in drawers and a loft above.  Their kitchen is also warm and inviting with a bit of whimsy shown in the 1959 propane based refrigerator.
To see more photos visit: ourcorabean.blogspot.com