Uncategorized
March 10th, 2020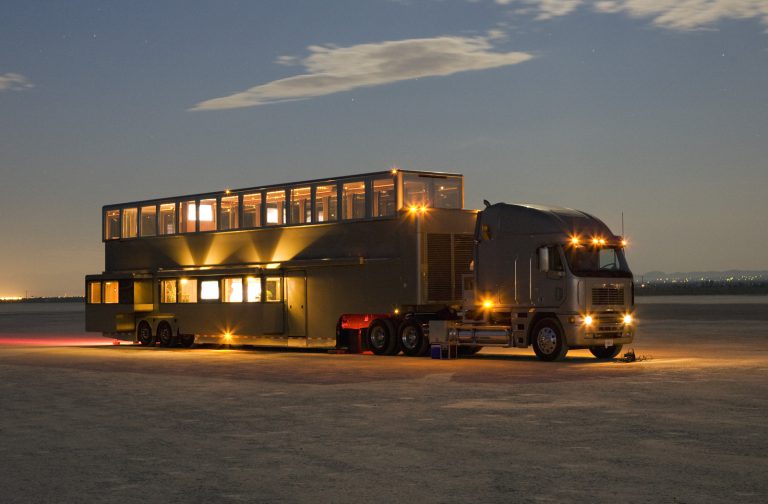 No matter how you slice it or dice it, owning an RV is going to be at least a little bit expensive. That said, there are definitely some rigs that are pricier than others.
In this article, we will take a peek at some of the most luxurious rigs, largest RV models, and most expensive RVs in the world. If you've ever wondered what secrets a million-dollar RV might hide, or exactly how big the world's biggest camper might be, this is the article for you.
Let's dive right in and learn about these top-of-the-line RV models.
Top 3 Most Expensive RVs
In this section we will list the top three most expensive RVs in the world. These are certainly not something most people could ever afford, and the best RV in the world might just be among them. Additionally, we're certain the biggest motorhome in the world is on this list.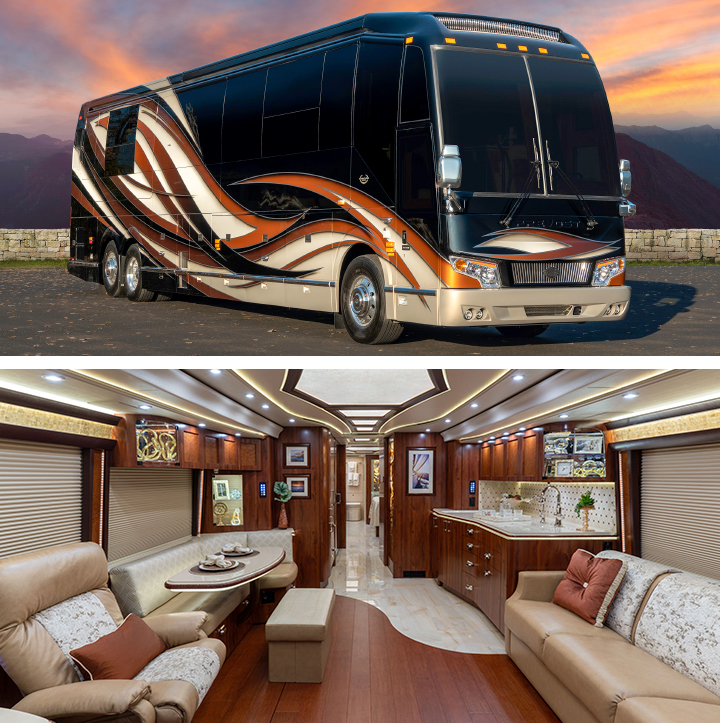 Marathon Coaches
$2,200,000+
Created using the sought-after Prevost chassis, Marathon Coaches is one of the most well known luxury coach makers out there. They have been producing their RVs since 1983, and it's easy to see why their business has stuck around so long. Their coaches are both luxurious and well-made, meaning they last for years—something most RVs certainly don't do.
Marathon sells both custom and premade models, and each and every one features amazing attention to detail, including some seriously impressive on-the-road office features.
Unsurprisingly, Marathon is the preferred RV choice for professional NASCAR teams as well as many corporations, but plenty of well-to-do individuals enjoy the comfort of these rigs too.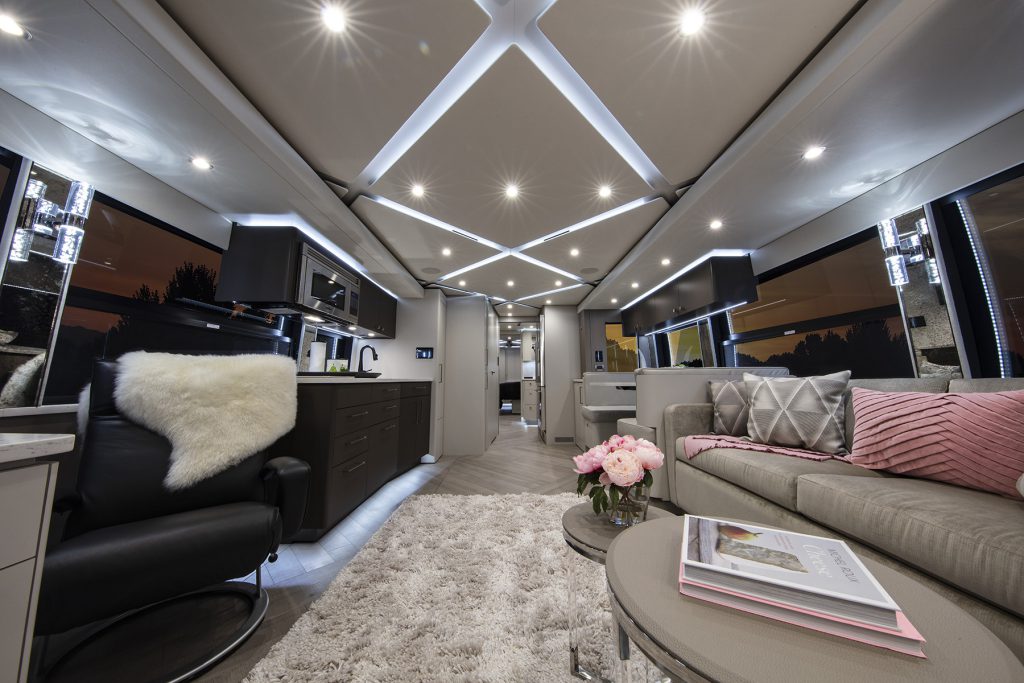 Featherlite Vantare Prevost
$2,500,000+
Featherlite is another company that builds their RVs using the Prevost base. This makes sense, as the Prevost chassis is top-of-the-line, and Featherlite is all about providing quality to their customers. This company has over 50 years of RV building under their belts and has made over 800 rigs in this time, taking the time to give each one plenty of love and attention.
One standout feature of the Featherlite RVs is their slideout system, which allows for bigger slides and a seamless floor. Additionally, because this company sources many of their parts from the marine supply industry, you can expect "yacht-quality luxury for the open road."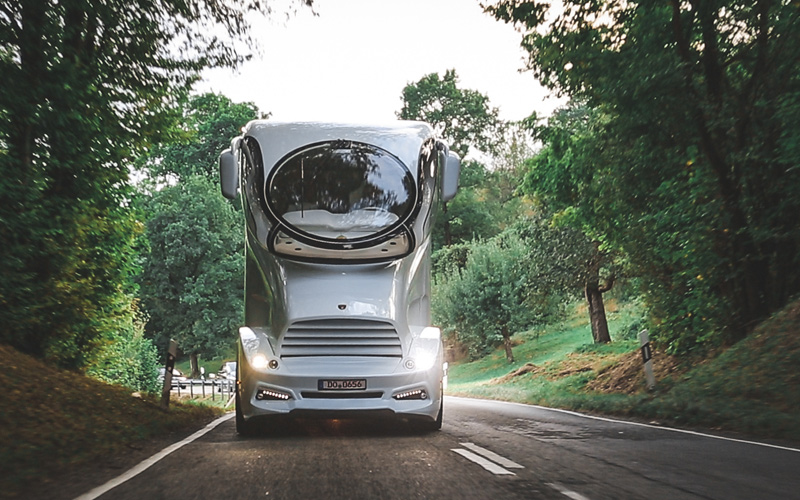 What Was the Most Expensive RV on the Market?
Over $3,000,000
Coming in at just over 3 million dollars, the most expensive RV ever sold—and quite possibly the nicest RV ever—was a custom-built EleMMent Palazzo Superior from Marchi Mobile. This bright white RV features a bizarre circular front windshield and unique shape, giving it the look of some sort of space vehicle.
Just as you might imagine, this incredible RV has plenty of luxury features, including a king size bed, a rainfall shower, a bar, and an expandable roof deck. There is absolutely no way anyone could be uncomfortable in such accommodations. In fact, if we had this rig, we'd probably never go home!
Top 5 Luxurious RVs
While price and quality do tend to go hand in hand, there are some amazing (and expensive) luxury RVs that don't quite make it onto our top 3 most expensive RVs list.
Don't get us wrong, these are some super expensive motorhomes and trailers, and not something the average joe would purchase. However, the price tags aren't quite as high, though the comfort they provide is still beyond most people's wildest imaginings.
Top 3 Best Luxury Travel Trailers
Let's start our discussion about the most luxurious RVs, with a section dedicated to travel trailers and fifth wheels. These are some seriously amazing rigs with all kinds of amazing features.
Considering that they are towables versus motorhomes, and considering that some of them fall into the category of the biggest RVs in the world, you will need to have one enormous truck to get any traveling done with a few of these. However, once you find that truck, you'll be traveling in style.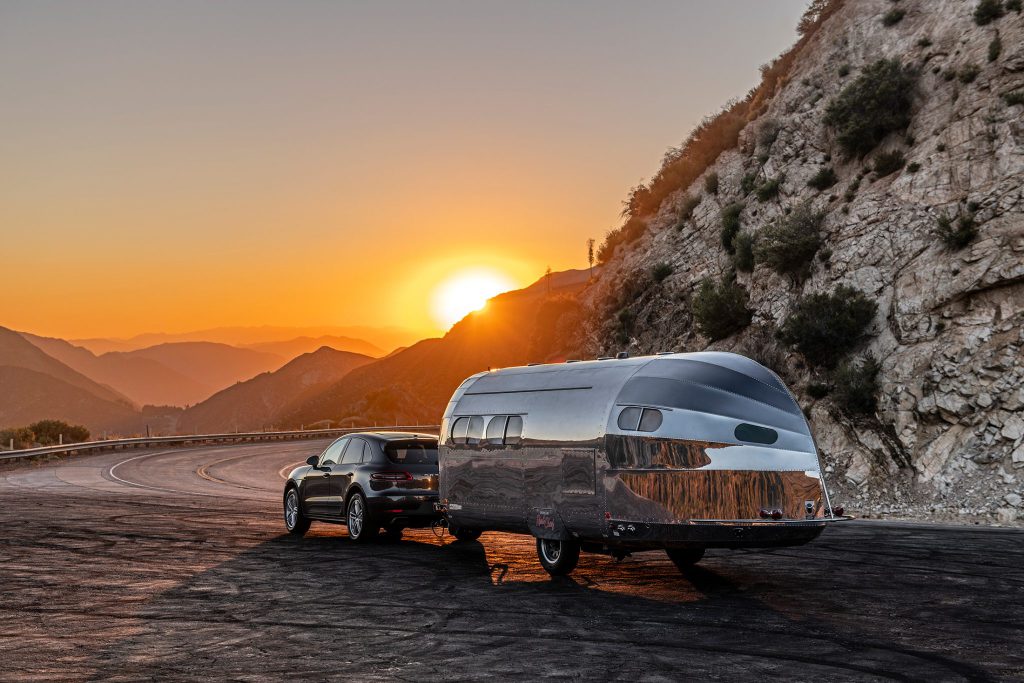 Bowlus Road Chief Endless Highways
$185,000+
Another RV that looks like it just dropped in from outer space, Bowlus Road Chief Endless Highway bumper pull is small, shiny, and ready to take you on adventures.
While its size is a far cry from the enormous motorhomes we've been discussing, having a small RV does have its advantages. For one thing, this trailer can be towed by smaller vehicles, including the Tesla X car. Additionally, the RV can be parked even in the tightest of spots for a luxury stay literally anywhere.
This trailer is set up for a week of comfortable off-grid living. It features a king size bed, a spacious bathroom, plenty of seating, three separate living areas for privacy, and more.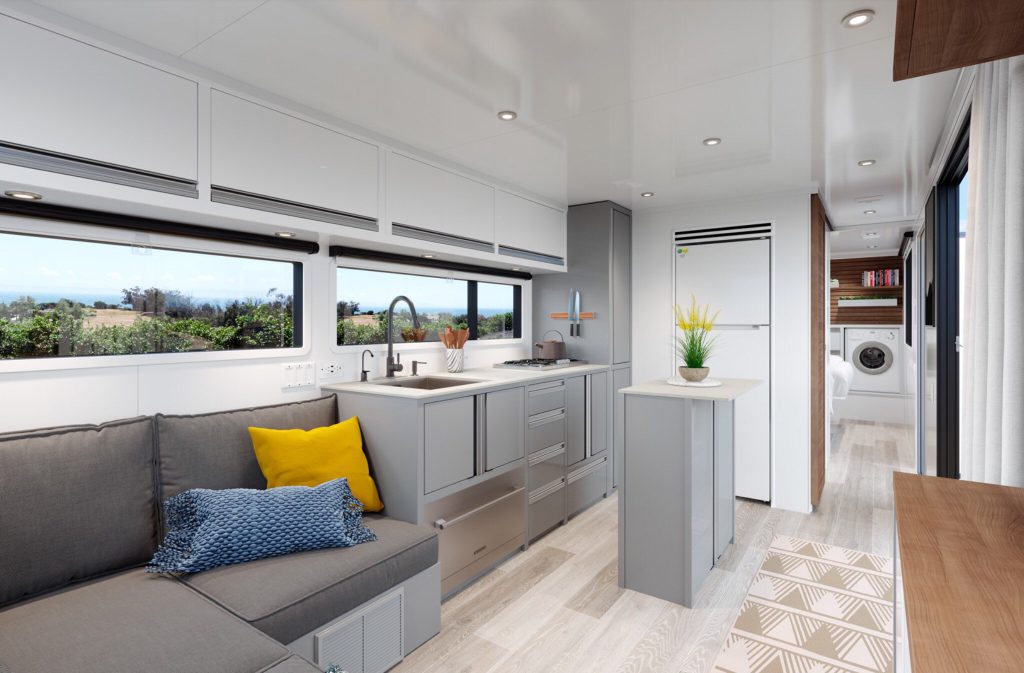 Living Vehicle
$200,000+
Sure, the price tag is nowhere near the million-dollar ones we saw above, but that's to be expected from a towable RV. Nevertheless, $200,000 is pretty darn expensive from a trailer. Fortunately, Living Vehicle offers plenty of luxury to go along with that large price tag.
This super unique rig has absolutely everything you need to stay off-grid. This includes a roof full of solar panels and an amazing electrical system to keep things powered up, an enormous 100-gallon freshwater tank, and all the comforts of home.
The Insta-Hot water system ensures you're never without hot water, a dishwasher makes dinner cleanup easy, and the awesome patio means you can fully enjoy the views.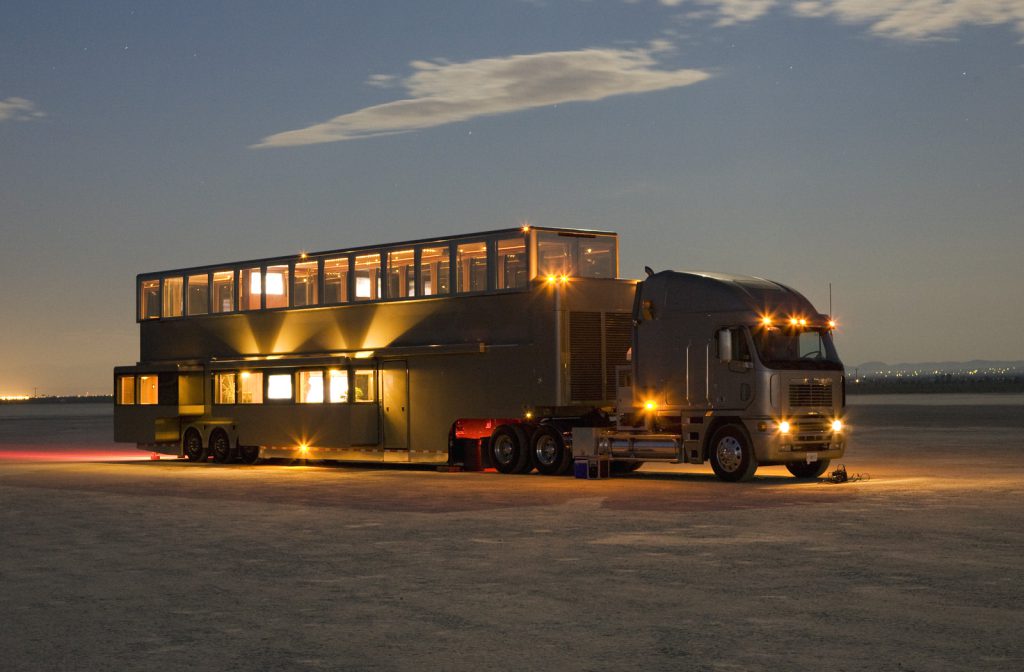 Anderson Mobile Estates
Around $1,800,000+
What is the biggest RV you can buy? Those looking for the biggest RV ever needn't look any further than the trailer made by Anderson Mobile Estates. These incredible trailers are luxurious, enormous, and easily the most expensive travel trailer models available.
This is the company that's made custom RVs for celebrities such as Simon Cowell and Ashton Kutcher. They also made Will Smith's "The Heat",which is the trailer that started the celebrity RV craze.
These rigs feature such crazy options as a second story, a garage for a second vehicle, golf simulators, and rooftop decks. They're so large that they must be pulled by a semi truck.
Top 2 Luxurious Motorhomes
Generally speaking, motorhomes tend to be a bit more luxurious than travel trailers. Therefore, it should come as no surprise that we have a decent list of the most luxurious RV motorhomes out there. These are top-of-the-line motorhome options and some of the biggest RV coaches on the market.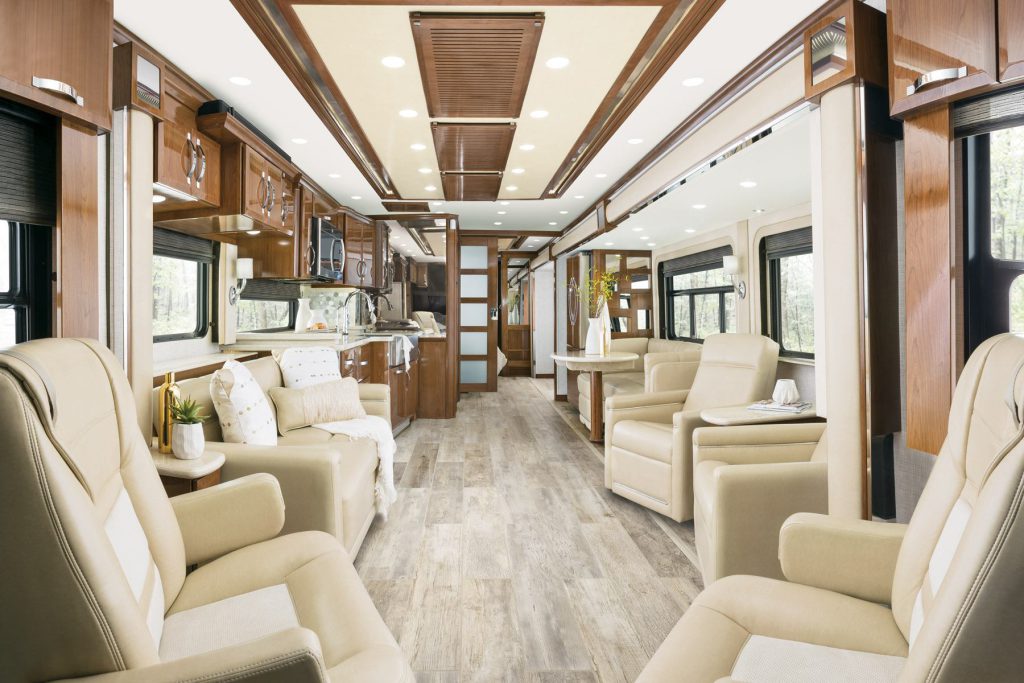 Newmar King Aire
$962,000+
We love the Newmar King Aire because it is the most accessible of the motorhomes in this article while still remaining luxurious. In fact, we'd even go so far as to say the Newmar Coach is nearly as comfortable and well-thought-out as some of the more expensive RVs on our list, but maybe without some of the more fun features.
Some of the features you will find in this coach are:
Keyless entry
Plenty of awnings with wind sensors
Top-of-the-line generator
Camera monitoring system
Remote control thermostat
Washer and dryer
High quality entertainment system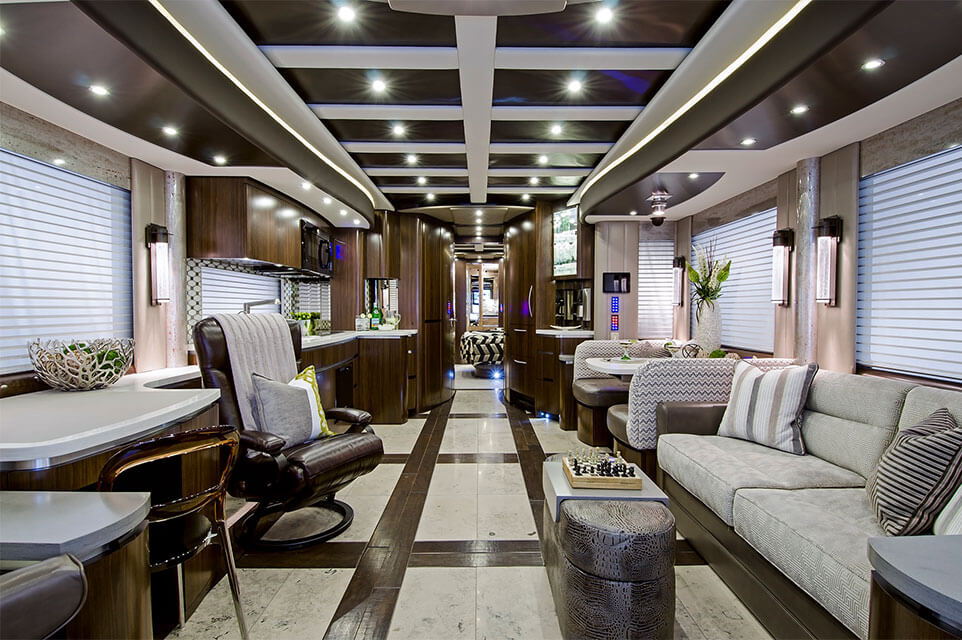 Newell Coaches
$1,700,000+
Newell is one of the only luxury motorhome companies out there that builds their coaches from the ground up. They don't use the beloved Prevost chassis, but instead build a motorhome chassis of their own, and many people love it even more.
Each Newell coach is custom made for its respective owner, and customers are not limited in any way when it comes to creating their home-on-wheels. These RVs can be nearly any length you require, any luxury option you can imagine can be included, and the floorplan is entirely up to you. This is made possible by the fact that Newell creates a custom chassis for every RV, meaning they can customize the base of the vehicle to suit your needs rather than the other way around.
From the largest motorhome to the most well equipped trailer, the world is full of some seriously amazing mansions-on-wheels. Which of these would you choose?
Can't afford one of these incredible rigs for your next trip? Why not rent an awesome RV instead? We have tons of wonderful options that are sure to suit your needs just perfectly.
Check out this article on the best luxury RV brands and RV classes explained for more!