RV Decor & Unusual RVs
September 18th, 2015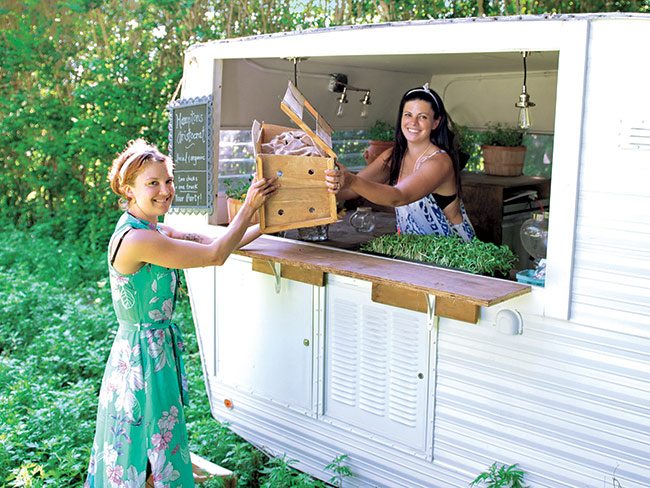 There are a lot of people turning to unconventional ideas to make a living. One of the most popular ideas is the recent food truck boom. Food trucks are becoming well known for providing high quality, unique, and interesting food at a high speed  — a valued characteristic in today's fast-moving world.
Two women, Lexi Stolz and Louisa Young, turned this idea on its head. They created the Hamptons Aristocrat, a Southampton based pop-up restaurant out of a teeny tiny trailer. The Aristocrat is a mobile catering restaurant serving organic and sustainable masterpieces that are delicious and straight from the farm.
Although the beach towns on the eastern side of Long Island, known as the Hamptons, are peppered with glamorous restaurants, it's not as easy as one would think to grab that sought-after reservation. And most of the residents of this type of place would rather have the restaurant come to them anyway, which makes the perfect market for the Hamptons Aristocrat.
When the two founders started to ponder the idea of this kind of mobile restaurant, they figured they should start with a vehicle. One day while meeting for coffee in a Starbucks, they found the perfect trailer on eBay and bought it.
The one that they ultimately decided on had a pretty dated yellow & purple interior with a wide blue stripe on the outside. The person who owned it before them wanted to make it a gyro truck, but hey had other ideas. When they won the auction for the truck, they let out a scream for all of the coffee shop to hear. It was the start of the Aristocrat.
One week later the majestic vehicle arrived and it quickly became apparent that it needed a lot of work. The duo hired some local contractors to gut and refinish the trailer using only colors that had food in the name, hand painted Indian tiles, lighting from Restoration Hardware, and all new cabinets and counter tops.
The trailer now serves as their event kitchen and prep kitchen. They offer a variety of services from the food truck, including a 7-course tasting dinner — right in your own backyard — fully serviced catered events, and even meal delivery. To book an event with the Aristocrat, visit their website at Hamptons-Aristocrat.com.