RV Owners
Last updated on October 29th, 2022. Originally published on April 27th, 2015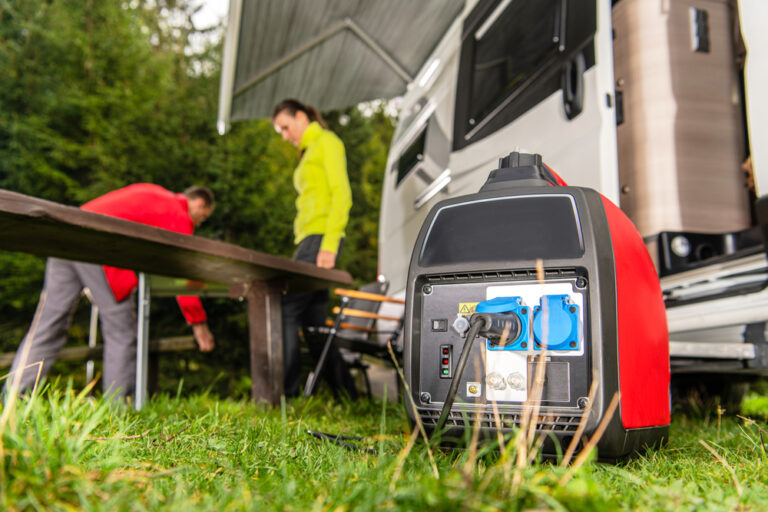 Heading out to a campground or RV park for the weekend is great fun. That said, many people are hungry for a bit more adventure and time spent even deeper in nature. Boondocking is what these individuals are after, and fortunately, RVs are totally set up for this.
It should be noted however, there aren't any electric hookups out in nature. While many motorhomes come equipped with onboard RV generators that take care of this problem, very few trailers do. If your RV doesn't have a generator built in, you will need to invest in one before you try your hand at dry camping.
Of course, this means doing a bit of shopping around to ensure you find the best generator for RV camping and for your needs. Because not many people know where to begin when it comes to shopping for a camper generator, we will be using this article to help you out.
RV Generator FAQs?
First, let's discuss the things you'll want to consider when shopping for a new RV generator by answering some RV generator FAQs.
How does an RV generator work?
An RV generator uses fuel to create a significant amount of power, which helps you use major appliances like your air conditioner and microwave. It also charges your RV's battery systems.
What are the different types of RV Generators?
A generator can run off of three different types of fuel:
Diesel
Gasoline
Propane
Some generators can use two different types of fuel, something that is helpful if you run out of one type and need a backup plan.
When shopping for a generator, you will want to decide which fuel types is most convenient for you and narrow your options from there.
Conventional vs Inverter Generator?
Another decision you'll have to make is whether to purchase the louder, heavier conventional style of generator, which is prone to power surges, or something lighter and quieter, but more expensive. Generally speaking, we highly recommend the inverter style of camper generator, even if it does mean spending a few extra bucks.
All of the options listed in this article are inverter generators.
What power output do I need for my RV Generator?
Most RV generators put out between 2000 and 4000 watts of electricity. Know what you're looking for going in.
Do you have a smaller trailer and limited power needs? A 2000-watt unit should be plenty for you.
However, those who wish to run the air conditioner or microwave will need something offering 3000 watts—and in some cases even more.
Consider what you will want to run off your generator and check those appliances out to see what kind of output would be best for you. Keep in mind that a unit with higher output won't damage a smaller or less power hungry rig, so when in doubt, go big.
What size generator do I need for my RV?
Are you wondering, "What size generator do I need to run my RV?" The answer is more complicated than you might think.
You see, while the more powerful generators are likely to be a bit larger than their less powerful counterparts, size is not a reliable way to measure the output of a particular unit. Therefore, the question shouldn't be, "What size generator do I need to run my camper?" Instead, it should be, "How much output do I need, and what is the smallest and lightest generator I can find that offers that amount of output?"
Fortunately, portable generators for RV trailers are getting smaller and lighter as the years go by. This means it shouldn't be too hard to find something that doesn't push you over your cargo carrying capacity.
What is the quietest generator for my RV?
Because you might find yourself using your generator near other campers (and because you might want to sleep while the generator is running from time to time ), it's important that you find something relatively quiet. Again, this is totally doable and just requires a bit of research.
We will discuss the quietest options below.
How long does an RV generator last?
Like any other engine, your RV generator has a limited lifespan and is more liable to encounter mechanical failures and breakdowns as it's used over time. That's why it's important to check the running hours when you're considering purchasing a used RV generator unit. Just like the odometer in a car, the hours on your generator can help you get a sense of how much life you can expect out of the unit.
Can I drive my RV with the generator on and running?
Yes! Many RVers run their generator while driving in order to use the coach AC unit to keep the inside of the motorhome cool, especially if they're traveling with pets or passengers. Just ensure that your RV generator was installed correctly so as to avoid any safety hazards on the road. Portable generators are NOT safe to use while driving. 
What should I consider before purchasing a generator?
Here are a few questions to ask before adding to your cart:
Does it have its own enclosure?
Does it have parallel jacks?
How much fuel will I need for it? A smaller tank on a generator means it won't be able to run as long before needing to be refilled.
What safety features does it have? Does it come with accessories like mufflers or adapters or cords?
Not all of those questions and features are going to be important to everyone. Think about what's important to you, and make sure those are the things you look for first.
How important is fuel efficiency?
Last but not least, you will want to find a fuel efficient generator for RV trailers. The more efficient your unit, the longer it will run off a tank of gas, making trips into town fewer and giving you more time to have fun.
Now that we have some basics covered, let's move into in depth information! 
RV Diesel Generator
Diesel RV generators can be very useful when you're already driving a diesel-powered rig but that is not the only reason why you should consider these!
Some of the Pros of diesel generators include:
-Cleaner burn 
-More power, less engine…. compared to gas engines of the same size, diesels have more power for size. 
-Like any other diesel power machine (including engines) these are well known for their durability and their low maintenance. 
And because nothing can have all good without some drawbacks, don't forget to consider the increased cost of diesel versus gas. 
Which Diesel Generators Are Highly Recommended?
As we discussed, you're going to want to consider things like how much power you need to run your appliances and how much room you'll need for your generator – but these models get great reviews:
The DuroStar DS7000Q Portable Diesel Generator
The Cummins Onan 6HDKAH-1044 120v Diesel RV Generator
The Kipor Power Systems KDE5000TA Powered Portable Generator
The ProSeries Portable Diesel Generator
RV Propane Generator
Liquid propane generators for RV produce about 10% less power than gas or diesel, but propane has a longer shelf life. It's one of the more popular fuels for RV generators. An RV propane generator is not portable and needs to be powered using a propane tank. Fortunately, propane tanks are easy to procure and get refilled when needed. Propane produces about 91,500 BTUs per gallon. Propane has a long shelf life and certainly lasts longer than gasoline. It's stored in the canister or tank and doesn't degrade even if you only use it once a year. 
Choosing a propane RV generator
An RV class generator is the best option, as it has three times the horsepower of ordinary generators. RV propane generators are also built for years of continuous use, rather than as a backup option. You'll want to read reviews and talk to people for recommendations on propane generators for RV. Find out whether the RV propane generator you're interested in makes noise when it runs, how heavy it is since you'll need to transport it, and how big it is. Find out how the propane generator for RV you want starts – is it a pull-start or a key or even a remote-start generator? Does it require extra accessories? 
Maintaining your propane RV generator
You will need to maintain your RV propane generator to be sure it runs well. Run the generator every two weeks, or at least once a month for a few hours. Check the fuel and check to be sure all parts are clean and in good condition. 
Your propane generator for RV is an important part of your rig! Having a quality generator in good condition means you can run all of your appliances whenever you need, without worrying about shore power. Hopefully, these tips will help you in your selection. 
Gasoline-Powered RV Generator
Filling your RV generator fuel tank with regular unleaded gasoline is the easiest solution. Gasoline is readily available and comes at a lower cost than diesel. Additionally, some gas-powered generators can pull fuel directly from a motorhome gas tank. The downside to gas as generator fuel is that it can be burned through quite quickly.
Best RV Generators 
There are a number of excellent RV generator options out there, and there is absolutely no way we could talk about every good option on the market. That said, we did manage to narrow down the options and have created a list of our 6 top picks:
Honda EU3000i
Honda EU2200i
Yamaha EF2000iSv2
Generac GP3000i
WEN 56203i
Predator 3500
Each of these were chosen because they are all-around good quality units. That said, each one does have a single standout feature that we feel deserves to be highlighted. Therefore, we've used the sections below to point out what we love most about each of these RV generators. Hopefully you can use this information to pick the best RV generator for your needs.
Best Portable Generator for RV?
If you're looking for the best camper generator that is small, lightweight, and easy to move around, the options below are for you. Both are some of the smallest options out there, making them perfect for RV living.
Many would say this is the best portable generator for RV, hands down. Once you use it, you'll understand why.
This unit has a surge wattage of 2000 watts with 1600 running watts. It is a gas generator and holds about 1.1 gallons of fuel, which lasts about 10.5 hours at 25% load. The best part? This super small unit only weighs 56 lbs.
Price: $989
If you need something more powerful than the Yamaha but still want something easy to move around, this is it.
The generator weighs in at a mere 59.5 lbs. On top of that, it offers 3000 starting watts and 2300 running watts. This unit is gas-powered and the fuel tank holds about 1.06 gallons. A full tank will last around 5.8 hours when running at 25% load.
Price: $751.80
Best Quiet RV Generator?
Both units above are pretty darn quiet. However, if you're looking for the quietest RV generator, you will want a WEN. Besides being extremely well made and highly rated, the two WEN units below are some of the quietest generators you'll ever find.
A high-end RV generator, this unit is super lightweight at only 39 lbs. It's also crazy quiet, coming in at only 51 dB at 25% load. This unit is a gas-powered generator and holds about 1 gallon of fuel. A single tank of gas will last about 10.8 hours at 25% load. The surge wattage of this Wen is 2000, with the running wattage measuring about 1700.
Price: $388.89
Just like its little sister, this is a high-end option, meaning you can expect quality. It is quiet, operating at 57 dB depending on the load. This unit weighs in at just 110.8 lbs, offers 3800 starting watts, and gives the user 3400 running watts. It's a gas-powered generator, holds 2.2 gallons of fuel, and can run for about 8.5 hours at 25% load.
Price: $733.33
Other quiet Generators to consider:
Best Budget RV Generator
Finally there are those searching for quality cheap RV generators. While some may claim this doesn't exist, we beg to differ. Below are two excellent RV class generator options for those on a budget.
With 2000 starting watts and 1700 running watts, a 1-gallon fuel tank, and a weight of only 40.3 lbs, this gas-powered generator holds its own against the more expensive options. This is the best inverter generator for RV camping that you'll find for under $400, and is actually even better than some of the $500 units.
Price: $388.89
Finally, there is the Predator 3500. This unit is sold by Harbor Freight and is well loved by all who try it. It sells for just under $1,000 but is worth every penny. It only produces about 57 dB of noise, making it a super quiet option. It's also relatively lightweight. The gas-powered unit offers 3500 starting watts and 3000 running watts, a 2.6-gallon fuel tank, and 11 hours runtime at 25% load.
Price: $1,190.95
Generator Safety
Now that you have your generator it's time to go over some basic safety information. First, make sure your rig is equipped with a carbon monoxide detector. As generators burn fuel they emit carbon monoxide which is highly poisonous but odorless. You don't want that blowing back into your rig, so make sure your CO detector is working. For the same reason, don't run your generator in closed garages or anywhere where there's not good ventilation.
When using a portable generator make sure to keep an eye on the weather and conditions. Don't let your generator get wet or run it in rain or snow. On the other hand, if you're dry camping in the desert or a dry forest, be careful of where you place it, as heat or sparks could start a wildfire.
You'll also want to safely store your generator while traveling so it won't tip over. Generators need to be stored upright, so make sure you have a secure location where it won't slide around or fall over while driving.
And finally, while it's not a safety issue, be thoughtful about where you use your generator. Dry camping in the middle of nowhere won't be a problem, but running a generator all night in a busy campground will leave you with angry neighbors. Many campgrounds won't allow generators to be run at night, so check with the campground for any restrictions before starting it up.
How to Operate an RV Generator
Ok after all that we're finally ready to operate your generator. The first thing to do is to open up your trusty user manual and read exactly how to use your specific generator model! RV generators are all a little different, but we're going to give you a general guide on how to use them. For all specifics on operating and troubleshooting your generator, turn to that user manual!
How to Operate an Onboard Generator
Using an onboard generator is typically pretty easy. Most RVs will have a "Start/Stop" switch on the control panel that will allow you to turn on and off the generator. Depending on the rig and generator you might have a "Prime" button that will prime the generator before it turns on, or you might have to hold the "Stop" switch to prime the generator. Check your user manual to see how exactly to prime and start your particular generator and how long it needs to be primed. Once it's primed, hold the start button for a few seconds until you hear the generator kick on.
How to Operate a Portable Generator
Portable generators take few more steps to operate, which is why it's incredibly important to read the user's manual to know exactly how to operate it (noticing a trend here?).
First you'll need to unload the generator and place it at least 5-10 feet away from your rig. You'll also want to make sure the exhaust output is facing away from your rig to avoid fumes getting inside. Depending on where you're camping and how loud the generator is, you might want to put it farther away from your trailer so it won't be so loud. Check the oil and fuel supply levels to make sure you have enough for how long you'll be running it. With everything in the trailer off, plug your shore power cable into the power supply port on the side of your rig.
Next up it's time to prime the generator. Check your owner's manual and follow the manufacturer's guidelines to prime and start your particular generator model. Once it's primed and started, give it a minute or two to warm up. Once the generator is warmed up and running, plug the other end of the rig's power cable into the generator. Depending on the type of generator, you might have to use a dogbone adapter to connect the cable. And there you go, your rig now has 120-volt power!
You now know everything you need in order to jump into the world of camper generator shopping with confidence. 
Happy camping!
*This post contains affiliate links. RVshare may receive compensation if you make a purchase after clicking on a product link.
Looking for more helpful tips? Check out these articles:
Can I Plug My RV Into my Dryer Outlet – SOLVED