Travel Inspiration
Last updated on January 5th, 2023. Originally published on April 12th, 2018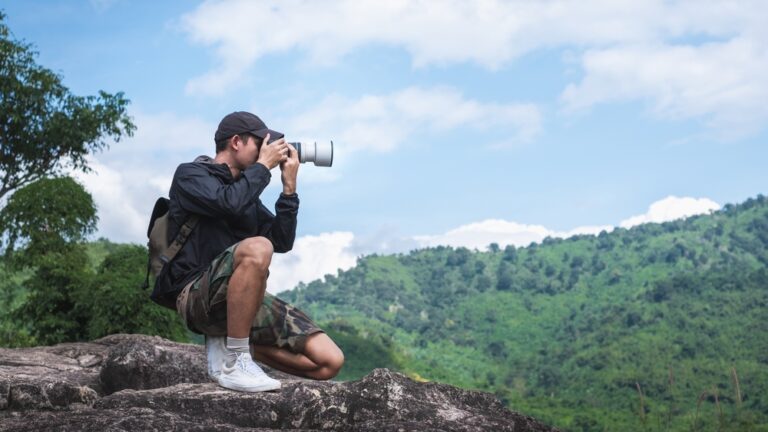 What's the only thing that's almost as much fun as taking an amazing camping trip?
Taking amazing photographs of the experience to share with your friends and family, of course. If you're a good photographer, you'll be helping your loved ones live vicariously through your adventures… and let's be honest, it always feels a little good to make others jealous of your travels.
From wildlife photography to cityscapes, travel photography is a fun hobby to get into if you're frequently on the road — which RVers certainly are. And you don't have to feel intimidated by all the expensive photography gear professionals carry. With the incredible ability of today's cell phone cameras, the capacity to get an amazing shot is literally already in the palm of your hand.
There are a few gizmos and gadgets that can help make your travel images shine, however, from cell phone tripods to add-on lens kits. And if you find yourself getting really into the art and taking specific photography trips, you may decide it's time to upgrade to some serious gear.
So without further ado, here are some of our best tips and gear recommendations for travel photographers, so you can get the picture-perfect shot every single time.
Travel Photography Tips
No matter what you're shooting with, your pictures will come out best if you follow some tried and true pieces of advice.
Avoid high noon. Instead, shoot just after dawn and before twilight.
Especially when you're a beginner, you may think, the brighter the better — but quality photography lighting is actually a lot more subtle. The photos you take in broad daylight can come out looking over-exposed and washed out, especially in a sunny, outdoor area.
Besides, shooting early in the morning or as the afternoon is winding down will help keep you from sweating through your shirt while you're on the hunt for that perfect photograph. You'll be more comfortable and take better photos… talk about a win-win!
Follow the rule of thirds.
This is one of the oldest tricks in the book when it comes to photography composition, and it's really simple. Just imagine your frame is marked out into a grid of nine, made by two horizontal lines and two vertical — just like the image of the lighthouse above.
By keeping the most attention-catching components of your photo along those gridlines, you'll help create a dynamic but balanced image. For more details and a lot more examples, head over to Photography Mad for a breakdown.
Switch up your subject matter.
From birds to buffalo, from skyscrapers to family scenes, there's so much out there to capture. Experiment with different types of photography and don't necessarily align yourself with one niche too quickly. You may discover you have a passion for portraiture, landscape work, or something else entirely… but you never know until you try!
Take your time.
Even skilled photographers often take hundreds of image in search of just one or two they deem "usable" — and with today's digital photography technology, there's no need to limit how many exposures you take.
So sit back, relax, and let yourself meander and take lots and lots of photos. After all, this is a hobby, right? You should be taking the time to enjoy it!
Photography Equipment
It's totally possible to capture amazing travel photos without going in for expensive gear. Just think about it: most of our smartphones have better cameras than anybody but the most seasoned professionals carried just ten years ago!
If you want to keep shooting with your iPhone or Android smartphone for a while, that's no problem — some award-winning photos have been taken on phones. But you might consider investing in some affordable gadgets to make your photos pop just a little bit more… or simply for the fun of experimentation!
A cell phone tripod can help you capture images without any blur, even if they're moving fast or require a long exposure. Tripods also make it possible for you to get into the photo yourself!
You can also play with cell phone lens kits, which come with a wide array of different lenses custom made to fit your cell phone's tiny camera. Wide-angle, fish-eye, radial, star-filter… the possibilities are endless.
Finally, you've doubtless already heard of selfie sticks, but don't dismiss them as touristy silliness. We've seen some amazing nature shots taken by the aid of one of these devices.
Camera for Travel Photography
If you find yourself getting more serious about your travel photography hobby, it might be time to upgrade to a DSLR, or digital single-lens reflex, camera. Of course, there are many, many options on the market (and an equal number of very strongly-held opinions about those options), and it can be intimidating to sift through all the conflicting information.
If you're totally new to the photography game, your best bet may be to purchase an all-inclusive DSLR set with an entry-level camera body, like the Canon EOS Rebel T6. These kits come with a couple of different lenses, a camera bag, and a variety of other goodies to get you started on your journey into the world of photography… without spending thousands of dollars to do it. (Don't worry, that will come later.)
If you're interested in getting dynamic action shots and video or looking for the most accessible way to get into underwater photography, you might consider investing in a GoPro. From scuba diving to skydiving, adventurous photographers have captured all sorts of extreme moments using this technology — and at less than $500, it's fairly affordable.
Whether you're shooting your first-ever close-up of a flower with your iPhone or getting ready to take your tripod into the tundra, don't forget: the most essential piece of travel photography gear… is you. It's all about your eye, your experience, and your presence; no matter the device, the best photos are created by people who are alert and perceptive about which moments are worth capturing.
Good luck out there!
This post may contain affiliate links.