Travel Inspiration
May 3rd, 2018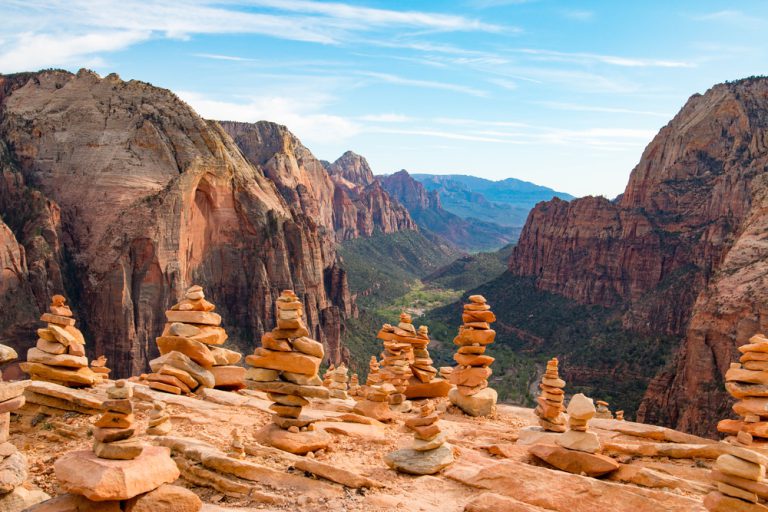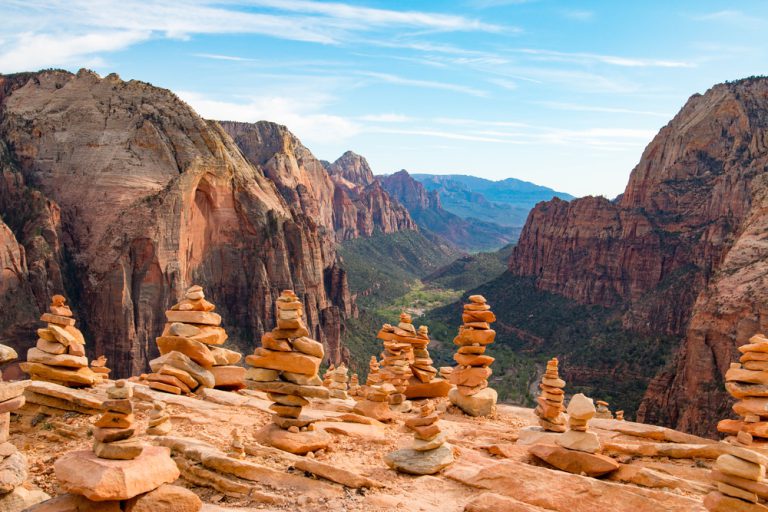 Ever heard of the Grand Circle?
No, it's not a trendy new band or an up-and-coming chain of convenience stores. It's one of the most epic road trips it's possible to take in the country — and it should definitely be on your travel bucket list.
Winding through five states and almost a dozen national parks, the Grand Circle road trip is definitely one for the books. (And no, we're not talking about your trusty Rand McNally Road Atlas… although you should probably bring it along.) If you want to see everything the stunning American southwest has to offer, this route can't be beat — and an RV is the perfect way to explore it.
Just imagine waking up and seeing petrified sand dunes or sweeping pine forests through your rig's windows, an alien, desert landscape that's surprisingly lush and vibrant. You can boondock on BLM lands or quickly fill up your National Parks Passport… or even make it a luxury tour by staying at industrialized campgrounds along the way. (Psst: if you're going this route, we definitely recommend investing in a Passport America membership. At less than $50 per year, this discount club will quickly pay for itself; it gets you half-off campsites at almost 1900 campgrounds nationwide!)
So, which sites and scapes are "grand" enough to make it onto the itinerary? How long is the Grand Circle road trip, anyway? What do you need to know before you travel the Grand Circle yourself?
Read on to find out.
Grand Circle RV Trip
Although there are lots of different ways to map out your tour of the Grand Circle, there are a few sites that are considered can't-miss stops along the way. For example, you'll definitely want to hit some of the country's most famous National Parks, including the Grand Canyon in Arizona, Mesa Verde in Colorado, and all five of the ones that make their home in Utah: Bryce Canyon, Arches, Canyonlands, Capitol Reef, and Zion.
Along with the national parks, the trip also takes you through lots of state parks and other recreation areas and sites along the way. For example, you might explore Arizona's Glen Canyon and Lake Powell, or drive the Monument Valley roadway that runs along the Arizona/Utah border. If you're looking for an urban reprieve after all that driving and dry camping, you can add visits to world-class western cities like Las Vegas, Phoenix, and Salt Lake City.
The Grand Circle tour does include a lot of different stops and sites, and depending on your specific route it can take more than 1,000 miles worth of driving. Most tourists devote at least a week to the project, though it's more comfortable to spend ten days or even longer.
Grand Circle National Parks
As you can tell, the Grand Circle Road Trip lends itself well to RVing. After all, you're talking about a multi-day trek around some of the most arid and unpopulated areas in the west. Driving your own private lodgings is the perfect way to experience this beautiful landscape in comfort!
One thing that can help you save a ton of cash on your Grand Circle RV road trip? Investing in an America the Beautiful annual national parks pass, which gets you and up to three other family members into all the parks for just $80 per year. Considering popular sites like the Grand Canyon may soon be charging double their normal entry fees, this is a great way to avoid spending tons of cash just getting into each park. (However, be aware that it doesn't cover camping fees if you decide to stay on-site.)
Grand Circle Road Trip Itinerary
One of the best things about doing an RV grand circle road trip is how customizable it can be. Maybe you only have a few days and won't be able to hit every single site, or maybe you want to extend your vacation to spend several weeks exploring.
No matter which circumstance applies to your situation, there's a Grand Circle road trip tour that will work for you and your family. You can get a ton of information, and even suggested routes and itineraries, at grandcircle.org. You can even order a custom travel planner to help you create your perfect Grand Circle vacation.
Keep in mind, too, that you don't have to commit to the entire Grand Circle to enjoy all the beauty the southwest has to offer. Even one-off trips to sites like Carlsbad Caverns or the Grand Canyon can be incredibly fulfilling vacations.
If you're looking for a southwestern adventure that's a little bit less driving-heavy, consider taking a trip to Colorado's Black Canyon. Not only is it a beautiful and lesser-known (and therefore less crowded!) landscape, but it's also home to a Jellystone Park, one of our favorite franchises of family-owned, resort-style campgrounds.
Jellystone Parks offer oodles of family fun, from thrilling water slides and jumping pillows to organized theme weekends and events. Even if you never step foot off the campground itself, you'll enjoy every second of a relaxing, but fun, vacation.
Grand Circle Tours
Maybe the Grand Circle sounds wonderful to you, but all the planning that goes into it… not so much.
We feel you. Even just stringing together a National Park tour can be tedious. When you add in all those smaller state parks and recreation areas, it can get downright overwhelming!
But if you're looking to have an enjoyable travel experience with someone else doing the footwork, take heart: there are many Grand Circle tour packages available, which can make it simple to see all the stark southwestern beauty without spending hours and hours planning. Here are some tours available through Utah.com.
Of course, for other campers among us, planning and crafting the itinerary is half the fun in the first place — and if that's you, check out the following affordable, helpful books you can find on Amazon.
One last thing: don't forget your sunglasses! All that sand does come with a glare. ?
This post may contain affiliate links.