Cable and TV
September 9th, 2019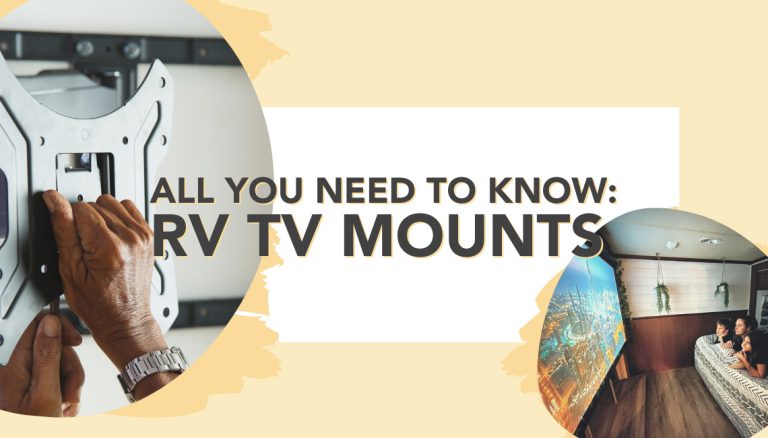 Once upon a time, people used to hit the open road to leave much of their modern lifestyle behind – including their TVs. While some RVers still choose to embrace a simpler way of life whilst out on the road, many don't go without life's pleasures, including the latest technology.
Sadly, many older models of RV don't come equipped with a solution to mount a flat-screen TV, particularly if they were produced before the 2000s. Thankfully, there's a simple and often quite affordable solution to this problem: RV TV mounts!
Types of TV Mounts for RV
RV flat panel TV mount
If you want a low-profile look that's streamlined with the rest of your RV, then a flat panel TV mount is for you. It allows you to hang your flat screen TV like you would a picture frame or mirror, plus has a relatively easy installation. Some RV flat panel TV mounts come with a tilt function, allowing you to slightly face your TV left or right should you need to. If without this feature, however, then your TV will remain in the one position unless you uninstall the mount.
Articulating RV TV mount
An articulating RV TV wall mount is one of the most popular RV TV brackets on the market. This is because it allows the TV to sit snugly against your wall but you can also swivel and move the TV around (i.e. to face upwards / downwards or move from side to side). Because of its added functions, these types of RV TV mounts carry a slightly higher price tag.
Full motion RV TV mount
The Full Motion Mount offers the most flexibility among TV wall mounts. With some models (and depending on placement), you can swivel your TV around in a 360 degrees circle, allowing it to be viewed from multiple positions within your RV. Just keep in mind that it will not sit as flush to the wall as the previous mounts, plus it will also need to be restrained during transit.
Under cabinet RV TV mount
If you have a small TV that requires mounting underneath a cabinet to save on space, then this is the RV TV mount for you. You can find these mounts with a fold-up design or a stationary permanent design. The only downsides to this RV TV bracket is the fact that it doesn't support larger-sized TVs, plus it may be difficult to hide those pesky cables.
Pull down motion RV TV mount
This is one of the latest styles in RV TV mount, but it's already proven to be a popular one. With this design, you can mount your RV's TV overhead, but be able to pack it away neatly and discreetly when it's not in use. Because of this mount's added functionality and technology, it can run higher in price than other types of TV brackets.
Where to Buy RV TV Brackets
If you're ready to invest in an RV TV wall mount, then there are many places that you can begin looking – including both in-store or online. Check out your local RV accessories retailer to view their range or visit websites such as Dynamic Mounting, Camping World, TV For My RV, and more. We also recommend you look at the RV TV mounts on Amazon, as you're sure to pick up a bargain there!
Best of luck using your new RV TV wall mount! We're sure you and your fellow travelers will love the added convenience and entertainment that it brings.
This post may contain affiliate links.