Alabama hardly gets a fair shake in most glossy travel magazines. But as it turns out, the Yellowhammer State is quite the hidden gem. Here, you'll find white sandy beaches, ancient underground caverns, rushing waterfalls, and miles upon miles of nature trails. Alabama also happens to be home to the Civil Rights movement, one of the largest space museums, and some of the country's most formative rock 'n' roll studios.
Our Alabama RV travel tips are simple: Get in your RV and head almost anywhere in this state, and you'll be singing along to "Sweet Home Alabama" before you know it. No matter whether you're a longtime resident or new to the Heart of Dixie, you'll find something great here for kids, seniors, and everyone in between. Below, we've compiled 10 great road trips to bring you our free Alabama RV travel guide:
1. Gulf State Park
Every trip could benefit from a bit of beach time, so why not start your vacation at Gulf State Park? Located on Alabama's Gulf Coast, the park has two miles of sandy white beaches perfect for kicking back, catching up on your summer reading, and tanning your toes. With plenty of options for kayak and paddleboard rentals, 25 miles of biking trails, and its own Nature Center, Gulf State Park is one of the best Alabama RV trips with kids. Love to fish but had no room in the RV for your gear? No sweat: The park has plenty of poles and supplies you can rent before you head out to the Gulf State Fishing and Education Pier. As the largest pier on the Gulf of Mexico, it's where you'll find Alabama's finest fishermen on any given day — and where you might just catch the big one.
Gulf State Park Information
Location: 20115 State Highway 135, Gulf Shores, AL 36542
Contact: (251) 948-7275
Price: $2 to $6 per vehicle, plus $4 for pier entry
Discounts: children
Website: http://www.alapark.com/gulf-state-park
Where to Stay
You can stay right on the premises at the Gulf State Park Campground, which has 496 full-hookup campsites and 11 air-conditioned bathhouses. There's also a swimming pool, tennis and volleyball courts, a camp store, and laundry facilities. Don't worry if you don't have an RV yet — there are plenty of rentals available nearby.

2. Fairhope, Alabama
This quaint Southern town of 19,000 might not yet be on your radar, but it's definitely worth a stop on your Alabama RV trip itinerary. With a charming little downtown and miles upon miles of winding bike trails, it's a great place to enjoy a slower pace. Grab a bite to eat at the Guy Fieri-approved Panini Pete's and find your next read somewhere in the aisles of Page & Palette, the local bookstore. You can even take a guided eco tour by kayak or power boat with 17 Turtles Outfitters. And don't forget to pay homage to Jimmy Buffett, who grew up in Fairhope in the 1950s, by playing some "Cheeseburger in Paradise" or visiting his niece's newly opened yoga studio, Yoga Birds. By the time you leave Fairhope, you'll be clear headed, well rested, and ready to tackle the rest of the state.
Website: http://www.cofairhope.com
Where to Stay
The family-owned Southern Way RV Park is just a few minutes away from downtown Fairhope. Open year round with no reservations required, the campground offers full hookups for a modest $25 per night. You can also check out Coastal Haven RV Park, which has full hookups and free WiFi, or Driftwood RV Park, which boasts 51 pull-through sites as well as on-site laundry and vending. No matter where you stay, you're sure to be charmed by the local hospitality.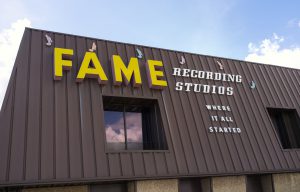 3. Fame Recording Studios
You might not know it, but some of rock 'n' roll's greatest hits were recorded in this unassuming recording studio in Muscle Shoals, Alabama. Rick Hall, now known as the Founder of Muscle Shoals Music, opened up the business in the 1950s and soon began recording some of the best up and coming musicians and vocalists of our time. To this day, FAME (which stands for Florence Alabama Music Enterprises) is still actively operating; the site was added to the National Register of Historic Places in 2016. The mere act of entering the studio puts you in the same place as musical legends like Duane Allman, Aretha Franklin, Etta James, Paul Simon, and John Prine. Be sure to check out the 2013 documentary Muscle Shoals if you really want to brush up on your rock history before you go.
Location: 603 E Avalon Ave, Muscle Shoals, AL 35661
Contact: (256) 381-0801
Price: $10 tour fee
Website: http://www.fame2.com
Where to Stay
If you're looking to stay right in Muscle Shoals, you can head to Colbert County's Alloys Park, which has full hookups and pull-through campsites. There's also the nearby Heritage Acres RV Park just a bit up the road in Tuscumbia, offering full hookups, modern bathrooms, campground-wide WiFi, and coin laundry.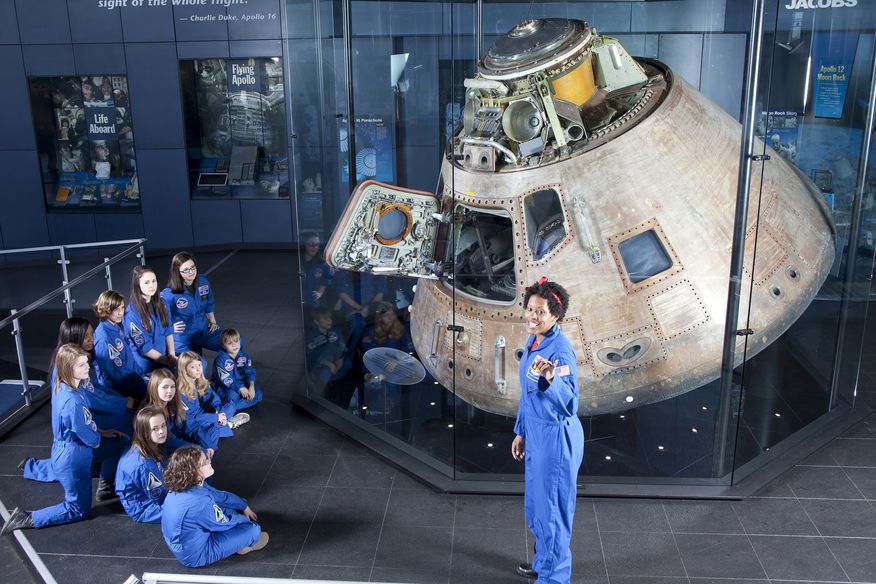 4. U.S. Space & Rocket Center
Checking out the U.S. Space and Rocket Center in Huntsville is one of the best RV trips Alabama has to offer. The state opened the museum in 1970, right after the U.S. sent Apollo 12 to the moon for the country's second manned lunar mission. The space and rocket center features a number of rotating exhibits, ranging everything from The Art of Space Jewelry to The Science of Rock 'n' Roll, as well as permanent exhibits showcasing missiles, rockets, and space shuttles. There's also an IMAX theater and even a German Biergarten on Thursday nights where you can grab a brew and listen to live music inside the Davidson Center for Space Exploration. Be sure to make advance reservations if you'll be visiting during a major event, like a meteor storm, eclipse, or other cosmic adventure, since tickets tend to book up quickly.
Location: 1 Tranquility Base, Huntsville, AL 35805
Contact: (256) 837-3400
Price: $24 for adults (13 and up), $16 for children (5 to 12), and free for children 4 and under
Discounts: military, seniors, AAA, Alabama college students, ASTC, TVA employees/retirees, NASA civil service/retirees, and NASA contractors
Website: https://www.rocketcenter.com
Where to Stay: 
The best part about visiting the Space and Rocket Center is that you don't have to go far to find a place for your RV. The museum offers an on-site campground with full hookups as well as laundry, bathroom, and shower facilities. The RV park has 27 sites, including back-ins and pull-throughs. But if you'd rather hit the road, there are plenty of other campgrounds to stay at right nearby.
5. University of Alabama
Whether you're a fan of the Crimson Tide on the football field or simply interested in checking out the campus with your high schooler, paying a visit to the University of Alabama in Tuscaloosa will bring you right back to college. Diehard football fans may want to plan their Alabama RV road trips during the fall to check out tailgating and a ball game, but if you're there in the off-season, there are still plenty of other games and meets worth your time, from baseball to volleyball to gymnastics. The university is also home to the Alabama Museum of Natural History, which boasts exhibit after exhibit of fossils, skeletons, and other curiosities.
Location: 700 University Blvd, Tuscaloosa, AL 35401
Contact: (205) 348-6010
Website: https://www.ua.edu/visitors
Where to Stay:
If you're looking to bring your RV on campus during football season, it may be tough finding a space. If you're not a donor to the university, you can purchase a season-long pass starting at $175 for Northington Lot, which opens the Thursday before gameday. More likely, you'll just be passing through, which means you're best to check out off-campus options like Sunset RV Campground or the Coaches Corner RV Park. The university has also compiled a list of off-campus campgrounds here.
6. Auburn University
OK, so we can't share one without the other. Maybe you bleed orange and blue and wouldn't dream of setting foot in Tuscaloosa. In that case, you'll want to head east to Auburn University. Tailgating outside Jordan-Hare Stadium is fun enough to make anyone want to chant "War Eagle!" But even on the chance that football's not your thing, there's plenty more to check out on campus, including the Jule Collins Smith Museum of Fine Art and the Louise Kreher Forest Ecology Preserve. Plus, visiting college towns is a fun way to relive your glory days and maybe even get your own kids interested in hitting the books.
Location: 251 S Donahue Dr, Auburn, AL 36849
Contact: (334) 844-4000
Website: http://www.auburn.edu/main/welcome/destinations.html
Where to Stay:
There are plenty of options right in Auburn, including the Eagle's Landing RV Campground, the Bar-W RV Park, the Leisure Time Campground, and University Station RV Resort. If state-owned campgrounds are more your speed, there's also the nearby Chewacia State Park, which features 36 campsites less than 7 miles from campus. After spending a football-filled weekend in Auburn, you might even be tempted to buy an RV of your own.
7. Birmingham Civil Rights Institute
If you're looking for Alabama RV trip ideas that are interesting but also educational, consider stopping by the Civil Rights Institute in Birmingham. It's a great way to start a conversation with your kids outside of a traditional classroom setting about some of our country's most important history. The museum is home to a vast collection of documents and artifacts pertaining to the civil rights movement and features an oral history exhibit where you can hear from people who actually participated in it. Be sure to check out the website for details on special events and workshops happening around the time you plan to visit.
Location: 520 16th St N, Birmingham, AL 35203
Contact: (205) 328-9696, ext. 203
Price: $15 for adults, $5 for children
Discounts: seniors, college students
Website: http://www.bcri.org
Where to Stay:
The Birmingham South Campground is about 18 miles south of downtown but comes with 100 campsites (including pull-throughs), a pavilion, a game room, ping pong tables, a basketball court, and a pool. Ready to keep chugging along on your road trip? Check out this list of the best campgrounds and RV parks across Alabama.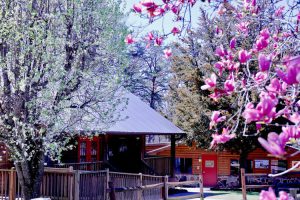 8. Noccalula Falls Park
When you're ready to get back to nature, heading up to Noccalula Falls Park in Gadsden makes for one of the most relaxing Alabama RV vacations. The gorgeous 250-acre park features five miles of trails, rock gardens, and a stunning 90-foot waterfall. There's also a petting zoo, a playground, and mini golf for the kids. The park also offers guided walking tours covering two miles of trails on the second and fourth Saturday during April, May, June, September, and October (weather permitting). And don't leave without taking a ride on the park's famous C.P. Huntington train, which is one of the best and most scenic ways to get your bearings. Hop off at the newly renovated botanical gardens and you'll see how great it can be to literally stop and smell the roses.
Location: 1500 Noccalula Rd, Gadsden, AL 35904
Contact: (256) 549-4663
Price: $6
Discount: seniors, children
Website: http://www.noccalulafallspark.com
Where to Stay:
You won't have to go far to find RV camping accommodations since there's a campground right at the park. The Noccalula Falls Park Campground has 120 campsites, including a number with full RV hookups. There's also a swimming pool, laundry room, and picnic pavilions for family meals.
9. F. Scott and Zelda Fitzgerald Museum
Literary buffs will love the F. Scott and Zelda Fitzgerald Museum in Montgomery, which celebrates the illustrious American author and one of the most interesting couples of the Jazz Age. The two rented the two-story clapboard home in the 1930s, though it was later turned into a boarding house. It remained as such until 1986, when a pair of preservationists thankfully saved it from being torn down and destroyed forever. In addition to preserving Fitzgerald family history, the museum also sponsors programs and workshops for other writers. Who knows? Maybe paying a visit to the quaint little museum will inspire you to write your very own great American novel.
Location: 919 Felder Ave, Montgomery, AL 36106
Contact: (334) 264-4222
Price: $10
Website: http://www.thefitzgeraldmuseum.org/home.html
Where to Stay:
There are plenty of options around Montgomery, including Capital City RV Park and the Woods RV Park and Campground. You can also check out Montgomery South RV Park, which is pet friendly, close to Interstate 65, and happens to be one of the newest campgrounds in the area.
10. Rickwood Caverns State Park
Nature junkies, we've saved the best for last. Rickwood Caverns State Park in Warrior is literally one of the coolest places to visit in all of Alabama. Check out the 260 million-year-old limestone formations underground, where the temperatures stay 58 to 62 degrees year round. But there's no need to leave after checking out the caves — the state park also offers gemstone mining, geocaching, hiking, and an Olympic-sized pool. It's the perfect place to pull kids away from their iPads and have them be mesmerized by the natural beauty of the great outdoors. By the time you're ready to leave, they'll be begging to stay longer.
Location: 370 Rickwood Park Rd, Warrior, AL 35180
Contact: (205) 607-9692
Price: $3 entrance, $17 for adults (13 and older) to take the cave tour, $8 for children (5 to 12), free for kids under 5
Website: http://www.alapark.com/rickwood-caverns-state-park
Where to Stay:
The park itself has nine campsites that can accommodate motorhomes and trailers, but if you're looking for more RV-specific accommodations, head out to Country View RV Park in Hanceville. The campground has plenty of pull-through sites as well as a laundry room in case you've been driving around with piles of dirty clothes. If you're willing to drive a bit further out of the way, the Smith Lake RV Resort in nearby Cullman County gives you a beautiful lakeside view, plus two saltwater pools, a boat launch, fishing ponds, ping pong tables, basketball court, playground, and a waterfall. It's almost like a vacation in and of itself!
That's it!
We hope you've enjoyed our Alabama RV trip planner! Whether you find yourself at the Space and Rocket Center or Gulf State Park, Alabama truly has something for everyone. In many ways, it's the perfect state for a road trip, since there's so much to do but not too far to drive in between destinations.
In any case, you'll want to call ahead to make sure museums and landmarks are open when you plan on arriving, as their hours can change from season to season. Likewise, making advance reservations at RV parks is recommended so you won't be stuck driving around looking for another place to stay. Some of the more popular campgrounds do get crowded during the busy summer season, so it's generally a good idea to call ahead just in case. Better safe than sorry!
Thanks for sticking with us as we shared our top 10 RV trips in Alabama! We hope you like our suggestions and enjoy your trip. Happy camping and safe travels!
SaveSaveSaveSaveSaveSaveSaveSaveSaveSaveSaveSaveSaveSaveSaveSaveSaveSaveSaveSaveSaveSaveSaveSaveSaveSave
SaveSaveSaveSaveSaveSaveSaveSave
SaveSave
SaveSaveSaveSave
SaveSaveSaveSaveSaveSaveSaveSaveSaveSaveSaveSaveSaveSaveSaveSaveSaveSaveSaveSaveSaveSaveSaveSave
SaveSave
SaveSave