Towing
September 11th, 2019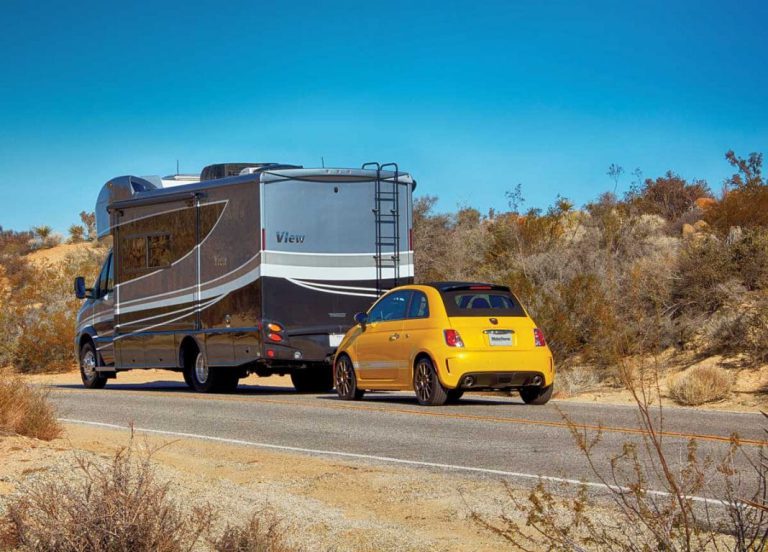 Picture this – you arrive and set up your campsite. You have a grill set up outside for dinner. You have your awnings set up with some comfy camp chairs underneath. Everything's hooked up and running and you've got a drink chilling and ready for you to sit down and enjoy it, when…you realize you need more charcoal. You need to run to the store.
You're not going to want to tear all that down, pack it up, and run to the store. You're going to want a tow vehicle – a little Jeep or car that will get you around town or take you on day adventures while your rig stays set up.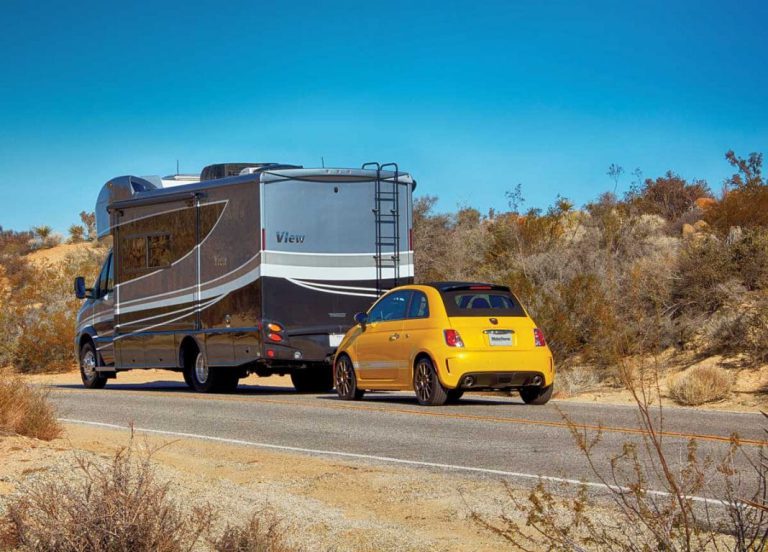 What kinds of RV tow vehicles are there?
There are two ways to pull RV tow vehicles. You can pull your car with all of its 4 wheels down, or you can put your tow vehicle behind RV on a trailer or dolly and pull it. 
4 wheels down towing:

This can be called all sorts of fun names – toading, dinghy towing, or flat towing. It's popular because it has very little impact on gas mileage or on the wear and tear of your RV. You can also unhook your car quickly once you arrive and be on your way. 4 wheels down towing is much easier to do with vehicles that have a manual transmission.

Towing with a trailer or dolly:

You can tow just about any kind of RV tow vehicle with a dolly, as long as it doesn't exceed your RV towing capacity. When you do calculate your towing capacity, don't forget to factor in not just the weight of the car, but the weight of the trailer as well – between 500-1500 extra pounds. Also, remember you'll need somewhere to keep your dolly or trailer when you're not using it. You'll need to connect brake lights, clearance lights, and stop lights to the dolly, and it will need on-board brakes. You'll need a set of cables to attach the dolly to the vehicle, and a set to attach the dolly to the coach. Finally, it usually takes two people to move the tow dolly out of the way so you can drive your car after your rig is parked. 
How to choose the best RV tow vehicle
If you're choosing a 4 wheels down tow vehicle, be sure to check the manufacturer's policy so you know that it's capable of being towed four-down. There are plenty of vehicles that can be towed this way without modifications – Jeeps, many Fords, Dodges, Chevys, and Hondas are all suitable choices for tow vehicles.
How big should your RV tow vehicle be?
Before shopping for a vehicle, think about how big it needs to be. Will you be traveling in it with an entire family? Kids? Or just you and possibly one other? Do you need room for pets? While larger vehicles are going to impact your towing capacity and possibly your gas mileage, they may be necessary to accommodate you.
What's the best tow vehicle for RV for your lifestyle?
You'll also want to think about your lifestyle. What will you use the vehicle for? Short trips to the store or out to eat, or will you be taking it 4-wheeling or driving mountain paths? 
Weather may be a consideration for you, if you're going to be traveling in snow or frequent rain. Also, think about the activities you'll be using it for. Will you be parking the RV and taking your RV tow vehicle to go skiing or kayaking, and do you need room for those outdoor toys?
Research RV tow vehicles online
There are lots of lists and forums online that can help you decide the best RV tow vehicle for you. Motorhome.com has a very extensive list, dating back to 1990, that tells you which cars can be towed wheels-down, and it's updated at least once a year with that year's new vehicles.
With a little research and some thinking about what will best accommodate you and your travels, you're sure to end up with an RV tow vehicle that suits your lifestyle perfectly!
This post may contain affiliate links.