RV Owners
Last updated on February 17th, 2023. Originally published on June 19th, 2015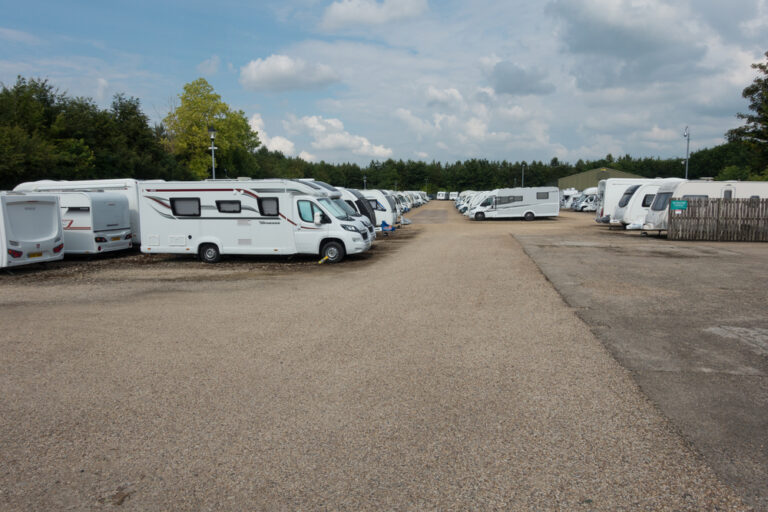 RVs are fantastic travel vehicles, but most owners only find the time to use them every so often. When not in use, RVs can prove unwieldy to store, particularly for those living in metropolitan areas. Inexperienced owners may be poised to jump the gun and rent any nearby space, despite excessive RV storage costs.
But how much does RV storage cost? And more importantly, how much should it cost? Before we get to that nitty gritty, there are several variables any RV owner should take into account.
Inside or Outside RV Storage
As a rule, RV storage cost depends on the specific needs of your vehicle and the features of the storage unit. The first, and perhaps most significant consideration, is whether you want an inside or outside unit. An outside unit will most certainly be cheaper, but inside storage helps to protect your motorhome from the harsh elements that can age your hull much faster.
In the long run, inside storage will most likely save you money in maintenance costs, but outside storage is satisfactory for shorter periods of time.
If you're still having trouble choosing between indoor and outdoor RV storage, consider this bit of wisdom from EnlightenMe.com:
Take time to crunch the numbers to see if the reduced cost of maintenance and insurance compensates for the additional storage cost.
Insurance While in Storage
Check your RV's policy to see if the vehicle is covered while in storage. If not, never fear — many facilities offer insurance policies of their own. Review the terms and compare them with any storage policies from your standard provider to figure out the best way to insure your RV during its time in storage.
RV Storage Amenities
A bit of research will almost certainly uncover a vast array of storage facilities near you, each with different RV storage rates and amenities worth noting. Those more commonly offered by facilities include:
Electricity
Sewage Disposal
Access to Water
Heating & Cooling
Trash Services
The more amenities, the higher the RV storage cost. If you don't anticipate using these services, find a location that doesn't offer them, as they'll likely charge less per month.
Consider the space offered with each facility, as you'll want room to comfortably maneuver in and out of the unit, and even wash or otherwise maintain your vehicle to save yourself some hassle on the road.
Security & Location
Security and location are two additional aspects to take into account. You'll want to find somewhere close to your house for easy access to the RV, and you'll want to feel that your home-on-wheels is secure at the storage location.
Some facilities have minimal security — essentially functioning as a simple, fenced-up parking lot — while others will include video surveillance and round-the-clock security officials onsite.
To know if the cost of added security is worth it, consider the location — in safe areas, it probably won't be, but owners may want to spring for the extra surveillance in cities with high crime rates.
Compare RV Storage Prices
Once you've considered the variables and defined exactly what you want from a storage facility, it's time to compare RV storage prices. While you can often store a regular automobile indoors for a little under $100, any sizable indoor unit large enough for an RV (usually 10′ x 20′, 10′ x 30′ or 10′ x 40′) will cost upwards of $250, and even $350 per month charges are not unusual. With some digging, you should be able to find outdoor storage for less than $150 per month. Remember, if you're opting for an outdoor facility, consider investing in an RV cover to stop decay.
Online Research
There are online resources that allow you to search for storage facilities in a specific area, as well as compare user reviews and standard prices. Two popular websites are SpareFoot.com, PublicStorage.com,
 and Storage.com. Use these sites as a jumping-off point. Visit their websites and call their numbers to learn if there are any deals the employees can offer to secure your business.
Hopefully with all this in mind, you'll be well equipped to find a home for your home-away-from-home that suits you and, of course, your RV.