Seating
Last updated on July 13th, 2022. Originally published on September 13th, 2019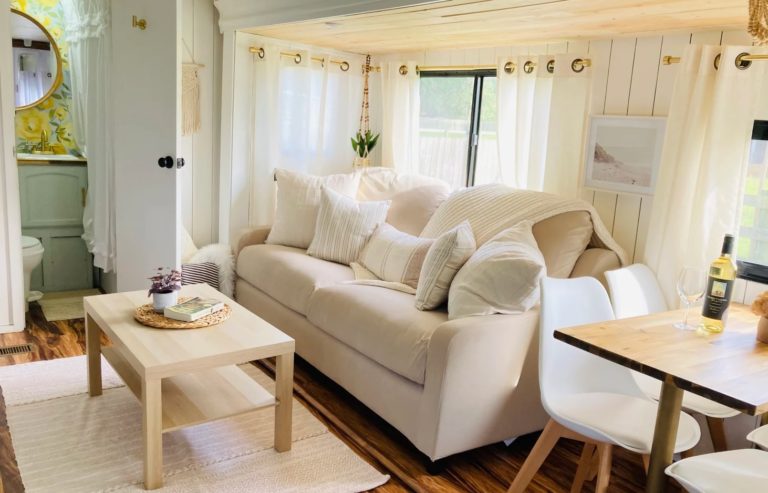 Your RV sofa could possibly be one of the most-used pieces of furniture in your vehicle. When people come in to visit, they'll plop down on it. If you're RVing with kids, they'll sprawl out on it. You may need it to sleep on. It's an important part of your new traveling home! Here you'll see some of the different options for RV sofas.
Jackknife Sofa
The jackknife sofa bed was once the most popular of the RV couch bed options. This style of sofa bed looks much like an upholstered bench when in the upright position, but can be laid flat with the seat and the seat back lying side by side to create a sleeping surface.
These beds are the least space-consuming in both positions, and they weigh less than traditional couches, but can also be fairly uncomfortable in both positions because of the bars that make up the frame.
Traditional Hide-a-Bed
Another camper couch option is the traditional hide-a-bed. These feature a thin RV-style mattress that folds into an otherwise ordinary RV couch.
This is a bit more space-consuming than the jackknife option, especially when in the bed position. It is also a much heavier couch than the jackknife option. However, the couch part tends to be much more comfortable, and depending on the mattress used, the bed can be as well.
Inflatable Hide-a-Bed
More recently, we've seen air mattress hide-a-bed sofa options hit the market. These have quickly become the preferred option, and can be found in many new rigs.
This RV sleeper sofa with air mattress works very much like a traditional RV hide-a-bed, but includes an air mattress rather than a traditional mattress, making it much more lightweight.
The issue with this type of RV couch bed is the fact that the air mattress can develop holes, making it unusable.
What to Look for When Buying an RV Sofa Bed
Now that you have an idea of what kind of RV couch bed you might want, you'll probably want to know what else you should be looking for in your new sofa bed. Here a few other important things to consider:
Durability
Size
Weight
Comfort
Apperance
Ease of clean up
Storage options (if any)
Price
Warranty
Custom Couches
Since they're custom, you can obviously have them built to any size or dimension you wish. You could even get an RV sectional sofa or custom-length RV sofa bed to accommodate individual needs.
I know custom sounds expensive, but it doesn't have to be!
Hello, DIY project! Building your own custom pull out couch sounds scary but with all the tutorials + videos you can find these days it is not that much harder than building Ikea furniture (which is another, easier + quicker, alternative to the traditional factory brown RV couches out there). And don't ever underestimate the power of a quick DIY, reupholstering your old couch or snagging a new to you couch from sites like Facebook Marketplace are budget friendly and effective ways to make big changes while adding your own spark. 
Other RV Bed Options
There are other clever ways to disguise an RV bed as well – you can have an RV dinette bed, where your table would fold away and your bed would be right where your meal was. They also make RV murphy beds that fold right out of the wall and back again, so you have plenty of floor space in your rig. An RV pull down bed or RV wall bed might be the perfect solution to saving space in your motorhome.
An RV table bed is an ingenious way to use all your available space. During the day, use the table for working or eating or for extra seating. At night, transform it into a bed. There are a number of RV table beds on the market, and they allow you to choose everything from the style and color of your cushions, to the color and materials in the table top.
But don't forget, you can DIY this set up too!
Where To Get An RV Sofa Bed
You can certainly get an RV bed from a reputable dealer, or possibly from the same place you bought your RV. Camping World has a number of RV sofa beds and other beds available. You can also find them online. Ebay sells RV sofa beds, and Amazon has RV sleeper sofas and other RV beds available as well. If you do order online, be sure to check the return policy of the store you choose, and don't forget to factor in shipping – for an item that size it can add up!
Lastly, we want to remind you not to close your search to RV specific sofa + sofa beds. Truth is you can use any sofa bed, couch or pull out (they are all the same at the end of the day!). Whether you are making your own, buying new or going outside the RV norm with a modern style, the only thing that actually matters is that it fits! So measure not once, but twice, before making any purchases or starting the table saw.
You finished your research, so sit back and enjoy your new sofa!
This post contains affiliate links. RVshare may receive compensation if you make a purchase after clicking on a product link.