Important Info About RV Screen Doors: Parts, Latches, Slide, etc
Doors
September 16th, 2019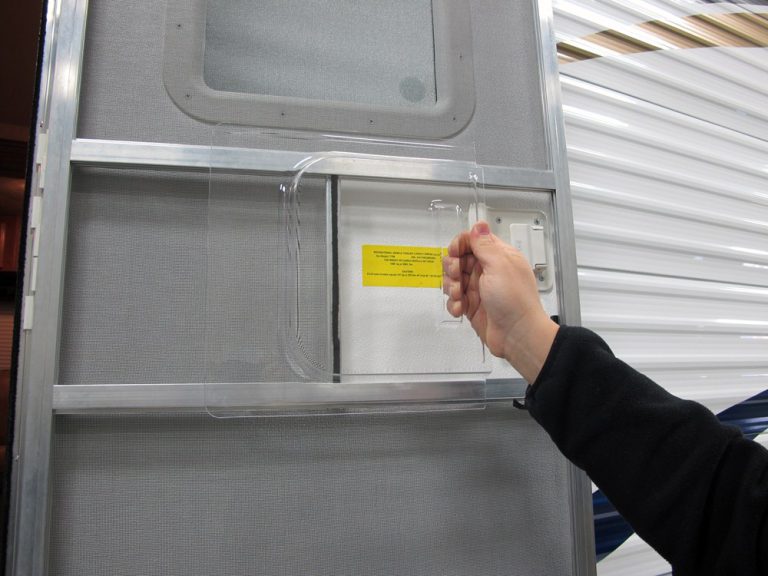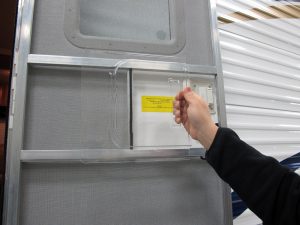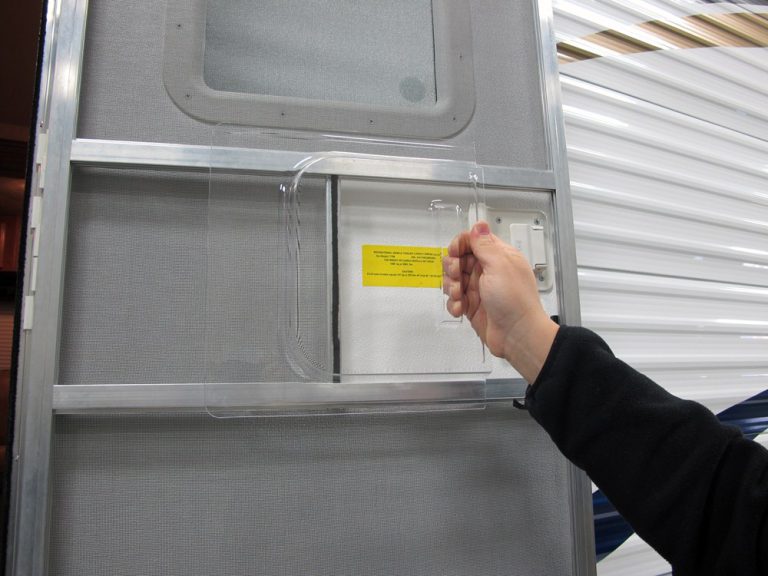 Whoever decided to put screen doors in RVs is an absolute genius and a life saver. There's nothing better than sitting in your camper with the door open on a perfect camping evening, but without screen doors, we'd have bugs flying in our rigs left and right. 
That said, nobody ever really appreciates RV screen doors until they are without one. Once your RV screen door breaks, though, you'll probably be pretty quick to get it fixed. Likewise, if you find your screen door needs improvements to function well for your lifestyle, you're probably going to find a way to get that upgrade added sooner rather than later.
In this article, we will discuss the various RV screen door parts and how to replace or repair them. Additionally, we'll point out a few of the most useful upgrades for a screen door for an RV. 
RV Screen Door Repairs and Replacement
Let's begin by discussing screen door repairs and RV screen door replacement. Luckily, repairing parts of a screen door and putting in a replacement RV screen door are both fairly easy jobs, meaning the average handyman should be able to get their door up and running again in no time. 
RV Screen Door Slide
The most commonly broken part is the RV screen door slide. This is the plastic bit that slides back and forth. It's meant to keep bugs out of the rig when closed while still allowing the user to use the latch by sliding it open. Unfortunately, because these are 1) plastic, 2) sometimes exposed the elements, and 3) used often, they become weathered, warped, and cracked over time. 
Replacing your RV screen door slider is no big deal. The plastic parts come in clear, white, and black colors, and as long as you purchase one that fits your door properly, you'll find it pops right in without any tools at all. For many, an Amerimax RV screen door slide is a favorite replacement, but there are other great brands out there that will do the job just as well.
You can find a screen door slide for your RV on Amazon or anywhere else RV parts are sold. 
RV Screen Door Latches
RV screen door latches are another thing that can break easily. After all, they are used every day, and honestly, very few campers are gentle with them. 
While replacing an RV screen door latch does take a bit more effort than replacing the slide, it still isn't a difficult task. Generally, a few spins of a screwdriver is enough to remove the old latch, and putting a new one in is just as simple. 
The one thing you'll want to be aware of when replacing your screen door latch is the fact that these parts come in right- and left-handed models. To determine which one you need, stand on the inside of your camper and face the door. If your latch is on the right-hand side while doing this, you need a right-hand latch (and vice versa). 
RV Door Screen Replacement
Sometimes the screens in RV screen doors end up being damaged. This is annoying but totally fixable, and in most cases it doesn't even require an entire door replacement. 
Most RV door screens are held in place by a rubber strip that fills a channel in the door frame. By pulling the rubber out, you can easily remove the entire screen. Another piece of screen and another rubber strip can then be placed in the channel using a special screen rolling tool made specifically for this job. 
RV Screen Door Replacement
Of course, there are times when replacement parts won't do the trick. For instance, a bent frame generally requires the entire screen door to be replaced. 
If you'll be replacing your screen door, be sure to consider all of your options. Since you'll be doing the work of putting in a new door anyway, you may want to think about upgrading to an RV retractable screen door or some other nicer version of screen door. 
Putting your new door in might just be the most difficult repair option on this list, and it's certainly the most expensive. That said, even this job isn't too hard for most people who are handy with tools, and replacement doors can be found for as little as $45 to $50 online. 
RV Screen Door Upgrades
For some RVers, even if their door is in perfect working order, it's still not quite what they want or need. In these cases an upgrade is in order. Problems keeping bugs out—along with a desire to keep kids in—definitely contribute to the need for an upgrade, and once you have the door you really want and need, you'll be so glad you took the leap and made those changes. 
RV Screen Door Closer
An RV screen door closer works by using a spring to ensure the door closes behind you every time your go in or out of your rig. It's perfect for those with kids or for people who tend to walk in or out with their hands full on a regular basis. 
RV Screen Door Guard
If you have pets or young children, you may find yourself fearing for your screens. An RV screen door cover will protect your screens from accidents. These come in a solid plastic form as well as RV screen door grill style, and are the perfect RV screen door protector. 
RV Screen Door Handle
An RV screen door handle is a great way to make your door a bit sturdier and gives you a way to close the door from the inside without pulling on the plastic slide. It's a great addition to every RV. 
RV Screen Door Lock
An RV screen door lock is a great addition for those with young children who may leave the rig without permission, as well as campers who enjoy leaving their door open but would like to feel more secure. These locks are easy to install and can really help give you some peace of mind while camping. 
RV Screen Door Opener
Finally, we must discuss the screen door opener. This handy gadget allows you to open the screen door from the inside without moving the slider, meaning it's much easier to keep bugs out. These are super easy to install and can be purchased individually. However, many campers prefer to purchase an RV screen door slide with opener already attached, making the installation process even simpler.
This post may contain affiliate links.