10 RV Hacks That Will Make You a Happy Camper
RV Owners
April 30th, 2015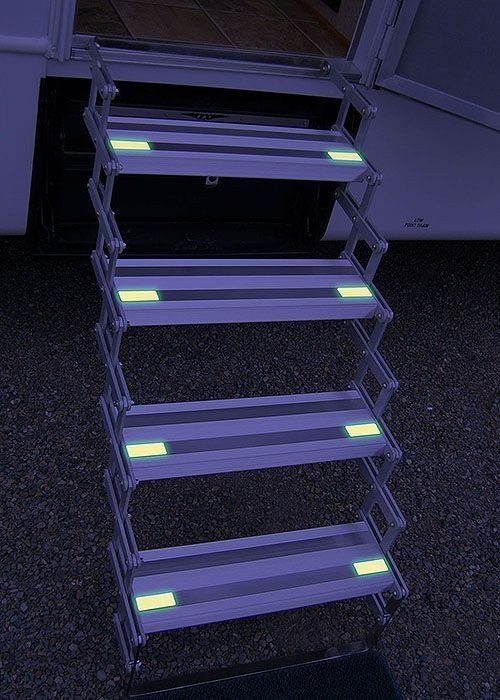 We all love RVing. What we don't love are those little annoyances that turn what should be a good time into a hassle. Don't worry. We've got you covered! With these 10 RV hacks you are guaranteed an RV adventure that will go off without a hitch and make you a very happy camper!
1. Light Up Dark Closets and Cupboards with Motion Sensor Lights
Illuminate even the darkest spots in your RV using battery operated motion sensor lights. With no need to be wired into your electrical system, these high powered battery operated LED lights are easy to install and even easier to use. The motion sensing function allows you to simply open the closet or panty and immediately be greeted by a bright light. No more fumbling for a flashlight, or relying on ambient room light. There are some great options for battery operated lights on the market.
2. Prevent Burned Food with a Baking Stone
Propane RV ovens have a habit of sometimes cooking a little too well. If you've ever pulled out a tray of cookies with perfect golden tops and black, burnt bottoms you can relate. The problem is that the single burner in an RV oven concentrates all the heat in one area, creating a hot spot that can scorch the bottom of baked goods and casseroles. Believe it or not, there is an easy solution to this problem. Simply purchase a baking stone that fits in your RV oven. Place the stone in the center of the oven (make sure it doesn't block all the ventilation holes). The stone will absorb the heat and distribute it evenly throughout the oven. No more burned cookies!
3. Pool Noodles – Not Just For The Pool!
You know those cheap foam pool noodles you see in discount stores during the summer months? Beyond fun in the pool, these simple, foam tubes have a number of handy uses in RVs. Slide them over the bottom of your slide outs to soften head bumps, cover your windshield wipers when not in use to prevent scratching, store cords inside for easy access, cover awning arms with them, or wrap them over clothes lines to reduce creases. The possibilities are endless!
4. Light Up Your Steps With Glow in The Dark Tape
Not all RVs come with outside step lights. The easiest solution to shedding a little light on this dangerous situation is to line the stairs with glow in the dark tape. A few pieces strategically placed can make a huge difference. It's an economically savvy solution too. You can buy a 30 foot roll of weather resistant, glow in the dark tape from Amazon for only $10!
5. Increase Water Pressure & Save Water With an Oxygenics Shower Head
Let's face it. The majority of RV shower heads are pretty crappy. Either they have no pressure and a poor spray, or they use so much water that before you know it you have either run out of hot or filled your grey tank. The very best solution to this problem is to replace the shower head with a low flow, high pressure Oxygenics Shower Head. This ingenious product mixes air into the water as it sprays out, providing you with a great shower while saving water at the same time.
6. Use a Cordless Drill to Deploy Rear Stabilizers
If you have a travel trailer or fifth wheel without electric stabilizer jacks, than you are familiar with the chore of hand cranking them up and down every time you set up or break down. An easy solution is to use a rechargeable cordless drill. Simply attach a socket extension that fits your stabilizer jacks. Now all you have to do to raise or lower them is plug the socket into the jacks and let the drill do all the work.
7. Get Comfy With a Mattress Topper
If your RV mattress is uncomfortable, but you don't want to shell out the big bucks for a new one, don't despair! An inexpensive mattress topper can save the day. A two, three, or even four inch mattress topper can go a long way in increasing the comfort of your existing mattress. Toppers are also a great way to make RV pull out couches and dinette/bed combos more comfortable.
8. Homemade Black Tank Chemicals
RV Black tanks are known for their habit of getting a bit stinky. A little smell is unavoidable when you're carrying around a tank of…well you know. There are a whole host of various chemical solutions that you can buy to reduce the smell of your black tank. But before you go investing $5o on a case of harsh chemicals, why not try this homemade version first? Combine 1 cup of dish soap (liquid or powder) with 1 cup of Calgon water softener (found next to the laundry soap). Add this to your black tank and let it sit until the next time you dump. This homemade mixture will not only help cut down on oder, but will also aid in the removal of built up particles on your tank walls. Those same particles that can give you faulty tank sensor readings. Give it a try.
9. Install a Clear Sewer Pipe Elbow
No one really wants to see what's going on inside the sewer hose. They make those things brown or black for a reason. But the truth is that by installing a clear elbow at the end you can prevent a lot of potential problems down the road. Seeing what is going on in your hose allows you to check for undissolved toilet paper (in which case you might want to switch brands), to know ahead of time if a clog is about to happen, and to have visual confirmation that the tank is done emptying. Also, when you're preforming a back tank flush you can easily see the color of the water, and when it runs clear be confident that the tank is clean.
10. Protect Breakable Glasses with Beverage Koozies
Think you can't use breakable glasses in an RV? Think again. With a little care and protection you can drink your juice, wine, scotch…or anything else in style. Simply slip beverage koozies over the breakable glasses before putting them in the cupboard. Koozies are inexpensive and easy to find at discount stores and yard sales. As a bonus you'll have plenty of koozies to go around when your campground neighbors stop by for a soda or beer.
Looking for more tips on your next RV trip or purchase? See this helpful article: