Travel Inspiration
March 1st, 2021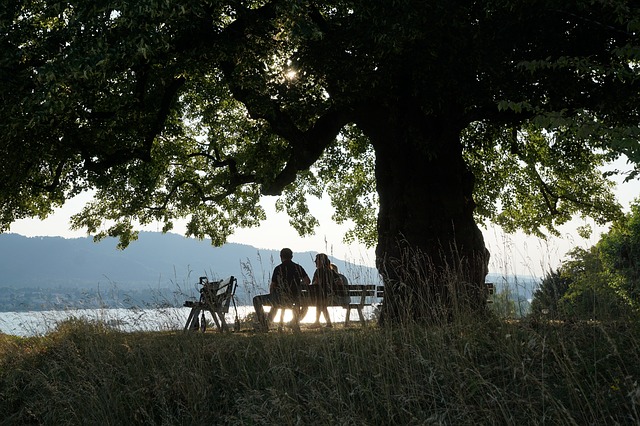 As people have moved to more online work or school in the past year, there has been a definite uptick in the number of people giving up their stationary homes in favor of full-time motorhome living. They enjoy the mobile lifestyle, and they like having the ability to log off and go explore when their work is done for the day.
This lifestyle is a great option for people who have retired as well! You may enjoy full-time RV living even if you don't have to log on to a job every morning. Here are a few of the benefits of RV retirement:
Benefits of full-time RV living in retirement
1.) Less maintenance
You'll have to make sure your motorhome is clean and working well, but compared to a house, keeping up a motorhome can be much simpler! You also don't have the added upkeep of a yard, walkway, garage, basement, or any other larger space.
If you live in a cold state, you can also opt to head somewhere warmer where you won't have to worry about shoveling snow…or about the possible injuries that come from slipping on ice or snow.
2.) Convenient nearby facilities
If you purchased a home when raising a family, you likely had very different criteria than the things that will be important to you as a retired person. As you look for a campground for living in your RV full-time, you'll find that there are plenty that put you near doctors' offices, grocery stores, churches, or trails and parks so that you don't have to spend much time driving to each of these places. There may even be shuttle services that will take you there at scheduled times. Many full-time campgrounds have rec rooms and planned activities to help you make friends and stay active.
3.) People at the same stage
You can seek out one of the many RV retirement communities that are for people 55 and over, and you'll find that these campgrounds have many perks. They are generally quiet, without children running around and playing loudly. You'll also be assured that any planned activities are going to include people who are roughly the same age.
If you do move to a 55+ RV community, you'll want to check the rules for living there, especially if you have children, grandchildren, or other younger people who would like to visit you. Knowing the expectations ahead of time can save a lot of trouble and hurt feelings.
4.) Work (when you feel like it)
Many people don't retire cold turkey – you may find yourself freelancing, or working part-time after you've retired. If your work can be done virtually, RV living can still be a great solution. You can set up a workspace in your motorhome, and most campgrounds offer WiFi. In fact, over the past year many campgrounds have been upgrading their WiFi due to the increased number of people working from the road.
Where should you live?
If you choose to retire and live in your motorhome, you now get to decide where to retire. The entire country is open to you! You may want to consider warmer states to avoid shoveling snow, and the potential injuries of walking in icy weather (and it's just uncomfortable!). You'll also want to take into account your own lifestyle, and where any other family members live if being near to them is important to you. As you're researching cities, you'll also want to look at crime rates and the average cost of living.
Many people opt to retire in Florida, thanks to the warm weather and the fact that the state has no income tax. Also, several baseball teams use Florida for their spring training, adding a fun element and exciting outings to the area.
The following cities are ranked the best cities to retire in 2021.
Top 7 Cities For Retirees
Sarasota has the beautiful white sand beaches Florida is known for, as well as museums, art galleries, and a thriving arts community. Many people retire to Sarasota, which means you can find lots of people in the same stage as life to meet up with and do activities or befriend. Nearby Myakka River State Park offers beautiful scenery, and Florida has a number of other national and state parks to explore. Sarasota is a short drive from many other popular Florida cities like Tampa and St. Petersburg. It's just a few hours to drive to Orlando, so if you have young (or young at heart!) visitors, a trip to Disney World is a fun option.
One way to experience what RV living in Sarasota would be like is to rent an RV from RVshare and try it out! You can find campgrounds in the area here.
Fort Meyers has another large retired community, as well as a spring training camp for some fun baseball outings. Fort Meyers also has the gorgeous Florida white sand beaches where residents can walk, exercise, and relax, and they have plenty of art galleries, museums, and other cultural offerings.
Port St. Lucie is on the Atlantic coast side of Florida, and there are lush botanic gardens, nature preserves, and the PGA Golf Club to help residents enjoy the outdoors. The Mets hold their spring training in the city, and there are freshwater marshes at Savannas Preserve State Park, and boardwalks to stroll at Hillmoor Lake Park.
Naples is along the Gulf of Mexico, with plenty of beaches and water activities for outdoor enthusiasts. There are art galleries, museums, shopping, and great restaurants. Naples is also a short drive from Everglades National Park with its 1 1/2 million acres of swamps and mangroves and tropical wilderness.
Ann Arbor is a college town – the University of Michigan is here – and there are many restaurants, sporting events, concerts, and shops. If you enjoy winter sports, snowshoeing and ice skating are available in winter, and in the warmer months there are plenty of places for hiking, biking, and kayaking. The University of Michigan Hospitals-Michigan Medicine is also a high-ranking hospital, making Ann Arbor a good choice when considering your health care needs as well.
This picturesque town nestled in the Blue Ridge Mountains means there are plenty of scenic drives and hikes for residents as well as visitors. It's only a short drive to Great Smoky Mountains National Park where you'll find even more wildlife and outdoor adventures. Asheville is also a bustling artists' community that attracts many writers, musicians, painters, and other creatives and it's beginning to attract many new chefs and brewers who are using local ingredients in their delicious concoctions. Finally, North Carolina does not tax social security income, making it an attractive choice for retirees.
While Lancaster is near large metro areas like Washington, D.C., Philadelphia, and New York, the town itself is small, with a rural feel as it is surrounded by Amish farmland. Amish baked goods, produce, furniture, and crafts are all sold in local stores and at the Lancaster Central Market. Lancaster also has plenty of art and music festivals, and the city is becoming more known for its restaurants and bars. Pennsylvania also does not tax social security income.
As you search the best cities for retirement, keep in mind that RVshare can help you experience each one with an RV rental that you can book to try out a week – or even more – at any spot that interests you!