Optimize Your RVshare Listing with Great Photos
RV Owners
Last updated on November 10th, 2022. Originally published on October 19th, 2022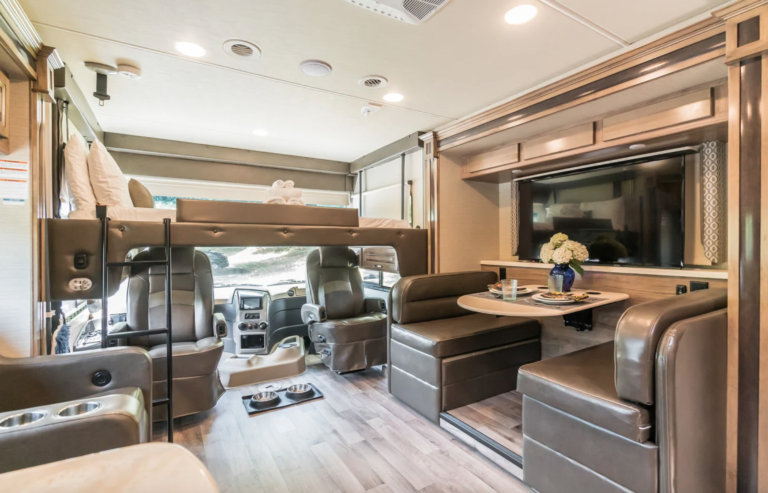 Is your RVshare listing not booking as much as you'd like? It could be your RV listing photos. In today's visual world, good photography is key to a success business, and that includes renting your RV. But don't worry, you don't need to hire a professional photographer (unless you want to!) we've got tips you can use to make your photos fabulous so your listing stands out.
Why Photography is So Important
Think about the last time you went online to purchase something. Before you even read the description or checked out the reviews you most likely looked through the product's photos. If the product didn't look nice or of good quality, you probably didn't even click on it.
The same goes for renting out your RV. Having lots of quality photos on your listing builds trust with potential customers. It shows them that your RV isn't a scam, but a real rig that's been taken care of and is ready for them to use. Photos of all the spaces and different angles help them picture themselves using the rig on their vacation. The more enticing your photos, the more people want to use your rig, which leads to more bookings for you!
Best Practices for Images in your Listing
Most of us aren't professional photographers, but there's still plenty you can do to make your RV listing photos stand out and be the best they can be.
Clean Your Rig Before Taking Photos
Photography best practices happen before you even pick up a camera or your phone. The first thing is to make sure your rig is cleaned and staged for photos. A dirty kitchen or bathroom with stuff everywhere doesn't make people want to stay in a rig. They want to see it clean and inviting. So take some time to pick up, make the bed, and put away extra things on the counters. You could even set out some dishes on the table, drape a blanket over the couch, or set our flowers in a vase to make it feel homey, so people have an easier time visualizing themselves using your rig.
Take Photos in the Morning or Afternoon
Good lighting is very important in photography. Dark images make it hard to see what the space looks like, while well lit images are inviting. To get the best lighting for your rig, take photos when it's bright outside. Open all the blinds to get as much light inside as possible. When shooting the outside of your rig, having the sun to your back will help stop sun flares and washed out photos.
Composition
Once your space is cleaned up and well-lit it's time to start taking photos. But don't just start snapping away! Framing and composition are key to a great image. Frame your photos as wide as possible to get a good feel for the space of your rig. For detail photos, make sure the object you're featuring (like the stove or outdoor TV) is clear and centered in the image. Hold your phone or camera as level as possible so the images aren't crooked.
Edit Your Photos
Want to know the real secret to great photos? It's the editing! While you want your photos to look as accurate as possible (so no crazy filters please!) a bit of editing in a mobile app or on your computer can lighten images and make colors pop. You can edit each photo individually or use a natural filter that will make all your photos look consistent and stand out from the crowd.
Upload 20+ Pictures
More photos mean more chances to convince someone to rent your RV. There's no limit to how many images you can add to your listing, so take advantage of that and show off your rig! Try to upload a minimum of 20 quality photos of both the inside and outside of your vehicle. Be sure to snap a photo of important features of your rig like outdoor cooking setups or convertible sleeping spaces that may catch people's eye. And take advantage of nature! A few shots of your rig parked in a beautiful location can help people picture themselves enjoying your RV.
Our Favorite Photo Editing Apps
Today there are all sorts of photo editing apps that can make this process simple. If you're editing images on your phone, a mobile editing app like VSCO, Afterlight, or Lightroom is easily downloaded. These apps let you adjust things like exposure, contrast, color balance, sharpness, and more. Many even have built in filters or presets that let you edit your images in one click.
If you're editing your RV listing photos on your computer, programs like Adobe Photoshop and Lightroom have a bit more of a learning curve, but can make photos go from drab to amazing. These programs give you complete control over editing your photos to really give them that wow factor to attract renters.
For more tips on optimizing your RV listing you can check out our blog post An Overview of How to Set Up your RV Listing for Success. It walks you through photography, staging your RV, pricing, writing your listing, and more. And take a look at our 10 Tips to Optimize your RV Photos for even more great photography help. Ready to list your RV? Head over to RVshare.com to see how much you could earn by renting out your rig.