Travel Inspiration
Last updated on July 10th, 2023. Originally published on October 3rd, 2022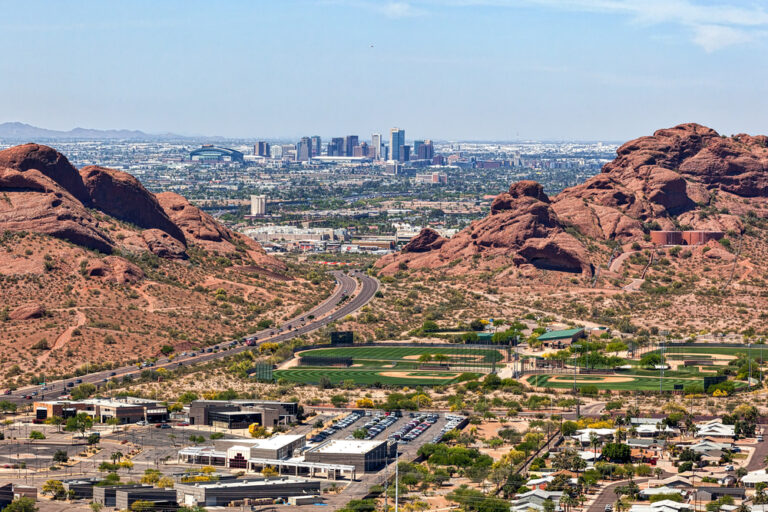 Arizona is a popular RV destination, especially with snowbirds (those looking to escape the cold winter months). And because of its central location, Phoenix is the perfect base to start a trip with one tank of gas. The hardest part will be deciding which direction to go! For this trip we're heading north to visit some of the iconic spots in Arizona.
This one tank trip is 286 miles from Phoenix to the Grand Canyon and takes about 5 hours and 45 minutes of drive time. As always, your mileage and drive time may vary depending on your car/rig and where you stop.
Phoenix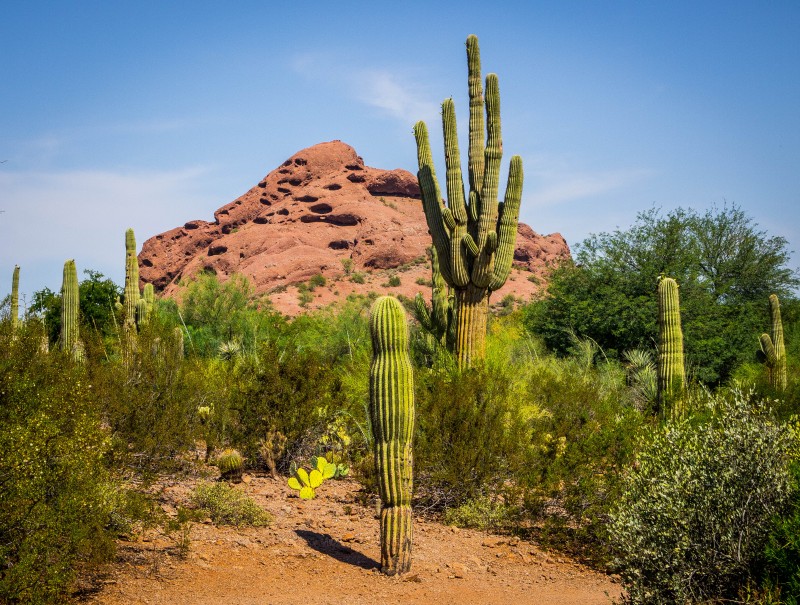 There's so much to explore in Phoenix itself that you'll want to plan a few days to see the sights in town before heading out on this trip. If you're looking for a great hike, Camelback Mountain offers amazing views of the entire city. It's centrally located and a favorite of locals and tourists alike. It's a very popular spot so head there early in the morning to avoid both the heat and the crowds, And bring plenty of water along!
Another great outdoor location in Phoenix is Papago Park. It's located right next to the Desert Botanical Garden and the Phoenix Zoo, and has some great hiking trails like the iconic Hole-in-the-Rock Trail. And before you head north out of town, stop at the Sonoran Preserve with over 9,600 acres of desert and 36 miles of trail systems throughout it. You'll be surrounded by mountains, saguaro cacti, and all those incredible desert views. Then fill up your gas tank, because we're about to head out from Phoenix on this one tank trip.
Watson Lake
After you've explored Phoenix it's time to head north to Watson Lake in Prescott, Arizona. This desert lake is almost otherworldly looking with large granite boulders surrounding the blue water. Rent a boat and spend some time on the lake fishing, kayaking, or canoeing. Or stick to the land and hike or rock climb around the lake. The trails are even dog friendly as long as they're on a leash.
There's also a large park adjacent to the lake with places to picnic, horseshoe pits, and a playground. And there's even a campground that's open during the summer months so you can enjoy the lake for a few days. There's also a private RV park next door that's open all year. Just note that no swimming is allowed in Watson Lake – if you want to enjoy the water you'll have to do it from a boat.
The lake is open during the summer from 7 am to 10 pm and in winter from 7 am to sunset. There's a $3 parking fee.
Prescott
After your time at Watson Lake, be sure to explore the rest of Prescott. Stop by the historic Courthouse Square in downtown, an area surrounded by buildings from the 1800s. It's full of restaurants, hotels, and antique shops. And don't miss Whiskey Row, the historical hang out spot of many icons from the old west like the Earp Brothers and Doc Holliday. This downtown block was once a line of saloons, but now there are restaurants, and shops, and even a few historic bars that have been restored.
While you're here, also visit Lynx Lake Recreation Area in Prescott National Forest. Completely different than Watson Lake, Lynx Lake is forested and surrounded by hiking and mountain biking trails. You can swim in the lake or rent kayaks or canoes. Hikers can also head over to Thumb Butte Trail, a 2.5 mile loop trail and a popular hiking spot.
Montezuma Castle National Monument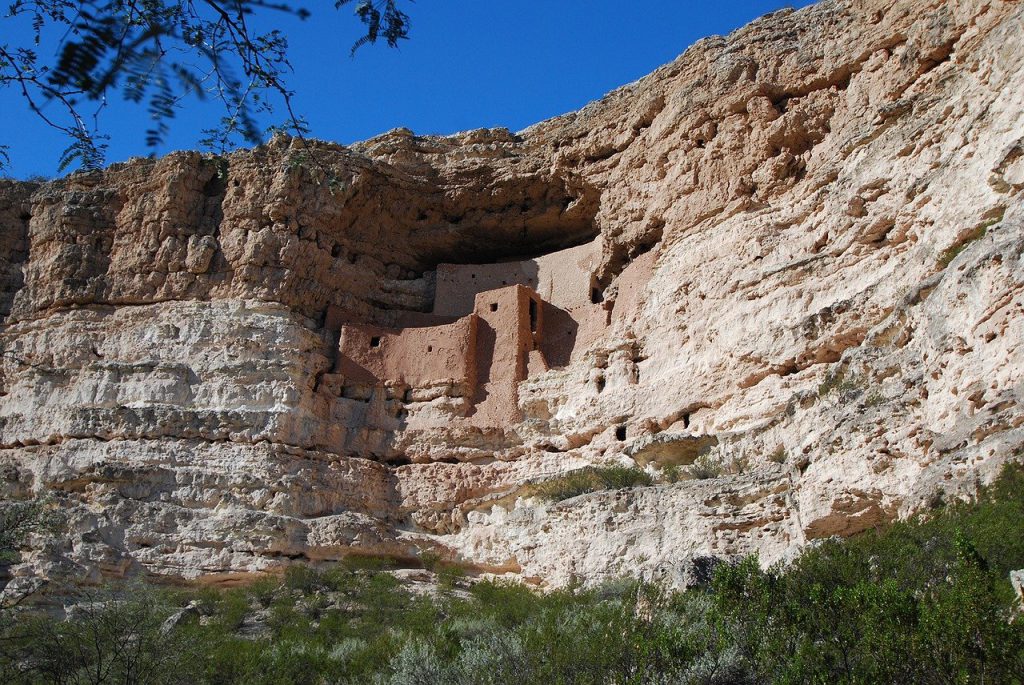 As you leave Prescott and head to Sedona, don't miss a stop at Montezuma Castle National Monument to see the ancient Native American cliff dwellings. It's right off the highway and a great way to learn about the ancient Sinagua People that survived in the desert landscape.
This National Monument was the third to be dedicated to preserving Native American culture. Explore the visitor's center to learn about the history of the Sinagua People. Then take the self guided walking tour past the homes built high into the cliff face and marvel at the culture that used to live there.
Sedona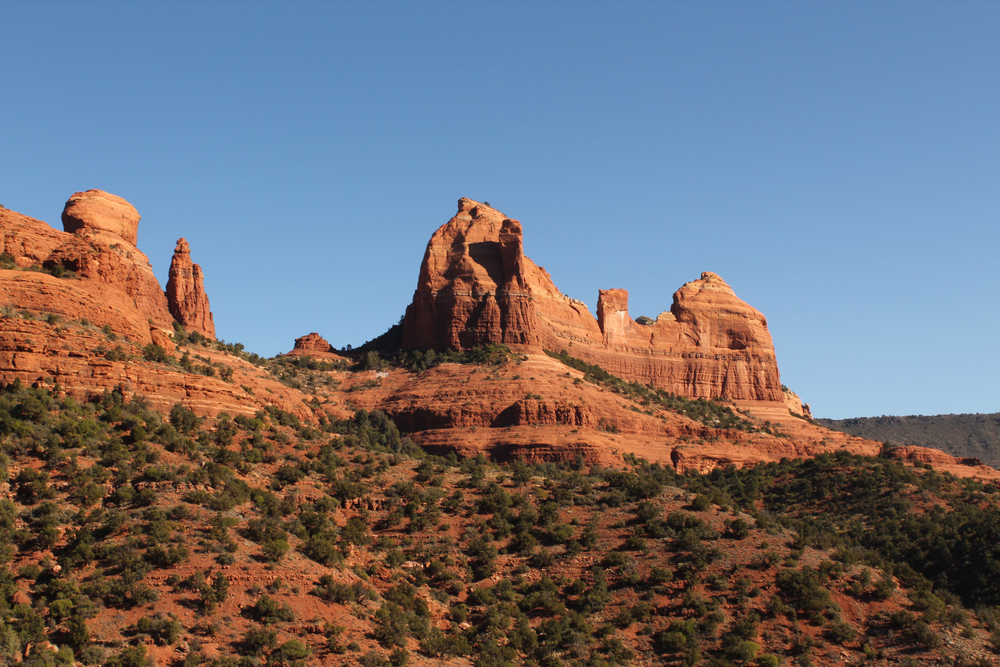 Then it's on to Sedona, another one of Arizona's breathtakingly beautiful locations. Take an iconic jeep tour, hike through the red rocks, or test your skills on the many mountain biking trails. Not sure where to start? Head to Red Rocks State Park or try a few of the top hikes in Sedona like Bell Rock, Devils Bridge, Cathedral Rock, or West Fork Trail. Many of the hiking trails in Sedona require a Red Rocks Pass to park at the trail heads, but these day passes can easily be picked up many places around town. You can find out more about the pass here.
Another top spot in Sedona is Slide Rock State Park. This state park was originally an apple farm and homestead. Today you can visit to learn about agriculture in central Arizona, but the real draw for kids and adults alike is the namesake Slide Rock. This natural rock water slide in Oak Creek is a popular place in summer where visitors can slide down the 80-foot rock slide and float downstream to the swimming area. It's a busy place in summer so come early or be prepared to battle the crowds.
Flagstaff
The next town on this one tank trip is Flagstaff. This historic city was once stop along the original Route 66 and is now a bustling college town with plenty of outdoor activities to explore. Visit the Arizona Snowbowl for skiing and snowboarding in winter, or a ride on the chair lift during the summer and fall for a beautiful view of the mountain and surrounding area. Also make sure to stop by Lowell Observatory to check out their telescope, workshops, exhibits, and the observation deck. Flagstaff is a designated Dark Sky city, so the night skies are incredible. And don't miss a visit to the Museum of Northern Arizona to learn about local Native American culture through the exhibits and events.
If you're looking to get outside, Coconino National Forest is right on Flagstaff's doorstep. It covers over 1.8 million acres and contains everything from red rock canyons to ponderosa pine forests with plenty of hiking trails and dispersed camping areas throughout. And if you're visiting in fall, make sure to see the aspen groves change colors! It's one of the few places in Arizona that have incredible fall foliage. However, if you're more of a cute town and brewery person, downtown Flagstaff is just the place with its historic old buildings, plenty of restaurants and shops, and a brewery trail.
Grand Canyon National Park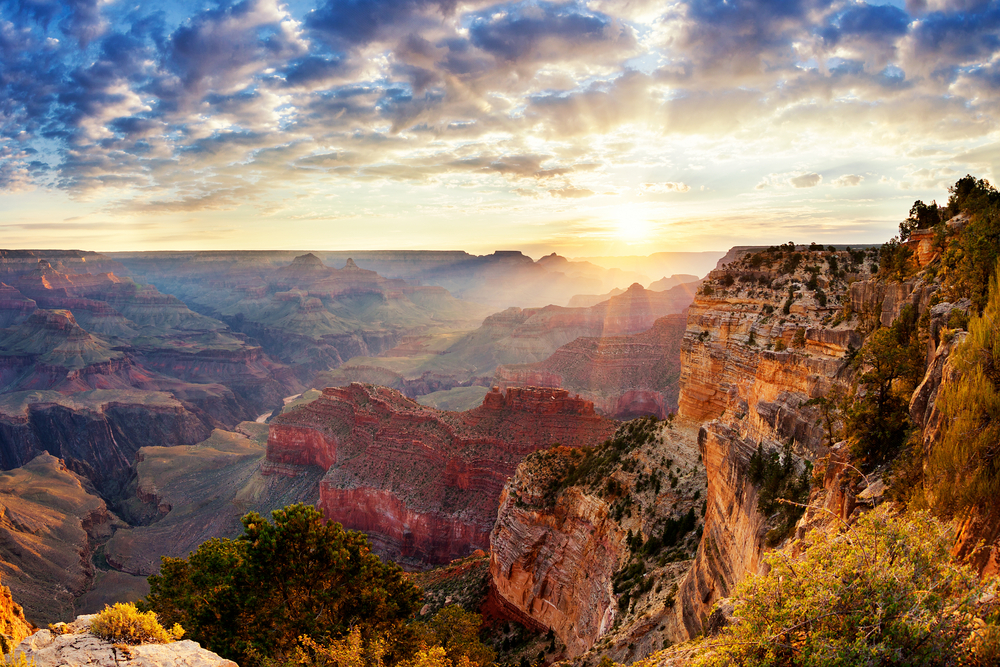 The last stop on this one tank trip from Phoenix is the incredible Grand Canyon National Park. This trip takes you to the south rim of the Grand Canyon, which is open all year. The north rim is also amazing, but it's only open during the summer and it takes several hours to drive there from the south rim (you know, because there's that giant canyon in the ground that you have to drive around). The South Rim is home to the visitor's center, campgrounds, and Grand Canyon Village where you can grab food, gas, and souvenirs.
Once you're in the park you'll have to decide what to explore! There are multiple hikes down into the canyon. There's also a paved walking trail along the rim with a shuttle service that takes visitors to several lookout points. This trail is wheelchair and stroller accessible and is even pet friendly as long as your dog is on a leash. (It's also one of the only dog friendly trails in the park – pets aren't allowed once you head down into the canyon).
Whether you want to just peer over the edge from the top or take a multi day hike down to the Colorado River and back, there's plenty of options to explore the Grand Canyon. Outfitters offer hiking and rafting trips down the Colorado River or you can participate in ranger led activities. You can also take to the skies and see the Grand Canyon from a helicopter tour.
Take a One Tank Trip
Did you enjoy this one tank trip from Phoenix? If you're looking for more local road trips you can take on one tank of gas, check out our itineraries for Salt Lake City, Las Vegas, Houston, and Portland. And if you need a rig, visit RVshare.com for a fantastic selection of local RV rentals.