National Parks
April 12th, 2021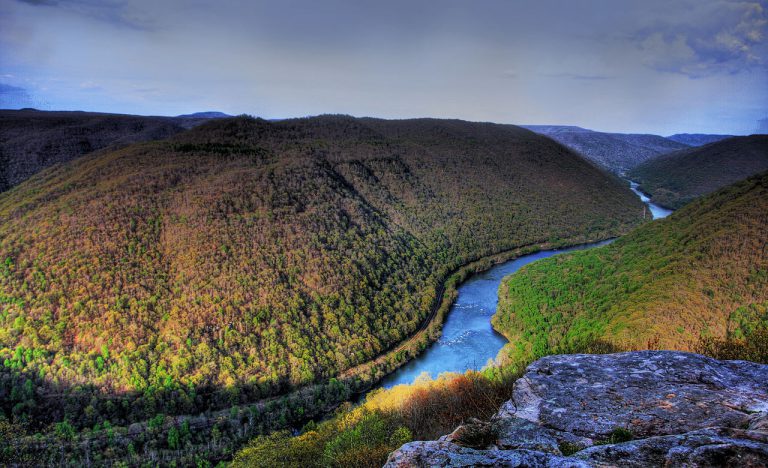 Some of the best places to visit in an RV (or even without an RV) are our country's national parks. These parks are seriously stunning, and each one has something unique and wonderful to offer visitors.
Obviously, the oldest parks such as Yosemite and Yellowstone are must-see attractions. Most Americans have these kinds of places on their bucket lists already. That said, there are a number of lesser-known NPS sites that probably should go on bucket lists as well, but don't make it because people simply don't know they exist. Among these lesser-known spots are the newest national parks in the US.
That's right, new sites are still being added to the long list of monuments, historic sites, and parks the NPS manages. In fact, a new national park was just added to the lineup in 2020, an amazing positive during a very trying time.
If you're wondering, "Where are new US national parks?" then this is the article for you. Below are the 9 newest US national parks. 
New River Gorge National Park
West Virginia
So what are the newest national parks, you ask? Well, New River Gorge just joined the lineup in 2020—although technically speaking, it's been a national river since 1978, and over the decades has offered plenty of recreation opportunities for kayakers, rock climbers, and other outdoorsy individuals.
The park is absolutely gorgeous, and in addition to the recreation options mentioned above, it also offers plenty of hiking trails and lovely views, as well as awesome outdoor history exhibits. On top of all that, with its upgrade to full-on national park status, we're betting we'll be seeing many other amazing things from this natural space in the near future.
Learn more about New River Gorge here!
White Sands National Park
New Mexico
Added just a year before New River Gorge, White Sands National Park in New Mexico is also new to the national parks lineup. That said, it isn't new to the NPS system at all. In fact, this beautiful area was a national monument for 86 years before it was finally upgraded to a full-fledged park.
The gypsum dunes found here are soft and glistening, changing colors from orange to bright white to lavender as the day wears on. Sand sledding is a favorite daytime activity at this national park, and nighttime activities include ranger-led full moon walks and meteor watching parties.
Learn more about White Sands here!
Indiana Dunes National Park
Indiana
Also added in 2019, Indiana Dunes is Indiana's first national park. This park is set on the shore of Lake Michigan and was designated a national lakeshore in 1966. Having this space designated as a national park took nearly 100 years of effort.
The dunes themselves are quite amazing, and we have to agree that they definitely deserve national park status and protection. One would never know just how many habitats are found on the dunes, and the diversity of plants and animals living in the park is fascinating.
Of course, the lake is also a great piece of the park and offers a lovely place to cool off after a summer hike.
Learn more about Indiana Dunes here!
Gateway Arch National Park
Missouri
One of our country's most well-known landmarks, the Gateway Arch of St. Louis was a popular attraction even before it became a national park in 2018. Today, it continues to be a big draw, bringing many visitors into the city each year to see this amazing structure and learn about what it signifies.
Visitors to Gateway Arch National Park have the opportunity to visit an underground museum located beneath the arch to learn about the structure, how it was built, and why it was created. After visiting the museum, guests can ride to the top in a unique elevator system.
The grounds also house the Old Courthouse, a great place to learn more about the westward expansion.
Learn about Gateway Arch here!
Pinnacles National Park
California
If we go a little further back in time, we will find the next newest park to our lineup. Pinnacles National Park was upgraded from a national monument to a national park in 2013. It took over a century for the park to receive this upgrade.
Pinnacles is a beautiful place featuring awesome spires, an extinct volcano, and interesting caves. It is home to a number of different animals, including a large bat population. People who visit this park enjoy hiking and rock climbing, and kids are especially fond of exploring the caves along many of the trails.
Learn more about Pinnacles here!
Great Sand Dunes National Park
Colorado
We have to go back nine more years to 2004 to find another national park addition. This is when Great Sand Dunes received national park status. This place was initially named a national monument back in 1932, but has never been as popular as many of the other western parks. This makes Great Sand Dunes a great place to escape the crowds.
Like White Sands, this park features some awesome dunes for sand sledding, so you will want to be sure to bring something to slide on. Other features of the park include a snowcapped mountain backdrop and Medano Creek, the perfect place to splash and play when the weather is hot.
Learn more about Great Sand Dunes here!
Congaree National Park
South Carolina
In 2003, Congaree became a national park. This unique natural area was originally protected as a national monument in 1976 and was designated as a Unesco biosphere reserve shortly after that in 1983. We definitely think this place is worth protecting, and it's worth visiting as well.
This park is one of the only remaining examples of old-growth bottomland hardwood forest. It is gorgeous in an unusual way, with bizarre natural sculptures cropping up everywhere from giant cypress trees. The boardwalk offers a great way to see the park, but canoeing through is another fantastic option.
Learn more about Congaree here!
Cuyahoga Valley National Park
Ohio
Next up is Cuyahoga Valley National Park. While this park first became a national recreation area back in 1974, it wasn't until the year 2000 that it became a national park.
This park is interesting in that it is set very near two major Ohio cities—Cleveland and Akron—making it a sort of urban oasis. Despite its proximity to those bustling towns, this park is peaceful and filled with lovely waterfalls. We love hiking or biking the Ohio and Erie Canal Towpath Trail, and the Cuyahoga Valley Scenic Railroad is perfect for families with young kids.
Learn more about Cuyahoga Valley here!
Black Canyon of the Gunnison National Park
Colorado
Black Canyon of the Gunnison National Park is last on our list. This natural area received national park status in 1999 after 66 years of being a national monument.
The park features incredible rock walls that drop a mind-blowing 2,600 feet to the titular river. This is an amazing sight to see, but looking down into the canyon certainly isn't for the faint of heart.
For the best views, we recommend visiting the overlook at Warner Point which overlooks the deepest part of the canyon. Another great option is to drive the North Rim Road, stopping at the Narrows View overlook.