How Tos & Tips
Last updated on February 6th, 2023. Originally published on April 3rd, 2015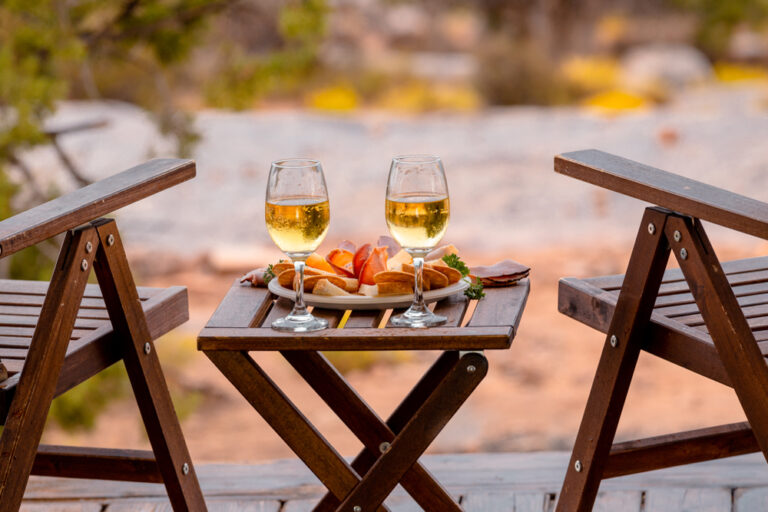 Ok, we've all seen the Pinterest "before and after" RV remodels. Most of them are amazing. But, if you are like me, you don't want to rip out the carpet and paint every other exposed surface in your RV. I mean, that's a lot of time and money. So, how can you glamorize your rig on a limited budget?
First, let's answer a basic question. Um…what IS glamping?
The term glamping describes luxurious camping without all the hassle.  To a glamper comfort is number one.  It's time to let your imagination go wild.  Can you see yourself sipping from crystal wine glasses?  Would you like to fall into bed each night surrounded by a feather duvet, instead of a scratchy old sleeping bag?  If so, you are a candidate for the glamping revolution.  Believe it or not, people all over the globe are clamoring to experience a relaxing outdoor life with an elegant twist.  As the owner of an RV, you can save thousands of dollars a night by adding pizzazz to your own rig.  (Think upwards of $2,500 a night in some locations)
Elegance is easy to add if you know the key ingredients.  First, you will need pops of color and texture.  These accents can come from fabric or paint.  You will also need passion.  To clamp correctly, you must be surrounded by things you love.  Think of it as the ultimate hotel room where you can move to the woods!  Candles, strings of light, and shimmering crystals all add to the "getaway" experience.  Good company and relaxation go hand in hand. Now women around the world are camping their own way in style!
So now that you know what glamping is…here's how to do it on a budget.  You don't have to gut your rig and rebuild from the ground up.  Instead, start with what you have then toss in a dash of personality, color, and shine.
Here are my top 10, easy-to-follow suggestions that can "girl up" any RV.  If you long to go glamping (glamour camping) here's the inspiration you need.
1. Throw Pillows – Ok, so this one seems obvious. But did you know you don't have to buy new pillows each time you want to freshen your interior? It's true. Instead, "refresh" your throws throughout the season using fabric and no sew, knotting techniques. Pillows look like new every time you change their skin! Need ideas? YouTube has lots of no sew suggestions sure to inspire.  New sew pillows are glamping made easy!
2. Command Strips– Command Strips are your friend! Every woman with a camper should own a dozen different styles. With Command Strips you can hang everything! You can hang a spice rack or even a mirror without any damage to your RV walls. Embrace these little babies for a better life! In a flash, your walls are your playground and you can hang pictures, photos, drapes, or anything else that strikes your fancy. Command Strips also make hooks for the interior and exterior making it easy to hang holiday decorations.  Command Strips and glamping go hand in hand.
3. Rugs – Area rugs aren't just for your stick-and-brick home. Every glamper knows that a girl's best friend is fabric. If you hate the floors in your rig, but can't rip them out just to buy a piece of carpet that you love. Ask Home Depot to cut it to the size you need and set it loose on top of your old flooring. A bit of shag under the toes is a splendid feeling on a cold winter day.  Every glamping girl's dream!
4. Blankets– Throw blankets come in every shape and size. Choose colors and patterns which "speak to your happy side." Mix and match textures. Drape blankets with you're living, dining, and bedroom for comfortable luxury.  Pillows and blankets can be stored in space bags when traveling.  Space bags will protect your fabrics and make them easy to pack.  It's glamping made perfect.
5. China and Glassware – Glamor lovers use fine china and real stemware even when they travel. Their secret? Quake Hold! Quake Hold putty allows you to fasten breakables for display. (Even if you are traveling!) When you are ready to use your dishes, all you have to do is twist and watch them release. China can doesn't have to be expensive. Choose a few favorite items from thrift stores, garage sales, or even a dollar store along the way!  Look for plates and stemware that make you feel special.  If you love the eclectic look you can mix and match colors and patterns.  Be sure to pack your tableware with care.  I always carry bubble wrap and plastic crates for my kitchen cabinets. Glamping all the way!
6. Chandelier – Love the look but can't afford the installation? Here are a few clever options that will personalize any rig:
-Chinese Lanterns are a fun alternative and add a "pop" of color.
-Wall Pops (TM) offers a variety of lightweight, color accents that come in a variety of glamorous designs.
-Foam Core cutouts give the appearance of a chandelier without the weight. (They also look great inside or outside your camper.)
7. Vinyl Words – Vinyl comes in a huge variety of styles, colors, and patterns. You can decorate your camper with your favorite quote, or you can add a scroll-like design around your cabinets or mirrors. The choice is up to you! When choosing vinyl make sure to follow the instructions for installation. You must prepare the surface so it adheres well. Vinyl wording works best on flat, smooth surfaces which is perfect for a travel trailer, motor home, or vintage camper!   Glamping makes a statement!  Here are a few of my favorite sayings for your RV.
*Home is Where We Roll
*Keep Calm and Glamp On
*iGlamp
*I Don't Camp, I Glamp
*Glamp…Enjoy The Journey
*Happy Glamper
8. Paint – Paint covers a multitude of ugly. Unfortunately, it's a ton of work to paint your cabinets, walls, and fixtures. Instead, choose accent colors to add to key areas within your rig. Paint makes things pop so ask a few questions before brushing on the "wet stuff."
-What feature do I most want to highlight
Where would I like to add a chalkboard or whiteboard? (Think chalk or whiteboard paint.)
Is there something that needs extra shine? (Think metallic paints)
Is it too dark in here? (Add some old fashion white!)
9. Baubles – Baubles are personal items that you've collected for a week or for a lifetime. These tiny treasures fill a camper with memories and hope. Your bauble may be a worn-out boot. (Which could be re-purposed into a flower vase) or Grandma's special spoon collection. (A must for the dining room wall.) What about shiny canisters or your favorite teapot? Whatever your baubles, plan to bring them with you and make your RV a home.  Get your glamping on!
10. Retro Fav's– Vintage collectibles go hand in hand with the glamper lifestyle. Here are a few fun ways to celebrate the past!
Handkerchiefs and aprons and clothespins make unique window coverings.
Metal serving trays create unique wall art.
A vintage suitcase can be a coffee table and extra storage.
Historic postcards collaged cover a boring fridge.
Now you can become a" glamping guru." Why wait? Choose a project. Start small. Start glamping NOW!