The 10 Most Wonderful Places To Go Glamping In The South
Travel Inspiration
September 2nd, 2015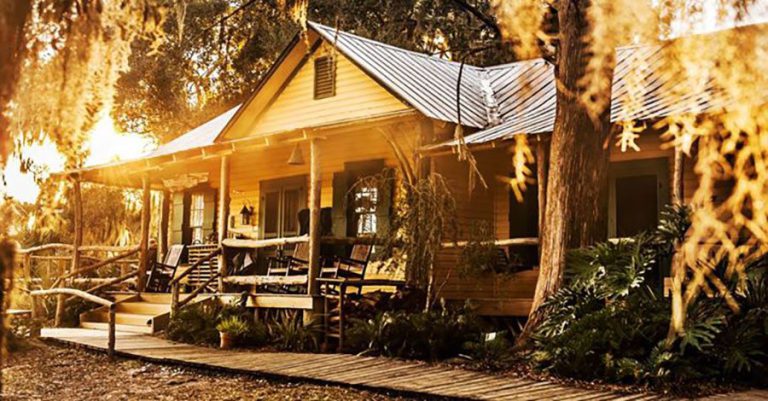 Despite the phenomenon of glamping being wildly successful and attracting more and more people, there's still a chance that aren't yet familiar with this term. Shorthand for 'glamorous camping', glamping allows you the experience nature without giving up the comfort and conveniences of home. Many glamping sites offer amenities such as running water, toilets, and a soft bed.
The outdoor experience of glamping are in no way inferior to those of classic camping, with the simple update that your huge tent has real furniture on which you can recover after too much physical effort, a fridge, and perhaps even air conditioning to cool you down.
It sounds amazing doesn't it? And since we want you to be in on the trend, here are some of the best glamping sites around the southern U.S. for you to try.
1. Catherine's Landing – Hot Springs, Arkansas
Originally a dairy farm, this land has been filled with luxury yurts for rent. There is a zip line tour available featuring 12 different zip lines, or you could rent sporting equipment such as kayaks, pontoon boats and such. The yurts are round, tent-like buildings with wood flooring and are fitted with air conditioning, lush beds, and skylights so you can fall asleep gazing at the stars. The glamping cabins are actually built from proper house blueprints, so you'll lack nothing… including concierge service. That will make for a very stylish round the fire holiday.
Find out more on rvcoutdoors.com.
2. Blue Bear Mountain Camp – Todd, North Carolina
You can choose between a luxury cabin or wonderful teepee in the picturesque Blue Ridge Mountains. The accommodations are not only chic, but highly ecological too, being powered by sun and wind. The 22-foot hand-painted teepees house queen size beds, a table with chairs, and private bathrooms with kitchen dishwashing stations. The cabins, alternately, offer the same bedtime relaxation with queen size beds, private toilets and kitchenettes, with the addition of a beautiful fireplace and a porch with a gas grill.
Visit bluebearmountain.com for more information.
3. Headwaters Jupiter – Jupiter, Florida
The 8-person glampsite has a very unique design, being constructed from free up-cycled shipping containers that have been converted into bedrooms, kitchens, patios and so on. Located next to the Loxahatchee River and Riverbend Park, this glampsite offers visitors access to both water and nature and provides the equipment to enjoy it fully — from bicycles to kayaks. If you want to stay closer to home, you've got a fire pit in the middle of the property, paired with an edible garden to make your relaxation complete.
Be sure to check headwatersjupiter.com for more info.
4. The Lodge on Little St Simons Island – Little St Simons Island, Georgia
A new twist to the 'private island retreat', this glamping site is only accessible by boat and allows you the option of renting a single room, a cottage, or — for those who want to get away in great style — the whole island. You can have the entire seven miles of natural beaches and over 10,000 acres of forest and marshland for yourself, or share them with fellow tourists, no more than 32 guests at a time. The fees include boat transfers to the island and back, meals, and a long list of activities including a naturalist led excursion and access to all equipment of the bikes, kayaks, fishing gear type.
For more information, visit littlestsimonsisland.com.
5. The Griffin Ranch – Ocala, Florida
If you long for a feeling of the old days, the Griffin Ranch offers luxury, fully furnished cottages and cabins that are picturesquely set in the very same woods that provided the logs used in their construction. A vintage Airstream camper is also available. The ranch sprawls on over 30 acres of pastures, ponds and forest, to say nothing of its private winery. The price includes complimentary breakfast baskets and water bottles. To enjoy the scenery, you can go on a kayaking trip, ride a bike, or –something not quite so common — a horse. Of course, if you're simply looking for a lazy holiday, you can just enjoy the countryside from the rocker on the front porch.
If you're interested, be sure to visit thegriffinranch.com.
6. Silver Bullet Retreats – Tampa, Florida
This holiday doesn't have to be restricted to one place. Silver Bullet Retreats works in such a way that you only have to pick a park in central Florida, and the company brings you a vintage Airstream camper, fitted with hardwood floors, a canvas awning and full size bed. You're not to fret over your survival skills either, as the camper is outfitted with a stove, a refrigerator and electric lighting. Bedding and cookware are also included, so you can simply pack the way you would when you go to a regular hotel, and be graced with a so much closer-to-nature experience. All you have to do is hand the camper back at the end, and needn't even worry about cleaning it up.
For more info visit silverbulletretreats.com.
7. Moonbeam Bungalow – Horse Shoe, North Carolina
If you're both a nature fan and fancy the bohemian side of things, Moonbeam Bungalows might be the best place for you. Two tiny little houses in the Blue Ridge Mountains offer not just any kind of lodging — but cozy beds, a full bathroom and kitchen… and that is only the beginning. Outside, a 5-person hot tub awaits so you can enjoy nature in the utmost comfort. A fire pit for marshmallow roasting is close by, as is a hammock in the woods and a courtyard with camp style grills. There's even a yoga deck for a more spiritual approach to your retreat in nature.
Check out moonbeambungalows.com to make a reservation.
8. The Martyn House – Ellijay, Georgia
You've probably never seen something like this before, but there's no reason why you shouldn't explore it now. This one-of-a-kind getaway in the Georgian mountains offers accommodation in an Indian luxury sleeping tent. And while everything is eco-friendly, you get to have hot water, natural cooling and composting toilets. While you're being pampered in fine linens and gourmet food, you can also enjoy 18 acres of breathtaking views of streams, woods and rolling hills. Nature and comfort hand in hand for the ultimate getaway.
Take a look at themartynhouse.com to convince yourself.
9. River's Edge Treehouse Resort – Robbinsville, North Carolina
If you had trouble getting your children into the 'back to the nature' trips before, luxury treehouses might be the way to go about it. The six houses are on the Cheoah River bank and provide parking underneath, king size foam mattress beds, Wi-Fi and satellite TV for as much comfort as you might want. You also get breakfast, continental-style, delivered to your door every morning, or you could try your hand at cooking on the gas grill or barbecue at one of the firepits. Horseshoe pits, cornhole, and fishing gear are available for the more active, while others can lightly follow trails in the picturesque surroundings that definitely inspire the artistic types. And never fear, the treehouse concept is even better than first conceived, as the houses are even handicap accessible, so there are no restrictions to those who seek a beautiful one-of-a-kind holiday.
Get a look at the very long list of other amazing activities you have access to nearby at riversedgetreehouses.com.
10. Westgate River Ranch Resort & Rodeo – Lake Wales, Florida
You can find the true spirit of glamping in this authentic ranch in the unspoiled Florida wilderness. Westgate River Ranch Resort & Rodeo sprawls over 1,700 acres about an hour south of Orlando. The place is designed as a couples getaway, a family outing, or for a group of friends, as the accommodation offers a fully-furnished tent with air conditioning, access to a private bath and a campfire with a s'mores kit and warm cinnamon rolls for a yummy stay. If you can, visit on weekends, as you can also attend a rodeo in the 1,200-seat arena, followed by various cowboy-themed activities.
Discover more at westgateriverranch.com.