How Tos & Tips
April 5th, 2021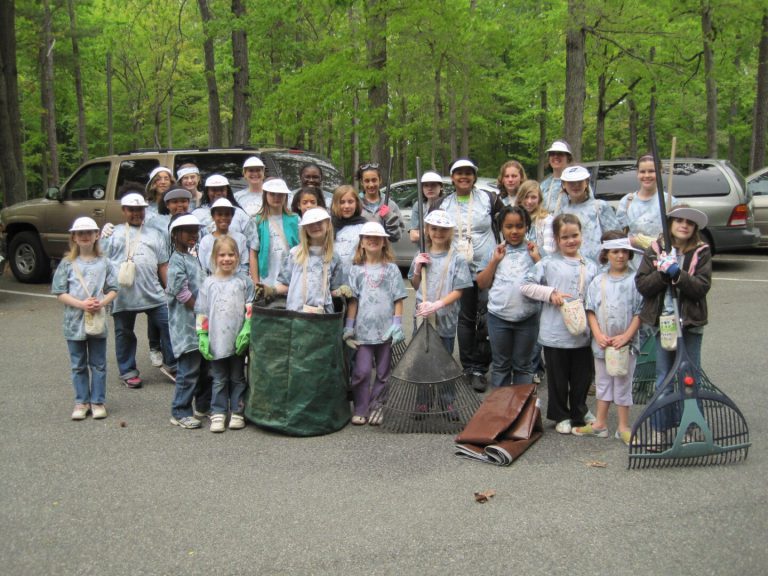 As an RVer, you likely spend a good amount of time in natural spaces. In many cases, these spaces are national parks, state parks, or county parks.
These beautiful parks offer a scenic escape from day-to-day life, and they do a wonderful job of preserving the beauty of nature. They're the perfect place to do some reflecting, get in a good hike, or even go for a swim, and many campers find themselves spending a huge number of their days wandering such parks.
Of course, these parks don't maintain themselves. Somebody has to ensure they stay clean and don't become overgrown. Meanwhile, others have to put in effort to ensure ranger programs and other offerings continue to be available. Still other people are in charge of the care and keeping of the buildings and other facilities in the parks.
Yes, caring for our state and national parks requires a lot of work, and quite a bit of money to boot. Obviously, just visiting the parks and paying your entry fees is helpful in ensuring the parks continue to be taken care of. That said, if you're a frequent park-goer, you might want to give to your park in other ways as well.
Wondering how you can help your parks? Try the suggestions below. 
Give to Your Park Monetarily
The first and most obvious option to give to your park is to donate money to any park systems you wish to support. There are a number of ways to donate to the National Parks Service. These include a one-time donation, monthly donations, a donation in memory of a loved one, and even planning a future gift through your retirement or life insurance plan. 
Most state parks organizations also accept donations, and many offer a variety of ways to donate. Try searching "how to help my park" or "where to donate to my park" to find out how you might donate to the parks in your state.
There are also a number of nonprofits that have a mission to help protect parks and natural spaces. Donating money to one of these organizations is another great way to support your parks. See a list of such organizations here.
Shop Wisely
Donating is great. However, there might be a way to get even more bang for your buck by supporting your park and simultaneously obtaining some useful things.
You see, most NPS sites have a gift shop of some sort. Purchasing something in one of these gift shops helps support the parks system. There are also a number of parks that feature services run not by the NPS, but by cooperating associations. These services include things like bookstores and educational programming. By purchasing from these cooperating associations, you are also supporting the national parks.
Shopping in a state park gift shop would help out that park, as would paying for extras such as purchasing tickets to an event or renting equipment of some sort. Camping in state parks is another great way to support them financially.
Finally, there is the option of shopping with businesses or organizations that give a percentage of profits to parks. Some of the organizations on the list linked above have products or services to offer. The shops on this list also give back to the parks or the environment, making them great options as well. 
Volunteer at Your Park
Sometimes…well, time is an even better gift than money. If you have time to spare, you might consider volunteering to give to your park. Not only will this support the park, it'll also give you an excuse to make a trip to the park and spend a little more time there. 
There are a number of national and state park volunteer options. Some, such as picking up garbage, can be done on your own time without consulting anyone. However, if you wish to offer help with building maintenance, clear trails, or offer tours to park guests, you will need to speak with the park staff directly. Another option is to go through the Volunteers-in-Parks program or an organization such as Parks Project to see what kinds of national park volunteering opportunities are available.
No matter which volunteer job you choose to do, you're sure to finish each day of volunteering feeling good about helping out the park you love. Moreover, those who log 250+ hours of volunteer work in the national parks system will receive a free volunteer pass that offers free admission to NPS sites across the US.
Get a Job at Your Park
Those who are truly passionate about the parks might even consider getting a full-fledged job working in the park they adore. This will allow you to get out into nature and share your love of the parks with others on a regular basis.
Of course, this option requires that you be willing to quit your current job for this type of work. It also requires that a park near you is hiring. To find out what parks are hiring, try finding your state park website and checking for job listings. Alternatively, you can learn about working for the National Parks Service here. 
Share Your Opinion
Your opinion matters, and you can give to your park by sharing that opinion with others. If you feel a park could use improvement, make a point of sharing that with the park staff by doing surveys or through a kindly worded email or phone call.
On the other hand, if you absolutely adore a park, be sure to share that opinion on platforms such as Yelp, Tripadvisor, and Google Reviews. In your personal life, recommend that your friends and family visit the park to help keep it alive.
Be Kind and Courteous to the Park and its Users
Lastly, but perhaps most importantly, you can help the parks you visit by making a point of being kinds and courteous to both the parks and the other visitors there.
Clean up after yourself, your children, and any pets that tag along. Keep your dogs on a leash, stick to the marked trails, and avoid pulling tree branches or moving rocks, and especially avoid bothering the wildlife.
Doing what you can to preserve the park and offer other guests a wonderful experience will help tremendously when it comes to ensuring the park is able to continue thriving for years to come.