The Top 27 Bucket List Destinations in South Carolina
Uncategorized
October 25th, 2021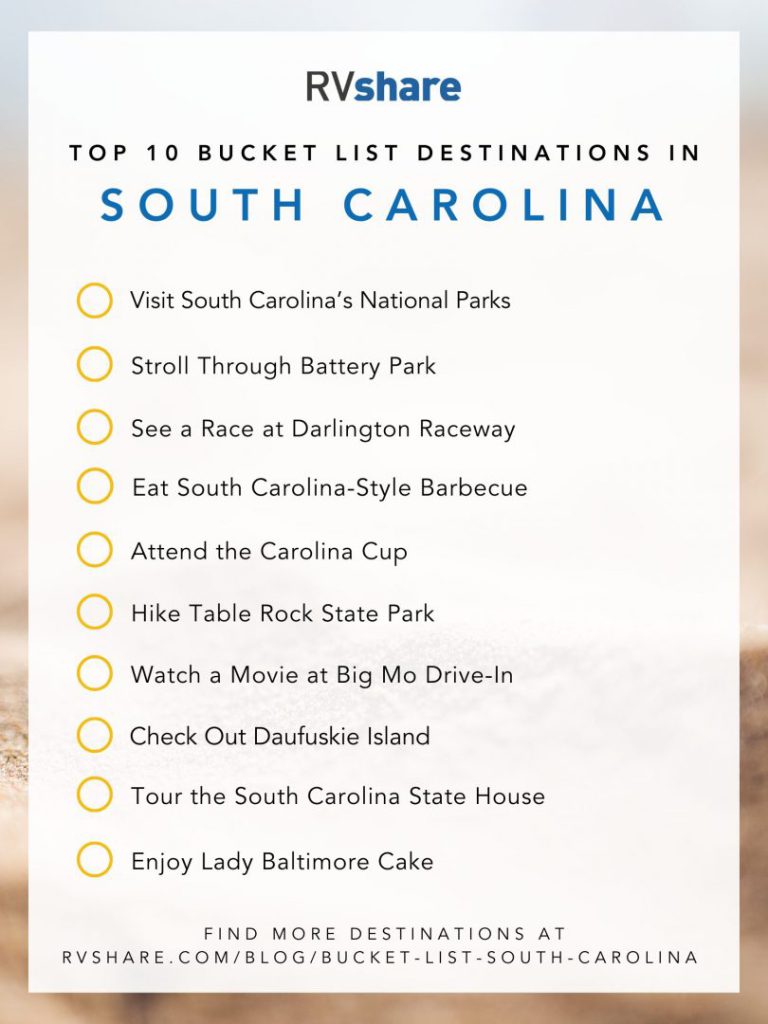 South Carolina is a wonderful place to visit. It's full of welcoming people, interesting history, fun attractions, and delicious foods. Oddly enough, this amazing state is often overlooked, and even the people who do end up visiting often have no idea what to see or do once they get there in order to get the most out of their time in the state. This is where a South Carolina bucket list can be helpful.
By doing a bit of research and creating a list of all the things you want to do most in South Carolina, you can make sure you check out the things that are most important to you while you're there. A travel bucket list will help keep you organized, and creating one will help you feel like you've found the best bucket list ideas for you and your travel party.
In this article, we will share our South Carolina bucket list. Go over it, gather ideas for yourself, and create a travel list of your own so you're fully prepared for your trip to this awesome state.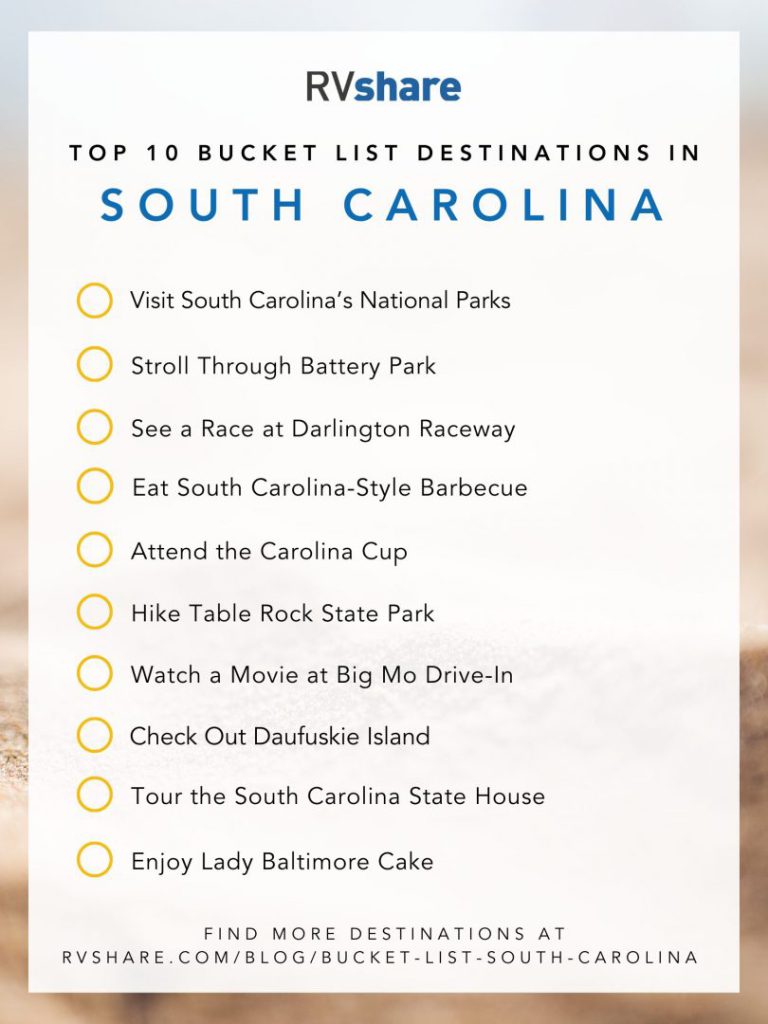 What is a Bucket List?
If you've never heard the term before, you're probably wondering what on earth a bucket list is. Essentially, this is just a collection of things you want to experience before you die, or "kick the bucket" as it were. The list might include places to visit or things to see. It could also include foods to try, people to meet, and even things to do.
While many people prefer to keep one long running bucket list, we find it works out much better to keep smaller lists for every place we want to travel. For us, this means keeping a bucket list for each and every state, something we highly recommend doing if you plan on visiting every state at some point.
Today, we will start with our South Carolina bucket list.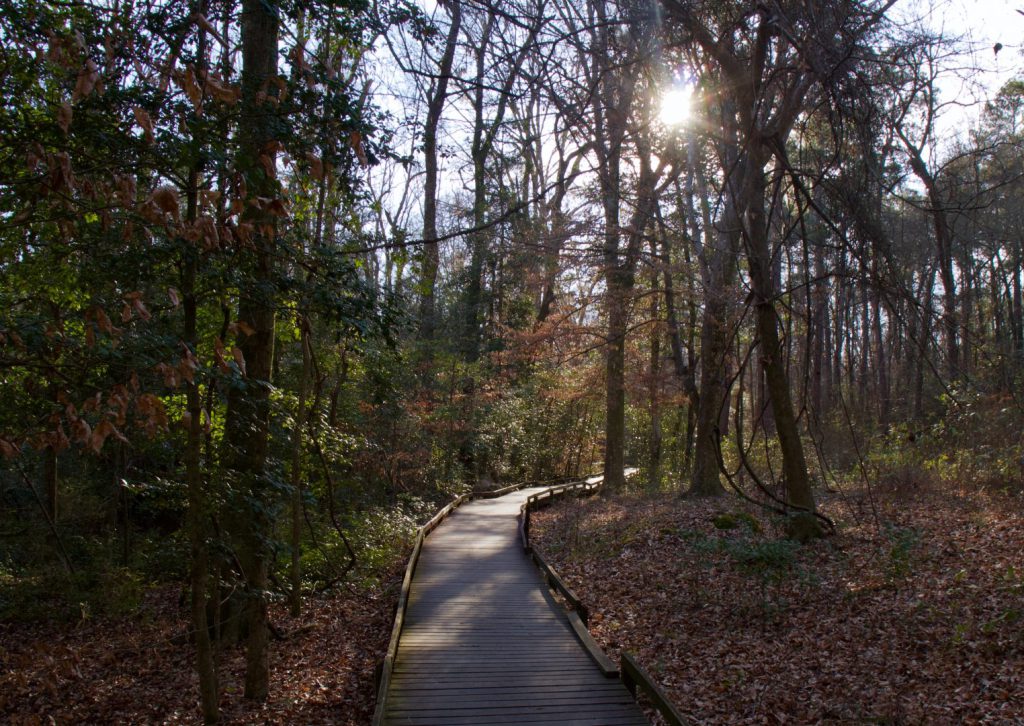 — Bucket List Vacations: South Carolina's National Parks —
We always like to start building our bucket lists by taking a look at the national park sites in the state we will be visiting. Why? Because the National Park Service is wonderful at creating incredible attractions that we don't want to miss.
In South Carolina, we recommend adding all of these NPS sites to your list.
#1. Charles Pinckney National Historic Site
If you've never heard of Charles Pinckney, it's high time you did. This man was the principal author and a signer of the Constitution. Why not visit the Charles Pinckney National Historic Site to tour his coastal plantation and learn his story?
#2. Congaree National Park
Congaree National Park is an absolutely beautiful place that everyone should visit at least once. The park is home to the largest intact expanse of old-growth bottomland hardwood forest in the southeastern US. The ecosystem here is amazing to learn about, and the hiking is breathtaking.
#3. Cowpens National Battlefield
Revolutionary War history can be found all over the east side of the country, and South Carolina is no exception. One great place to learn a little bit about this war is Cowpens National Battlefield, where you will learn about Brigadier General Daniel Morgan and his excellent decision-making that won the battle fought there.
#4. Fort Sumter and Fort Moultrie National Historic Park
Another awesome place to learn about military history, Fort Sumter and Fort Moultrie National Historic Park offers guests all kinds of amazing information on the Revolutionary War, the Civil War, and more. Visit during your time in South Carolina to get a taste of a huge chunk of United States history.
#5. Kings Mountain National Military Park
Yet another opportunity to learn about military history in South Carolina, Kings Mountain National Military Park focuses on the battle of Kings Mountain, which was fought on October 7th, 1780. This battle was an important American victory during the Revolutionary War and was the first major victory for the Patriots after the Charleston British Invasion.
#6. Ninety Six National Historic Site
Ninety Six National Historic Site is also focused on the history of South Carolina. That said, this site offers a broader look at history, as there were a number of important things that happened here. Step back in time as you explore and learn at this wonderful attraction.
#7. Overmountain Victory National Historic Trail
The Overmountain Victory National Historic Trail traces the route used by the Patriots during the Kings Mountain campaign of 1780. It is a full 330 miles long and stretches through four different states. Come walk a portion of this historic trail and get a taste of what life might have been like for these soldiers.
#8. Reconstruction Era National Historical Park
From 1861 to 1900, the United States was focused on integrating the millions of newly freed slaves into society. This period was referred to as the Reconstruction Era, and it had a huge impact on those living in South Carolina. Learn about this tumultuous time period at Reconstruction Era National Historical Park.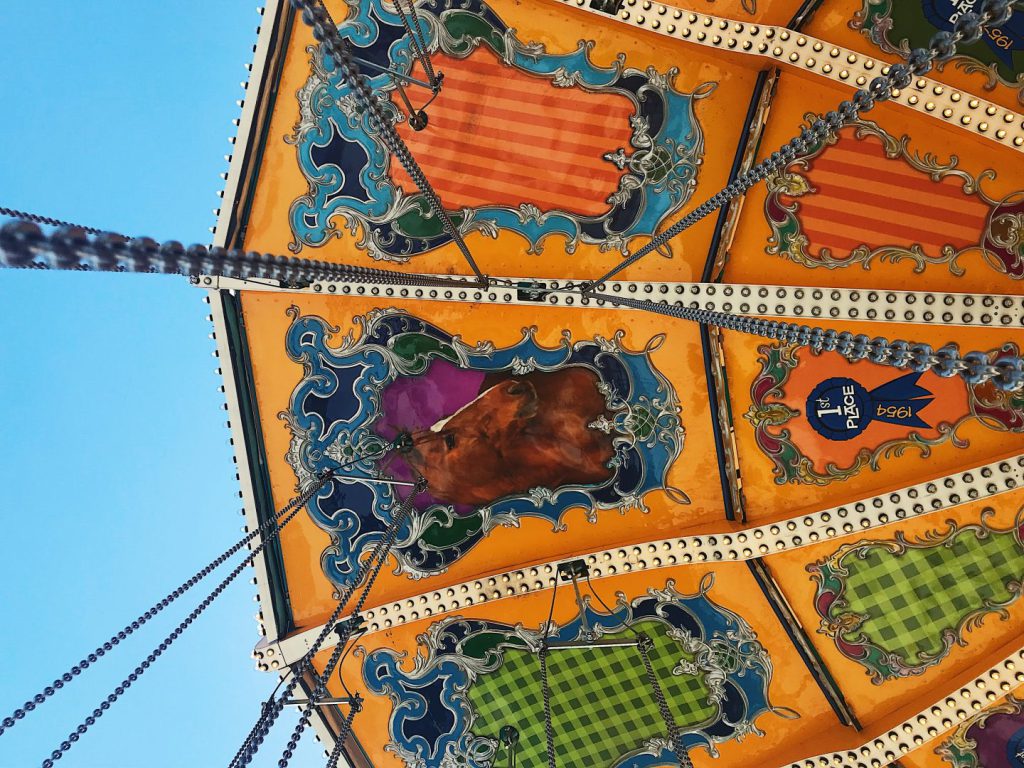 — More South Carolina Bucket List Experiences —
Of course, South Carolina has far more to see and do than just the national parks and sites. Whether you want to attend an awesome event, try a yummy new food, or see something incredible, you're sure to find something that suits your fancy in this wonderful state.
Here are some of our favorite South Carolina bucket list ideas.
#9. Stroll Through Battery Park
Charleston is a charming historic city that simply must be explored when in South Carolina. One of the best things to do there is stroll through Battery Park and enjoy the views of Charles Harbor. Enjoy the gorgeous architecture as you walk, and be sure to visit White Point Garden at the center of the park.
#10. See a Race at Darlington Raceway
When most people think about NASCAR, they think of Daytona—but Daytona isn't the only great speedway. You see, Darlington Raceway in South Carolina is just as impressive, and the events that happen there are just as thrilling. If you're a race car fan, this is an experience you won't want to miss during your time in the state.
#11. Eat South Carolina-Style Barbecue
The barbecue in South Carolina is different from the barbecue many of us are accustomed to. That said, the pork barbecue meat and mustard-based sauce are absolutely incredible and make for an awesome South Carolina meal you're sure to enjoy.
#12. Attend the Carolina Cup
Prefer horse racing over race cars? You're in luck because South Carolina also has some great horse racing. The very best event to attend is the Carolina Cup, which is attended by thousands of horse racing fans and includes all kinds of fantastic festivities not unlike the tailgating events you might find at a football game.
#13. Hike Table Rock State Park
Any trip to South Carolina should include some time outdoors. After all, the state has plenty of amazing outdoor areas to explore. One of our favorites is the beautiful Table Rock State Park. This park features a huge number of amazing hiking trails that are just waiting to be discovered. Don your boots and get ready for a good time in the great outdoors.
#14. Watch a Movie at Big Mo Drive-In
Believe it or not, there are still a handful of drive-in theaters scattered across the United States. One such theater can be found in South Carolina and goes by the name of The Big Mo. This is an excellent place to spend a summer evening. Be sure to grab a snack or two and get nice and comfy, because the theater likes to play double features.
#15. Check Out Daufuskie Island
Another fantastic outdoor recreation area in South Carolina, Daufuskie Island is even more remote than the aforementioned state park. Visiting this island allows you to go completely off-grid and experience life without technology and the hustle and bustle of the modern world for a while.
You will have to take a ferry to get to the island. Once there, you can kayak, ride a horse, or go on a hike.
#16. Tour the South Carolina State House
The state of South Carolina has a lot to offer when it comes to history and great architecture. One awesome spot to get a taste of both is the South Carolina State House. This historic building offers tours to visitors. These tours are an excellent way to learn something new and gain an appreciation for the architecture of this amazing building.
#17. Enjoy Lady Baltimore Cake
While in South Carolina, you simply must finish at least one meal with a slice of Lady Baltimore Cake. This is made with several layers of white sponge cake and a fluffy frosting mixed with dried fruits and chopped nuts. It's absolutely delicious and is incredibly popular in the state.
#18. Have a Blast at Carowinds
Thrill seekers of all ages absolutely must add Carowinds to their South Carolina bucket list. This is a fantastic theme park that you're sure to love. Not only does the park offer some pretty intense coasters, there are also kiddie rides for the little ones and family-friendly rides for the whole crew to enjoy together. What could be better than that?
#19. Take In the View at Pretty Place Chapel
As the name suggests, the Pretty Place Chapel is a very pretty place. However, the thing that makes it pretty may not be what you expect. You see, while the structure itself is pretty enough, it's the view the congregation gets during service that makes it especially awe-inspiring. We recommend visiting during sunset for the very best views.
#20. Visit the South Carolina Aquarium
One of the best aquariums in the country, the South Carolina Aquarium is a must-see for families with kids, marine enthusiasts, and animal lovers alike. Be sure to check out the sea turtles and learn how you can protect them, and then head over to the Monsters exhibit where you can learn all about the creepy and weird creatures of the deep.
#21. Enjoy Myrtle Beach
Yes, Myrtle Beach is a tourist town. That said, there's a reason tourists flock here, and it's the same reason we recommend you do so as well: The beaches here are absolutely stunning. If you enjoy a day at the beach and you want to add one to your South Carolina itinerary, this is the place to go.
#22. Admire the Waterfalls on Lake Jocassee
In addition to Table Rock State Park mentioned above, we also highly recommend taking the time to visit Devils Fork State Park. Here, you'll find Lake Jocassee, a beautiful lake that is quite unusual in that it is home to a total of six incredible waterfalls. Make sure to take a waterfall tour so you can see them all.
#23. Relax Under the Angel Tree
Feeling worn out from all this sightseeing? Why not get some rest under the Angel Oak Tree? This incredible tree stands 66½ feet tall and is 28 feet wide. Not only that, this beautiful plant is over 500 years old. It makes the trees around it look tiny, and can easily shade over 7,000 square feet!
#24. Climb Sassafras Mountain
Those who are looking for a challenge should head to Sassafras Mountain for a climbing adventure. The top of this beautiful mountain is the highest point in the state at 3,533 feet, and it offers a view of thousands of other mountains in the distance. Of course, you will want to head into this adventure properly prepared for a difficult climb.
#25. Get to the Top of the Hunting Island Lighthouse
Prefer a less challenging climb? Why not climb to the top of Hunting Island Lighthouse? This is the only lighthouse in South Carolina that is open to the public, and is well worth checking out while you're in the area. It stands 130 feet above the ground and offers an awesome panoramic view of the coast. Just make sure you get on the waiting list for this one early, as space is limited!
#26. Get Creeped Out on a Charleston Ghost Tour
One of the things Charleston is most famous for is its ghosts and haunted buildings. Therefore, we feel that no visit to the city is complete without a ghost tour. Walk along cemeteries, haunted pubs, old jail buildings, and even dungeons as you get up close and personal with the spirits of Charleston.
#27. Head to Hilton Head Island
Finally, we must mention Hilton Head Island. This gorgeous island is known for its beaches and golf courses, and we recommend checking out both. Additionally, we highly recommend a visit to the Coastal Discovery Museum to learn more about the island.
Clearly, South Carolina is a state that is well worth visiting. The only problem is finding a place to stay while you check every item off your South Carolina bucket list. For this, we highly recommend staying in an RV. RV travel allows you to hop from one area of the state to another on a whim, giving you the freedom to really see and do it all.
Unfortunately, not everyone has their own motorhome or travel trailer. This is where South Carolina rental RVs come into play. We have tons of amazing rentals available in the state, making it easy to pick one up and get started on the South Carolina bucket list right away!