Explore Local: Miami, Florida
Travel Inspiration
May 21st, 2020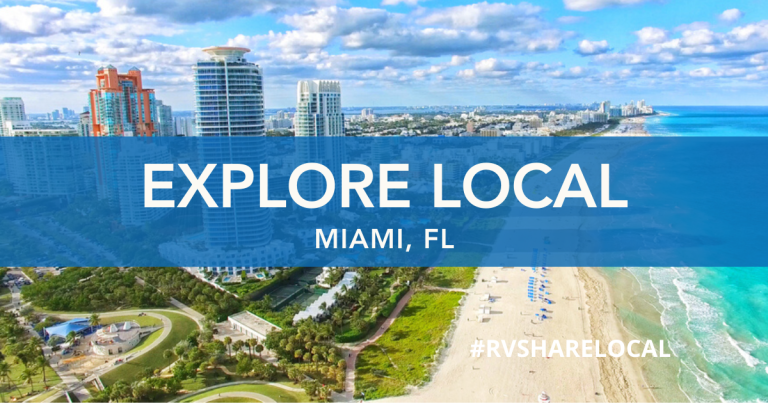 Miami is a city with many sides and many reputations. From strolling down South Beach looking at the beautiful people to experiencing authentic Cuban culture and cuisine, it's rewarding to explore Miami — even if you've called the city home for years.
However, it can feel difficult to become inspired by a place you're very familiar with, which is why we put together this post with some of the best hidden local gems to discover and experience. From top-tier dining experiences to unique sites and attractions, what follows are some of our very favorite places to explore in Miami.
Why We Love to Travel
Traveling away from home is appealing because you get to see all kinds of new things. Getting to experience cultures that are different from our own or eating cuisine that is not what we're used to are amazing ways to grow as individuals and learn about others. Seeing how other people live helps us keep an open mind and even gather inspiration to bring back into our daily lives.
Travel is also a great way to get away from the day-to-day. Breaking up our routines with a fun trip definitely recharges the batteries and helps prevent us from getting burnt out.
But here's the thing – you don't have to go far from home to get this perspective!
Benefits of Traveling Locally
While the culture an hour away from your home might not be drastically different from what you're used to, you can still gain a deepened sense of appreciation for where you've laid your roots. Plus, traveling locally has a lot of benefits:
More cost-effective. Local travel is certainly a budget-friendly way to explore! Many activities and parks are free or have a low cost of entry. For day trips, you can also pack your own meals to save.
Eco-friendly way to travel. Travel is hard on the environment, but putzing around your area is more sustainable than air travel.
Quick trips. Getting out locally means you can do it more often! Long weekend trips are a lot easier to take when the destination is a short drive away.
Easy to plan. Preparing your itinerary for a local getaway will likely save you some time and stress.
More convenient. Especially if you have little ones, sticking close to home may be much more convenient than far-off destinations. If you forget something, have an emergency, or need to cut the trip short, being close by definitely has its benefits.
Explore Local: Miami, Florida
Miami draws visitors for all sorts of reasons: its beautiful beachfront, its exciting nightlife, its delicious cuisine. But there are enough places to explore in Miami to keep anyone busy for a whole lifetime, whether you're a solo adventurer, one side of a couple, or a member of a big family. Read on to learn our favorite picks from this city's endless array of opportunities.
*Note: Some of the suggestions may not be doable due to coronavirus closures, but keep this list handy for when things start opening back up more! Be sure to check individual pages for specific operation details.
State Parks in Miami
While there's no shortage of fun things to do in Miami, the city, don't forget that you're also tucked away in subtropical paradise… which means you've got tons of outdoor recreation opportunities, too. There is a variety of state and even national parks in the greater Miami area, perfect for afternoons spent hiking, biking, kayaking, and more.
Oleta River State Park is the largest urban park not only in Miami but in the greater state of Florida, covering 1043 acres. It's a great place to feel like you've gotten away from it all without even leaving the city, reachable in a drive of just about 30 minutes.
Bill Baggs Cape Florida State Park is relatively small, at 400 acres, but is home to the historic Cape Florida Light, the oldest standing structure in the greater Miami area. Along with the lighthouse, this park is also home to some award-winning beachfront just waiting to be relaxed and walked on by visitors.
Biscayne National Park is comprised of more than 170,000 acres… but unlike many of the other national parks in the register, the majority of these are submerged! A world-class destination for SCUBA divers, snorkelers, and even those who like to appreciate the ocean from the shore, you can't miss a visit to Biscayne if you consider yourself a water lover.
Everglades National Park offers Floridians a whole new perspective on their ecosystem: rather than white sand beaches, visitors will experience what some call the real Florida, complete with marshlands, swamps, mangroves, and pine flatwoods. Take an airboat ride and encounter a real, live alligator, or tackle one of its many unique hiking opportunities. And don't forget to stay for the best part: the after-dark show, where you'll see some of the clearest starry skies anywhere in the state.
Best Hiking Trails
Along with the state and national parks, there are a variety of other hiking trails in the Miami area. Here are a few of the best.
Bal Harbour Trail
Quite famous among Miami hiking trails, the Bal Harbour Trail spans four miles round trip and offers stunning ocean views along the beach. During the right seasons, you'll also encounter wildflowers along the way, and its lack of elevation gain means it's suitable for almost all fitness levels.
Matheson Hammock Park
One of the best hiking trails in Miami is tucked into Matheson Hammock Park, which offers a combination of serene waterfront and scenic Miami skyline. Along with the beaches along the waterfront itself, visitors can also wander the 1.4-mile trail that winds through the park's tropical, lush vegetation, brimming with flowers and other plant life.
Shark Valley Trail
In the mood for a longer adventure? The Shark Valley Trail spans for more than 15 beautiful miles, though its lack of elevation gain means it's still a relatively easy stroll. Along with walking, it's also a prime location for running, road biking, and bird watching. It's also a great place to see alligators, birds, and turtles, so be sure you give yourself extra time for all those wildlife photo opps!
Best Restaurants in Miami
Once you've taken a few hikes — and before you hit the bars and dance floors — it's time to drum up some energy. Good thing Miami has one of the most vibrant food scenes in the entire country!
Although there are an endless array of restaurants and cafes to choose from, here are a few not to be missed.
Bombay Darbar
You might be thousands of miles from India, but there are some excellent Indian restaurants in Miami — and one of the very best is Bombay Darbar. Using fresh, top-quality ingredients to craft authentic dishes with just the right amount of spice, you can find all of your favorites at this intimate eatery.
Prime 112
There are a variety of steak restaurants in Miami — enough so that it's hard to pick which one is the best. But Prime 112 is a great stop to put on your list if you're after a prime cut (pun intended), and also has a variety of other dishes to please everyone in your party, from salads to seafood to heaping sides of hash browns.
Billy's Stone Crab
Listen, it's literally impossible to talk about which are the best of the many seafood restaurants in Miami, and we'll admit that this suggestion is a bit of a cheat since it's not actually in Miami proper. But if you're willing to make the drive about forty-five minutes north to Hollywood (the writer's hometown!), you should definitely plan to stop by this waterfront location featuring floor-to-ceiling windows. Billy's Stone Crab is so famous for its signature dish, the company actually owns the domain crabs.com — and they also ship their crabs nationwide by the pound.
La Locanda
Italian might not be the first type of cuisine that comes to mind when you're scoping out the Miami scene, but there are plenty of excellent and authentic eateries serving up favorites from the old country — and La Locanda is, as its name suggests, one of the options best-loved by locals. Its refined-but-casual setting and fresh-from-the-kitchen dishes combine to serve up a one-of-a-kind dining experience, whether you're after a simple weeknight dinner or a Saturday night date. Buon appetito!
Las Vegas
If there's one kind of cuisine you simply must eat while you're in Miami, it's Cuban food… and again, you'll have no shortage of options.
That said, there's a good argument that Las Vegas should be the stop you make if you only make one. It's not as famous as, say, Versailles, but neither is it as touristy, and it guarantees its customers authentic Cuban eats served up in a family-friendly atmosphere.
Local Insider Tips From Nicole Taic:
If you're craving some quality, hickory-smoked barbecue and don't mind going for a drive, Shiver's is your place. Since 1950, this family owned restaurant has been serving up the finest barbecue to hit South Florida; everything here is authentic, and the rustic ambience will make you feel like you're in old horse country. Shiver's specializes in slow-smoked meats such as baby-back ribs, pork spare ribs, beef ribs, chicken, beef brisket, pork, and more. Many items, like the pulled pork, have been smoked for 12 hours or more to ensure that each bite is fresh, tender, and delicious, no matter when you eat it. Other notable dishes include the fried corn, sweet potato soufflé, fried pickle chips, cornbread soufflé, and the fried green tomatoes. The sauce selection is also likely more than you'll ever need and, well, the dessert isn't too shabby either. If you have the room, make sure to order the bread pudding – but you probably won't have the room.
The Last Carrot is one of the few relics left of authentic bohemian Coconut Grove life. Saddle up to the counter at this always-packed lunch spot and pipe up with your order of a veggie pita with peanut butter and double green sauce, and order a Grasshopper juice (pineapple and wheatgrass) to wash it all down. Non-vegans are welcome as well; there are a few options for carnivores to enjoy. 
Fun Things to Do in Miami
You're fed and watered and ready to party — or partake of Miami's unique culture with your whole family. Either way, there's enough to see and do in Miami to keep you occupied for a lifetime; here are just a few of our best suggestions.
For Couples
Looking to create some romance? There are plenty of places to get cozy in Miami.
Wynwood Walls
Miami is well known for its bustling art scene and is even the host city for the famous Art Basel festival. But one easy (and affordable) way to get involved in the artsy part of Miami is to meander amongst the Wynwood Walls, a section of the larger Wynwood neighborhood covered with outdoor murals.
Vizcaya Museum and Gardens
This stunning building and the attached gardens are gorgeous to view even from the streetside, but if you really want to bring your sweetheart somewhere special, we recommend venturing inside. You'll step right back into Miami's gilded age when you enter the Vizcaya, and have the opportunity to view not only the stunning architecture but also the art that decorates the building.
For Kids
It's not always known as a family-friendly town, but there are plenty of fun things to do with kids in Miami. Here are three to get you started!
Coral Castle Museum
Florida is nothing if not weird (which I get to say because, again, I'm a native). One perfect encapsulation of the weirdness of this state: the Coral Castle, which was hand-built by one man, named Ed Leedskalnin, back in the 1940s.
Today, the property has been turned into a museum and opened to the public, giving you and your family the opportunity to explore Ed's labor of love in person. The Coral Castle Museum is privately owned and thus does require a ticket purchase for entry, but the prices — $18 for adults and $8 for kids over the age of 6 — are reasonable for the experience.
Monkey Jungle
Monkey Jungle turns the traditional zoo experience on its head: the animals run wild, but the humans are caged! During your visit, you'll encounter monkeys (of course), but also tropical birds and other citizens of the rainforest. There's even a gorilla forest!
Miami Seaquarium
While Florida's most famous sealife zoo might be further north in Orlando, visitors can still get up close and personal with dolphins, manatees, and other local favorites at Miami Seaquarium. The whole family will learn about different species, their habitats, and the importance of conservation — not to mention the opportunity to see and experience high-flying antics at one of the scheduled shows or take to the waters themselves in an interactive animal experience.
At Night
Okay, you caught us: pretty much everyone knows that nightlife and Miami go together like peanut butter and jelly (or maybe, more accurately in this case, beans and rice). But there are more things to do in the Magic City than simply go clubbing… not that that's a bad idea, either!
Sunset Cruise
If you want to get a breathtaking overview of the cityscape as dusk falls, try the Miami Sunset Cruise, which is both scenic and informative. Along with seeing the colors reflect on the shiny downtown buildings, cruisers will also get the opportunity to see celebrity homes, sip on a beverage, and feel the cool sea breeze on their faces.
Wynwood Art Walk
Yes, we're bringing you back to Wynwood yet again — but this time, after dark. If you happen to catch it, there's a once-monthly art walk that takes place in the neighborhood that's absolutely unmissable. Think less meandering stolidly around art galleries and more out-and-out block party.
Wynwood Art Walk features a range of live events, which rotate each time it's held, and it's open to visitors of all ages. Perhaps best of all, it's totally free to the public… though there's a good chance you're going to encounter something beautiful you might want to purchase!
On the Weekend
Wake up on a Saturday or Sunday wondering what to do with yourself? Here are some things to keep in mind for a Miami weekend.
Legion Park Farmers Market
Meandering the farmers market is a go-to weekend activity in most large American cities, but the Legion Park Farmers Market does it right.  Held every single Saturday year-round, this market is attended by more than 40 vendors offering fresh produce, artisan breads, ready-to-eat food, juices, and so much more.
The Biltmore Culinary Academy
Maybe you had dreams of becoming a chef — or maybe you just want to up your game in your kitchen at home. Either way, taking a cooking class at the Biltmore Culinary Academy is a great way to feel like a little bit of a gourmand… or at least learn a few workable dishes to impress your family.
Spas in Miami
What better way to take care of yourself than to kick back and enjoy a massage, facial, or other spa service? As you might have guessed, there are a metric ton of spas in Miami; here are some of our top picks not only in the city, but in the entirety of the state of FL.
Lapis Spa
Tucked into the famous Fontainebleau hotel on Miami Beach, Lapis Spa is considered one of the best day spas in Miami — and not only because it's one of the most extensive. It features 30 treatment rooms including two couple's massage suites with waterfront views, as well as other spa suites which include Vichy showers, tubs, and relaxation areas. Along with traditional treatments like massages, Lapis also offers a range of hydrotherapy treatments as well as a hammam.
Bellisima Magic Touch Spa
You'd be forgiven for assuming all the spas in this city are on Miami Beach, but it's simply not true Bellisima Magic Touch Spa is tucked a bit further inland, but offers the same range of indulgent and relaxing treatments as many of its beachside counterparts… for a fraction of the cost.
Best Gyms & Yoga Studios
Miami is known for its beautiful people, so it's no surprise you feel motivated to hit the gym. Here are some places to feel strengthened and grounded in the Magic City.
Ferrino Sports Fitness Club
All-inclusive and offering a full range of equipment as well as personal training opportunities, group classes, and more, it's plain to see why Ferrino Sports Fitness Club is considered one of the best gyms in Miami. Zumba and kickboxing are two great opportunities for getting a sweat going while having some Miami-themed fun.
Legacy Fit 
If you're of the no-pain, no-gain mentality when it comes to fitness, Legacy Fit is on your level: they don't believe in days off, and they create the kind of atmosphere that'll motivate you to get stuff done. Legacy Fit has a number of studios located across the greater Miami area, including locations in Wynwood, Coral Gables, Doral, and even Fort Lauderdale.
Skanda Yoga Studio
If you want to feel strong, aligned, and ready to take on whatever life throws your way, adding a yoga practice to your day is a great way to do it. Skanda, a homegrown Miami yoga studio focuses on recreating traditional poses in a soothing atmosphere and keeping an eye on the 13-moon calendar to synch students' movements with Nature's cycles.
Local Insider Tips From Nicole Taic:
Tropical Vinyasa prides itself on community growth. With that in mind, they enlist the best local yoga instructors to teach their classes. From day to night, the studio provides a naturally lit space that allows for self-expression and flow. What to expect: warm greetings, big smiles, great vibes, high loft ceilings, light meditation, and, quite simply, great yoga.
Day Trips in Miami
It would be easy to stay busy in Miami for a lifetime… but there are also some excellent day-trippable destinations within an easy drive. Here are a couple to consider.
The Florida Keys
The Florida Keys offer the kind of beachy getaway that'll make you feel like you flew to Aruba — without the TSA line. Just a few hours' drive from Miami, this string of islands off the southern tip of Florida is as diverse and beautiful as the state itself, with an extra helping of relaxation.
Every Floridian knows — as do a whole host of others — how much excitement there is to be found in central Florida. Whether you're after thrilling rides, once-in-a-lifetime live entertainment, fine dining or just a change of city scenery, Orlando is well worth a visit (as are the many springs and wilderness areas that dot the state's interior).
As a final reminder, some of these activities may need to wait until businesses fully reopen from coronavirus closures. However, there is still much to see and experience in Miami that you can enjoy today! What are your favorite spots in Miami? Send them our way to [email protected] or by tagging us on Instagram @rvshare and using the hashtag #rvsharelocal.