Travel Inspiration
July 2nd, 2020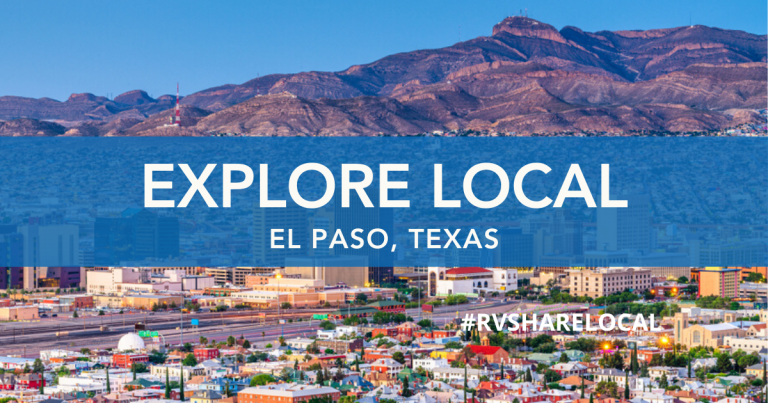 It ranks as the 22nd largest city in the United States, and with over 680,000 people calling it home, El Paso certainly has a lot to offer. Located in the far west of Texas, the city shares a border with Ciudad Juárez, Mexico, as well as New Mexico. Along with its strong Mexican influence, the city also has a prominent federal and military history, with one of America's largest military complexes and training areas, Fort Bliss, situated in the region.
With its ample arts, cultural, and sporting events, as well as the region's love of outdoor recreation, there's certainly an attraction to suit every type of explorer – whether you live within the city or not. Ready to discover the best of El Paso, Texas? Let's get started!
Why We Love to Travel
From meeting new people to experiencing new sights, sounds, and smells – is there anything more exciting or rejuvenating than a break from the day-to-day mundanity? Traveling is an excellent way to immerse yourself in a new culture, setting, or way-of-life, but the best part is this: you don't have to venture far from home to enjoy what this world has to offer.
Whether your journey takes you across your own city, to an unexplored part of your state, or even to the other side of the world, there's no doubt you will still learn a lot about your surroundings – and yourself – along the way.
Benefits of Traveling Locally
While the culture an hour away from your home might not be drastically different from what you're used to, you can still gain a deepened sense of appreciation for where you've laid your roots. Plus, traveling locally has a lot of benefits:
More cost-effective. Local travel is certainly a budget-friendly way to explore! Many activities and local parks are free or have a low cost of entry. For day trips, you can also pack your own meals to save.
Eco-friendly way to travel. Travel is hard on the environment, but putzing around your area is more sustainable than air travel.
Quick trips. Getting out locally means you can do it more often! Long weekend trips are a lot easier to take when the destination is a short drive away.
Easy to plan. Preparing your itinerary for a local getaway will likely save you some time and stress.
More convenient. Especially if you have little ones, sticking close to home may be much more convenient than far-off destinations. If you forget something, have an emergency, or need to cut the trip short, being close by definitely has its benefits.
Explore Local: El Paso, Texas
Whether you've lived in El Paso your whole life, are a recently new transplant to the city, or are planning on visiting the region sometime in the near future, El Paso offers an exciting new experience in almost any direction you look.
Read on to start your El Paso, Texas adventure!
*Note: Some of the suggestions may not be doable due to coronavirus closures, but keep this list handy for when things start opening back up more! Be sure to check individual pages for specific operation details.
State Parks in El Paso
If you're craving some time spent among nature, then you're in luck. El Paso is home to some of the most beautiful state parks and national parks within the state, all of which offer fun recreational activities such as camping, hiking, biking, and so much more.
Franklin Mountains State Park: Just a 15-minute drive from the city will take you to Franklin Mountains State Park, which is one of the largest urban parks in the nation lying completely within city limits. While here, you can enjoy its rocky mountain vistas, as well as rock climbing, hiking, mountain biking, camping, and more.
Hueco Tanks State Park & Historic Site: This scenic state park and historic site is located in a high-altitude desert basin between the Franklin Mountains and the Hueco Mountains. You can take guided and self-guided tours to view rock imagery, as well as camp, hike, rock climb, picnic, and more.
Guadalupe Mountains National Park: This popular national park is home to Guadalupe Peak, the highest point in all of Texas, as well as other historic attractions such as the ruins of an old stagecoach station and the restored Frijole Ranch, which is home to a museum of ranching history. It also protects the world's most extensive Permian fossil reef, while offering recreational activities such as camping, hiking, stargazing, horseback riding, birding, and more.
Best Hiking Trails
Still wanting to soak up the beautiful mountain scenery that El Paso has to offer? Exploring the region on foot is one of the best ways to get up close with its flora and fauna, so here are 3 of the best hiking and walking trails to get your adventure started.
Lost Dog Trail Head: This 12.4 kilometer moderately trafficked loop trail is perfect for walking and biking. You can take several routes depending on the distance you want to hike, making it ideal for families or those going for an easy Sunday stroll.
Pat O'Rourke Memorial Hike and Bike Trail: This lightly trafficked out and back trail covers a distance of 6.9 kilometers and is accessible all year round. Walkers, runners, bikers, and dogs are all welcome on the trail. The trail also offers great views of the Franklin Mountains.
Ron Coleman Trail: If you're after more of a challenge, then this is it. Located within Franklin Mountains State Park is the Ron Coleman Trail, a 6.4 kilometer heavily trafficked out and back trail that's rated difficult. Along with hiking, the trail also requires rock climbing. Despite its difficulty, it is El Paso's most famous trail, particularly due to its abundance of wildflowers and captivating views.
Best Restaurants in El Paso
After all of that hiking, there's no doubt you're hankering for a hearty and delicious meal. El Paso is home to a wide variety of cuisines, themes, and styles of dining, so you're in for a treat. Here are some of our top restaurant recommendations!
L & J Cafe
You just won't find a local who hasn't heard of L&J Café. As the region's most famous foodie destination, L&J (originally named Tony's Place) has been a mainstay since 1927. Along with offering family favorites such as steak tacos, cheesy enchiladas, refried bean burritos, and more, the restaurant also produces and sells its own famous salsa.
Track One El Paso
There are many reasons to love Track One. Not only do they make the "best wings in El Paso", but it's also set in 3 railroad cars, giving it a unique and historic atmosphere. Now, back to those wings! They're breaded, deep-fried, and served with celery and ranch dressing. You won't want to leave!
Zino's Greek and Mediterranean Cuisine
If you're craving some Mediterranean fare, whether it be gyros, stuffed vine leaves, or souvlaki, then Zino's Greek and Mediterranean Cuisine is the one for you. You'll even find vegetarian, vegan, and gluten-free options among its menu, meaning no one has to miss out.
Cattleman's Steakhouse
It just doesn't get any more "El Paso" than Cattleman's Steakhouse. Not only is this restaurant located on a working ranch, but it also offers a western atmosphere, miles of desert scenery, and spectacular sunsets. What a way to spend an afternoon or evening! Aside from their delicious menu of course (BBQ beef ribs, anyone?), the place also offers a playground and zoo for children, as well as movie sets, a snake pit, Indian maze, and more.
Tabla
Located in Downtown El Paso is Tabla, a contemporary eatery popular for its European fare, small and mid-sized plates, and craft cocktails. It's the perfect place to go with a group of friends to share a variety of tapas but also makes a great date night for just two people. We hear the sliders are a must-have!
Fun things to do in El Paso
Wondering what's next in your El Paso adventure? When it comes to the region's attractions and activities, you're only just getting started. Here are some of the most fun things on offer in and around the city!
For kids and families
Looking for some kid-friendly activities around town? Look no further! Here are some of the most recommended attractions for visitors of all ages – including the littlest of the bunch.
El Paso Zoo
The popular El Paso Zoo is perfect for a family day out, especially when children two years old and younger are free! Its wide variety of animals come from destinations such as Africa, Americas, and Asia, while other attractions include the African Star Train, the Hunt Family Splash Pad, Foster Tree House Playground, and the Hunt Endangered Species Carousel.
Western Playland
There's nothing like an amusement park to keep kids and adults entertained. Western Playland is located only 8 miles away from the heart of El Paso, over the New Mexico border. Here, you'll find over 30 great family thrill rides and attractions, such as the popular steel roller coaster, The Drop Zone, and family rides like Pharaoh's Fury, Bumper Cars, Yo-Yo, Tilt-A-Whirl, and Scrambler.
On the cheap
Looking to save some dollars while exploring the city of El Paso? There are plenty of fun attractions within the region, including those which won't cost you a small fortune. Here are our favorite things to do "on the cheap" in El Paso!
Border Patrol Museum
Come and learn about the intriguing history of border control in the United States at the Border Control Museum. There are exhibitions on weaponry, vehicles, uniforms, and operations, all offering an insightful glimpse into what it's like to work within Border Patrol, dating as far back as the 1920s. A small donation in exchange for entry is encouraged.
El Paso Museum of Archaeology
The El Paso Museum of Archaeology presents 14,000 years of prehistory in the El Paso area, including "dioramas and exhibits of American Indian lives and their material culture, from the Paleoindian hunters of the Ice Age to their modern descendants". Sound fascinating? Admission isn't just cheap – it's completely free!
At night
Whether it's date night or you simply find yourself wandering around the city long after the sun has gone down – here are our top activities to enjoy in El Paso during the darker hours.
Plaza Theatre
The Plaza Theatre Performing Arts Center is conveniently located in Downtown El Paso, and the building alone is well worth the visit. Built in 1930 with Spanish Colonial Revival architecture, it's one of the very few remaining atmospheric theaters in the United States. Catch an upcoming show at night, then hit the district for a delightful dinner.
Alamo Drafthouse
The Alamo Drafthouse is quite unlike anywhere you may have been before. After all, its motto is "the best film, food and drink all in one seat". When you see a movie at Alamo Drafthouse, you get cold drinks, delicious meals, and tasty local beers brought to your seat by a server. While we often associate snacks such as popcorn with the movie cinema, Alamo also offers burgers, pizzas, salads, snacks, and desserts.
Free things to do in El Paso
Looking to get the most out of your time spent within the city of El Paso? Whether you want a fun way to waste away a Sunday afternoon or a date idea that won't break the budget – here are our most recommended things to do in El Paso that won't cost you a cent.
El Paso Mission Trail
The El Paso Mission Trail is about 20 minutes southeast of downtown El Paso and it traces a nine-mile segment of the oldest road in North America – the historic El Camino Real. Here, you'll be taken on a journey that passes by three Texas missions and through 400 years of history. This is one activity that is not to be missed!
El Paso Museum of Art
The El Paso Museum of Art is free to visit year-round and includes a wide range of exhibitions and events. You'll find it located in the heart of the city and it also includes an on-site museum store selling art-inspired gifts for any occasion. The EPMA is the only American Alliance of Museums-accredited art museum within a 200-mile radius, as well as one of the only accredited museums in all of West Texas.
Spas in El Paso
Alright, by now you've probably been on your feet all day exploring the sights and delights that El Paso has to offer. If you're craving some rest and relaxation, or even a bit of pampering, these are two of the best spas in the far-west Texas region.
The Woodhouse Day Spa
Release the day's stresses at The Woodhouse Day Spa, where you can treat yourself to a variety of services, including massage therapy, a signature manicure, minkyti facial, pedicure, and more. They also offer day spa services for those looking for extra indulgence and relaxation.
Blush Boutique & Spa
With the slogan "regenerate, recharge, and relax", you know you've come to the right place here at the Blush Boutique & Spa. They offer the popular float therapy, as well as highly regarded treatments such as organic facials, full-body wraps, organic spray tanning, derma-pen facial treatments, and so much more.
Best Gyms and Yoga Studios
If rejuvenation for you is less about deep relaxation and more about sweating it out, then you're in luck. El Paso is also home to some of the highest-rated gyms and yoga studios within the region. It's time to get physical!
Shanti Yoga
Shanti Yoga provides a variety of yoga styles and intensity level classes designed for the beginner and the experienced practitioner. Some of their popular classes are even heated with Infra-red therapeutic heaters, offering additional benefits such as improved circulation, improved flexibility, deep tissue healing, reduced inflammation, and weight-loss.
Wolves Den
At Wolves Den, you'll find everything you need in terms of fitness in the one place, including cardio classes, cardio boxing, strength and conditioning, mixed martial arts, a fully equipped gym, InBody composition analyzers, and so much more. It's no wonder that it's one of the region's most popular and highly rated gyms!
Day Trips Near El Paso
Looking to fulfill your wanderlust by heading outside of the region for a day? You could spend years within El Paso without barely scratching the surface of all there is to do in this city, but consider these days trip next time you fancy a new adventure.
White Sands National Monument
Over the border in New Mexico is the world-famous White Sands National Monument. It's the world's largest deposit of gypsum sand and amazes viewers by its snow-white rolling sand dunes for as far as the eye can see. This region is often used to test defensive technologies such as missiles, as it's surrounded by the White Sands Missile Range, so double-check the area isn't closed to visitors before you take a trip there.
Marfa
Less than a 3-hour drive from El Paso will take you to Marfa, located between the Davis Mountains and Big Bend National Park. Despite being home to just 2,000 residents, the desert town is world-famous, thanks to its unique art installations, incredibly starry nights, and live music and film festivals. Oh, and who can forget the iconic, fake Prada boutique? It's well worth the drive out there!
As a final reminder, some of these activities may need to wait until businesses fully reopen from coronavirus closures. However, there is still much to see and experience in El Paso that you can enjoy today! What are your favorite spots in El Paso? Send them our way to [email protected] or by tagging us on Instagram @rvshare and using the hashtag #rvsharelocal.