Travel Inspiration
July 7th, 2020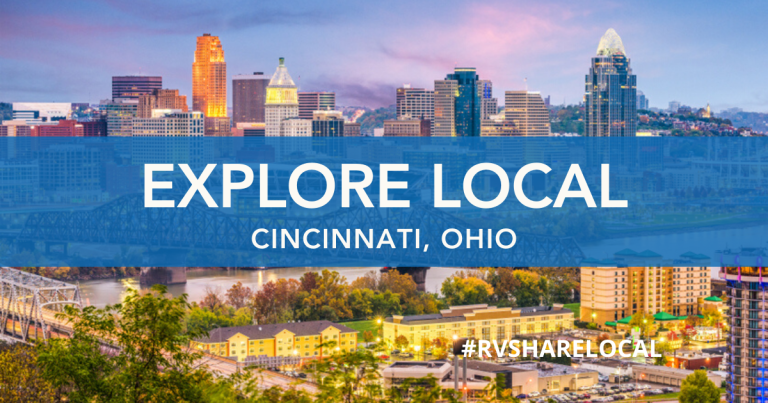 Known by its nickname, the Queen City, since an 1819 newspaper called it the "Queen of the West," those who know Cincinnati know it really is fit for royalty. This southwestern Ohio town on the banks of the state's namesake river is home to one of the best zoos in America, dozens of galleries and museums, and a seemingly unending supply of friendly folks to help guide you through all of it.
Whether you've called Cincinnati home for decades now or you're just learning the ropes, we wanted to write an article that would orient you to all the exciting things to do and places to explore in this one-of-a-kind city. Read on to learn about our favorite activities in Cincinnati, Ohio.
Why We Love to Travel
From meeting new people to experiencing new sights, sounds, and smells – is there anything more exciting or rejuvenating than a break from the day-to-day mundanity? Traveling is an excellent way to immerse yourself in a new culture, setting, or way-of-life, but the best part is this: you don't have to venture far from home to enjoy what this world has to offer.
Whether your journey takes you across your own city, to an unexplored part of your state, or even to the other side of the world, there's no doubt you will still learn a lot about your surroundings – and yourself – along the way.
Benefits of Traveling Locally
While the culture an hour away from your home might not be drastically different from what you're used to, you can still gain a deepened sense of appreciation for where you've laid your roots. Plus, traveling locally has a lot of benefits:
More cost-effective. Local travel is certainly a budget-friendly way to explore! Many activities and local parks are free or have a low cost of entry. For day trips, you can also pack your own meals to save.
Eco-friendly way to travel. Travel is hard on the environment, but putzing around your area is more sustainable than air travel.
Quick trips. Getting out locally means you can do it more often! Long weekend trips are a lot easier to take when the destination is a short drive away.
Easy to plan. Preparing your itinerary for a local getaway will likely save you some time and stress.
More convenient. Especially if you have little ones, sticking close to home may be much more convenient than far-off destinations. If you forget something, have an emergency, or need to cut the trip short, being close by definitely has its benefits.
Explore Local: Cincinnati, Ohio
Cincinnati's history actually dates all the way back to the late 1700s, when Mathias Denman, Colonel Robert Patterson, and Israel Ludlow. Since then, of course, the town has grown up a lot — and has earned its reputation as a thriving, exciting urban center surrounded by beautiful midwestern wilderness.
Whether you're adventuring solo, seeing the world as a couple, or bringing the whole family along for the fun, there are plenty of incredible things to see and do in Cincinnati. Let's dive in, shall we?
State Parks in Cincinnati
Cincinnati may be an urban adventure to contend with, but there are plenty of outdoor recreation opportunities in the area, too. Here are some state and national parks to check out while you're in the Cincinnati, OH area.
Deer Creek State Park is tucked into the heart of Ohio's agricultural country, and as such, it's as lush and green as you could imagine. Along with its beautiful natural landscape, the park also hosts developed amenities like a golf course, lodge, and rental cottages, as well as a swim beach and lots of boating opportunities.
East Fork State Park is a great place to go if you want to get away from it all… without getting very far away at all. Less than an hour east of Cincinnati, this park offers camping, hiking, boating, and lots more outdoor recreational opportunities to choose from.
Hocking Hills State Park is a dreamy landscape filled with rocky cliffs, mysterious caves, and mystifying waterfalls. A visit to this unique stretch of countryside feels many feel like they've reached a much more exotic destination than southeastern Ohio!
Stonelick State Park is a 1,058-acre wilderness located just 25 miles east of Cincinnati. With a lake, woodlands, rolling hills and a well-appointed campground, this is a great place for locals to get away from it all for a weekend. (It's also home to one of the richest cache of fossils in the state!)
Best Hiking Trails
Whether or not you head to one of the state parks in the area, there are plenty of amazing sights to be seen on foot in and nearby Cincinnati! Here are some of the best hiking trails in southwestern Ohio.
Bender Mountain Loop Trail
A 2.3-mile, heavily trafficked loop, Bender Mountain Trail offers high-flying views without the kind of effort you generally expect from a hike with the word "mountain" in it. At the right time of year, it's also covered over in beautiful wildflowers to make your trek that much sweeter.
Beechwood, Quarry, and Red Oak Trail
A truly moderate adventure, Beechwood, Quarry and Red Oak Trail stretches 4.2 miles altogether and gains about 500 feet in elevation — which is to say, you'll certainly get a workout in, but you won't be angry about it! Good news for pet owners: this trail is also open to dogs, though they do need to be kept on leash for the entire duration of your visit.
Sharon Woods Lake to George Trail Loop
Tucked into Sharon Woods Park, this 4.2-mile, moderately-trafficked loop is a great option for someone looking for less of a "hike" and more of an "extended stroll." Seeing nearly no elevation gain, the Sharon Woods to George Trail Loop is doable for those at all fitness levels, and you'll get prime viewing of some beautiful waterfalls for your efforts.
Ault Forest Loop Trail
Short enough to do in less than an hour, the Ault Forest Loop Trail is a great option when you just need to get outside but don't have that much time to devote to the venture. This hike measures a little over a mile in length and sees less than 200 feet in elevation gain, so it's the perfect chance to stretch your legs without overdoing it.
French Park
Located inside the park of the same name, the French Park trail is a 2.9-mile long, heavily-trafficked loop trail used by hikers as well as runners, bird watchers, and more. According to reviewers, it's a great place to spot local wildlife, including deer, butterflies, and all sorts of other airborne creatures.
Best Restaurants in Cincinnati
All that hiking is sure to work up an appetite. Good news: once you get back into town, you certainly won't be at a loss for eating options! Here are some of the best restaurants in Cincinnati, whether you're after Italian, Mexican, Asian, or something else altogether.
Mazunte Taqueria
When it comes to Mexican food, it doesn't have to be fancy or expensive to be delicious — and if you're hungry for something authentic, flavorful, and quick and easy to boot, you should check out Mazunte Taqueria. This casual, colorful grab-and-go spot ups the ante with delicious tacos accompanied by homemade salsas. Mazunte also owns a restaurant in downtown as well as a market and catering operation.
Ichiban
Whether you're after sushi, noodles, teriyaki or fried rice, Ichiban offers the very best Japanese cuisine in the area. Plus, its varied menu means everyone in your dining party will find something delicious to munch on, whether or not they're into the whole raw fish thing.
Sotto
Want to create a date night to remember? Everyone knows Italian is the way to go — and if you're looking for Italian in Cincinnati, you're looking for Sotto. Widely considered one of the best restaurants of any type in the city, Sotti is known for its rustic, authentic, yet innovative cuisine dished out in an inviting atmosphere.
Amma's Kitchen
If you're looking for the best Indian restaurant in Cincinnati — and the best vegetarian/vegan option — Amma's Kitchen has you covered on both fronts. This South Indian joint is known for its freshly-made dosas and offers a generous daily lunch buffet. Better yet, on Wednesdays, the entire buffet is vegan.
The Baker's Table
Given that it's scored a spot on Eater's list of the Best New Restaurants in America for 2019, eating at The Baker's Table is a must-have experience for anyone living in, or even just visiting Cincinnati. It may technically be across the river (and state lines) in Kentucky, but whether you're after a hearty brunch or a swanky dinner, everything is fresh, local, and housemade.
Fun Things to Do in Cincinnati
Hiking? Check. Eating? Check. Now what? Plenty. Here are some of the top things to do in Cincinnati this weekend — and beyond.
For Kids and Families
Bringing the kids along for a weekend adventure? There are so many amazing things to do in Cincinnati with the family! Here are just a few.
Archery Arena
The first and only dedicated dodgeball archery arena in Cincinnati (can you believe it?), Archery Arena is a great place for older kids to burn off some energy — and mom or dad can get in on the fun too, if they want!
The Cincinnati Zoo and Botanical Garden
What proper Cincinnati travel and exploration guide could miss the opportunity to call out the Cincinnati Zoo, easily one of the most famous conservatories in not only the country, but the world? Home to more than 1,800 animals, including Fiona the hippo, this zoo also offers a wide range of events like zoo golf, a 5k, an annual monarch butterfly festival, and more.
Downtown Mural Tour
Cincinnati is famous for its street art, which is absolutely everywhere. You and the family can get a chance to wander the city and familiarize yourself with some of its installations with the downtown mural tour offered by ArtWorks. It runs June through October and costs $20 per person.
At Night
We've covered some of the best things to do in Cincinnati during the day — but what about after night falls? Here are some of our favorite after-hours diversions in Cincinnati.
Brewing Heritage Trail
For a serious beer lover, it's about more than what's sitting in your pint glass. It's about how those suds got there in the first place. The Brewing Heritage Trail offers you the opportunity to see underground beer lathering cellars, learn about the area's brewing history, and — most importantly — taste some excellent ales!
Cincinnati Observatory
If you're looking for some romantic things for couples to do in Cincinnati, we'll steer you directly to the stars — by way of the Cincinnati Observatory, that is. Housing two high-quality telescopes (one 11-inch and one 16-inch aperture refracting telescope, to be exact), the observatory also offers educational public events, school programs, and more.
Cheap and Free Things to Do in Cincinnati
That's right — you can see Cincinnati without spending an arm and a leg to do it. Here are some of the best cheap and free things to do in the Queen City.
An Afternoon at the Park
One thing this city's not short on: views. For epic views of the skyline and the river that separates the city from Kentucky, try meandering around Eden Park, Mt. Echo Park, or Devour Park (on the other side of the border).
Although it may sound a little morbid, Spring Grove Cemetery and Arboretum offers a beautiful place for a contemplative walk, as well, and it's also the final resting home of many famous Cincinnatians and Buckeyes.
Findlay Market
Considered a must-do by locals and visitors alike, Findlay Market offers a wide range of prepackaged foods as well as fresh local ingredients so you can whip up a delicious meal at home, not to mention the generally festive open-air market atmosphere. The site is also home to a seasonal farmers market so you can discover — and eat! — what's growing right now.
The Mercantile Library
If you consider yourself at all a bibliophile, a membership at the Mercantile Library is well worth it. With more than 80,000 volumes ranging from contemporary fiction to history to poetry to travel, a $55 individual or $90 household membership will buy you hours and hours of entertainment and edification for rainy afternoons.
Spas in Cincinnati
Everyone needs a little R&R from time to time. Here are some of the best places to get pampered in Cincinnati.
Spavia Day Spa
It may be a nationwide chain, but it's won its hardcore following for good reason. Spavia is one of the best day spas in Cincinnati, offering everything from massage and facials to beauty treatments and waxing in a relaxing, comfortable, and professional environment.
Inner Peace Organic Spa
The best spa services aren't just about the services themselves — it's about what goes into those treatments. At Inner Peace Organic Spa, your massage, skin service or cosmetic treatment will be done only with organic, non-GMO, vegan, and cruelty-free ingredients. The spa also offers "intuitive services" like reiki, hypnosis, chakra balancing, and more.
Best Gyms & Yoga Studios
Staying in shape is about more than looking great — it's about the way you feel on the inside, too. Here are some of the best gyms and yoga studios in Cincinnati to help you stay feeling strong and grounded.
Cincinnati Fitness Boxing
Sometimes, you've just gotta fight it out — and at Cincinnati Fitness Boxing, you'll get the opportunity to do just that. Offering fitness boxing classes as well as strength training, kids MMA and more, this place will make you into a stronger and more capable fighter (and human!) within the confines of a safe and professional studio.
Modo Yoga
Yoga is one thing — but hot yoga is a whole 'nother ball game. And it's a great way to detoxify and refresh your body, spirit, and mind all at once. Modo Yoga is a well-known chain of independent hot yoga studios that offer all the benefits of hot yoga without the pretension that can sometimes come along with it. They offer classes fit for every ability level and need, so give them a try!
Day Trips in Cincinnati
Want to get away from it all? While there's plenty to do in Cincinnati proper, there are also some incredible day trips to indulge in in the surrounding area. Here are some of our favorites.
Columbus
Ohio's capital is a great place to visit for a weekend or even just an afternoon, and at only an hour and a half away from Cincinnati, you can afford to steal away even for only a few hours. High on our list of recommendations while you're in town: the Book Loft of German Village, One Line Coffee, and maybe a trip to the Center of Science and Industry.
Hoosier National Forest
As you read above, there are plenty of incredible wilderness areas in the state of Ohio to check out. But if you're willing to take a drive north into the rolling hills of south-central Indiana, you'll be rewarded by even more outdoor recreation opportunities. Chock full of hiking trails, backcountry camping locations, fishing spots, and more, Hoosier National Forest is a sprawling 203,000 acre wilderness that's well worth exploring.
National Parks
Cuyahoga Valley National Park is tucked into the northeastern section of Ohio — about as far as you can get from Cincinnati without crossing state lines. That said, this rich and vibrant landscape is well worth the drive, especially in fall, when it makes for excellent leaf-peeping opportunities.
Indiana Dunes National Park is the newest addition to the country's register, and it's only a four-hour drive from Cincinnati. Plus, it's in good proximity of Chicago — so if you've been looking for an excuse to check out the Windy City, this is a great one.
Mammoth Cave National Park is home to the largest cave system not only in the country, but in the world — and they aren't even done excavating it! Located in south-central Kentucky near Bowling Green, Mammoth Cave is well worth the road trip. Just make sure you sign up for a tour ahead of time, as you can't get into the caves without a guide.
Ohio Caverns
The largest cave system in the world might be in Kentucky, but to see the largest cave system in the state, you'll need to visit Ohio Caverns, which is located in West Liberty just outside of Dayton. These caves are well known for their sparkling crystal formations, and they're open for visitors all year round except on Thanksgiving and Christmas Day. Make a whole day of it by stopping in town for a meal on the way to or from!
We hope this post has helped (re)acquaint you with all the wonderful things there are to do in Cincy. Enjoy your stay — whether it's for a little while or a whole lifetime.
Note: some of these activities may need to wait until businesses fully reopen from coronavirus closures. However, there is still much to see and experience in Cincinnati that you can enjoy today! What are your favorite spots in Cincinnati? Send them our way to [email protected] or by tagging us on Instagram @rvshare and using the hashtag #rvsharelocal.