The Pros and Cons of Different Camper Rentals
How Tos & Tips
July 13th, 2017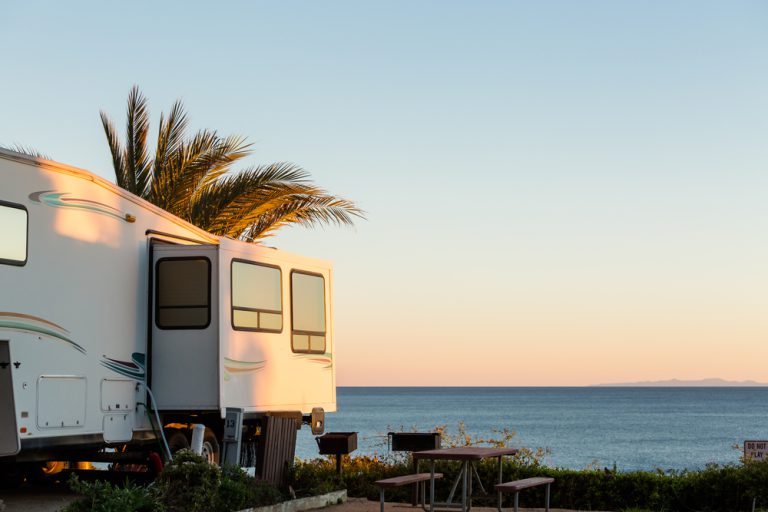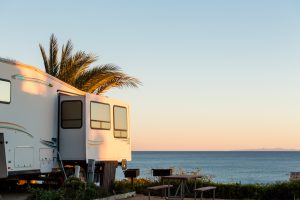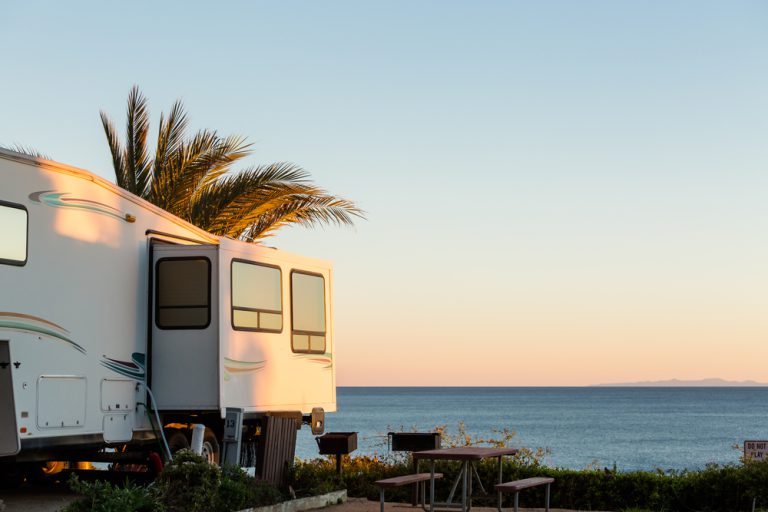 Since you're here at the RVshare blog, we already know you're at least curious about the camper lifestyle.
And while we might be just a little biased, we have to say your interest is well-warranted. Road tripping in an RV is unlike any other mode of travel you've ever tried before, and if you're anything like us here on the team, you're going to fall head-over-heels in love with it right from day one.
But newbie RVers face an initial set of challenges that can be intimidating — and I'm not just talking about learning how to drive such a large vehicle for the first time.
If you don't already have an RV, you're probably looking into renting one. And once you open that can of worms, you'll see exactly how many options there really are out there. As a fledgling camper, how do you figuring out which is the best RV rental for you and your family?
What is the Best RV Rental?
Unfortunately, there's no simple, cut-and-dried answer to which of the many available camper or trailer rentals is perfect for you.
But the good news is, that means you get to make your own decision — the first of the many totally-customizable aspects of this method of travel that make RVing so flexible and convenient.
There are large RVs and small ones, towables and self-driving models, all featuring a wide range of amenities and additions. And that's part of the beauty of camping: You get to pick exactly what you want.
But we understand that having too many options can sometimes be just as perplexing and frustrating as not having any options at all. That's why, in this article, we'll list some of the basic differences between the most popular types of RVs you're likely to find in your rental search. That way, you'll be able to make a better informed decision when choosing a rig for your upcoming road trip.
Types of RVs to Rent
Although there are way more types of RVs than we could possibly list here — including custom-built buses, conversion vans, gypsy wagons and more — in general, you'll find only a few different popular types when looking into getting an RV rental.
Here's what you're likely to find available on traditional RV rental agency fleets:
Class A Motorhomes
These large, bus-shaped vehicles might be what first spring to mind when you think of a motorhome. And if you're looking for a big, comfortable, well-appointed RV rental that's relatively easy to pack up and go, this is probably the vehicle for you!
Class A motorhomes are the largest self-powered RVs available, sometimes coming in at up to 45 feet in length and offering slide outs to add more living space while parked and camping. Their interiors are often luxuriously decked out, including full-sized kitchens and bathrooms and private master suites. When you factor in additional sleeping surfaces, like pull out sofas and dinettes, many Class As can comfortably rest up to 8 passengers.
However, Class A motorhomes are amongst the most expensive RVs out there, and that goes for rental prices, too. Additionally, after you fork over the cash just to rent the vehicle, you'll still be on the hook for the gas you need to put in it to get where you're going — and big means heavy, which means these bus-like buggies are far from fuel efficient! Some Class As get as little as six miles to the gallon, so be sure you budget well for fuel if you want to rent one of these vehicles.
Class C Motorhomes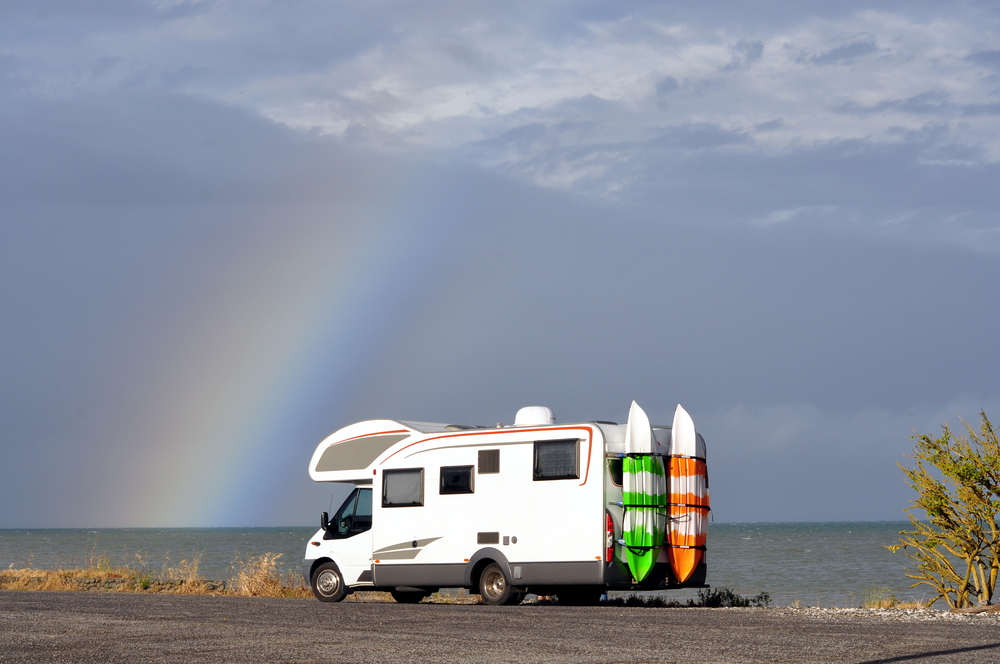 If you want all the convenience and most of the comfort of a Class A without the huge price tag or unwieldy driving experience, look no further than the Class C. These motorhomes still offer all the comforts of home, but are smaller and usually more modest — which means their prices are more reasonable, too. Additionally, their smaller, truck-chassis-built frames make for a simpler driving experience and slightly lower fuel costs. They can still generally sleep up to six passengers and sometimes more, though it may be a slightly tighter fit.
Travel Trailers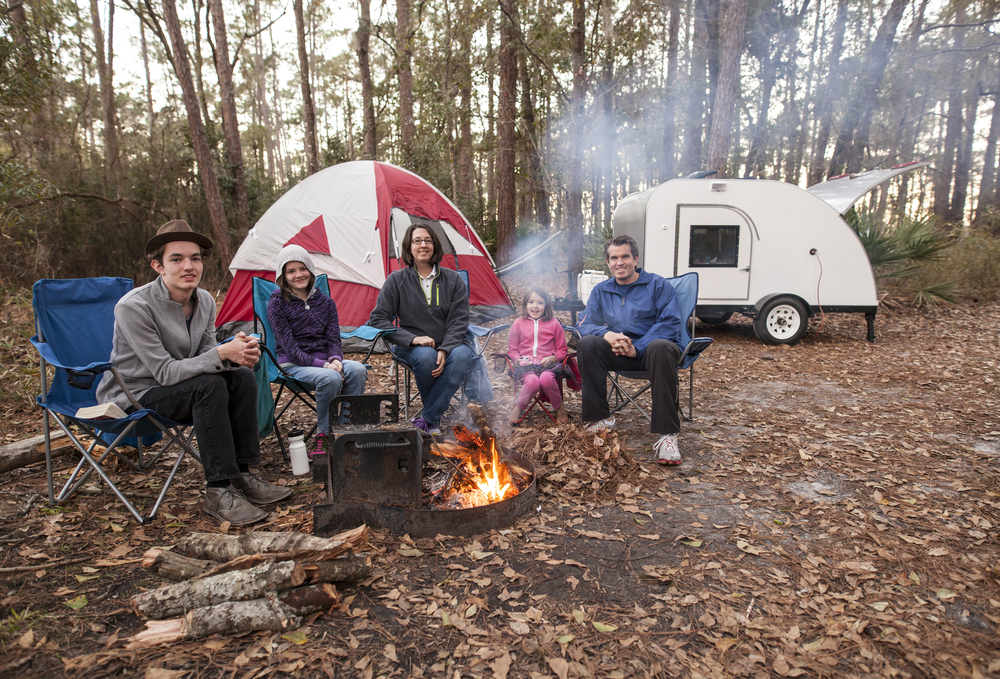 Although we're only listing it as one category, there are actually lots of different types of travel trailers — from huge fifth wheels to tiny pop up campers. One thing they all share in common, though, is better affordability than their self-powered counterparts… that is, if you already have a vehicle capable of towing one.
Although some small trailer RV rentals, such as teardrop and popup campers, are quite lightweight, many campers find their regular around-town vehicles don't have the towing capacity required to pull even mid-sized travel trailers. However, some agencies will offer you a trailer rental including delivery to your destination and setup, which is convenient if you're only looking to travel to a single place.
How Do RV Rentals Work?
So, now that you have a better handle on what's available, how does RV rental work in the first place?
Fortunately, it's not as complicated as you might expect. As camping grows in popularity, more and more commercial dealerships are popping up offering rental vehicles. You can start your search by simply Googling "rent a camper trailer near me."
Plus, of course, there's the growing peer-to-peer market, where you can rent a privately-owned rig directly from its owners. Our digital platform here at RVshare makes that process safe, simple, and easy. Plus, many of those RVs are available much more cheaply than at the big dealerships!
How Much Do RV Rentals Cost?
There's lots of variability in how much an RV rental might cost. If you're looking at top luxury RV rentals and very large rigs, you might find prices as high as $200 per night or even more. On the other hand, it's possible to find cheap RV rental deals and affordable motorhome prices… if you're willing to sacrifice a big of leg room and luxury.
No matter who you rent from or what type of vehicle you rent, always be sure to look into any extra fees that might not be bundled into the advertised daily rental charges. You may be asked to pay a refundable, but large, security deposit, for instance — or non-refundable charges for excess mileage or vehicle preparation.
Now that you've got a bit more knowledge, don't be afraid to shop around. Finding the perfect vehicle for your vacation will be well worth the effort!