Covers
September 5th, 2019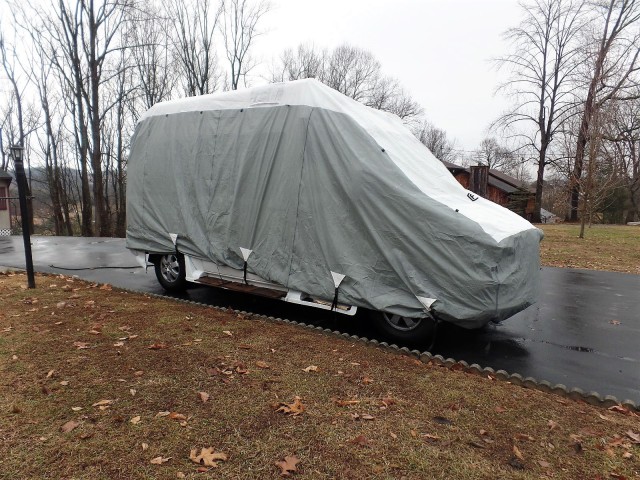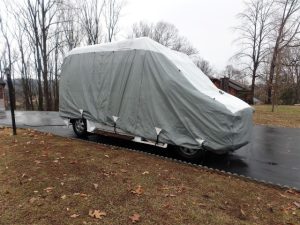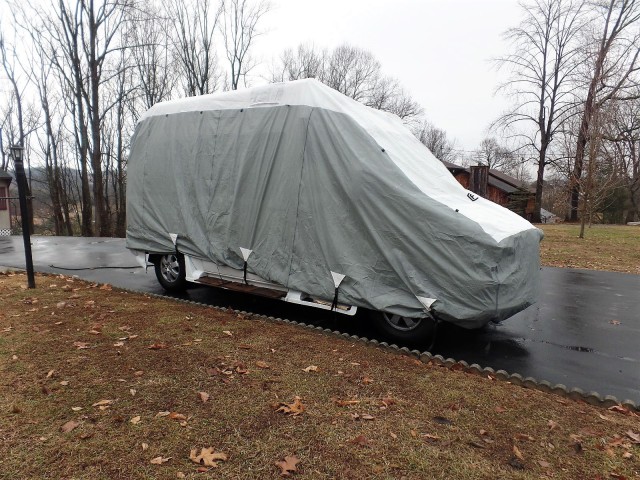 One of the coolest things about owning a class B is the fact that you can park it almost anywhere. For many class B owners, this means finding covered storage is no problem at all. Still, not everyone is able to dedicate their garage to their tiny motorhome. In these cases, finding another kind of protection is a good idea. This is where class B RV covers step in.
Why Invest in a Class B Cover?
We all know how harsh the sun and rain can be on a vehicle. The same goes for an RV, and considering the incredible amount of money we spend on these tiny homes-on-wheels, protecting our RVs is always a smart move. An RV cover can protect the interior and exterior of your class B from a variety of things:
UV Rays
One of the worst enemies of any RV is the sun. The sun's bright UV rays have the power to fade the interior and exterior of an RV. It can also cause plastic to crack and decals to peel. An RV cover can help prevent this damage, adding years to the life of your tiny home-on-wheels.
Extreme Winds
Obviously, an RV is no match for a tornado or hurricane. That said, there is no reason not protect your RV from strong winds, which could damage—but not necessarily destroy—your rig. These winds can break exterior plastic pieces off of your rig, meaning more repairs for you to do. Therefore, a cover is highly recommended.
Water Damage
Another enemy of every RV is water. Even a tiny bit of water that manages to get into the walls can do a number on your motorhome. While well-kept seals and a good roof are the best protection from water damage, a cover can certainly help keep your class B nice and dry and thus free of mold and rot.
Sticky Substances and Stains
Sitting outside uncovered day in and day out, your RV is likely to collect some unwanted spots and stains. Sap and bird droppings are no fun to wash off, and even leaves can leave stains if left to sit for a long time. By covering your class B, you can skip these spots and stains.
What to Look for in a Class B RV Cover
Wondering what kind of cover you should purchase for your class B RV? While the number of choices may seem overwhelming, there are really only a few things you'll need to look for to narrow your choices down.
A Snug Fit
First, you'll want to make sure your cover fits your motorhome properly. You can do this by measuring your vehicle and checking the cover packaging to see what size rig it's rated for. Having a nice snug fit will help ensure the cover stays in place. Plenty of tie-downs can help with this as well.
Air Vents
Moisture that gets caught under the cover can cause some serious issues. Additionally, if the wind gets caught under your cover, it might just blow away. For these reasons, many RV covers include air vents which allow the fabric to dry well after every rain, and let wind blow through without causing billowing.
Tough and Weather Appropriate Material
Finally, you'll want to consider the material your cover is made of and how many layers it includes. UV- and water-resistant material is your best bet, and generally speaking, the more layers, the better. Reinforced seams are another great thing to look for.
Best Class B RV Covers
Even with the tips above, some people just don't have the time to seek out the perfect RV cover. Therefore, we've taken the time to collect a list of the top class B RV covers. Purchase one of these and you can rest easy knowing your rig is being well protected.
This post may contain affiliate links.