Travel Inspiration
Last updated on January 16th, 2023. Originally published on March 20th, 2019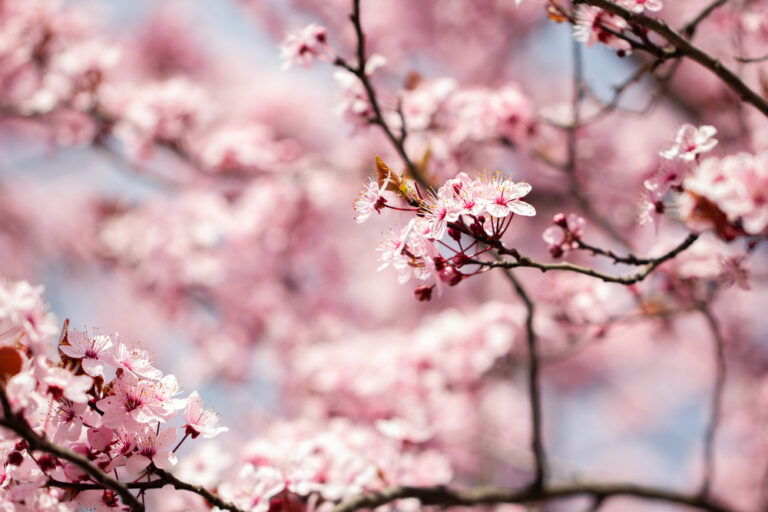 There are plenty of reasons spring is a popular travel time. The long winter's finally broken, the sun is shining, and everybody needs a vacation — chances are, you haven't had one since Christmas time!
But there's one particular attraction that draws thousands of visitors to new destinations each year as spring finally pokes its head out from under the snow-cover: cherry blossom season. And yes, there are plenty of places here in the United States to see these unique and beautiful trees, so you don't necessarily have to book a flight to Tokyo if you want to partake!
Cherry Blossom Season: What to Know
The trees we commonly refer to as cherry blossoms don't actually grow the cherries we like to eat. Instead, they've been cultivated for decorative purposes, producing the lovely pink-white flowers we all associate with both spring and Japan in general.
Why Japan? Well, because the cherry blossom tree does originate there, where it shares the title of national flower with chrysanthemums. The cherry blossom's Japanese name is "sakura," and there, its many blossoms symbolize clouds. These clouds, in turn, are a metaphor for the fleetingness of human life, which reinforces the country's Buddhist traditions.
There's even a centuries-old practice of picnicking under these trees, which is such a special activity it has its own unique name: "henami." The custom may have started as early as the year 710, and still sounds like a lovely way to spend a spring afternoon today.
Cherry blossoms were actually gifted to the U.S. by Japan back in 1912, to celebrate what was then a growing amity between the countries. Japan gave us 3,020 cherry blossom trees, which were planted in Washington, D.C., and Manhattan.
Today, though, lots of U.S. cities and states have cherry blossoms to see, including Baltimore, Philadelphia, and New Jersey. We'll dive into some of the best spots to site them in the next few sections, as well as giving you some other tips on what to see and do while you're in town!
Cherry Blossom Travel
So, enough facts, figures, and history about cherry blossom trees. Let's talk about actually seeing some!
Where's where to catch the American cherry blossom bloom this season — which starts in mid-March and runs through late April.
Branch Brook Park, Newark New Jersey
Washington, D.C. may be the best-known cherry blossom destination in the U.S., but it's not actually home to the nation's largest collection! That honor belongs to Branch Brook Park in Newark, New Jersey, which boasts 5,000 of the trees.
Branch Brook Park is also the seat of the annual Essex County Cherry Blossom Festival, which starts this year on Saturday, April 6th. Events include a bike race, fun runs, family day activities, and a bus tour, not to mention the simple splendor of meandering amongst the trees on your own!
Click here to see RVshare rentals near Newark, New Jersey.
Philadelphia, Pennsylvania
Let's be real: Philadelphia should definitely already have a spot on your travel bucket list, even if this is the first you've ever heard of cherry blossoms. It's one of our nation's most historical locations, and chock-full of amazing food, drinks, cultural pursuits, and more.
But it's also a great place to watch those beautiful flowers cover over the landscape, especially in its Fairmount Park, which boasts more than 2,000 trees. Like those in D.C., these were a gift to our country from Japan back in 1926, to honor the 150th anniversary of American independence.
Head to the City of Brotherly Love between April 6-14, and you can also participate in the Subaru Cherry Blossom Festival, an annual event which celebrates these trees and also offers a variety of family-friendly activities to choose from.
Click here to see RVshare rentals near Philadelphia, Pennsylvania.
San Diego, California
Think all the cherry blossoms in the U.S. are on the east coast? Not so! If you live west of the Mississippi, you might as well take the excuse to head for one of California's coolest cities — since San Diego is also home to about 2,000 cherry blossom trees, which bloom in mid- to late-March in its famous Balboa Park.
Unlike the ones you'd see in D.C. or Philly, these trees were bred from a single parent and specifically developed to grow in warm climates. And while you're enjoying the balmy SoCal weather, don't forget a trip out to La Jolla Beach to see the seals and sea lions — or a visit to the U.S.S. Midway Museum if you have even a passing interest in unique sailing vessels or military history.
Click here to see RVshare rentals near San Diego, California.
Cherry Blossom Festival
As we've already seen with many of the destinations we've listed above, many of the places in the United States which do have cherry blossom trees celebrate these unique and beautiful plants with cherry blossom events and festivals, drawing hundreds more visitors to come see them during blossom season.
But a few of these festivals are a bit more famous and well-renowned than the others, and definitely warrant an RV visit.
Washington D.C.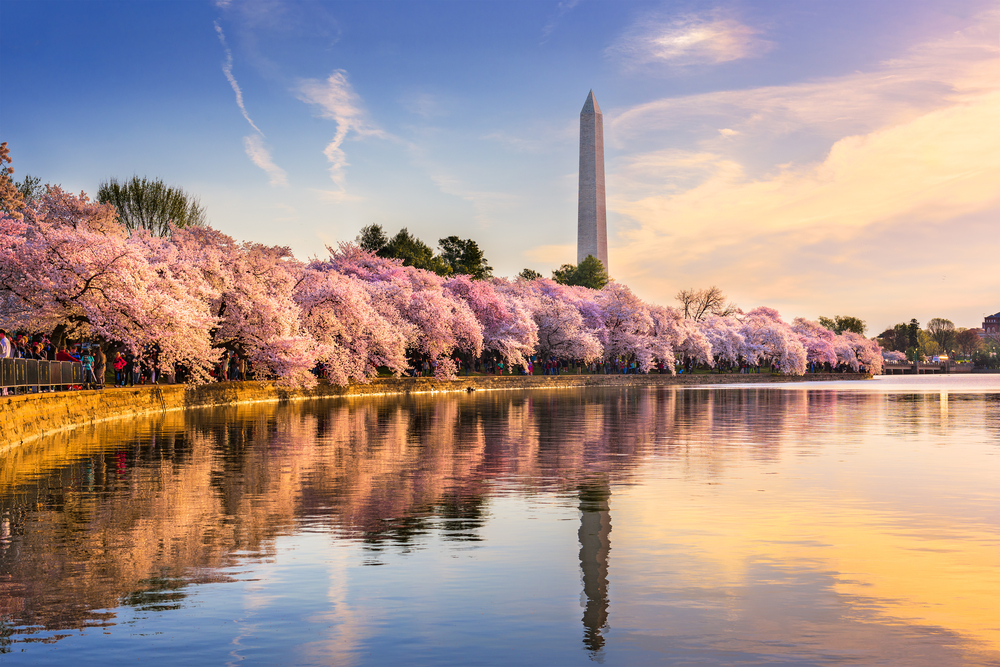 With its free museums and unparalleled historical and social significance, Washington D.C. is already at the top of many of our destination lists. And if you're a cherry blossom aficionado (or looking to become one), this is pretty much ground zero as far as east coast sakura celebrations.
Washington celebrates its 3,000-plus trees, which line the Tidal Basin and the roadway in East Potomac Park, with the annual National Cherry Blossom Festival, a nearly month-long event offering a huge array of fun and thematic things to do for the entire family. Let your eyes — which will already be trained upward, given the height of these special trees — go even further skyward when you watch the Blossom Kite Festival, or clap your hands along with the merrymaking goodness of the National Cherry Blossom Festival parade. There's also live entertainment, a stunning opening ceremony, and the Pink Tie Party, all of which are sure to be attended by some of Washington's most famous citizens.
Tickets and pricing vary depending on which events you'd like to experience, but the blossoms themselves are free for the public to look at — just as are many of the world-class museums and cultural attractions in town, like the Smithsonian Institute family of exhibits. Plus, I mean, it's our capital! If you haven't been yet, you have to… and when better to go than when the backdrop is so darn lovely?
Click here to see RVshare rentals near Washington, D.C.
Macon, Georgia
What's the only way to one-up the National Cherry Blossom Festival?
Why, the International Cherry Blossom Festival, of course, which takes place in Macon, Georgia each spring. The city is home to — get this — more than 300,000 beautiful specimens, which come into bloom a little bit earlier given the southerly clime.
The 2019 festival takes place from March 22-31, and events range from happy hours to spring plant sales to festival amusement rides and more. Plus, can we just say that Georgia in springtime is pretty darn close to heaven? Even without the pretty pink flowers, you've still got the mild temperatures, the sweet southern air, and Spanish moss hanging everywhere — not to mention the comfort food. Yes, please!
Click here to see RVshare rentals near Macon, Georgia.
Whether it's the cherry blossoms or some other spring fling that has you taking to the roads this March and April, we can't wait to hear more about your adventures — especially if you're traveling by RV. It's probably no surprise that we think this, but we have to say, motorhomes and travel trailers are a pretty amazing way to enjoy your spring break vacation… you'll get all the flexibility of the road with the added comfort and convenience of having your very own private bungalow on wheels!
If you've never traveled in this unique style before, we invite you to take a look at the RVshare rentals available in your area. Renting on the peer-to-peer market saves you money, for one thing… but it also gives you a better taste of the more authentic RV lifestyle. And since you're renting directly from travelers and adventurers like you, who knows? You might just even make a like-minded friend!
No matter where, when, or how you get out there, though, just make sure you do some exploring. The world is waiting… and this time of year, it certainly has some lovely decorations.
This post may contain affiliate links.