Travel Inspiration
Last updated on January 3rd, 2023. Originally published on April 20th, 2018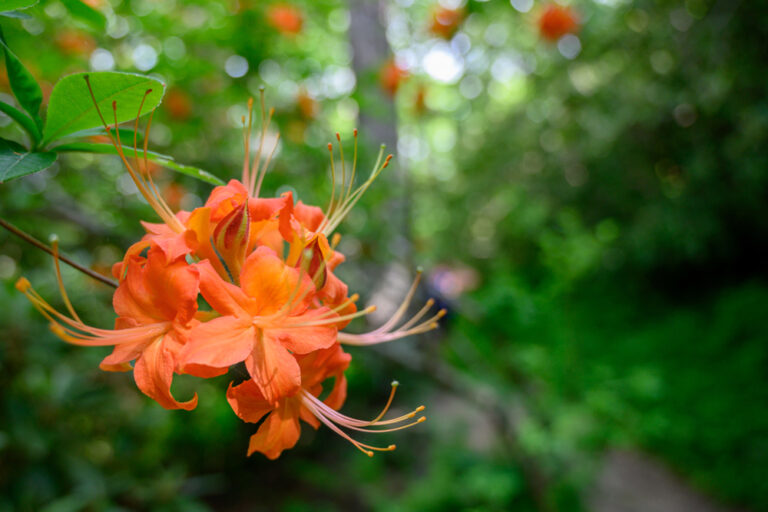 Winter's finally fading away, and spring is in the air. But if you really want a refreshing whiff of warmth, there's only one thing to do: go see some beautiful springtime flowers!
Wildflower tourism is a great way to celebrate the rebirth and regrowth of a brand new year. And now that April showers are fully underway, the first flowers of spring are soon to follow. What better time to pack up the RV, grab your road atlas, and head out to see some colorful blossoms? After all, we're all sick of winter white by now.
We put together this list of some of our favorite spots to see spring flowers, no matter where in the country you're traveling from. Just make sure you add an umbrella to your packing list, and maybe a decent set of mud boots — after all, it does take some rain showers to make those beautiful blooms!
Popular Spring Flowers
From Texas bluebonnets to rhododendrons in the Appalachian Mountains, there are plenty of flowers that bloom in spring — and we're going to show you exactly where to scope them out!
If you want more details about the flowers themselves so you know what you're looking for, check out the following informative books available affordably on Amazon:
Best Places to See Spring Flowers in the USA
Without further ado, here are some of the very best spots for seeing some unique springtime beauty!
Great Smoky Mountains National Park, Tennessee and North Carolina
Each year, this uber-popular national park doubles down on its claim to fame with the annual Wildflower Pilgrimage — a four-day flower festival with guided walks and talks led by expert biologists and outdoorsfolk.
But even if you can't make the event itself, it's hard to go wrong wandering through Great Smoky Mountains National Park's many miles of hiking trails. It's home to over 1,500 distinct species of flowering plants (!), and many of them are just coming into bloom in the springtime.
Where to camp: Cade's Cove, Cataloochee or Elkmont — but be sure to reserve your spot ahead of time! Spaces fill up fast during this popular travel season.
Walt Disney World's Epcot, Florida
This central Florida destination may already be on your radar for thrills, chills, and spills — but did you know it's also a wildflower wonderland?
For the past 25 years, Epcot has been hosting its annual International Flower & Garden Festival, adding a burst of blooming color to this already-popular theme park.
Once you've had enough of wandering through Disney's world of the future, venture off-campus to check out wildflowers in the actual wild. Central Florida boasts a huge number of natural springs and forests full of hiking trails, and you'll quickly see why the state's namesake is the flower.
Where to camp: Disney World has its own resort-style campground at Fort Wilderness, or you can check out one of the many central Florida state parks, like Lake Griffin.
Antelope Valley, California
Want to see California's state flower — in spades? Travel to this stunning stretch of land just north of Los Angeles, where an ocean of orange poppies springs into bloom each year.
Starting in mid-February and lasting all the way through May, you can meander the state reserve's eight miles of trails to get an up-close and personal look. Along with the flora, you'll find interesting fauna, too — creatures from gophers to gopher snakes call the valley home.
Where to camp: Red Rock Canyon State Park is a bit of a drive from the valley proper, but it'll add a surreal dose of craggy cliffs and buttes to juxtapose the lush wildflower wilderness.
Annual Spring Flowers
Here are a few more can't-miss wildflower destinations.
Portland, Oregon
This town is well-known for its showers, so it should be no surprise: it's got flowers, too. Lots of 'em. And come springtime, the trails are flooded with Oregonians celebrating the end of the long, drizzly winter and the slow but sure emergence of the northwest sun.
Portland's totally surrounded with wilderness landscapes, from Mount Hood to the Columbia River Gorge to Umatilla National Forest. Even in the urban landscape, spring brings bevvy of blooms — both along its sidewalks and in the famous International Rose Test Garden, which offers free daily tours starting on Memorial Day.
Where to camp: Barton Park is only 22 miles from the city center and central to all the outdoor fun the area has to offer — and has hookup sites available for just $26 per night.
Texas Hill Country
If you're looking for bluebonnets galore, you'll find 'em deep in the heart of Texas — along with a variety of other native blooms with inventive monikers, from Indian paintbrush to brown-eyed Susans.
Fancy a glass (or three) of wine with your wildflowers? Check out the annual Wine & Wildflower Journey, where a single ticket gets you tasting access at more than 40 award-winning Texas wineries. And if you're looking for some great live music or other urban delights, Austin's just up the road. It's the best of everything!
Where to camp: Pedernales Falls State Park offers both hookup and primitive campsites, as well as tons of trails for hiking, biking, and horseback riding.
Spring Plants and Flowers
Even if none of these destinations work for your travel plans this year, there are plenty of spring and summer garden flowers coming into bloom all across the nation. You might be surprised by how much variety you can find at your local state park, or even in your own backyard!
For more information on what kinds of flowers are coming into bloom in your area, check out wildflower organizations like American Meadows or contact local state park officials near you. And don't forget that "spring" can mean different things depending on where you're located — for instance, it extends all the way into June along the northern American border.
Happy spring!
This post may contain affiliate links.