How Tos & Tips
June 12th, 2020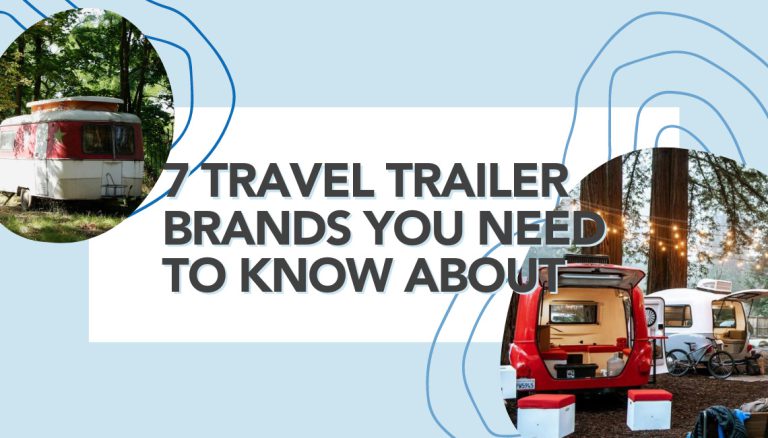 Best Travel Trailers
A travel trailer is a big purchase. For this reason, it makes perfect sense that one of the questions potential RV buyers ask most often is, "Who makes the best travel trailer?"
While this is a perfectly legitimate and even very wise question, it's impossible to offer only one answer. After all, everyone is going to be looking for something different in an RV, and what one person considers perfect might be less than stellar to the next guy.
Fortunately, there are quite a few top-rated travel trailer brands out there. Therefore, picking the best travel trailer for you means focusing on things like layout, weight, and trailer type, in addition to travel trailer quality ratings.
Still, the best way to begin the travel trailer shopping process is by narrowing the list of potential trailers based on build quality and functionality. You can do this by checking out travel trailer reviews, along with personally viewing and even using the trailers yourself before purchasing.
Not sure where to begin? Below is a list of the best-quality travel trailers out there. Take a look at each, and then decide which ones you should look into further:
Airstream
Winnebago
Forest River
Jayco
Keystone
Oliver
Happier Camper
Best Travel Trailer Brands
Of course, just seeing a list of the best travel trailer brands isn't very helpful; you need details. Fortunately, we've done the legwork for you and gathered some of the most important details of each company below to help you choose the best travel trailer for you.
Airstream
Easily one of the best travel trailers in history is the super unique Airstream. These "silver bullet" trailers last for years and years, meaning even a model that is decades old is likely to be in decent condition today.
Airstream was recently purchased by Thor Industries, and the company has made a point of modernizing the interiors of these trailers. Nevertheless, the quality and unique look remain.
Starting price: $34,700
Rent an Airstream and give it a test run today!
Winnebago
The Winnebago company is most well known for its well-built motorhomes. In fact, there are some who go so far as referring to all motorhomes as Winnebagos. That said, the company also makes some of the best-built travel trailers on the market.
We love the solid construction of these trailers. Additionally, we appreciate the awesome customer service the company provides. Because of this customer service, Winnebago has a loyal following and even hosts Winnebago-specific RV rallies for those fans.
Starting price: $25,000
Rent a Winnebago trailer to try it on for size.
Forest River
One of the most popular RV manufacturers out there, Forest River offers shoppers a huge variety of options in terms of style, layout, and price.
These RVs are well reviewed, and Forest River gets many return customers. These customers often join the Forest River forum in order to get answers to questions about their rigs, and overall these forums are very positive. This is especially telling when you consider the huge variety of RVs offered by the company, and the enormous numbers of customers enjoying those trailers.
Starting price: $13,000
Give a Forest River trailer a try. Rent one today!
Jayco
Another of the super popular RV brands, Jayco, makes some of the best travel trailers on the market. Just read a few travel trailer reviews and you'll see that this company consistently puts out quality products. The layouts created by Jayco are very livable, and the company stands behind their products, something all of the best travel trailer brands do. Best of all, Jayco trailers are affordable.
Whether you're looking for a super lightweight hybrid or a big family bunkhouse trailer, Jayco has a travel trailer that will work perfectly for you and your budget.
Starting price: $10,000
Why not rent a Jayco trailer to take it out for a spin?
Keystone
Just as well known as Jayco or Forest River, Keystone is another quality company that puts out quality products. People love the Keystone Outback, as well as the Passport, leaving good travel trailer reviews left and right.
We love the numerous floor plans offered by Keystone, as it seems there is something that will work for every situation. These trailers are also sturdy and well built, especially considering the price point.
Starting price: $15,585
Rent a Keystone here on RVshare.
Oliver
Oliver is new to the travel trailer world, and they've certainly made a grand entrance. While the company only offers two types of travel trailers at the moment, they have raised the bar for similar fiberglass travel trailers everywhere.
Both of their trailers are on the small side, with one coming in at 18½ feet and the other at 23½ feet. Each one can sleep up to three people comfortably, and is built to your specifications. On top of all that, Oliver trailers exceed expectations when it comes to quality of construction, making for some very happy campers indeed.
Starting price: $48,900
Happier Camper
The best travel trailer for the solo traveler (or those who'd like to tow with a small vehicle), the Happier Camper is both incredibly versatile and amazingly well built.
Choose from the 13-foot or the 17-foot model. From there, you use the camper's "Adaptiv" system to create the living environment that works for you.
What is Adaptiv? It's a cube-based modular furniture system. When you're ready to eat, create a table and chairs. When it's time for sleep, build a bed. The system uses no screws or glue, so you can change your setup whenever you see fit.
Starting price: $24,950
Rent a Happier Camper trailer today to see if it's for you.
Want to shop around a bit more before buying? Why not try a few different trailers on for size? By renting one of the thousands of RVs available on our site, you can try almost any RV on the market, which means you can be 100% positive you buy the best travel trailer you can.
Looking for even more RVing tips and tricks — both during the purchase process and for your first camping excursion?
Here are just a few RVshare blog posts to help you out.