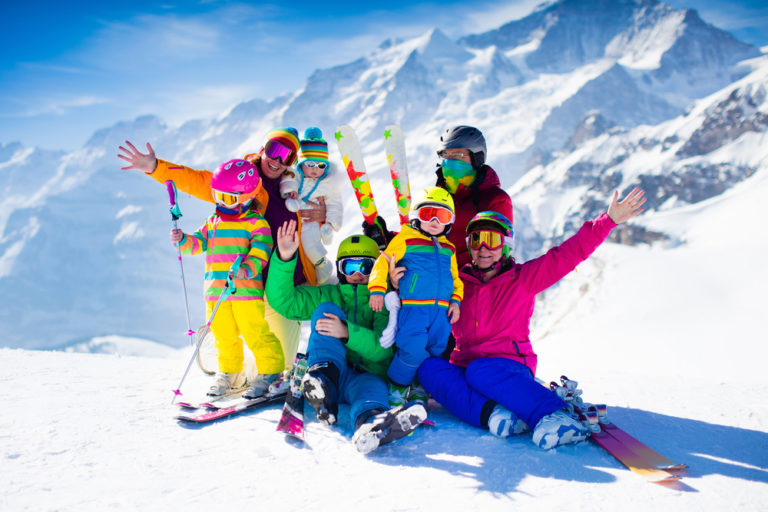 Looking for some powder this winter?
Some of the best snow skiing in the world is right here in the United States. In fact, many of America's slopes count among the top winter sport destinations in the world. And although a rustic log cabin or a luxurious resort and spa might first spring to mind when you think of a ski vacation, taking on your winter travels in your RV is actually a fantastic alternative.
You'll have more privacy, more flexibility, and you'll almost undoubtedly save money. Ski resorts aren't exactly known for being cheap, after all!
Even if you don't end up boondocking, you could save 50% on your campground fees by joining Passport America.
But you'd only have to worry about paying a minimal camping fee if you're on public lands, or possibly no fee at all if you head to one of the U.S. or Canadian ski resorts that allows overnight RV camping. You'd be surprised how many do!
Whether you're a pro who's seen many a bluebird day on the slopes or just want to try your hand — er, feet? — here are some of the top ski resorts and destinations in the US for RVers to visit. Just be sure to grab your ski poles, a ski mask, your best puffy jacket… and some RV antifreeze, too! Gotta make sure your rig is winterized if you're going to take on America's coldest climates. 😉
America's Best Ski Resorts
Here are some of the best rated ski resorts and places to ski in America, and how you can get there by RV.
Mammoth Mountain Ski Area, California
Blessed with one of the longest skiing seasons in the country — try six whole months, from November all the way until July! — Mammoth, California is a great spot for RVers. It even has its very own RV park with full and partial hookups, which is open 365 days a year.
Rates start at $45.00 per night, but if you stay for longer, you'll save: The park offers a deal where when you pay for six nights, you get your seventh for free.
The mountain itself is a favorite of Californians, offering three snow parks and more than 150 different runs. Along with skiing, winter adventurers also head to this peak for snowboarding and snowshoeing
Vail Mountain, Colorado
Known to be one of the most famous top ski resorts in the U.S., the whole town of Vail basically owes its existence to skiing. People have been traveling to this town, just a couple of hours outside of the state's capital in Denver, for winter sports for dozens of years. The resort's first ski season was all the way back in 1962.
The resort offers tons of activities and amenities, but you can also find affordable campgrounds not too far away, like Aunt Sara's River Dance RV Resort and Campground. And since it's such a popular skiing destination, there's no shortage of shops, restaurants, and other fun things to do when you need a break from hitting the slopes.
Best Ski Resorts to Drive To
Many of the best ski resorts are within easy driving distance, especially if you already live out west. Here are a few more not to miss.
Willamette Pass, Oregon
It might not be as big or well known as ski resorts in California or Canada, but Oregon's got some fantastic powder — and the Willamette Pass Resort has special accommodations specifically for RVers right there on its property. Hard to beat that!
The resort offers sites both with and without hookups, which are $20 or $10 per night, respectively. You can camp for up to seven consecutive days, even during the holidays, but the resort will ask you to vacate the premises during their closed periods, which generally run Mondays through Wednesdays. Good thing there's all that fantastic Oregon wine nearby to sample in the meanwhile!
Best Romantic Ski Resorts
Dreaming of keeping each other warm after a fun day of playing in the snow?
Here are some of the smaller, more secluded ski resorts to turn your lovey-dovey fantasy getaway into a reality.
Alta Ski Area, Utah
Although it's certainly not as big as Vail, Utah's Alta Ski Area is one of the best hidden ski resorts in the country, thanks to a special microclimate that ensures its snow is soft, dry, powdery, and just waiting to be skied on.
Best steer clear if you're a snowboarder, however; because it's a bit harsher on the natural environment, Alta disallows that sport on its slopes. But if you and your honey are looking for some Utah skiing fun in your RV this winter, check out this sweet little area, serviced by the nearby Mountain Shadows RV Park in the town of Draper.
Squaw Valley Resort, California
Okay, okay, Lake Tahoe might not be exactly secluded. But it's one of the best-known ski destinations in the country for a reason. It's gorgeous — and you can take advantage of the fact that its Squaw Valley Resort allows RV campers to park on its property on a first-come, first-served basis.
There aren't any hookups, however… so get ready to run your generator if you want to stay warm, no matter how good you are at cuddling!
Best Family Ski Resorts in the US
Not quite a professional yet? Looking for kid- and budget-friendly ski resorts where you and the family can try your hand on the bunny slope?
Here's one of the best ski resorts for beginners — or, let's be honest plain old non-skiers. 🙂
Ober Gatlinburg, Tennessee
If you're looking for the best ski resorts by state, you'll probably notice the Pacific coast has an advantage… but not every ski destination is in the west!
Ober Gatlinburg doesn't have much in common with places like Vail; it's technically an amusement park. But it does have ski slopes that are easy and friendly and perfect for the family to get in on the winter spirit… without getting mowed down by some high-velocity adrenaline junkie.
Plus, it's Gatlinburg, which means there's plenty of RV camping nearby — not to mention all the fun stuff to do and see once you're done trying out your ski legs.
Tips up!
This post may contain affiliate links.