Travel Inspiration
Last updated on December 19th, 2022. Originally published on January 28th, 2017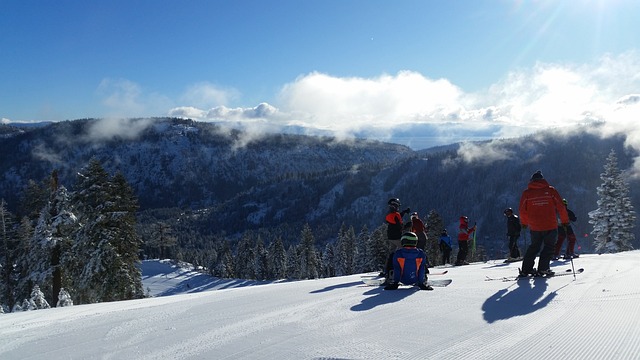 Ready to hit the slopes?
Skiing is a good exercise, a great adrenaline rush and a fun way to connect with nature.
It's also, as you may know, mad expensive.
12 Ski Resorts that Allow Overnight RV Parking
To offset those high costs — and keep you as cozy as possible — we found 12 ski resorts and areas that allow you to park your RV in their lot overnight. Staying in your rig is going to be a lot more affordable than getting a room — not to mention a whole lot more comfortable.
Ready to turn your RV into your own personal ski chalet? Here's where to camp.
Ski Resorts with RV Hookups
Need power? These resorts offer plug-and-play hookups to adventurous RVers — emphasis on the "play."
1. Crystal Mountain Resort, Washington
Located in the picturesque Mount Baker-Snoqualmie National Forest near Mount Rainier, Crystal Mountain Resort in Washington state has its stuff together when it comes to welcoming RVers with open arms. It's just added 30 extra-wide sites for a total of 70, almost half of which offer 50-amp hookups.
The cost is $35 per night, except during the Christmas/New Year's holiday week, during which campers book a 9-night block for a total of $315. And should powered sites fill up, they've got an overflow lot as well, which is only $25 each night to camp in. There's no water or dump station available on-site, however, so be sure to fill up and empty out before you settle in!
Best of all, you'll likely find a ski buddy or two. "The RV lot is like a small mountain community," reads the resort's website. "You'll meet new people and make new friends in no time."
2. Stevens Pass, Washington
With well over a thousand acres and lots of trails and training geared to get beginners' on their feet in no time, Stevens Pass is a great place to take on the slopes no matter what your level.
Better yet, it has space for up to 60 RVs to park with 30-amp hookups, and an overflow lot should those sites fill up. The fee is $40 per night for the sites with electricity and $20 per night otherwise, and campers must make arrangements to be out of the lots between 10 a.m and 4 p.m. every Tuesday when the park does maintenance.
Park authorities also ask you take special care to ensure any pets you have with you are under control at all times.
3. Willamette Pass Resort, Oregon
Willamette Pass Resort offers sites with electrical hookups to the first ten RVs to arrive and has an overflow lot featuring dry camping space for others. You'll pay $20 per night if you're hooked up and $10 per night if you're not, and can stay for up to seven consecutive days of parking during the holidays.
The resort does ask that you make plans to vacate the lots during its closed periods, which generally run Mondays through Wednesdays. That might be an opportune time to check out some of Willamette's prestigious wineries — just a suggestion!
Ski Resorts with Overnight RV Parking (But No Hookups)
Fill up the propane tank and get the generator ready! These ski resorts offer overnight parking, but no hookups — but they've still got wicked slopes.
And hey, in some cases, dry camping is free!
4. Squaw Valley Resort, California
Ready to see what Tahoe has to offer? The Squaw Valley Resort allows limited RV parking on a first-come, first-served basis. There are no electrical hookups and no waste disposal on the property, but there's also no fee. And it's Tahoe — so you'll want to spare any expense you can.
5. Schweitzer Mountain Resort, Idaho
Schweitzer Mountain Resort in Idaho's panhandle allows RV parking for $20 per night up to three nights consecutively, though "requests for longer stays can be directed to the parking staff." You'll be at the north end of the Gateway parking lot, so you'll need to arrive and depart early in the morning or late at night — access is limited by the day parking area.
6. Bridger Bowl Ski Area, Montana
While Bridger Bowl can't accommodate long-term RV stays, you can park for a night or two free of charge, as long as they have space.
There are, however, no hookups, and you might get plowed in if you're not up early enough to move your rig. Call ahead to make sure there's a spot for you, and don't forget to check in with administration so they can direct you to the right place.
7. Mount Bachelor, Oregon
You can park for up to a week at $20 per night at Oregon's Mount Bachelor, but there aren't hookups. Furthermore, RVs are only allowed in the West Village parking area, which is "an active overnight snow removal zone."
That means you might "expect to hear vehicle and equipment noise throughout the night," and if necessary, you may even need to get up and move your rig to accommodate snow removal. And if you're arriving after 5 p.m., have cash on hand to buy your parking permit from the Public Safety officer.
8. Mount Baker Ski Area, Washington
If you're headed to the Mount Baker Ski Area in northern Washington, you're free to camp in select parking lots at Heather Meadows and White Salmon. While there aren't any hookups, there's also no fee, and you'll have overnight access to the Forest Service restrooms.
Just be sure to check in with the admin office when you arrive — or in the morning, if it's closed by the time you get there. Also keep in mind that while the Heather Meadows lot is open 24/7, White Salmon closes 5 p.m., and reopens in the morning at 7.
9. Mount Hood Meadows, Oregon
Up to 14 RVs can camp overnight at Mount Hood Meadows for up to three consecutive nights, but no services or utilities are available.
Furthermore, although the park itself doesn't charge a parking fee, you'll need to have purchased a Sno-Park pass, which gets you space at a number of prime spots in the area. If you're taking a serious skiing vacation, you may as well get one for the season — $20 will cover you from Nov. 1 through April 30, while a daily pass will run you $7 (or $10 for three days in a row).
Also keep in mind that you may be roused early to move your rig in order to accommodate snow removal.
"We apologize for the early morning interruption," writes a Meadows rep on the site, "but at least you'll be up for first tracks!"
10. The Summit at Snoqualmie, Washington
Just a short drive from Seattle, this ski area has space for a limited number of RVs to park overnight for up to three nights (or four on weeks with Monday holidays). Although there's no power, you do need to pay to park. The price is $15 for one night or $10 per multiple, consecutive night, to be paid upfront, in cash.
Since there is limited space, however, and spots are first-come first-serve, it would probably be wise to call ahead! Find the full details, rules (which include "no profanity"), and contact information here.
11. Grand Targhee Resort, Wyoming
Wyoming's Grand Targhee Resort resort offers dry camping to RVs for $20 per night, plus taxes and fees. You'll also be assessed a $5 nightly fee if you have a tow vehicle.
You can stay for up to seven consecutive nights while you explore the beautiful Yellowstone National Park area. But be warned — you're in bear country, so keep all food and garbage locked up tight at all times!
12. Revelstoke Mountain Resort, BC, Canada
British Columbia's beautiful Revelstoke Mountain Resort allows free overnight RV camping — but only for one night, so make it count!

You'll need to visit the Sutton Place Hotel upon arrival to get your complimentary permit, and no campfires are allowed. But who has time for campfires when the slopes are beckoning?

Tips up!

[similar_ai_related]