Travel Inspiration
July 18th, 2020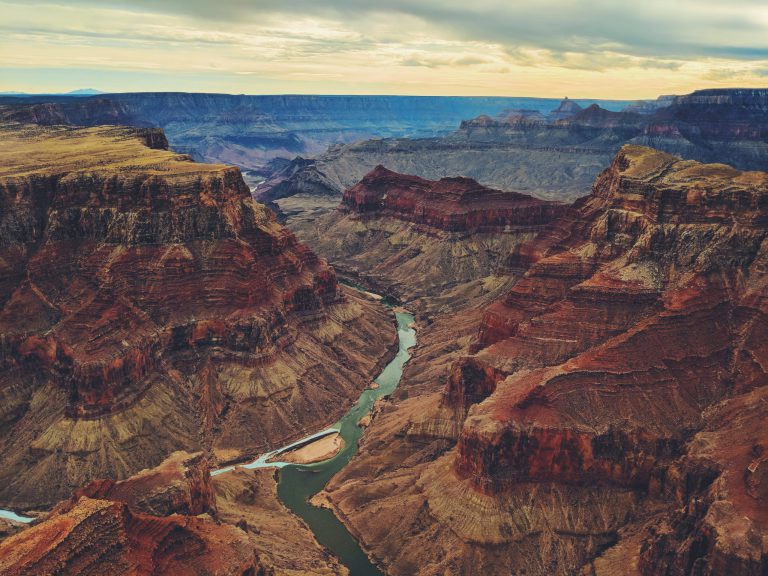 Best National Parks for Camping
Some of the greatest camping destinations in the US are our country's beautiful national parks. After all, who wouldn't want to wake up in the Great Smoky Mountains, go to bed next to the Grand Canyon, or eat lunch while watching a bear in Yellowstone National Park?
Camping in national parks allows you the freedom to do these kinds of things, and we think you should take full advantage of such an amazing opportunity.
Of course, there's no way you can camp at all of our nation's many parks in a single trip. In fact, it would be difficult enough to see them all in a lifetime, and not all of them even offer camping. Therefore, it is a good idea to do a bit of planning in order to know where to find the best national park campgrounds.
What National Parks Have Camping?
Wondering which national parks have camping? Honestly, the vast majority of them offer some sort of camping, but not all of them have developed campgrounds available. If you wish to camp in a specific national park, we recommend visiting that park's website or calling ahead to find out if they have campsites.
Additionally, you'll want to check to see if you need to make a reservation. If a campground doesn't take reservations, consider having a backup plan, especially if you're planning to camp on the weekend or during a holiday.
Which National Parks Can You Camp In?
Of course, even the best national park campgrounds are no good to you if they can't accommodate your setup and wants. For example, many national parks with campgrounds cannot take bigger rigs. Additionally, many of them don't offer hookups.
Therefore, you will want to double- and triple-check that your RV will fit wherever you plan to camp, and that whichever amenities you absolutely need are available to you in that park. Find a full list of RV Length Limits for all the National Parks here.
Can You Camp Wherever You Want in a National Park?
Some national parks do allow backpackers to tent camp in the backcountry. Additionally, a small handful will allow dispersed boondocking for RVers. That said, the boondocking opportunities are few and far between. Instead, the vast majority of national parks require RV campers to use the dedicated developed campgrounds while camping in US national parks.
Fortunately, if you wish to try your hand at boondocking during your national parks camping trip, you usually won't have to go far. A large number of national parks are surrounded by land owned by the BLM and National Forest Service. Since boondocking is allowed on both, you can give dry camping a try and drive into the park first thing the next morning.
Best National Parks for Hiking and Camping
So which are the very best national parks for hiking and camping? This is a very difficult question to answer. After all, everyone is looking for something different in both their camping trips and their national park visits.
Still, there are some things that everyone loves when camping at a national park, and there are some parks that consistently excel at offering these things. These are, in our opinion, the best national parks for camping. Read on to learn which ones we think fit this role.
Yellowstone National Park
Located in Wyoming, Montana, and Idaho, this enormous and gorgeous park is one of the most popular in the country. Of course, it's popular for a reason. The views, hikes, and recreation here are absolutely spectacular, making it one of the very best national parks for hiking and camping.
You will, of course, want to see Old Faithful as well as the gorgeous Grand Prismatic Spring. Animals are abundant, meaning wildlife watching is also a popular activity in Yellowstone. Another great thing to do during your visit? Take a hike. Our favorite trails include Avalanche Peak Trail and Cascade Lake Trail.
Yellowstone National Park is home to several great campgrounds. Of these, we recommend Fishing Bridge RV Park, which offers full hookups.
Grand Canyon National Park
The Grand Canyon National Park is a seriously spectacular sight to see, and a place we think everyone should visit at least once. It's also an amazing place to watch the sunrise and sunset, making it an ideal camping location.
The best hikes in Grand Canyon National Park include the easy Grand Canyon Rim Trail and the slightly harder South Kaibab Trail. Besides hiking, we also love the mule trips and ranger programs offered in this park.
Grand Canyon has a total of four developed campgrounds. Of these, we recommend staying in Trailer Village, which is located in Grand Canyon Village and is the only option for RV hookups.
Yosemite National Park
From gorgeous mountains and cliffs to giant sequoia trees, Yosemite National Park has a lot to see and marvel over. In fact, there's so much to see and do, we recommend camping in the park in order to ensure you have plenty of time to squeeze it all in.
Wondering which things to do while in Yosemite? Well, you simply must see some of the fantastic waterfalls. In particular we recommend checking out Yosemite Falls. Favorite views can be found at the many viewpoints such as the beloved Glacier Point. As far as hiking goes, we highly recommend Vernal Falls Trail and Lower Yosemite Falls Trail.
This park is home to a large number of campgrounds. However, none of them offer any RV hookups. For this reason, we recommend booking Upper Pines Campground, Wawona Campground, or Tuolumne Meadows Campground. All three are at least near a dump station and freshwater fill.
Glacier National Park
If you're looking to take a summertime national park trip, Glacier National Park might just be your place. This amazing park has all kinds of unique and beautiful features, including glass-like lakes and snow-topped mountains.
To catch the most beautiful views, we recommend hiking the Avalanche Lake Trail which is moderately difficult, but rewards hikers with a stunning look at Avalanche Lake. Other great things to do in this park include boating, biking, and cross country skiing. We also recommend driving the famous Going-to-the-Sun-Road.
The vast majority of Glacier campgrounds are first-come, first-serve. Additionally, none of the campgrounds offer RV hookups. That said, both Fish Creek Campground and St. Mary Campground do accept reservations, and both have a restroom and potable water available, making them ideal options.
Great Smoky Mountains National Park
Great Smoky Mountains National Park is another wonderful choice for campers. This park is located in the Smoky Mountains of Tennessee and North Carolina. This means you're sure to catch some beautiful views and spot some amazing wildlife, especially if you decide to take on the popular Rainbow Falls Trail or the easier, but also beautiful Kephart Prong Trail.
Other things to do in this park include auto tours, bicycling, fishing, and even visiting historic buildings. Clearly, you won't be bored during your visit.
There are ten different campgrounds in the park. Half of these are tent-only campgrounds, but the other five do offer RV camping without hookups. All campgrounds have bathrooms with cold running water, and some take reservations.
There you have it, folks! These are the best national park camping opportunities out there. Choose one of these, and we can guarantee you won't be disappointed.
Looking for something a bit closer to home? Try searching "national parks near me with camping". You never know what you might find, and anything run by the National Park Service is sure to be spectacular.