Travel Inspiration
September 5th, 2015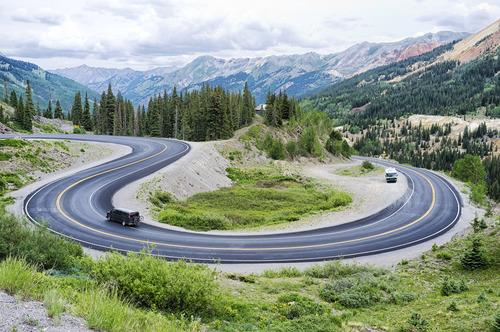 Did you know that every year, approximately 25% of Americans embark on a road trip? Can you blame them? Road trips are cost effective, fun, enriching, and the perfect way to make new memories.
There are plenty of famous routes (like Route 66 or the Pacific Coast Highway) around the U.S. But what about the less popular, yet still amazing routes? Here are seven hidden gem road trips that you should definitely add to your bucket list. So get your road trip playlist ready and hit the road!
#1. From Kohala Coast to Hawaii Volcanoes National Park in Big Island, Hawaii
What You Can Expect: This trip is excellent for nature lovers. It is filled with thrilling outdoor adventures just waiting to be conquered.
Recommended Trip Itinerary: Your trip will begin at the Kohala Coast. This area is famous for having the most luxurious resorts on the Big Island. These include the Fairmont Orchid and the Four Seasons Hualalai.
Before you set off on your road trip, be sure to visit Maniniowali Beach. It is one of the most beautiful beaches on the island. Known as Kua Bay by the locals, it offers great swimming and bodyboarding opportunities.
Once you have gotten your fill of frolicking in the sea, hop in your vehicle and take Highway 19S. The natural environment here ranges from coasts to rainforests. In fact, 11 of the planet's 13 climate zones are located on this island.
Keep driving until you get to Highway 11. Around mile maker 108, consider stopping at the Coffee Shack for a cup of some homegrown Kona java. This beatnik cafe sits on the edge of a cliff and offers spectacular views of the surrounding area. After receiving your caffeine boost, it's time to hit the road again.
From here, continue your road trip until you arrive at the Pu'uhonua O Hōnaunau National Park. Encompasses around 200 acres, this park is home to an ancient Hawaiian royal dwelling. The drive to get here is approximately 40 miles long and is filled with tropical forests and old lava fields. These two features are an interesting combination, to say the least.
After exploring the well preserved relic, be sure to visit the Punalu'u Bake Shop. Located in the town of Naalehu, it hold the distinction of being the southernmost bakery in the US. This bake shop is famous for their delectable donuts, and definitely worth a visit. Once you've gotten your fill of sugary treats, it's time to hop back in your vehicle.
From the bake shop head to Hawai'i Volcanoes National Park. If you think the name sounds familiar, it is because the park was in the news a couple of years ago. The park made headlines due to several volcanic eruptions. You can also check out the Kilauea Visitor Center to learn how you can watch the active lava flows safely. You may also want to explore the lava caves that are all over the park.
#2. From Austin to Marfa, Texas
What You Can Expect: This new route is excellent for those with hipster sensibilities.
Recommended Trip Itinerary: Austin is one of the fastest-growing cities in the country. Depending on the time of the year that you visit, there are a ton of festivals to enjoy. One of the most eclectic is the renowned South by Southwest that is held every year in mid-March.
After you're finished partying, hop on US-290 and take it to I-10. There's not much to be seen along this drive so use this time to simply enjoy being on the road.
About 90 minutes outside of Austin, you will come across Fredericksburg. It's a small town with a quaint feel and a variety of family operated shops up and down Main Street. Fredericksburg's charming feel has made it a favorite among tourists. This little town is also famous for an area called Enchanted Rock. Enchanted Rock was once a spiritual place for Native Americans and is still considered to be holy ground.
After you are finished visiting Fredericksburg, hop back onto to the I-10 a roughly six  hour drive to Marfa. This unique town is run by an artist colony. Several famous movies were filmed in Marfa and cinematic legends like Rock Hudson and the like were guests at Marfa's El Paisano Hotel. There's even a stand-alone Prada store that is more art concept than retail venue.
While in Marfa, you will also want to make sure that you keep an eye out for the mystery lights. These floating balls of light have been seen in Marfa since the late 19th century. What makes them even more intriguing is that no one knows what they are or how they are made.
#3. From Boston to Rockport, Massachusetts
What You Can Expect: This trip will take you down the scenic Massachusetts coast. It also contains plenty of historic fishing towns to explore.
Recommended Trip Itinerary: Start your trip by taking in the best sights that Boston has to offer. For example, you can spend the day:
Once you have finished exploring Boston, make your way to historic Salem via MA-1A North. Salem is notorious for the Salem witch hunts, but it's also a beautiful and charming town. While there, make sure that you take some time to explore:
Before you leave the area, take some time to visit Marblehead. It is a delightful coastal village filled with buildings and roads that date back to the 1700s. If you would like to stretch to legs, you may want to check out their harbor. Other sights to explore include:
From Marblehead, take I-27N until you reach Gloucester. This small fishing town's claim to fame is the movie and book, The Perfect Storm. It is America's oldest working fishing port and also the place where the frozen food concept was born. While here be sure to check out the Fisherman's Memorial and Good Harbor Beach. You can even go whale-watching, if you have the desire to go out to sea.
Your road trip will end in Rockport. This tiny town is a bohemian art colony of sorts where many artists gather to create and sell their wares. While here, you may want to explore Motif #1, a 200-year-old fishing shack housed on Bradley Wharf. Halibut Point State Park is also a great place to visit.
#4. From Denver to Telluride, Colorado
What You Can Expect: During the spring and the summer, a road trip on this route is a nature lover's dream.
Recommended Trip Itinerary: While in Denver, there's a ton of entertaining pastimes for you to indulge in. For instance, Denver is home to a variety of museums and four professional sports teams. If you are taking this trip in the winter, be sure to spend some time skiing on the Rocky Mountains.
When you have finished taking in the sights that Denver has to offer, hop onto I-70W and head to Ouray. On the way you will get a chance to see some awe-inspiring national forests and mountains.
Ouray itself is a unique, well-preserved town that looks like the set of a Western film. If you plan to visit during the winter months, be sure to visit the Ouray Ice Park. It has some of the best ice-climbing that you can find anywhere. In the summer months, take a long soak in the famous sulfur-free hot springs in town.
After indulging in all the attractions that Ouray has to offer, hop on US-550 South and head to Durango. It's a quaint small city is filled with old-school saloons and charming little cafes. You can enjoy a train ride on the Durango & Silverton Narrow Gauge Railroad or head out on foot for some hiking in the San Juan National Forest.
From Ouray, jump in your vehicle and hop onto CO-145N for two hours. This will take you to Telluride, the place where Butch Cassidy robbed his first bank. You can even visit the original safe that is now housed in a store that sells sunglasses.
Nearby attractions include Ridgway, where the classic film True Grit was filmed. Sawpit is also an excellent destination. It's the smallest town in Colorado and has one street lamp and one gas station.
#5. Reno Loop in Nevada
What You Can Expect: It's a like Route 66 but with a ton of activities for adventurous and sporty types to try out.
Recommended Trip Itinerary: Begin your trip with some rock climbing at the Whitney Peak Hotel. This new facility is home to world's largest artificial rock climbing wall. After partaking in this activity, hop in your vehicle and take Nevada State Route 431. You will stay on this route until you reach Incline Village on the shores of Lake Tahoe. If you are taking this trip in the winter, there are plenty of skiing opportunities to enjoy here. During the warmer months, consider going hiking, sailing, or playing some tennis. If you are looking for some more adult action, check out the unofficial nude beach. It is located south of this area and is sure to yield an interesting experience or two.
When you want to get back on the road, jump into your vehicle and take Nevada State Route 28 until you get to Stateline. The activity center for Heavenly Mountain Resort sits at top of the gondola. While here you can indulge in some rope courses or even go zip-lining.
From Stateline, take State Route 207 util you get to Rout 206. This will take you the tiny town of Genoa. It is home to the oldest bar in the state, Genoa Bar, and it has an iron safe filled with an interesting collection of bras — some that are decades old!
After drinking some fine ale at the Genoa Bar, jump in your vehicle and hop onto US-395. This road will take you through Carson City and when you get to US-50, take State Route 341 to Virginia City. Route 341 will eventually turning into Route 342 so be on the lookout.
Mark Twain is one of the more famous residents of this 19th century mining town. He lived here when he did some journalism work for the Territorial Enterprise. Just because Twain is long gone doesn't mean that there isn't plenty to do in Virginia City. The city itself still retains much of its old world charm. In fact, there are Victorian-era buildings, wooden boardwalks, and more. There's even a rail tour that will make you feel as if you are back in the 1800s. But that's not all, this city is also home to several ghosts and has many haunted sites for you to explore including Piper's Opera House and the Washoe Club Haunted Museum.
#6. Zion National Park Loop in Utah
What You Can Expect: This road trip is perfect for lovers of incredible landscapes. This is because of its scenic drives adorned with red rocks and unspoiled natural beauty.
Recommended Trip Itinerary: Your road trip will begin at Zion National Park, which is the oldest national park in Utah. It is home to almost 70 different animal species, including mountain lions. After spending some time here, hop in your vehicle for a two hour long scenic drive that will take you to Lake Powell. This man-made reservoir is perfect for indulging in water sports like paddle-board yoga.
Lake Powell is only a short drive away from Amangiri. You may not have heard of it but, it is actually one of the most lavish resorts in the entire country. While here, grab some lunch on the outdoor terrace. You might even see one of your favorite celebrities.
After filling your tummy, hop onto Highway 12. This route will take you to Grand Staircase Escalante National Monument. It is the home to million year old canyons for you to explore. When you are ready to call it a night, head over to Bryce Canyon National Park. Here you can park your rig or pitch a tent and enjoy the clear night sky and some fantastic stargazing.
After a restful night's sleep, head on over to Boulder. It's just a stone's thrown away from Bryce Canyon National Park. While there, be sure to check out Hell's Backbone Grill. They have amazing pumpkin enchiladas that will make your mouth and stomach happy. From Boulder, drive three hours to Canyonlands National Park. A visit here will immerse you in surreal scenery that will take your breath away.
#7: From Napa Valley to Mendocino, California
What You Can Expect: This area is home to a ton of wineries, so make sure you sober up before getting back on the road.
Recommended Trip Itinerary: While in Napa Valley, make sure you take advantage of the wine tastings and tours that this area have to offer. Recommended wineries include:
After you've sobered up, take the 101 to 128. Along this drive, you will have the opportunity to stop in several towns. They offer awe-inspiring landscapes that are sure to please. One of those towns is Sonoma and while here you can:
Healdsburg is another town on 128 that is well worth a visit. One must-see sight in this hipster-filled town is Moustache Baked Goods. Here you must pick up some of there delectable organic cupcakes. It's important to note that this part of your road trip is filled with winding, two lane roads so your focus should be on taking your time and enjoying the scenery.
After driving through several small towns, you will wind up on Highway 1. Keep driving along this rugged coast until you arrive in the charming town of Mendocino. This rustic town is filled with scenic cliff sides that overlook sea caves and blowholes. It also has beautiful Cyprus forests that will take your breath away.
What did you think of the routes listed above? Are than any hidden gems that you think should be on this list? Share your thoughts in the comments below.