Travel Inspiration
September 15th, 2015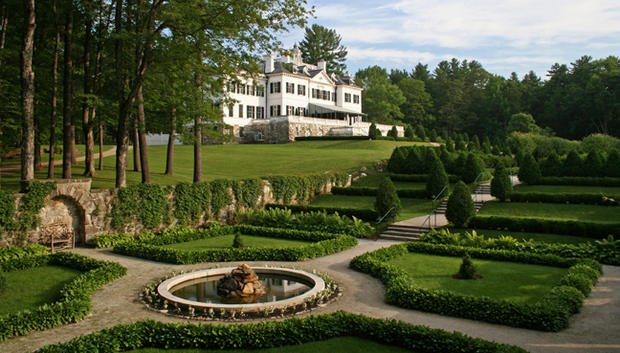 Are you a lover of books and all things literary? If so, you may want to plan your next road trip around literary landmarks. From south to west, and everywhere in between, here are the top 21 landmarks for the literary lover. This would be a perfect road trip for families or for anyone who loves books.
Here we go!
The West:
If you are a Jack London fan, you won't want to miss two of his popular hang outs. The first is located in Glen Ellen, California. Beauty Ranch includes both a cottage and farmland where Mr. London wrote and farmed. The second is a remote lodge and tavern built in the 1880s where London completed his novel, Valley Of The Moon. The lodge is located in Creek, Oregon and was also a popular stop for several Hollywood stars including Carole Lombard, Clark Gable and Orson Wells.
John Steinbeck is one of California's most respected authors, and you can visit his birthplace and childhood home while eating a great meal.  The Steinbeck House is located in Salinas, California and is open to the public Tuesday through Saturday. The Queen Anne style Victorian home was built in 1897 and the Steinbeck family took residence in 1900.  Author of the Grapes of Wrath, Steinbeck often dealt with both social and economic issues plaguing America in his writing. He was educated at nearby Stanford University in 1919, but dropped out in 1925 without achieving his degree. While in Salinas be sure to visit the National Steinbeck Center, a landmark that can't be missed.
Authoress Beverly Cleary was born and raised in Oregon. During her lifetime, she has written (She is 99 years old!) over 30 books for children and young adults which have sold 91 million copies. When in Portland, you can visit the Beverly Cleary Sculpture Garden in Grant Park. Here you will see bronze statues modeled after characters from her favorite books that are sure to delight the entire family. While in the Portland area, take a self guided walking tour of the streets where Beverly's books were set between the Hollywood Library on NE Tillamook Street and throughout the nearby neighborhoods.
While visiting the great north west you must visit the world famous bookstore, Powell's Books. This bookstore boasts over 1 million books currently on its shelves for sale. You could spend a lifetime reading every genre known to mankind at Powell's. Don't miss it!
The state of Washington lays claim to many novelists, but there is one who stands out in the world of travel. Rick Steves has been traveling the globe and writing guides about his journeys since 1979. In 1991, he began producing his now famous PBS television show, Rick Steves' Europe. You can catch the travel bug by visiting his headquarters in Edmonds, Washington where you can buy travel gear and plan your next big trip. For fans of travel writing, this is a landmark stop that you won't soon forget!
Eugene O'Neill, known for his famous play, The Iceman Cometh, lived in Danville, California. Today you can visit his residence via the National Park Service shuttle from downtown Danville. On the 13 acre property you will find his home, barn (now a theater) and beautiful walking paths. Known as the father of American Drama, O'Neill called this place a "final home and harbor."
The Midwest:
Red Cloud, Nebraska is home to the Willa Cather Foundation. This little town offers you a chance to see the world Willa Cather made famous in her Pulitzer Prize winning books about the great plains. Red Cloud offers tours of Cather's childhood home, a memorial prairie, and the Red Cloud Opera House, which is the home of the foundation. A Willa Cather center is set to open in the spring of 2016. The Cather Prairie consists of 612 acres of never plowed native prairie. When you walk through this prairie you see the world Willa knew so well.
If you love Laura Ingalls Wilder you will want to tour both her historic home and museum, and her childhood homestead. The Rocky Ridge farmhouse is located in Mansfield, Missouri and offers a complete and comprehensive museum experience. From Pa's fiddle, to Laura's books and writing desk, the collection at Mansfield is an excellent example of historic preservation. Visit her home March through mid-November seven days a week.  The Ingalls Homestead in De Smet, South Dakota offers a step back in time to experience Laura's books. You can take a covered wagon ride, explore a one room school house and even camp on the same land where Laura's family made their home. Cabins, covered wagons, RV sites and tent camping are all available.
The birthplace of Ernest Hemingway in Oak Park, Illinois and is now a museum which is open to the public. A short walk from the birthplace you will find the Hemingway Museum, which holds a variety of rare photos and artifacts from his life and childhood.
L. Frank Baum will forever be connected with the state of Kansas, although he visited it only briefly before writing his famous work, The Wizard Of Oz. Today, the work of Frank Baum is celebrated in the small town of Wamego, Kansas. Wamego is the home of the OZtoberfest and the OZ Museum. Mr Baum's character, creative genius and the characters of his numerous books are on display for all to see. Check the website for current activities. L. Frank Baum's grandson often makes appearances as the great man himself and it's a performance well worth seeing in person.
The Kansas City Public Library is located in downtown Kansas City, Missouri. Its amazing facade looks like a row of towering classic books and is sure to bring a smile to readers of every age. The books actually hide the parking garage, and the spines measure 25 feet high by 9 feet wide. Constructed in 2006, the community chose 22 volumes to display, including Catch-22, Charlotte's Web and Lord of The Rings.
The South:
Gone with the Wind, authoress, Margaret Mitchell lived in Atlanta, Georgia in an apartment she called, "The Dump." While sitting at the living room table she worked for six years on her epic novel. It took Margaret years to finish her Pulitzer Prize winning novel, ending in 1935 only because it had already been accepted into publication. In 1939 the book became a larger than life film, which cemented Margaret's place in literary history. Tours of the apartment are operated by the Atlanta History Center and are available daily except for holidays. The Atlanta History Center is a landmark that can't be missed.
Milledgeville, Georgia is the home of short story author, Flannery O'Connor. O'Connor's most productive writing years were spent at the Andalusia Farm where she wrote daily from morning until noon, then spent her remaining days with visitors or her birds. Many of O'Connor's works reflect the functional landscape of her home. She died in 1964 having lived most of her life in Georgia.
Faulkner fan's rejoice! Our list would not be complete without William Falkner's fabled Rowan Oak estate located in Oxford, Mississippi. Rowan Oak was home to Faulkner for over 30 years, and many of his most famous work's (such as Light in August) were written here. The home was originally a fixer upper and Mr. Faulkner spent many afternoons wiring the house and building the terrace. It is said that he often wrote complicated novel plots on the back wall of the home. When the book was finished, he would paint over it and start again. Today, you can not only tour the home, but you can see the plot of A Fable still penciled on his wall. The 29 acres are open year round with no fee. Enjoy a home tour for a mere $5.
Ernest Hemingway scores two homes on this list. His birthplace and his most famous residence, is located in Key West florida. This tropical paradise inspired his productivity during the years he spent with his second wife, Pauline. Most of his major works were written from his office, which was an extension of his upstairs bedroom. Later, Mr. Hemingway would run to Cuba with his third and final wife, Martha, and during the Key West years, Earnest had a passion for his Nobel Prize winning literary art. Today you can visit the home and enjoy the 40-50 cats (most are six toed) which are direct descendants of his own pets. The home, garden and museum are open nearly every day, but be sure to check the Cruise Ship schedule to know when to avoid the rush!
Visit the beginning of Roots. The Alex Haley Museum and Interpretive Center includes the boyhood home of Alex Haley in Henning, Tennessee. The museum offers a comprehensive collection of the life and achievements of the famed author. The home also promotes understanding and appreciation of the history of the slave. Ongoing genealogy sessions are available to help people discover their own family tree. You can also visit the life size replica of a slave ship and watch a short documentary on the experience of a slave.
The East Coast:
The Emily Dickinson Museum offers lover's of verse an inside tour of Emily's home. An audio tour can be taken as you stroll through the grounds of Emily's private world. The homestead features two historic homes, one in which Emily was born, and the other where her brother and his family lived. The museum is connected with Amherst College and seeks to educate guests about Ms. Dickinson's life, family and creative work. There are numerous events open to the public throughout the year, along with ever changing collections and exhibits. The museum is open March through December and closed in January and February and is a located in Amherst, Mass.
The Mark Twain House and Museum has been ranked as one of the ten best historic homes in the world. (According to National Geographic.) Located in Hartford, Connecticut, the home and museum is a full day event offering a large variety of events and interactive activities. The house was constructed in 1873 from Twain's wife's own drawings. In 1874 the family moved into the Hartford home and lived there until 1891 when finances forced them to move to Europe. The property was sold in 1903, but to Mark Twain Hartford was always home.
Concord, Massachusetts is the home of Ralph Waldo Emerson, who lived in his famous white house for 46 years. During this time it became the headquarters of the transcendentalist movement and where he penned many of his greatest works. Emerson's famous essay, Self-Reliance was written on the first floor of the home. Today, you can visit the property Emerson called, "Bush" from April through October, Thursday through Sunday. The rear garden is also available for exploration. This was a favorite place for the author to take walks and write in his journal. Guests to this home included Henry David Thoreau, Margaret Fuller, Bonson Alcott (Father of Lousia May Alcott) and Elizabeth Peabody.
Edith Wharton's estate in Lenox, Massachusetts is one palatial home. It has 35 rooms, and acres of lush, highly manicured gardens. Edith loved to write while lying in her bed each morning. She wrote her famous, House of Mirth from this very home. Today, this home features ever changing public and private activities including an active artist in residence program. Tours are available until October 31st with a variety of subjects to choose from. The grounds also feature artistic sculptures, concerts and ghost tours. Edith is known for her amazing works of fiction, but she also wrote books on architecture, decoration, travel and collections of short stories.
Maine is home to famed and prolific author, Stephen King.  Mr. King's home can be seen in Bangor, Maine, and is also known as the William Arnold House, built in 1858. You'll be sure to recognize the blood red paint and the cobweb fence around the property. Readers will enjoy taking the Stephen King tour, which includes a variety of towns fictionalized for many of King's most popular books and films. SK Tours of Maine offers a variety of three hour bus tours which will whisk you around everything "King." The Tinker's (owners of SK Tours) are life long residents of Bangor and owned a bookstore focusing on Stephen King for over 20 years. This couple knows their stuff and will make the world of "Derry" come to life!
Hawaii and Alaska:
Looking for an offbeat, literary experience? Hike the infamous Stampede Trail to the McCandless bus in Alaska. This bus, featured in the book Into the Wild which chronicles the life of Christopher McCandless, is where the infamous adventurer ended his life. The bus is preserved much as it was when he originally made the journey. This is not a hike for the casual book reader. This journey can take a full month or more. Expect to sleep on the ground, be bitten by every bug known in Alaska and have an overwhelming desire to quit throughout the day. If you make it though, you may connect with the immense beauty of life and your own free spirit.
Armine Von Tempski was one of Hawaii's best known authors. As a writer at the turn of the century, she often described life among the Hawaiian cowboys and cattle ranches. Armine loved to write and was encouraged by a meeting with Jack London when she was only 16 years old. London said her writing was tripe with streaks of fire. That was enough to encourage her. Today you can tour the Haleakala Ranch where Mr. London first visited in 1907, and that Armine often wrote about. Haleakala has been ranching consistently for over 125 years, and much of the terrain is exactly the same as she described it.
Literary landmarks featuring great authors can be seen in all 50 states if you are willing to look for them. As an RVer you can plan your adventures based on what you are currently reading. With a bit of research you are sure to find a campground near most historic sites.
Source: Buzzfeed