Travel Inspiration
Last updated on February 21st, 2023. Originally published on June 2nd, 2015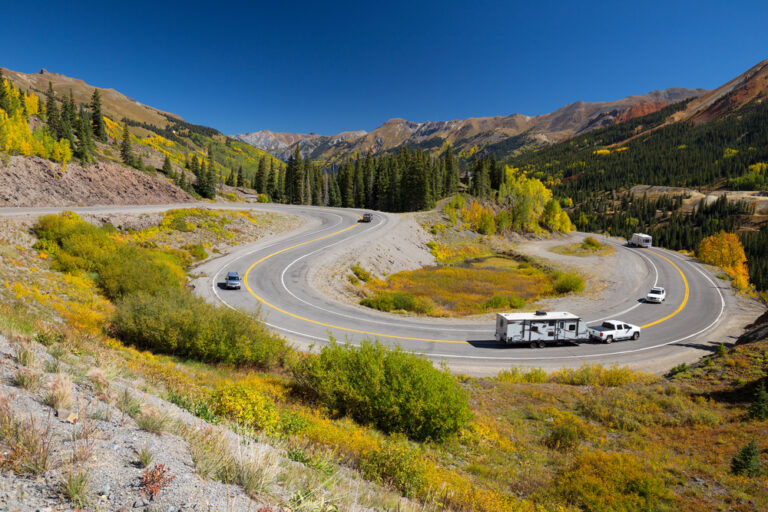 According to Jamie Jensen of Road trip USA, "You should be required to drive across the country and meet different people and see places before you are allowed to vote."
The trick is to take it slow and get lost often. The great American road trip is a bucket list, or at least it should be. Below are a few great routes that you need to add to your bucket list.
This route was built purely for the scenery, and it doesn't disappoint. Starting east of Portland, Oregon, this road winds along for 75 miles alongside the Columbia River Gorge, past spectacular waterfalls and moss-filled forests. Stunning views can be taken in from numerous pull-offs along the byway.
This highway climbs two miles above sea level in the San Juan Mountains of Colorado. It crosses serval mountain passes above 10,00 feet and twists through long abandoned gold mining operations. Keep your fear of heights in check as you drive along this mountain road with no guardrails and steep drop-offs. Rumor has it that the name of the highway steams from the value of the gold-bearing fill that was used to construct the road. Others say it refers to the high cost required to build such a road. Whatever the origins of the name, no one can dispute those million-dollar views.
For years historic Route 66 has inspired those seeking the great American road trip. Stretching from Chicago to Los Angeles, this legendary road follows the path of many who immigrated west. While much of the original route has been gobbled up by the modern interstate system, it is still possible to drive some of the more iconic sections.
#4 The Great River Road
The Great River Road (GRR) is a single route that travels the length of the Mississippi River from its headwaters in Minnesota to its outlet in the Gulf of Mexico. From Mark Twain to muddy waters, the unexpected hills of Iowa to the Delta of New Orleans, this road trip takes you through the heart of America.
This is the Texas that you see in the movies. A landscape filled with swift rivers, deep canyons, and rolling hills. The winding two lane-roads though the Hill Country offer a glimpse of ranches and fields, wineries and historic places, and small towns filled with charming shops and, of course, some of that famous Texas bar-b-cue.
Picture this: A narrow, twisting strip of pavement with towering mountains on one side and plunging cliffs with the ocean below on the other. This is the Pacific Coast Highway, otherwise known as California State Route 1. Whether you are traveling north or south this road is sure to thrill and delight. A few must-stops are the charming town of Mendocino, Hearst Castle, and the Monterey Peninsula.
For nearly 500 miles the Blue Ridge Parkway meanders through the mountains of Virginia and North Carolina. Historic towns along the route beg for exploration and numerous trails and pull-offs invite you to get out and stretch your legs.
Lovers of history, shopping, and food will want to venture off the parkway to visit Monticello, Charlottesville, and the University of Virginia.
The Florida Keys are a vacation destination for many, but the highway that travels through these gorgeous islands can be a destination in itself. From Key Largo to Key West, the Overseas Highway travels through funky towns filled with fresh seafood markets and vendors selling fresh coconuts on the side of the road, over numerous bridges with turquoise blue water on either side and gorgeous sandy beaches. You can drive this road in just a few hours, but to get the full experience to be sure to take your time and enjoy the drive.
The Black River Scenic Byway in Michigan's Upper Peninsula is a delightful road through forests, past expansive lakes and waterfalls. Originally a wagon road, this two-lane paved road that travels for 15 miles from Bessemer to the shores of Lake Superior is now a popular route for many travelers.
This road passes through a barren empty region in the heart of Nevada. But don't let that fool you…there is still plenty to see. The road follows the former Pony Express route and crosses through numerous mountain ranges and past mining camps, as well as gas stations and cafes. You can also access the Great Basin National Park from this route. Consider spending the night in this world-class star-gazing location.
Have you traveled down any of these roads? What is your bucket list road trip? Tell us in the comment section below.