5 Lightweight Truck Campers with Bathrooms
Renting an RV
Last updated on July 12th, 2022. Originally published on January 20th, 2021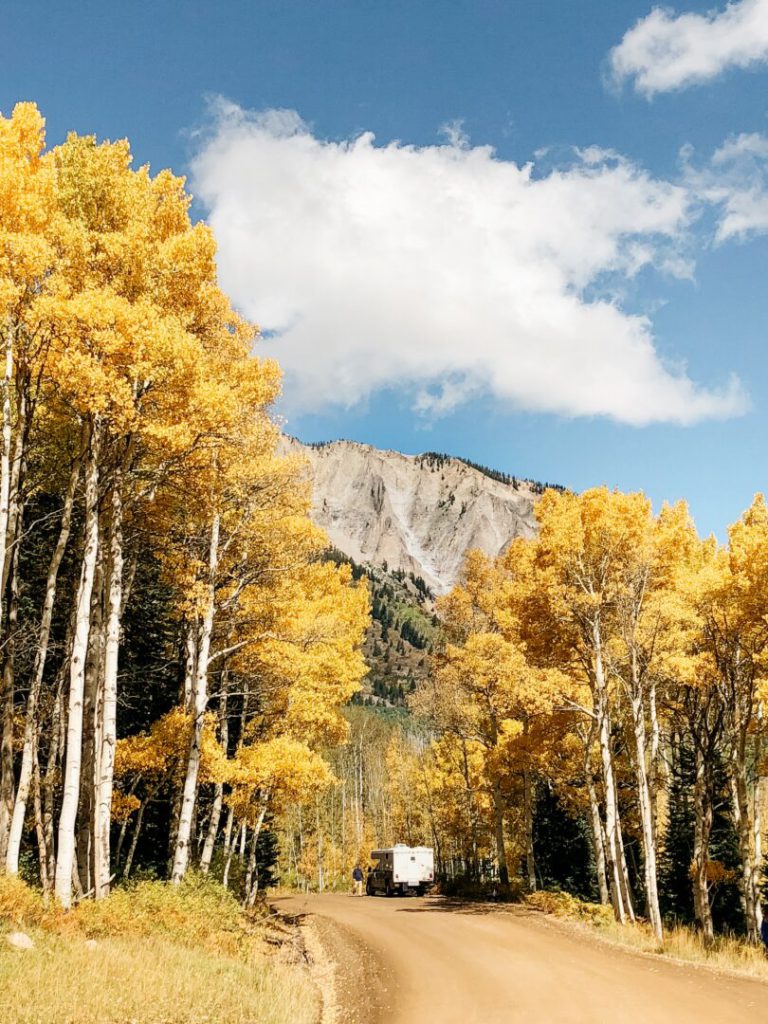 Lightweight truck campers can be the perfect travel solution for many adventurers. They don't take up as much room as a Class A motorhome so they're great for quick, light travel. Also, the camper attachment can be removed and left at your campsite while you explore in your truck for the day. You don't need to worry about bringing along a second vehicle like you might with a larger RV.
What is a lightweight truck camper?
A lightweight truck camper attaches to the bed of your pickup truck, turning it into a home away from home while you travel. Some campers have no bathroom at all, while others have either a wet bath or a dry bath.
Wet vs. dry baths
A wet bathroom has a sink, shower or tub, and toilet all in one room. This means the overall space your bathroom takes up is smaller than a camper with a dry bath, but you have the option to sit while you shower and you have less space to clean.
A dry bath has a shower in a separate enclosure from the toilet, which will take up more room in your camper. Dry bath showers also tend to be smaller than wet bath showers so you may find yourself more cramped. Dry baths can also, technically, include showers that are outside your camper entirely. Most people don't use these to actually shower, but they are handy for cleaning pets, gear, muddy shoes, and to hose off sand or other muck before you go inside.
Can a half ton truck carry a truck camper?
Most lightweight campers are under 2,000 lbs, and they can be carried by a half-ton pickup like the Ford F-150, the Chevy Silverado, or the Ram 1500. Often, you can choose between various lengths so your camper is sure to fit inside your truck bed.
What is the lightest weight camper?
If you're willing to forego a bathroom, you can even find even lighter-weight campers, between 1,000-1,500 lbs. However, if you do a good amount of traveling, or if you like heading out on messy adventures and hiking or biking through the elements, you likely want a heavier camper with a shower to clean off at the end of the day. Campers with wet bathrooms will likely be lighter than those with dry bathrooms unless the shower is outside.
Here are 5 of the best options for lightweight truck campers with wet bathrooms:
The Lance 650 is at the top of several lists of favorite lightweight campers with bathrooms. It packs a lot into a small living space, with room for a dinette that converts into a twin bed, and there is a queen bed as well. The kitchen has a microwave, and the camper includes a wet bath complete with hot water, thanks to a tankless hot water heater.
The Lance 650 weighs just 1,700 lbs and was designed for half-ton trucks with 5- or 6-foot beds.
Price: Starting at $23,738
Northstar has been building quality campers for over 50 years now, and the Liberty is the shortest and lightest they have ever designed. It weighs just 1,775 lbs and comes with a queen bed, a two-burner stove, a sink, a dinette, and a surprising amount of storage. The bathroom includes a cassette toilet and a shower, and there's an additional outdoor shower you can use in warmer weather or to clean off your gear.
The Northstar Liberty can fit both regular short-bed and mini short-bed half-ton trucks.
Price: Starting at $25,820
The 80RB is a great option for both light-duty short bed and long bed trucks. It has a roomy kitchen with a fridge, convertible dinette with a flip-out sofa, and a wet bath with a toilet and shower. The bathroom does not have a sink, but there is a kitchen sink.
The Adventurer is just 1,808 lbs which means there are several half-ton pickups that can handle its weight.
Price: $19,208
Travel Lite campers are around 1,600 lbs, which is impressive for a solid wood camper that holds up well. The Super Lite comes in a variety of floor plans, with two that include showers – the 610R SL and the 611XR. The Super Lite has a roomy kitchen, plenty of storage, and full and queen beds.
The Lance 825 is one of their most popular designs. The model comes with a kitchen that has molded countertops, and it includes a queen bed with curtains for extra privacy. The wet bath is surprisingly spacious and even has room for a clothing rack, a sunroof, and heated vents to keep you warm while you shower. There is also a convertible dinette in the stylish camper. It can be towed by a Toyota Tundra, Nissan Titan or F-150/1500 series truck.
Lance also has a helpful guide to which trucks can tow which of their campers. You can check out that great resource here.
Price: MSRP is $29,211
You can also find plenty of options for truck campers, trailers, motorhomes, and other camping vehicles on RVshare, of course! You may even want to try renting several different models over time, to see which you like best.
This post contains affiliate links. RVshare may receive compensation if you make a purchase after clicking on a product link.