Toilet
Last updated on August 19th, 2022. Originally published on September 13th, 2019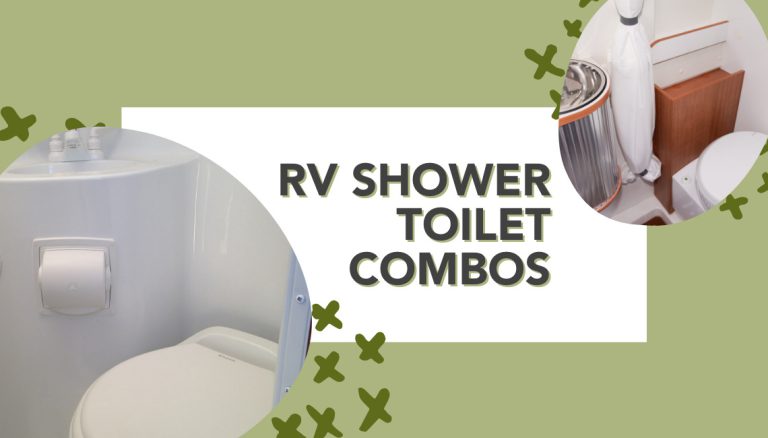 RV manufacturers are always looking for ways to save space in their units without depriving their customers of any comforts of home. In the smallest units, one of the biggest space-saving solutions is the RV shower toilet combo or wet bath.
This type of bathroom is a bit odd in that it is essentially a shower stall with a toilet. However, it works quite well for saving space, and while it may get a bit cramped, it doesn't hinder campers from getting all of their bathroom needs taken care of as necessary. 
If your camper has such a bathroom, and especially if you're new to this style of restroom, you may be left with some questions. In this article, we are going to do our best to address these questions, so you can make use of your RV's facilities.
#1: Using Your RV Shower, Toilet, Sink Combo
Let's first discuss the day-to-day usage of a combo bathroom. For the most part, these restrooms work just as any other RV restroom might. That said, some wet bath units use cassette toilets in place of the traditional RV toilet, meaning that instead of emptying a black tank, you'll need to empty the toilet itself, and emptying will need to happen much more often. A popular alternative is to use a portable cassette toilet that allows you to move the toilet entirely out of the wet bath for extra room when its shower time and easier disposal / cleaning. 
Another thing to keep in mind with these bathrooms is the fact that shower water will get things wet. Therefore, the toilet paper will need a waterproof cover, and other items you don't want to be drenched will need to be removed from the room before every shower. We find it easiest to keep these items in a caddy for quick and easy removal. 
Finally, we must mention the lack of storage space in an RV shower toilet combo bathroom. The caddy mentioned before can help with this, as can designating a cabinet in your living space for toiletries.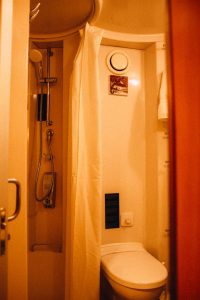 #2: Caring for Your Combo Bathroom

Of course, you will want to take good care of your little bathroom. The best way to do this is by ensuring it gets dry after every shower. Most people with toilet shower combos keep a squeegee on hand for drying bathroom walls, but microfiber also works well for this purpose. 
Another great tip is to find a rubber-backed rug to put on the floor of your combo bathroom when the shower isn't in use. This will help protect the shower pan from dirt, scratches, and scuffs.
#3: RV Shower Toilet Repairs
Unfortunately, making repairs to a shower toilet combo bathroom can be difficult. Replacing a sink faucet is nearly impossible, and a crack in the shower pan cannot be properly repaired without replacing the entire bathroom unit. A decent quick fix for this issue is a strip of Eternabond tape, but this is a temporary option at best, and eventually, a new shower pan will be necessary. 
As far as combo bathroom toilets go, some parts can certainly be replaced, but if the toilet bowl is cracked or another significant issue arises, the same toilets can only be replaced by replacing the entire wet bath.
#4: DIY RV Shower Toilet Combo Build
If you have a small RV without a bathroom or if you're building your own adventure vehicle, you may be considering building a small wet bath on your own. This is totally doable. 
The instructions here tell you the easiest and least expensive way to accomplish this task, so you can have a fully functioning restroom wherever you may roam.
For more on RV bathrooms check out our 5 Tips for Keeping your RV Bathroom Clean and Fresh blog!
This post contains affiliate links. RVshare may receive compensation if you make a purchase after clicking on a product link.